Celtic Park on this day in 1969 hosted one of the most memorable European nights of them all. Benfica were the visitors and they fancied their chances of at last winning the European Cup that season. Celtic won the match comfortably enough in the end but had a John Hughes goal mysteriously ruled out by the Italian referee who added to the confusion afterwards by providing an explanation of sorts that only added to the belief that Celtic had been unfairly denied an additional goal to take to Portugal for the second leg. It turned out okay in the end, with Celtic eventually winning a coin toss to progress! But back to the first leg. Here's how State of the Game reviewed the European Cup Second Round, First Leg match between Celtic and Benfica on this day in 1969.
At a lunch given by Celtic on the eve of the match Benfica director Joaquim Marques Alexandre announced, "We are looking forward to a beautiful game of football."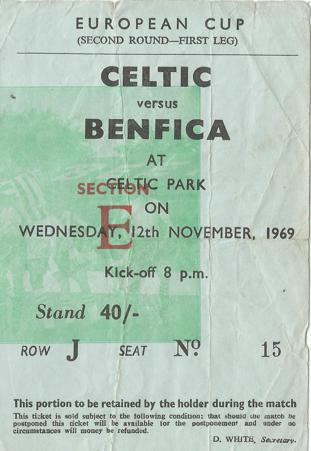 It was certainly that for Celtic and their fans.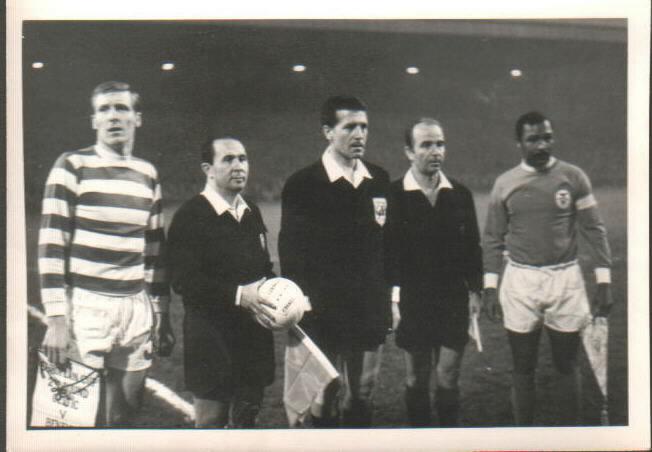 A sold out crowd packed into Celtic Park to see the side nicknamed "O Glorioso", five times European Cup finalists. With only two minutes on the clock Celtic had a free kick just outside the Benfica penalty area. Bertie Auld surveyed the wall, but with the Portuguese expecting a shot Auld flicked the ball back, as Tommy Gemmell came storming forward. The defender hit it with all he had from 30 yards out. Henrique in the Benfica goal flapped helplessly as it flew into the net.
A few minutes before half-time a lucky bounce put the ball in Willie Wallace's path. He shrugged off a tackle and lashed the ball home from a narrow angle.
In the 70th minute Harry Hood glanced a header into the net from a Bobby Murdoch cross. Unbelievably it was 3-0 Celtic. Although a lot of fans in attendance now say the only unbelievable thing about the result was that it wasn't by more goals.
The man Benfica were looking toward to turn the tie in their favour, Eusebio, pulled a muscle in the first half and he was replaced at the interval by Augusto. A disappointing Diamantino was also replaced by Jorge.
When the Portuguese side did threaten to get back into the game, John Fallon in the Celtic goal kept them out with a string of fine saves.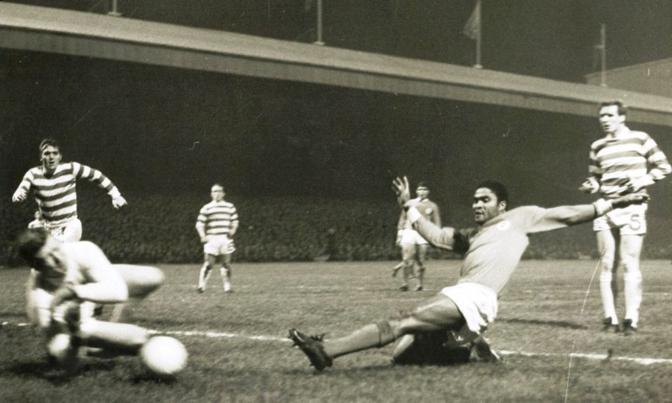 The main talking point after the match was why Italian referee Concetto Lo Bello chalked off an apparently perfectly good headed goal by Celtic's John Hughes midway through the first half. Everyone on the pitch seemed to think the goal was a good one.
The referee, who had taken charge of Benfica's 1968 final with Manchester United, attempted to clear up the confusion. "There was no offside," he said. "But a Celtic player fouled a Benfica man before the ball was netted". Oddly, he could not elaborate upon who the guilty Celtic man was.
The capacity crowd at Celtic Park roared Celtic home from kick-off to final whistle.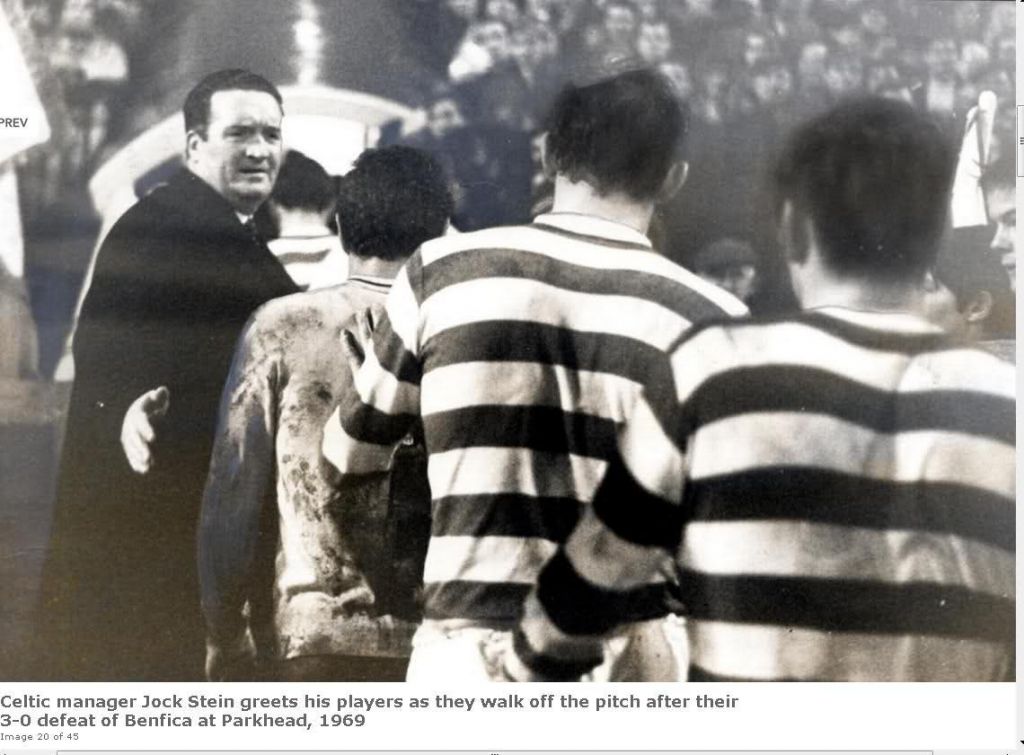 "They were absolutely magnificent," Jock Stein said of the fans. "Their support was fantastic and it was worth an extra man to the team. I thought they were just great".

Of the result Stein said, "It is good to be going to Lisbon with three goals to the good, although you can never really get enough goals. But naturally I am confident that we can win through".
The victory suddenly had many people talking about Celtic winning a second European Cup.
Hightlights from the match are below.
Celtic:
Fallon, Craig, Gemmell, Murdoch, McNeill, Clark, Johnstone, Hood, Wallace, Auld, Hughes Subs: Williams, Callaghan, Connelly, Brogan, Hay .
Goals: Gemmell 2, Wallace 14, Hood 70

SL Benfica:
Henrique, Malta Da Silva, Humberto Coelho, Zeca, Humberto Fernandes, Jaime, Graca, Coluna, Simoes, Torres, Eusebio (Jose Augusto 46), Diamentino (Artur Jorge 46)

Referee: Concetto Lo Bello (Italy)
Attendance: 74,894
WHERE YOU AT THIS GAME? If you were at Celtic Park on 12 November 1969 and would like to share your memories of this brilliant Celtic win over a very fine Benfica side, then please email

editor@thecelticstar.co.uk
12th November 1969, Celtic beat Benfica 3:0 in the European Cup.

Gemmell, Wallace and Hood. pic.twitter.com/Z753iu9AGP

— Li'l Ze (@LilZe_7) November 12, 2020
And a word on HUGH KEEVINS…
You will have noticed the mention of Artur Jorge who came on as a substitute for Benfica that night.
In 1997 he was has Portugal manager and was heavily tipped to become Celtic manager. Hugh Keevins, then of the Scotsman, was so convinced of this that he announced that Jorge was the new Celtic manager in that newspaper and his reputation as a journalist was never the same after the event when Wim Jansen was shortly afterwards appointed.