IN yesterday's article about Gerry Crainey living the Dream at Celtic I mentioned the St Patricks day massacre match and the game that followed and that inspired me to go back and look at these games, firstly the on on 17 March 1991 which was as special as frankly it was unexpected!
The St Patricks Day Massacre
For Celtic fans of shall we say a certain vintage, Celtic's 2-0 win against Rangers at Celtic Park on 17 March 1991 was pretty special indeed.
Despite the closeness of the score, this was Celtic's most comprehensive victory over Rangers since Graeme Souness's arrival at the Ibrox Club in 1986.
In this explosive Scottish Cup tie that immediately became known as 'The St Patricks Day Massacre' Celtic threw the form book out the window and set up one of the most satisfying weeks as a Celtic supporter, that those barren times allowed us to experience.
Celtic lined up on St Patricks Day 1991 with: Pat Bonner; Dariusz Wdowczyk, Paul Elliott, Derek Whyte, Anton Rogan; Joe Miller, Peter Grant, Paul McStay, John Collins; Tommy Coyne and of course Gerry Creaney.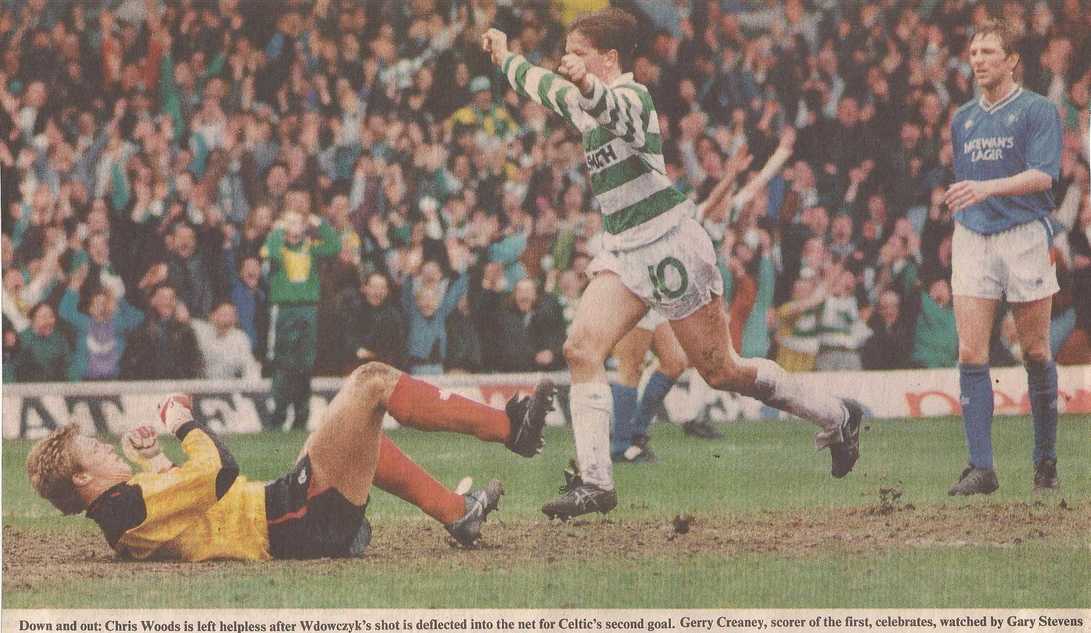 In 1987 in a derby encounter at Ibrox in which three men were ordered off, Chris Woods and Terry Butcher of Rangers were found guilty of breach of the peace, while Graham Roberts was found not proven and Frank McAvennie of Celtic not guilty as that particular match moved from the pitch to the courtroom.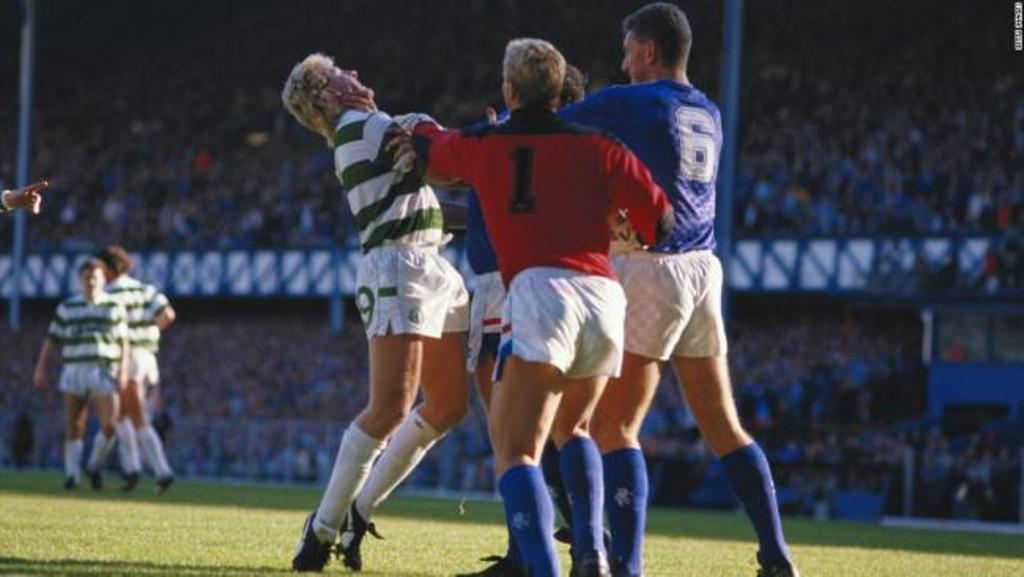 That encounter was tame in comparison to this one but thankfully there was no procurator fiscal trying to raise his public profile, with on pitch officials were left to deal with the punishments meted out.
To give you some idea on the level of indiscipline on show predominately from, it must be said a frustrated Rangers side, Graeme Souness said post-match:
"I would like to apologise for the lack of discipline on the part of my team. I never thought I would see the day they would display such indiscipline."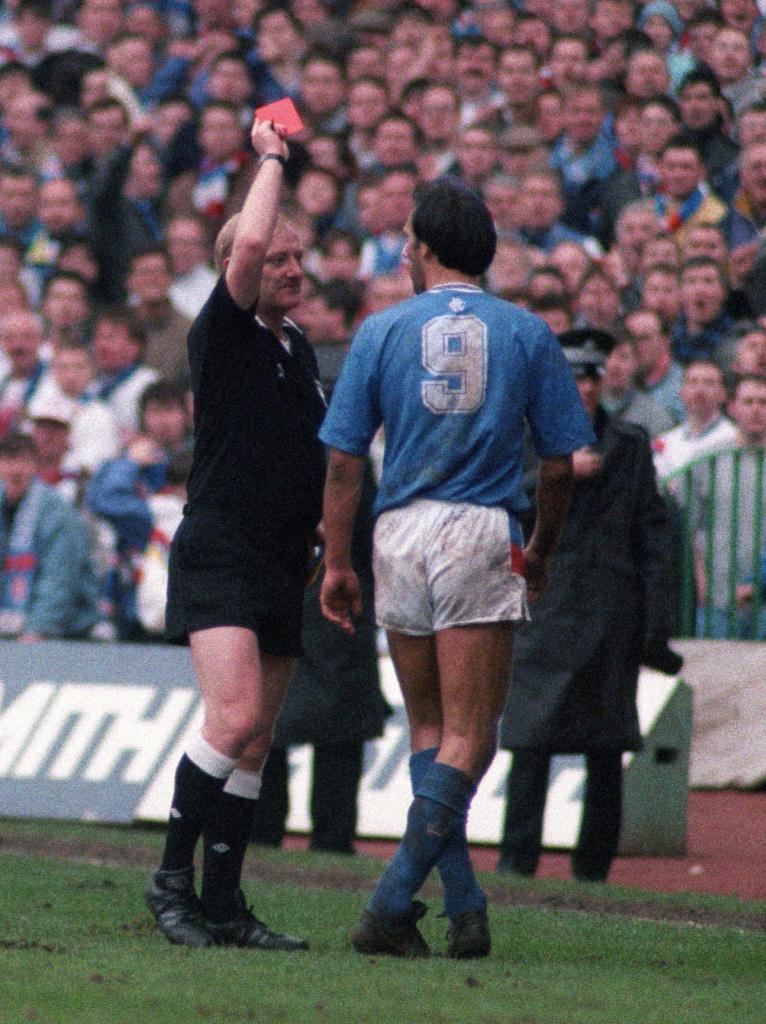 Anyone who saw Souness play will know he wasn't shy of some on field violence himself. To feel the need to apologise showed just how much his Rangers side lost their heads at Celtic Park that day.
In the sixth minute a long diagonal free kick from Polish defender Dariusz Wdowcyk was won brilliantly and bravely by Tommy Coyne up against an aggressive Richard Gough. The knock on was met by Gerry Creaney nipping in ahead of Scott Nisbet on the bounce and the Celtic striker smashed a perfect thumping shot that flew passed Chris Woods and into the keepers right hand corner of the net. A simply worked goal showed immediate intent from Celtic and shocked Rangers.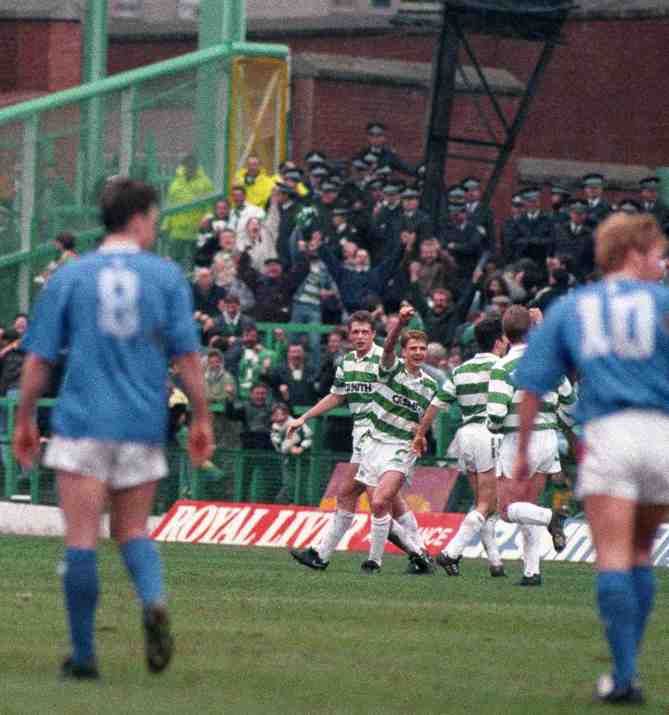 The second goal came in the 37th minute and again Dariusz Wdowcyck was involved. This time his 35 yard free kick evaded the initial two man Rangers wall but deflected off Rangers enforcer Terry Hurlock standing behind them and high into the net. It was a wonderful strike of a ball and the deflection left woods without an earthly of getting to it but it would more than likely have ended up in the net in any case. As the commentator said 'it's bedlam at Celtic Park'.
The second half saw Mark Hately feed Peter Huistra with a great opportunity to get Rangers back in the game but his dreadful effort flew miles wide of Bonner's right hand post to a cacophony of heckling and mocking and building frustration amongst the Rangers players.
The first red card was produced by the referee, Andrew Waddell, seven minutes into the second half. Peter Grant was the recipient, he'd been booked just before for a tangle with Mo Johnston and on this occasion the second yellow was for charging down a free kick. You couldn't really argue with the referee's decision.
Nor could you argue with the first red card for Rangers. Terry Hurlock whose on field behaviour would make Graeme Souness look like a choirboy in comparison, took exception to Tommy Coyne nudging him from behind and lashed out with an elbow into the Celtic striker's face. Hurlock's face told the story as he waited for the red card to be produced from Andrew Waddell's pocket. Bang to rights.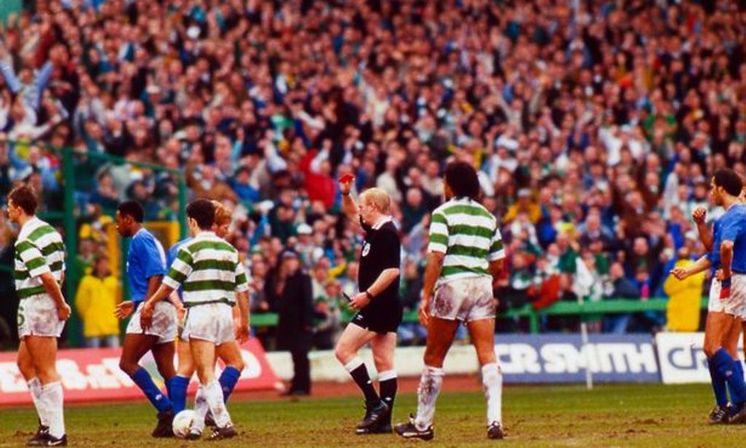 With ten minutes to go and again with Tommy Coyne the victim Rangers wide man and probably best player on the day Mark Walters seemed determined he was going to follow Hurlock down the tunnel. Having already been involved as the recipient of a tough tackle on the touchline and a retaliation the referee kindly ignored, Walters then ploughed into Tommy Coyne giving the referee no choice whatsoever, however sympathetic he had been to ignore the initial retaliation, and Waddell flashed his third red card of the afternoon.
By now rangers were in complete disarray, they had lost all semblance of discipline and there was yet more to come.
Mark Hately and Celtic's Anton Rogan came together in front of the main stand near the corner with the Celtic end. Rogan made contact with Hately's face and the big English striker responded by punching Rogan. The first card flashed and it was yellow for Rogan before Andrew Waddell somewhat theatrically flashed a red card in the face of Hately and reduced Rangers to eight men.
It was now a decade since Rangers had won the Cup. They couldn't handle Celtic's first half performance and it showed as they simply lost the plot completely in the second half.
It was a fantastic win for Celtic, it alleviated the pressure on manager Billy McNeill. The Celtic manager was grinning from ear to ear and beaming with pride when he was interviewed post-match.
"I think the fact it was St Patrick's Day meant an awful lot to the fans. So, maybe St Patrick was watching that afternoon and decided to give us a hand."
The Celtic supporters sent the Rangers fans home with a chorus of 'Happy Birthday St Patrick' ringing in their ears.
It was only half-time in Celtic's fine week lording it over their Glasgow rivals. More was to come just seven days later. In the meantime the highlights from the St Patrick's Day Massacre are below, so please enjoy!
Niall J