1892 was a wonderful year in the history of the Celtic Football Club. It was the first of many, of course, and although Dumbarton winning the Scottish League prevented a clean sweep, nevertheless the annexing of the Glasgow Cup, the Glasgow Charity Cup and the Scottish Cup was a tremendous achievement for a team which had only been in existence for four years.
The successes this year made a point to three other teams. One was to Rangers who had been swept aside in the semi final. They were a strongly supported and professional team, but although they had shared the Scottish League last year, they were not as good as the Celtic.
Another point was made to Hibs, a team who were now in serious financial trouble and from whom Celtic had cherry-picked a few players, notably Sandy McMahon.
Hibs had made the bad mistake of restricting their players to those of Irish Catholic extraction, a misguided idea and an excellent example of how NOT to incorporate the Irish into Scotland, whereas Celtic had made no such mistake.
And the third point was to Queen's Park. Now that professionalism was becoming more and more prevalent (albeit technically still illegal), football was no longer a middle class sport played by rich Glaswegians and Dunbartonshire village teams. It was now a vibrant working class activity, and Celtic were to be the team that would run Scottish football.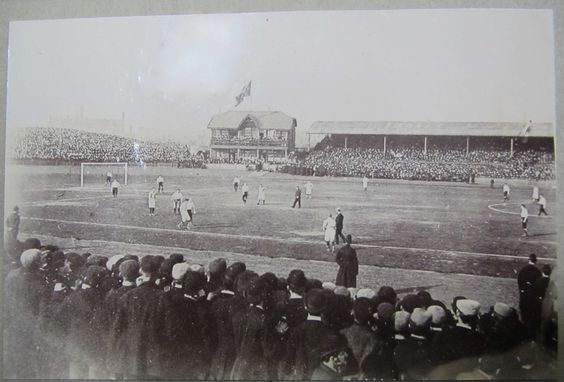 There had been a great deal more going on than success on the football field. An attempt by the rascally landlord to raise the rent on Celtic Park (something that was by no means unfamiliar to the Irish in the 19th century!) was treated with disdain, and the club took the momentous decision to buy a piece of land slightly to the south west of the existing ground and to build their own stadium, and to make it big enough to host the biennial Scotland v England Internationals!
This was ambitious but, astonishingly, they managed it with the help of supporters who were willing to give up their Sundays to labour for them. The stadium was not as yet quite ready, but on 19 March 1892, Michael Davitt,  the one armed ex-rebel but now respectable Irish Nationalist had laid Donegal shamrocks on the centre circle.
All this was good stuff, but it was the Scottish Cup which mattered. Queen's Park were the opponents in the final on 12 March. Celtic in fact won this game 1-0, but in fact the game was a travesty for play was frequently stopped by encroachments onto the field of play because of crushing, for the Ibrox ground was simply unable to contain the huge crowd, said that day to be 36,000 with the Celtic element predominant. A replay was ordered, and Celtic went along with the idea, the cynics saying that another big gate would help pay for their new ground.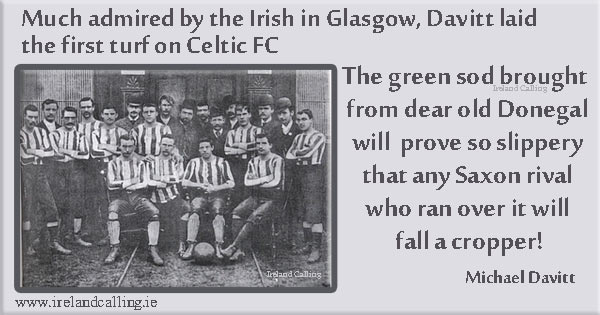 So 9 April it was at Ibrox again with the entry money raised to the astonishing amount of 2 shillings. This seemed to be to the advantage of Queen's Park whose affluent middle class supporters would be more able to afford this exorbitant charge. The gate was reduced to 23,000, but Celtic supporters still managed to form a large section of the crowd, and how they enjoyed themselves!
There was a wind, blowing this time from the east, and Queen's Park opted to play with it. They were 1-0 up at half-time but that was hardly enough against the mighty Celtic team whose forward line contained the twin menaces of Sandy McMahon and Johnny Campbell. The final score was 5-1. Some sources say that McMahon scored a hat-trick and that the other two were an own goal and another scored by Johnny Campbell, whereas other sources, while agreeing that there was an own goal, give two each to Campbell and McMahon.
No-one will ever know for certain, but the historian tends to go for the "two each" option on the grounds that when, 12 years later, Jimmy Quinn did that very deed, most people talked about it being the first hat-trick in a Scottish Cup final. One of McMahon's goals was a glorious header, just like the ones that Billy McNeill would score in later years.
The joy of the Celtic supporters knew no bounds, and the east end of Glasgow partied for days afterwards, the atmosphere being paralleled in Edinburgh, Dundee and all these Irish villages springing up in central Scotland including, for example, Croy where no doubt a young Jimmy Quinn was impressed by what he saw.
And it didn't stop there. The Glasgow Cup had been won in December, and in early June, it was joined by the Glasgow Charity Cup so that Willie Maley in later years was able to liken Celtic's season to the three leafed shamrock of Ireland. Committee man Ned McGinn wrote to the Vatican asking them to light candles to celebrate that event, but apparently received no reply. No real surprise there, but 1892 was a wonderful summer for the Celtic community. They could hardly wait for the new season and their new stadium. Not only that but July saw a General Election. The Liberals won, so there might be Home Rule For Ireland as well!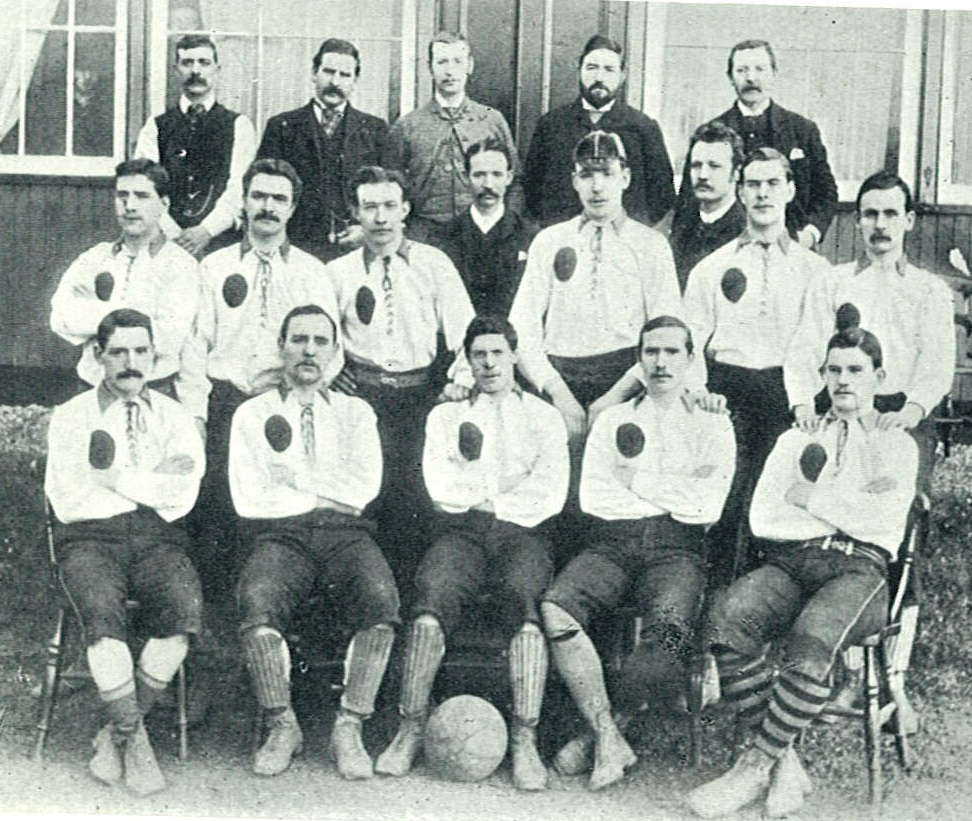 And this new Celtic club had changed everything in Scottish football. Had it really only been four years since they played their first game?
David Potter