YOU really had to hand it to Willie Maley! He had done it again! He had unearthed the greatest team on earth that won virtually everything from 1905-1910, and now he had produced a second great team, one that had grown organically, as it were, out of the previous one.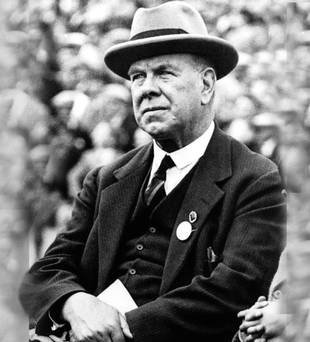 It had taken a year or two (1911 and 1912 had not been great, although the team had won the Scottish Cup in both years, and 1913 had been what would not be called a "transition year") but the team had come roaring back in autumn 1913, famously not conceding goals (only one between 7 October 1913 and 28 February 1914!), and now within the space of three days in April, they had landed both the Scottish Cup and the Scottish League just like they had done in 1907 and 1908. What a team! Again!
So here we were on 18 April 1914, having beaten Hibs 3-0 at Celtic Park to make the League a mathematical certainty with loads of games to go, and that was less than 48 hours after we had beaten, as it happened Hibs as well, this time 4-1 in the Scottish Cup Final replay at Ibrox.
Everyone got to see the Scottish Cup before the League game started, and a photograph was taken – a prolonged operation with a man with a back veil coming out of the camera to cover his head, and then and flash and a puff of smoke, with, all the time, Sunny Jim clinging on to the Scottish Cup. Then two goals from McMenemy and one from McColl, and the League was won as well. And oh, the joy on the faces of those who loved the green and white!
And what a great season! 4-0 over Rangers on New Year's Day with McMenemy's goal likely to go down as one of the best of all time! And Napoleon had master-minded Scotland as well with one great goal over England at Hampden in early April, and a hand in another goal, and how magnificent was the sight of all Scotsmen, including those who normally supported Rangers or Queen's Park or Hearts, rising to applaud the Parkhead genius!
So what about this team? Well, from the first great eleven, there was Sunny Jim, Napoleon and the Icicle, or to give them their proper names – Young, McMenemy and McNair. Sunny Jim was the captain – a loud commanding voice, loads of commitment, hard work, no little skill and he fair shut anyone up if they said anything about Celtic being all Irish and Catholic.
When asked his religion, he was once reputed to have said "Celtic". Jimmy "Napoleon" McMenemy – a brilliant tactician with lovely passing ability, loads of strength for a small man and, like Sunny a totally inspirational character with "Celtic" written on his heart! Alec or Eck McNair from Stenhousemuir – very intelligent with a great reading of the game, a total gentleman and absolutely and totally reliable. A refined full back, but never one to disdain the punt up the park, if necessary.
And the eight who had, as it were, joined the first great side? In goal, Charlie Shaw who had joined us from Queen's Park Rangers. A fine agile, cat-like figure whose courage was never in doubt, and he was lithe enough to avoid the brutal shoulder charges of the opposition, that is if Sunny Jim or Peter Johnstone didn't "sort them out" first. Joe Dodds from Carluke was a great left back, possibly more inclined to attack than McNair was, but also a great defender. "The wind didn't get past Joe some days", they said.
Centre half was Peter Johnstone from Glencraig in Fife. He had started off as an inside left and was good enough to displace Peter Somers (and that is saying something!), and then in 1912 he was left half to fill the gap left by Jimmy Hay, but now he had taken over from Willie Loney. It is sufficient to say that he was as good as Loney. That was some benchmark! Left half was Johnny McMaster – a scowling, lantern jawed individual who took no prisoners. Described as "he of the melancholy countenance", Johnny could hold his position in this team – and again, we need say no more.
Up front, we had on the right wing Andy McAtee from Croy. Well schooled and looked after by Jimmy Quinn from the same village, Andy was of mining stock with large muscles and legs "like those of a billiard table". Deceptively fast and with a terrific shot, Andy would go on to play for a long time. And then at inside right, we have the man often described as the best player of all time – Patsy Gallacher. Who am I to disagree with that description? "The most talked about man in the trenches" he would become, and letters would be written from far off Mesopotamia from father to son, promising to take him to see Patsy Gallacher when father got home!
Centre forward had been a slight problem now that "Jimmy" (Jimmy Quinn) was injury prone and past his best, but young Jimmy McColl had now stepped up to the mark, and had scored two in the Scottish Cup final, as indeed had left winger Johnny Browning, a tough character whom Maley had painstaking knocked all the rough edges off and had produced an excellent player.
It is often a great exercise to make modern comparisons, or at least comparisons with players of more modern eras to give everyone more of a chance to imagine what they were like. Taking into account character as well as ability, I thus come up with Charlie Shaw = Ronnie Simpson, Alec McNair = Danny McGrain, Joe Dodds = Tommy Gemmell; Sunny Jim Young = Scott Brown; Peter Johnstone = Virgil Van Dijk; Johnny McMaster = Callum McGregor; Andy McAtee = James Forrest; Patsy Gallagher = Paul McStay; Jimmy McColl = Odsonne Edouard; Jimmy McMenemy = Henrik Larsson; Johnny Browning = Bertie Auld. And of course Willie Maley = Jock Stein.
Where Maley deserved the credit was twofold. One was the ability to spot a great player, and the other was the way that he welded them together into a unit, encouraging trips away at Seamill Hydro and other places where it was expected that, after a hard day's training and a good meal, everyone "did his bit" at a soiree as Celtic entertained the hotel staff and the other guests – normally rich, invalid, tubercular, asthmatic old ladies who knew little about football but who loved being sung to by athletic young men and their dashing manager who was now 46 but far from past his best. Irish, Scottish songs, Burns poetry, old music hall favourites were all trotted out. In 1914 "that is what it meant to be Celtic".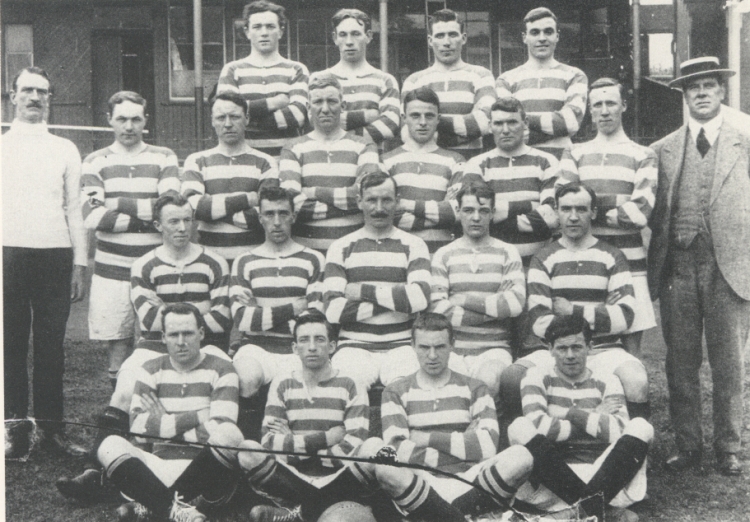 So the Double was won. That soon became a treble with the Glasgow Charity Cup in May when they swept Queen's Park and Third Lanark aside, and then it was off on tour to Central Europe – Germany and Austro-Hungaria. There was one disagreeable encounter with English Cup winners Burnley, but games with the hosts were pleasant and friendly and the name Celtic became even better known throughout Europe.
And so we find Mr Maley having enjoyed a few days in the Scottish Highlands after the team returned from Europe, back at his desk in the old pavilion in late July. He had the Celtic Sports to organise before Celtic played their first game against Hearts on 15 August. Genial and charming (as he unfailingly was in his early years and now middle age) he talked to cleaners, young players, visitors to Celtic Park and supporters about his great new team, unable to conceal the pride that he had developed for them and the hopes that he nurtured for their future. He was already talking (at least to himself) about another six Championships in a row. The players were now back for training, all of them eager for the off.
The weather was glorious as he permitted himself a few thoughts about the world at large. Pity these damned Ulstermen were being so awkward about Irish Home Rule.That problem could have been solved by now, and oh, what about that business with Austria and Serbia? That could quite easily get out of hand, you know…. But no, there were other things as well that summer. Might go to the cinema tonight to see Charlie Chaplin, when does that Frenchman Georges Carpentier fight again, and would Jack Hobbs get another century?
David Potter