MATT CORR'S excellent article on Andy McAtee the other day (including the wonderfully informative and evocative five minute film of Celtic at Lochgelly) makes one think about 1923, a curious and even contradictory year.
Was it a good year? Celtic won the Scottish Cup for the 10th time, thus equalling the record of Queen's Park, but losing, by some distance, the Scottish League to Rangers and thus effectively conceding the hegemony of Scotland for more than 40 years (with only the occasional spectacular piece of glory) until Jock Stein returned as Manager.
There was evidence that Willie Maley was struggling. He never really coped very well with grief and the loss of Sunny Jim killed tragically in a motor bicycle on 4 September 1922 hit Maley hard. By sheer chance on that very same day, Maley had been negotiating with Alec Bennett, the Manager of Third Lanark, the transfer of Tommy McInally, Tommy and Willie having, not for the first or last time, fallen out.
Maley blamed himself for that, and coupled with the death of one of his favourite players at the age of only 40, he lapsed into profound melancholy from time to time, and was clearly not coping well with fiery characters like Johnny Gilchrist. Indeed there were times when it often seemed to spectators that Willie McStay, Eck McNair or Charlie Shaw were running the team.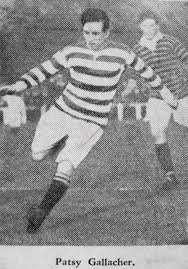 The team had lost six League games in late 1922, and then 1923 opened with a 2-0 defeat at Ibrox, a defeat made all the worse by an injury to Patsy Gallacher. Six days later, Aberdeen won their first ever game at Celtic Park, and thus when Willie McStay led the team out on that obviously very cold day at Lochgelly, Celtic were on their knees with only the Scottish Cup left to play for. The video in Matt's article, courtesy of The National Library of Scotland can be accessed HERE and is a MUST WATCH for anyone interested in Celtic's history.
Indeed, Lochgelly might have won, for they scored first and all newspaper reports say they were worth a draw. But Joe Cassidy scored a hat-trick (some newspapers give Celtic's late winner to John "Jean" McFarlane) and Celtic squeezed through to the delight of their supporters that one can see in that film.
The following week Celtic lost again, to Third Lanark and a couple of days later Johnny "Jock" Gilchrist, the right half, was on his way to Preston North End. It was no secret that Gilchrist and Maley did not get on, Maley not helping matters by constantly comparing him unfavourably with his favourite right half, Sunny Jim.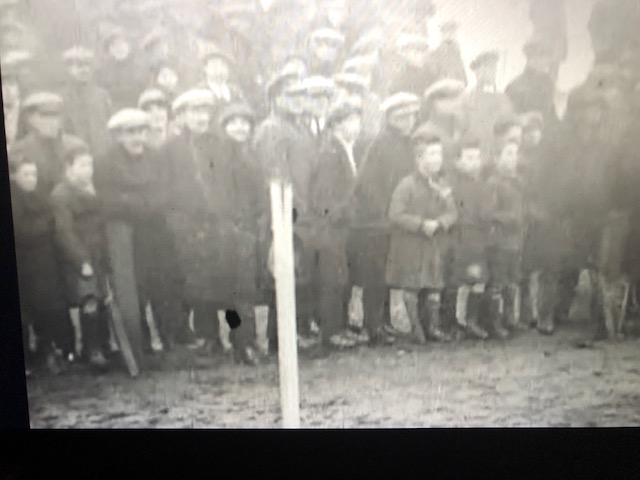 It was not that Celtic did not have good players. McNair was possibly ageing, but the brothers McStay were good enough. Centre half Willie Cringan, again a man who did not get on well with Maley but who hid it a little better than Glichrist had done, was nevertheless more than competent, and up front, there was the free scoring Joe Cassidy, two good wingers in Andy McAtee and Adam McLean and of course Patsy Gallacher who returned from injury in mid-February.
League form improved slightly but they never really threatened Rangers that season. However, they kept winning their Scottish Cup games. They beat Hurlford, then another two Fife teams after Lochgelly in East Fife and Raith Rovers with Cassidy scoring the goals, although it was Adam McLean who scored the only goal of the game when the strong going Raith Rovers came to Parkhead.
71,506 were at Ibrox to see the semi-final against Motherwell, and Celtic played one of their better games of the season to win 2-0 with goals from Cassidy and McAtee. On that same day, Hibs beat Third Lanark at Tynecastle (Rangers had been beaten by Ayr United in an earlier round) and thus the Scottish Cup final was not only an all-green or an all-Irish affair, it was an all-Maley affair, for, as in 1912, Willie and Alec Maley were the Managers of the respective sides.
It was Willie who won, thanks to a goal from the man of the season Joe Cassidy. It was not the greatest of games, and not the greatest of goals, Cassidy heading into an empty net after goalkeeper Harper had missed a cross from McLean which bounced at the wrong time for him. But Joe was there, and the goal was much celebrated by the Celtic fans in the 82,000 crowd.
Goodness knows, they needed something to celebrate in 1923 in the country that was a lot less than "the land fit for heroes to live in" as promised by Lloyd George!
David Potter
You can read Matt Corr's article, Celtic Star Andy McAtee, 'A Celtic Raid at The Paradise,' Watch 5 fascinating minutes of Scottish Cup action from 1923, below. Please watch the video, it's not on You Tube and is an absolutely fascinating insight into watching Celtic in 1923.
Celtic Star Andy McAtee, 'A Celtic Raid at The Paradise,' Watch 5 fascinating minutes of Scottish Cup action from 1923