I am possibly wrong to describe 1985 as one of Celtic's better years, but it did contain one day which was as good a day as we had had for a long time. It was 18 May, the day we beat Dundee United in the Scottish Cup final to life a mini trophy hoodoo which was threatening to get the better of us.
It all went back to 1983, when the despicable Nicholas jumped ship to Arsenal, and then before we could recover from that blow, manager Billy McNeill asked for a contract, didn't get it and left for Manchester City. I am told that there was no connection between the departures of Nicholas and McNeill. I am not so sure.
We were in a mess in 1983 and David Hay was brought in as Manager. His first year, not surprisingly, was no great success (especially when Jim Melrose, an "honest journeyman" (but no more than that) seemed to be considered the replacement for Charlie Nicholas!) and the team won nothing, losing the League Cup to Rangers in a final dominated by penalties, the League by some considerable distance to Aberdeen and the Scottish Cup in that most painful final of them all when Roy Aitken got sent off, we fought back and then went down in extra time.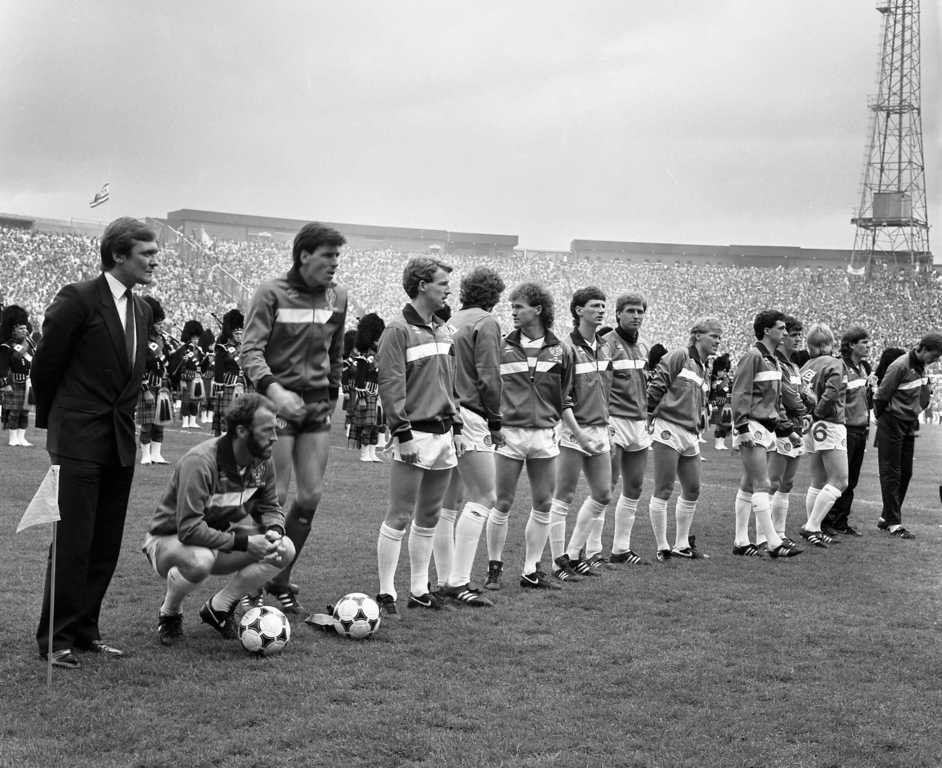 1985 was little better. An early League Cup exit, and a similar dysfunctional effort to get into the League race, won again by Alex Ferguson's Aberdeen, and of course Rapid Vienna! The only comfort was that Rangers were a hundred times worse, but that did not really help much. We did, however, after the New Year battle our way past Hamilton, Inverness Thistle, Dundee and Motherwell without in any way being too convincing to reach the Scottish Cup final against Jim McLean's Dundee United.
Not to put too fine a point on it, Davie Hay's job depended on this one. He had had a lot of bad luck, but he had made a few mistakes and Charlie Nicholas had still not been adequately replaced. And we all knew that there was money around as well!
Billy McNeill was far too much part of Celtic and Scotland to make a success of things in England, and it was no great secret that he wanted home. He was OK at Manchester City, but no more than that, and kept asking everyone how "we" were doing!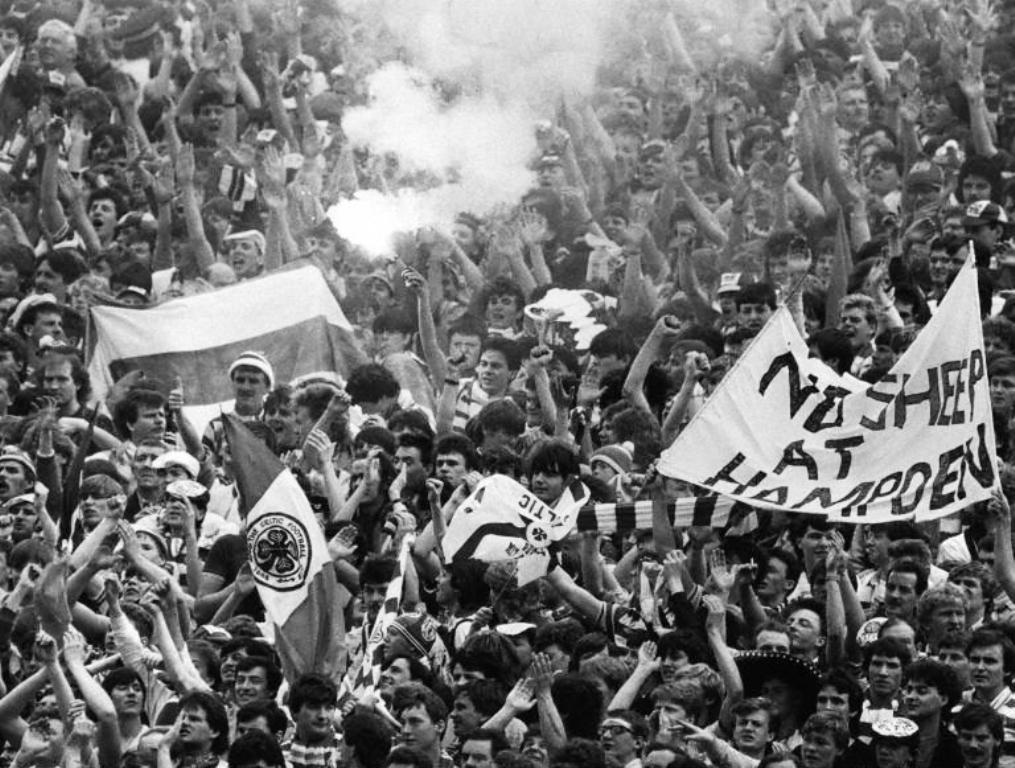 Celtic's League form in the run up to the Cup Final could be best described as "fitful". We were capable of a few good performances, but we were also going through a bad phase of playing badly against Dundee, for example, and Hibs, and attendances failing to pick up. But the Scottish Cup is the Scottish Cup, and the Celtic end was seriously over-crowded that cloudy day with the occasional shower of rain.
The first half was not unlike the first half of the 2019 Cup final in that not very much happened. Still not very much happened at the start of the second half, but then Dundee United scored after Davie Dodds got the better of Roy Aitken and slipped a good ball to Stewart Beedie. That seemed to be that. Dundee United were brilliant at defending, and this Celtic forward line seemed to be incapable of getting though anything. McGarvey tried but lacked incisiveness, and Mo Johnston might as well have not been there. Tommy Burns was taken off and replaced by Brian McClair, but that made no difference.
Drooping was the word to describe our spirits as we approached the last quarter of an hour. A silence enveloped the ground punctuated only by a few sporadic songs and chants, the players on the field visibly sagged as well, as the game began to drift away. Roy Aitken was quiet, no doubt his dismissal of last year in his mind, and talismanic Paul McStay couldn't get going.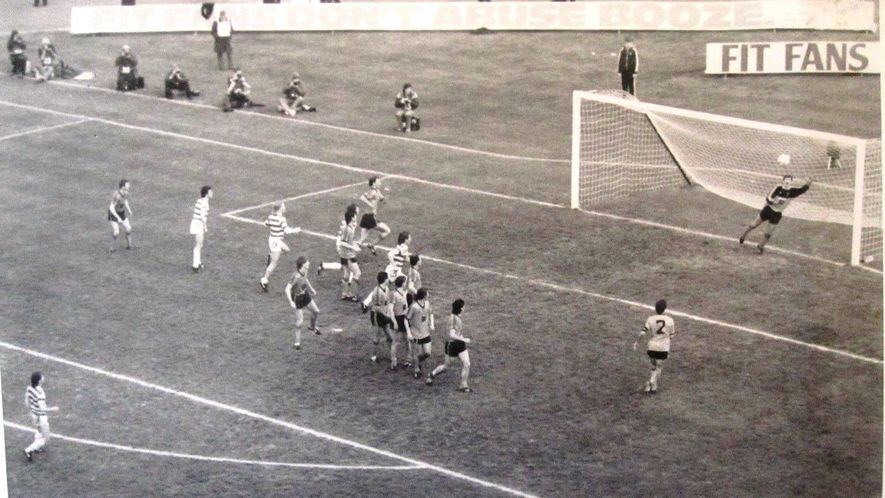 Provan, McGarvey, McGrain. MacLeod all under par, almost going through the motions. It was as if they were considering their own futures under a new Manager next year, and possibly even a transfer to a different club. The weather reflected the mood. The heavy rain had stopped, but the clouds were still brooding and dull with only the occasional glimpse of blue sky. Back home, the vast TV Celtic support felt waves of depression sweeping over them.
But then with history looking down on Celtic, Davie Hay proved that he was manager material after all. He took the bull by the horns and hooked Paul McStay. It was a decision greeted with a certain amount of incredulity, then hostility as evidenced by a storm of booing. But Billy McNeill in the TV gantry backed him up by saying "there are times when a manager just has to be unpopular".
Paul himself was not too happy either and, they tell me, made a remark to the effect that "he couldn't manage a supermarket", (or maybe it was a grocer's shop) as he changed places with…,of all people, Pearce O'Leary. The little known Irishman was not a bad centre half but hardly the man that Celtic needed in these dire straits.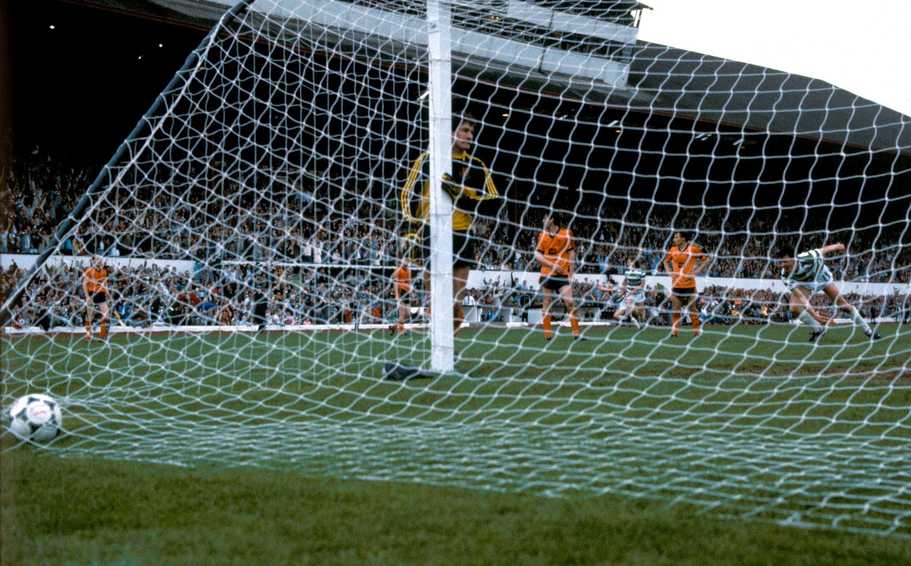 But was only part of the equation. This was all to allow Roy Aitken to go into midfield where, many argued, he played better in any case, and the TV screen saw a momentary flash of a grimly determined Roy moving forward. The overcrowded Celtic end now realised that we were going to go down, if go down we must, with a fight.
"Taking a game by the scruff of the neck" is an overused cliche, but that was what Roy did. Within two minutes, Dundee United's Eamonn Bannon had been panicked into fouling Murdo MacLeod. Free kick for Celtic on the edge of the box. Up steps Davie Provan, talented but inconsistent. In a post match interview he speculated about whether "the big man upstairs" was involved in him scoring. Without getting into the depths of theological speculations, Davie scored, and the green and white magic was in the air once again. The crowd knew it, the players knew it and more importantly Dundee United knew it.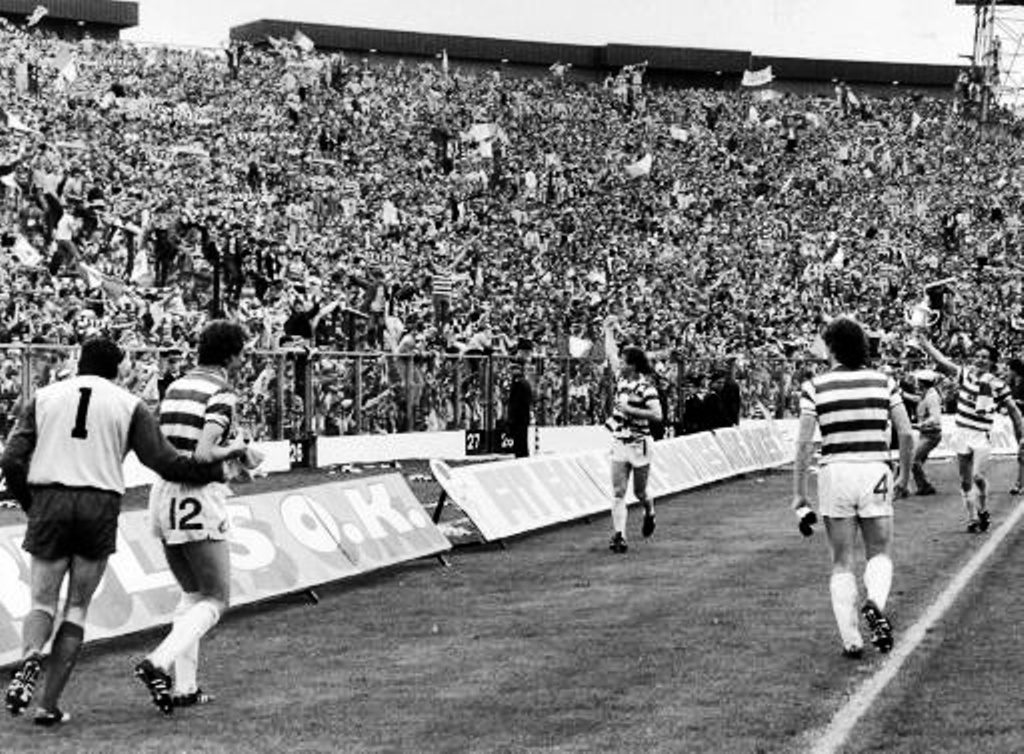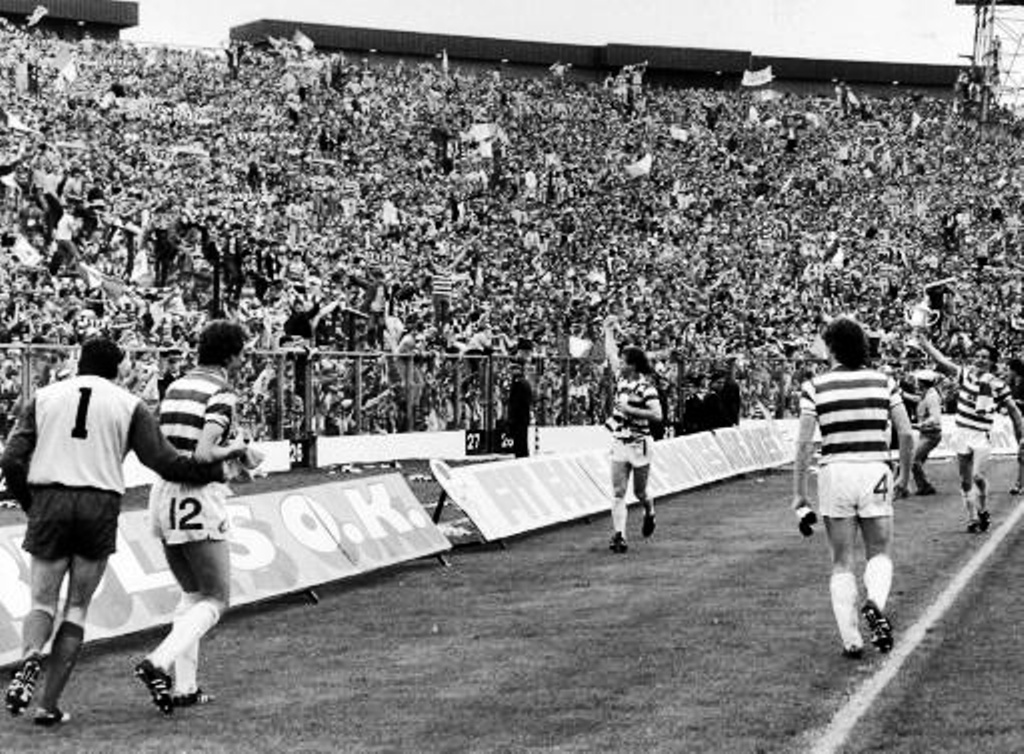 From now on, everything centred on Roy Aitken. Dundee United's defence were reduced to head tennis until the ball came to Roy Aitken who charged up the right wing and sent over an absolutely inch-perfect cross for the hitherto under-performing Frank McGarvey to head home.
The last five minutes were frantic as United threw everything into the game, but Pearce O'Leary and Tom McAdam were up to it, and referee Brian McGinley's whistle sounded with Hampden Park in an uproar. In some ways it was a classic Celtic Scottish Cup final win – not unlike 1925 or 1965 for sheer drama – but the emphatically it did not mean that Celtic had a team of world beaters.
It did mean, however, that they had a team of character, and it also meant that summer 1985 could be spent euphorically playing again and again the cassette on the new toy of the age – the Video Cassette Recorder. That is, if you had had the presence of mind to record it!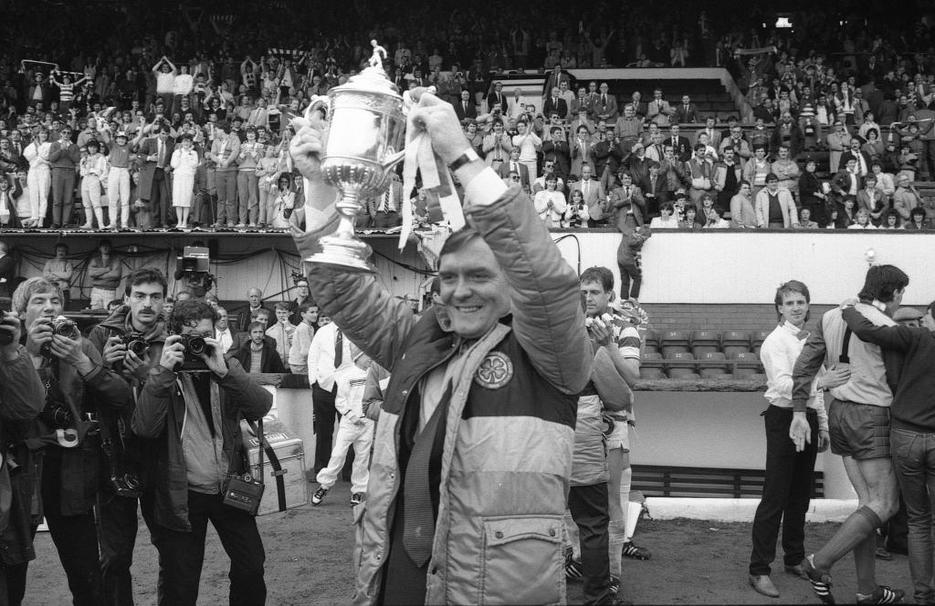 So 1985 was a good season – but only just! And Davie Hay had bought himself more time.
David Potter