The UEFA Cup 2002-03
May 21st, 2003 in Seville. Celtic from Scotland played Porto of Portugal, in the final of the UEFA cup. This is the story from the Celtic supporters point of view of that run all the way to the final as Celtic looked to win a second European trophy after their 1967 European Cup Final win over Inter Milan in Lisbon.. The 2003 UEFA Cup Final played in Seville saw a lot of different soccer odds, hope, and ultimately disappointment for the Scottish giants.  Celtic ultimately lost the match deep into extra-time and it should be noted that the very next season this Porto side went on to win the Champions League themselves. It was a case of so near but so far from Celtic but the journey to Seville and the memories of that week in the intense Spanish sunshine will last a lifetime with over 80,000 Celtic fans who were there to support Celtic. This is their story…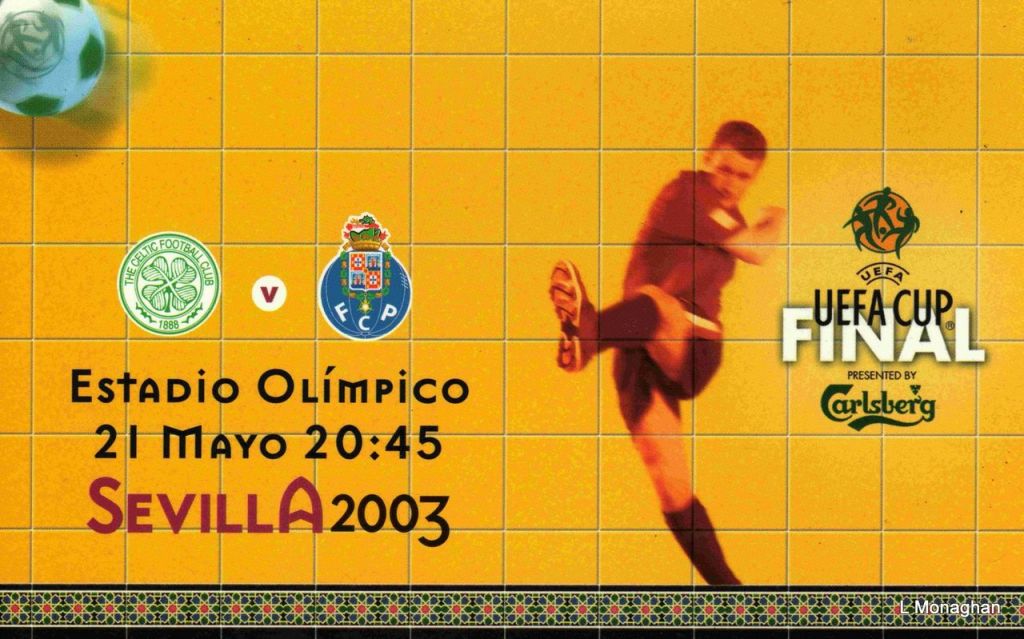 Taking A Look Back…
Douglas, Gould, Hedman, Marshall. Valgaeren, Balde, Laursen, Sylla, Mjallby, McNamara, Crainey, Kennedy. Lambert, Lennon, Petrov, Guppy, Thompson, Fernandez, Petta, Agathe, Healy, Maloney, Miller, Lynch, Smith. Larsson, Sutto and Hartson.
These are the names of the players who played a part in helping Celtic reach the UEFA Cup Final in 2003.
This is a moment in the history of Celtic that will stick with the fans for the rest of their lives. Whether they look back on it with envy, or look back on it as a truly wonderful Cup run is up to the individual. We're  not going to look at anything negative from the run to Seville, we are going to look purely at what an outstanding campaign it was.
Celtic v Suduva (10-1 aggregate)
After being knocked out of the Champions League at the hands of Basel, Celtic looked to their first round tie in the UEFA Cup against Suduva. The first leg came at Celtic Park, with Celtic destroying their opponents 8-1. Henrik Larsson scored a hat-trick and became the joint top scorer for a Scottish side in European competition. The Larsson hat-trick and goals from Petrov and Sutton gave Celtic a 5-0 lead at half time. Lambert, Hartson and Valgaeren added the second half goals to make it 8-0 before Suduva got a consolation goal.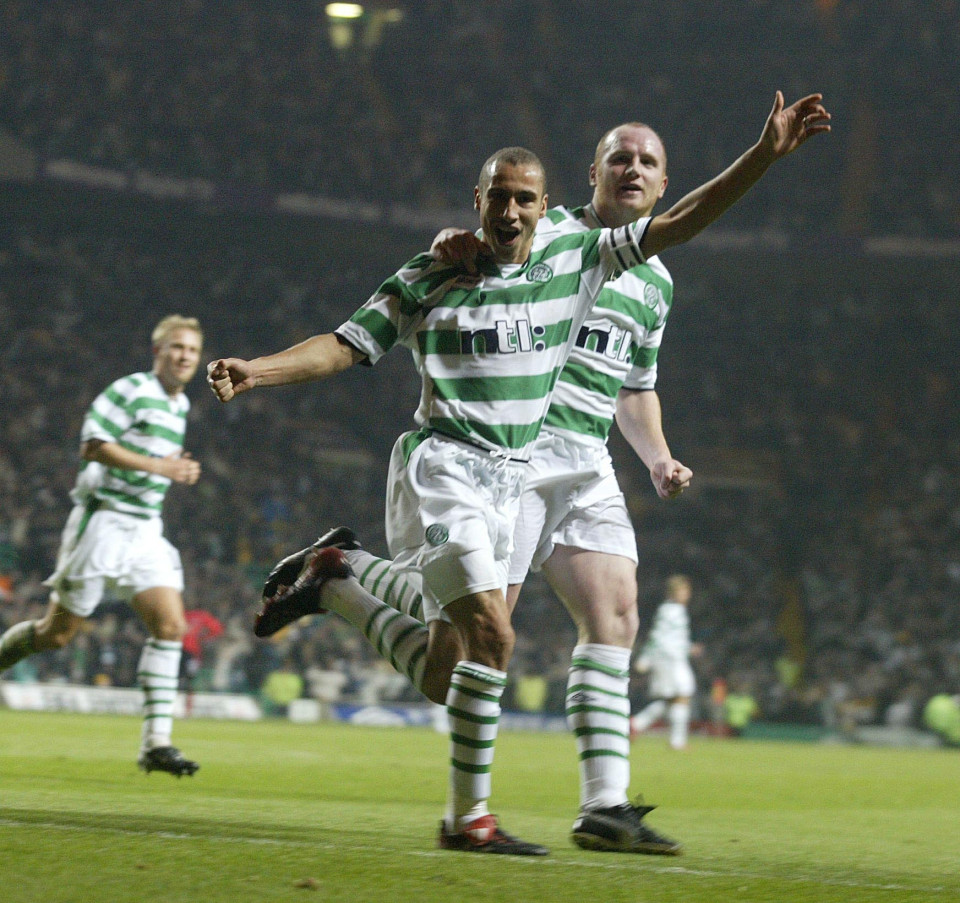 Going into the away game, Celtic fielded a second string side, and they booked their place in the second round with ease, winning the game 2-0. Goals from David Fernandez (remember him?) and Alan Thompson had Celtic cruising 2-0 at half time. John Hartson also missed a penalty just before the break. Alan Thompson and Stephen Crainey both hit the bar from free-kicks in the second half, but the score finished 2-0. Celtic went through 10-1 on aggregate. Attendances: Home 36,824. Away 1,200.
Here's the thoughts of Noel Kiely, who was at the away leg…
"Me and my grandfather Noel Kiely Senior went on the official travel for Celtic. There were about 130 Celtic fans and another 50 independent travellers. We landed in Kanuas and it was bitterly cold. The airport was so small and only had one runway. When we got out of the airport the place was like something out an old movie; trams, old cars on the road and nobody spoke English expect a few people at our hotel.

"The locals didn't even know why we where there. They considered at us with a strange look on their faces because we all had Celtic strips and scarves. It was as if they thought we were like aliens. On the day of the match we got a taxi up to the stadium. It was very rundown and we had as many fans as the home team. After being knocked out of the Champions League at the hands of Basel, I wasn't expecting very much success in the UEFA Cup, trouncing Suduva 10-1 on aggregate eased the pain a little though."
Celtic v Blackburn (3-0 aggregate)
Celtic then came up against Blackburn in the second round and again were at home in the first leg. It turned out to be a very nervous game for a Celtic side very much on the back foot for the majority of the match. 0-0 it was at half time, and the game was looking to finish goal-less with neither side looking capable of breaking the deadlock.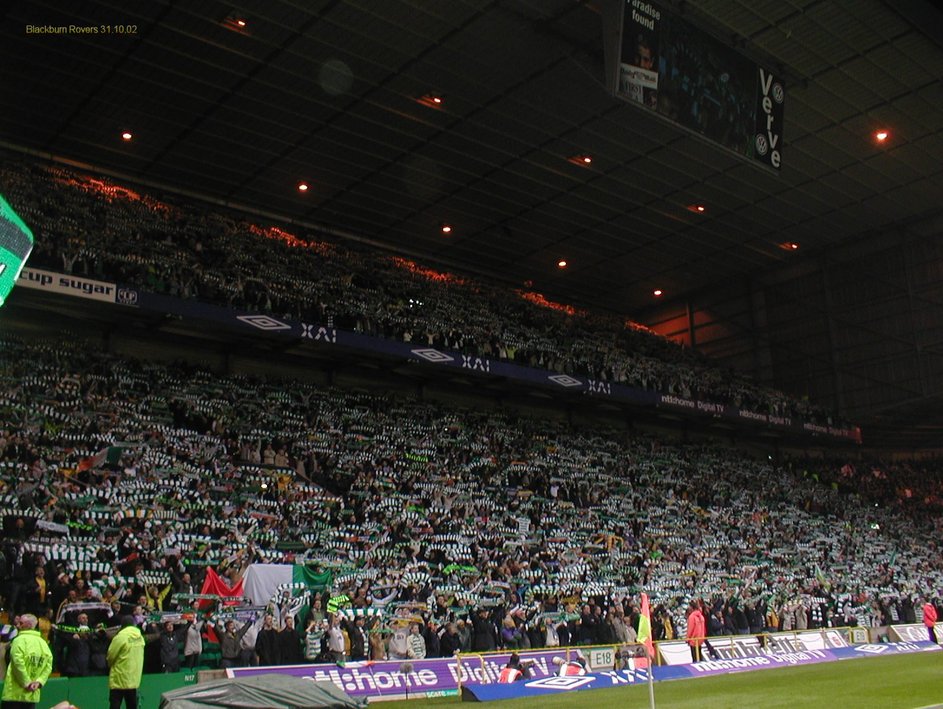 Then six minutes from full-time Henrik Larsson scored the all important goal for Celtic. The full time whistle went, to a huge sigh of relief from the home fans, and Celtic had a 1-0 lead to take down the M74 and M6 for the second leg at Blackburn.
Going into the second leg, Blackburn very confident that they would conquer Celtic – 'Men Against Bhoys' headlines were everywhere – but this wasn't to be the case as Celtic silenced both their opponents and the critics with a comfortable and hugely enjoyable 2-0 win.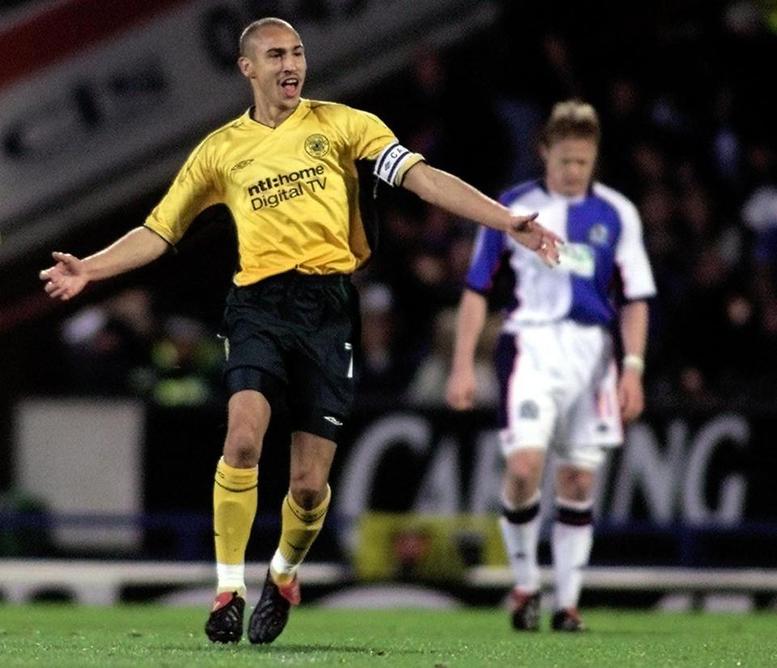 Henrik Larsson again opening the scoring after 15 minutes, and then ex-Blackburn player Chris Sutton killed off their comeback hopes making it 2-0 for Celtic. So deservedly Celtic went through to the next round 3-0 on aggregate. Attendance: Home 59,553. Away 29,698.
Here's Bud Adam's story, from the Blackburn second leg tie…
"We set off early doors and joined the Celtic convoy down on the motorway heading to the so-called Battle of Britain, all of us confident that we'd put one over on Blackburn manager Graeme Souness.

"The beer was flowing and the tunes blaring as we arrived, Celtic fans had taken over the town, the bars were bouncing and we were all in good spirits. As the day progressed some trouble kicked off when some Blackburn fans tried to take some liberties but it quickly died down.

"As word of fake tickets started circulating we set off to the ground early to avoid the rush only to be met with thousands of fans with the same idea. Police and stewards tried to set up a cordon but too many fans were trying to squeeze through a small gate to enter the turnstiles. A mass crush ensued, panic set in with the travelling fans and at times I struggled to get my breath as we were packed in like sardines. Tempers flared as people realised they might not get into the game, I was on my own as I lost my friends but my only concern at the time was getting inside.

"I eventually (think I may have been one of the last before they shut the turnstiles) got into the Darwin end in time for the huddle and the delayed kick off. Inside the stadium was intense and tensions were running high as everyone tried to find their mates, but after Larsson's opening goal everyone settled down and enjoyed the night, sporadic fights broke out in the home end as Celtic fans celebrated the opening goal, by the time Sutton added a second the game was already over for the travelling fans – Celtic had won!

This turned out to be the first Battle of Britain on the road to Seville and I was extremely happy at how comfortable the victory was in the end for Celtic. Step by step…"
Celtic v Celta Vigo (2-2 aggregate, Celtic through on away goal rule)
Celtic were then drawn against Celta Vigo, surely their toughest test yet. Again the first leg was played at Celtic Park, with Celtic seeing out another nervous 1-0 win. Martin O'Neill sent out the same team that saw off Blackburn but It took Celtic a while to settle into the game. But it was that man Larsson again who scored after 52 minutes to give Celtic the lead.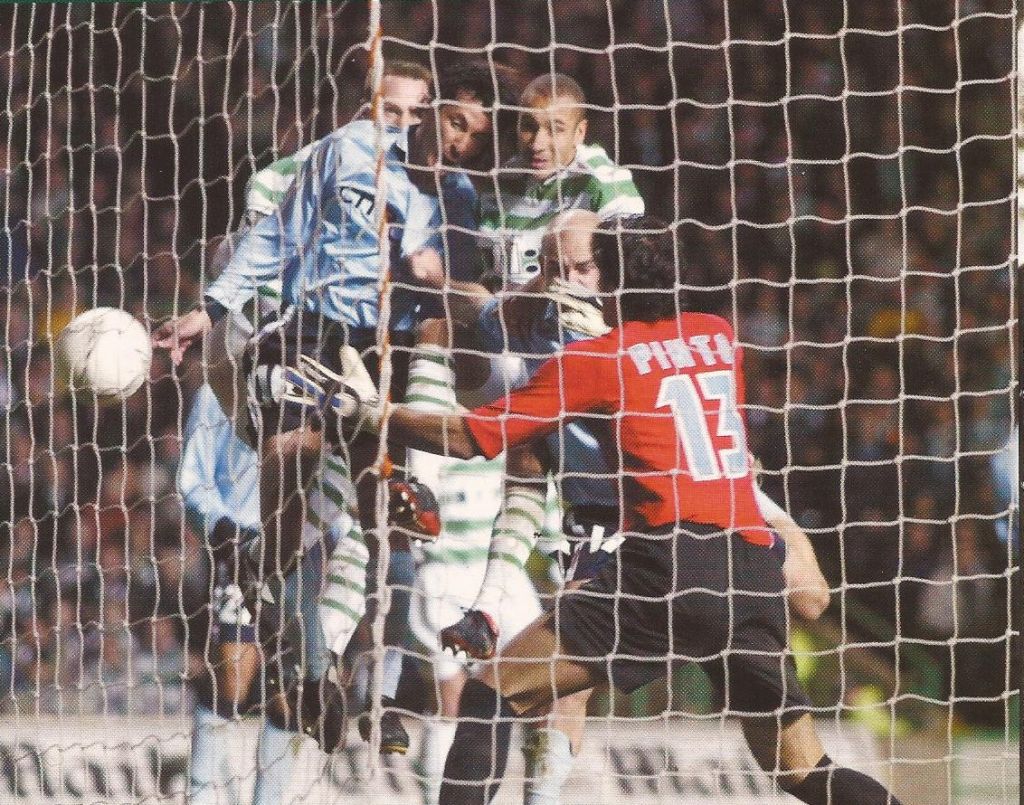 The referee had a shocker in this game, refusing to give some decisions to Celtic. Full time saw Celtic secure a 1-0 win to take to sunny Spain for the second leg. We thought it was nervous in the earlier rounds but this was worse. Celta Vigo took the lead through Jesuli before John Hartson got the crucial away goal making it 1-1 at half time. Benni McCarthy then scored to make it 2-1 to Celta Vigo, and it was now a matter of holding on for Celtic.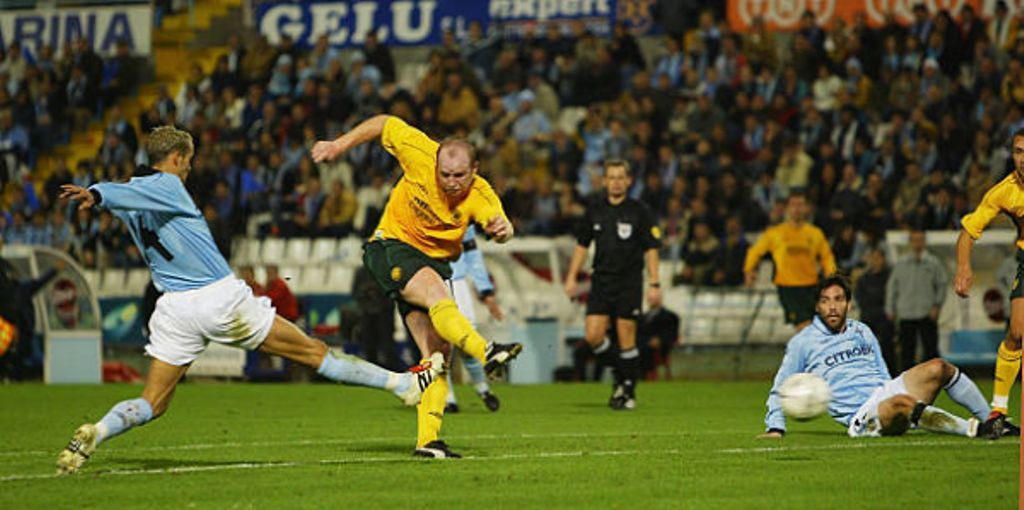 Didier Agathe played outstandingly in this game. Celtic held on and went through to the next round on the away goal rule, 2-2 the aggregate score. It is the first time that Celtic have survived beyond Christmas in a European competition for 23 years. Attendance: Home 53,726. Away 14,300.
Here's Toddy McCormack's story. Toddy was in Spain for the away leg…
"Sitting on the tarmac at Glasgow airport for 2 hours with engine problems, we didn't care as we looked forward to the match against a top La Liga side. Finally were off. Myself, the McGrath brothers Joe and Gerry, big Drewby and Joe "the boss" Cosgrove finally arrive in Vigo, bags thrown into the room, let's go! We headed down into the city and met up with a few Bhoys from back home, for the usual; beer, singing and plenty of great banter. The stadium was more or less situated in the city, which was very handy and as per usual after a few beers we all lost each other!

"I met my older brother (Joe) going into the ground, covered in blood with no idea what happened to himself or whose leather jacket he was wearing (after the game he met two Irish fellas who asked how he was as it was them that put him into an ambulance).

"After the match we were all in high spirits and eventually found each other in a bar close to the hotel. Dear knows what time we packed in drinking but we were a sorry sight the next morning! Then it was off to the airport for the return flight unaware of the drama that lay ahead. On boarding the plane we were almost immediately taken off.

"More engine trouble! After another 2 hours delay we finally we get airborne. The flight attendants were mainly fine except for one stroppy woman. A guy was caught smoking in the toilets, and was spoken to by the stewardess. Then we heard an announcement saying that we would all be held back at Glasgow Airport until the culprit was identified by the other Celtic fans. This didn't go down to well, which led to a few questions being asked (not in a threatening manner though) and the stroppy stewardess ran to the pilot and suddenly we were on route to Cardiff! On arrival at Cardiff, we were met by a massive police presence.

"They eventually boarded the plane and came face to face with 180 subdued fans, not rioters as was reported. One of the coppers later said that a Celtic fan had told him, there are hundreds of us but we are really nice, just like the Waltons! The police could not have been any nicer and were totally confused as to why a mayday had been alerted due to rioting fans as we didn't look fit for anything never mind a riot. Anyway they gave us something to eat and eventually boarded us on to coaches for a long drive through the night back to Glasgow.

"Sky News had covered the event, which was handy in a way, because my 7 months pregnant wife watched me being escorted down the stairs of the plane by a copper so at least she knew where I was!

Looking back on the trip and the whole flight saga and asking myself would I do it all again? I wouldn't change it for the world. R.I.P. Joe "the boss" Cosgrove."
The first thought I had when we were drawn against Celta Vigo was that we'd go out. It was the most nervous tie we had faced yet, edge of the seat stuff when we were hanging on in Spain with the away goal rule.
Celtic v Stuttgart (6-3 aggregate)
Up next for Celtic was Stuttgart, again with the first leg in Glasgow. The game got underway and there was a big turning point in the 17th minute when Stuttgart had a man sent off. Ten minutes after the sending off though, it was Stuttgart who took the lead through Kevin Kuranyi. If anything the goal only spurred Celtic on more and 9 minutes later Celtic equalised with a goal from Paul Lambert. Just before half time Shaun Maloney put Celtic 2-1 up. Into the second half and Celtic scored their third through Stiliyan Petrov, and that was to be the final score.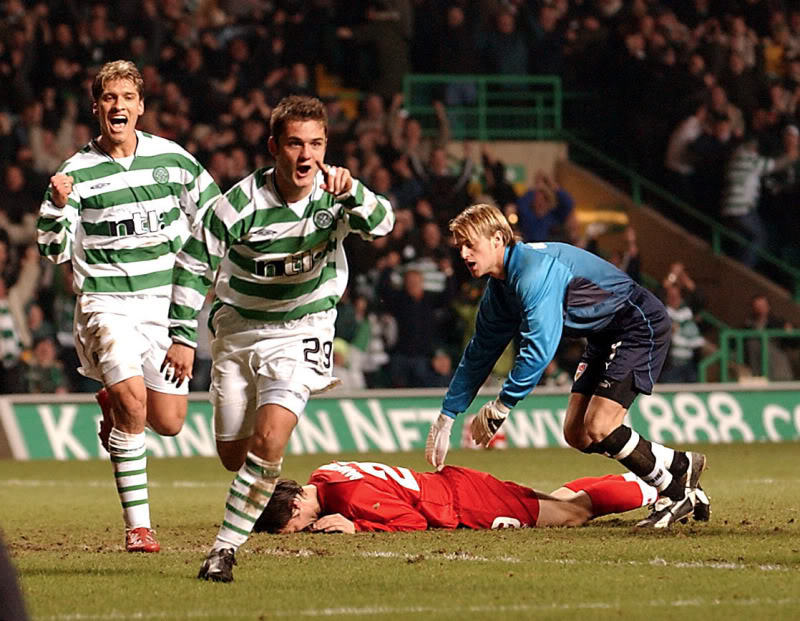 The second leg was thoroughly entertaining to say the least. Celtic got off to a flier in Germany, scoring 2 goals within 3 minutes and effectively killing off any hopes of Stuttgart. Stuttgart pulled one back before half time to make it 2-1.
In the 75th minute, Stuttgart scored again, and then scored another in the 87th minute, but it was too little too late. A very good Stuttgart side had managed to turn around a 2-0 deficit on the night but they were knocked out by Celtic 5-4 on aggregate. Celtic's fairytale was gathering momentum with notable scalps being taken from England, Spain and now Germany. Attendance: Home 60,832. Away 50,348.
Kieran Daly was in Germany for the away leg. Here are Kieran's thoughts on the trip…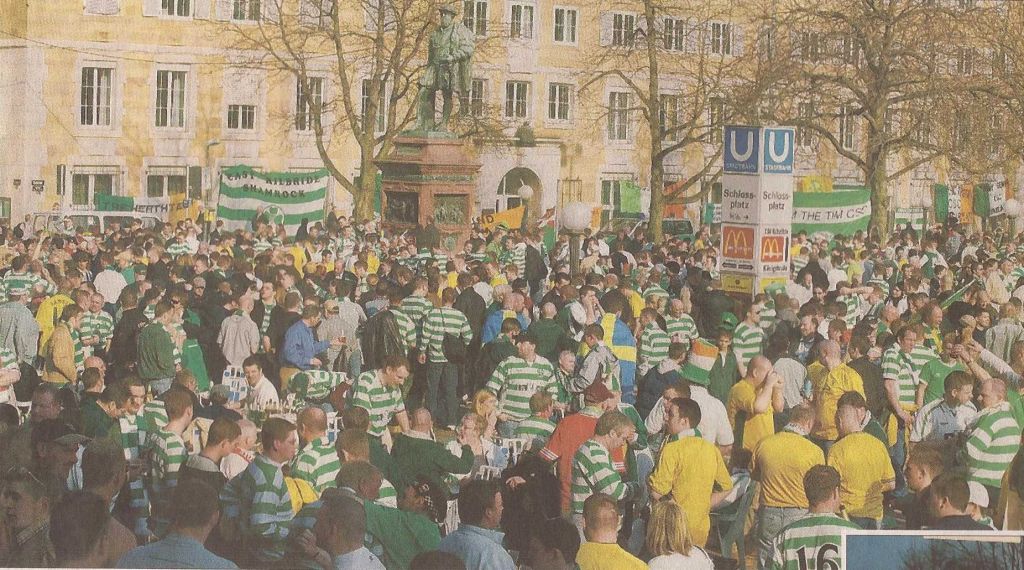 "Stuttgart for me was a wonderful occasion, it began when we arrived in the city greeted by a load of German supporters inviting us into the bars around the city. The beer was flowing and the Celtic songs where being sung.

"The occasion was special during and after the match especially as we won the tie, I believe that what made this occasion to me was the laughs that we had and building a special bond with the German people in that city."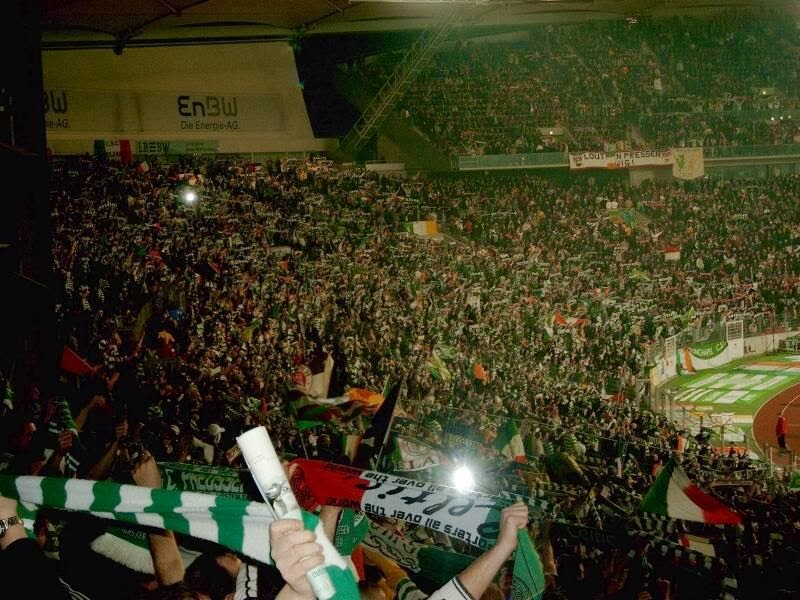 Fans were starting to get excited at the recent success in this Cup run, and it didn't stop at Stuttgart either. In what turned out to be one of the more comfortable ties, it certainly didn't seem like it in Germany when Stuttgart came back from 2-0 to win the leg 3-2. The 3-1 score line at Celtic Park had effectively killed the tie though.
Celtic v Liverpool (3-1 aggregate)
Another Battle of Britain saw Celtic paired with Liverpool with the first leg again at Celtic Park. There was a now certain expectancy among the Celtic supporters to get through. Celtic started perfectly and found themselves 1-0 up after only 2 minutes thanks to Henrik Larsson.
Liverpool replied though to make it 1-1 just 15 minutes later. This was to be the full time result, but the game was marred by a disgusting act of indecency from El Hadji Diouf when he spat on a Celtic fan.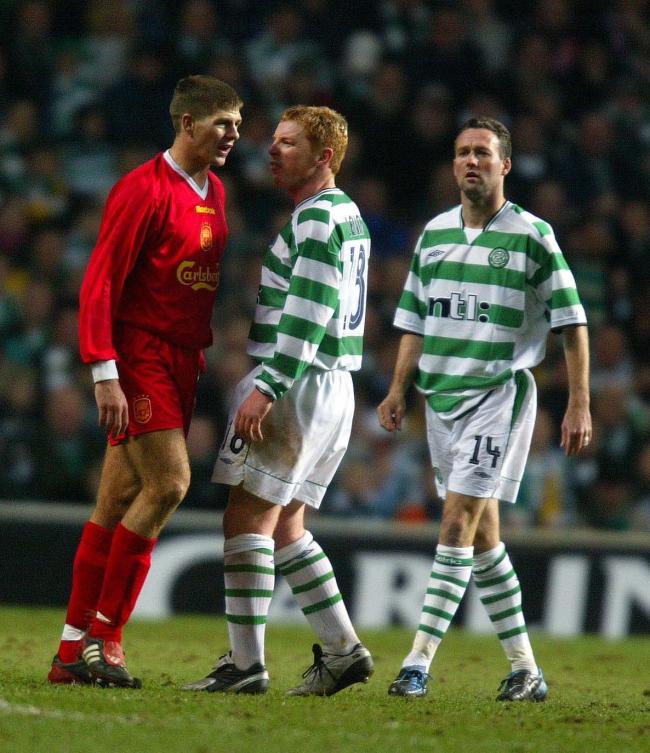 Going into the second leg, it was all in Liverpool's favour and on paper it was Celtic's toughest test. That wasn't to be the case though as Celtic achieved a very comfortable 2-0 at Anfield. Both goals were superb to top a fantastic victory. A low free kick from Alan Thompson and a wonderful strike from John Hartson were the difference in this game. Celtic went through to the semi-final 3-1 on aggregate. Attendance: Home 59,759. Away 44,238.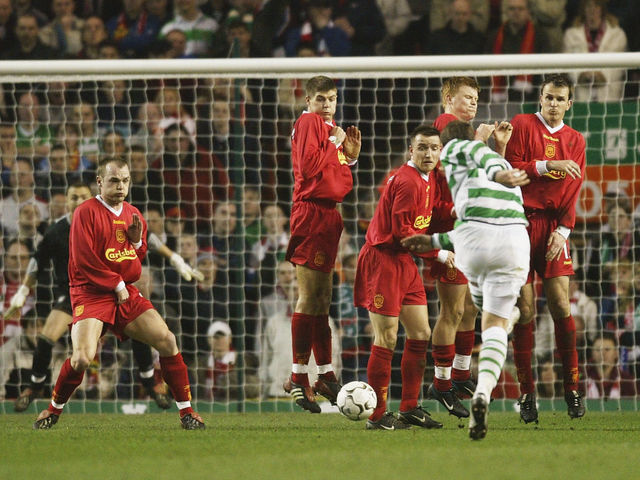 Here's the story of Colin Jordan, who travelled down to the game in Liverpool…
"This Journey to Liverpool started a few weeks prior in Germany. Myself and a few of my friends were sitting in a small Turkish bar after the Stuttgart game talking about the match and who we fancied in the next round. To a man we all said Liverpool. We really fancied our chances especially if we could get Henrik fit.

"We got Liverpool and Henrik was fit for the first leg scoring after 2 minutes. The experience of the 2nd leg was phenomenal; we travelled early morning on the day of the game arriving in Liverpool around about 12pm. It was full of Celtic fans singing songs and mixing with Liverpool fans in pubs, all getting on really well.

"We went to a Liverpool social club, which was full of Liverpool fans. It was great, the Liverpool fans were very welcoming, telling us how we were going to get beat easily off the mighty Liverpool. But we remained confident. We got a taxi about 40 minutes before kick off and asked the driver to put some Celtic tunes on so that we were set for the game. We went back to the same social club after the game but it wasn't as busy, I don't know why!

"The fans we met after the game were either jubilant Celtic fans who decided they were just going to stay a night in Liverpool to go out and celebrate ie no hotel, hardly any money, just determined to enjoy themselves, or Liverpool fans who couldn't believe the mighty Liverpool had lost at the famous Anfield. To their credit they did congratulate us and wished us well in the semi-finals."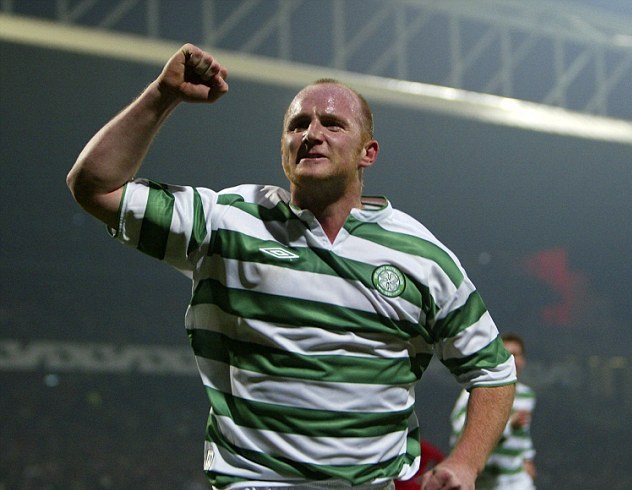 Up against one of Europe's most successful clubs, this proved a stroll in the park in the end. An away goal however for Liverpool had us thinking the worst. At Anfield, Liverpool were clear favourites, but they fell short of expectations when Celtic eased to a 2-0 victory. Watching the game it was just brilliant to see those wonderful goals for Celtic. Big Bad John scored his best ever goal for Celtic that night. Celtic were through to the semi-final, who'd have thought it?
Celtic v Boavista (2-1 aggregate)
Boavista from Portugal came next for Celtic. This was an extremely nervous semi final for both teams as the prize of a place in the UEFA Cup Final awaited the winner. The first leg was again to be played at Celtic Park. The first half was very tense and it finished goalless. At the start of the second half Joos Valgaeren was unfortunate enough to score an own goal in the 48th minute. Celtic fans were thinking the worst. Celtic went into this match as clear favourites with the bookies and it only took a minute for the panic to ease when Henrik Larsson made it 1-1. This was the story up until the 75th minute when Celtic were awarded a penalty.
Larsson stepped up to take it and MISSED! It was a superb save by Boavista's goalkeeper Ricardo to keep the score 1-1. John Hartson had a chance late on but the game finished 1-1. Would Celtic rue that penalty miss? Would Henrik make up for it in the second leg?
With so much at stake this was was another incredibly tense game. Nil-nil would suit the Portuguese side as they had an away goal. Celtic needed to score. Neither side able to break the other down in the first half and it was more of the same in the second half. As the clocked ticked on the closer Boavista were coming to reaching the final through the away goal rule. Then on 80 minutes – at last – a goal from who else but Henrik Larsson!
Celtic had the lead and Henrik had scored the goal. Celtic held on to win 1-0 and went through to the UEFA Cup Final winning 2-1 on aggregate. Incredibly Celtic were in the UEFA Cup Final! Attendance: Home – 60,000. Away – 11,000.
Celtic fan Tony Kelly made the trip over to Portugal for the Boavista match. Here's his story…
""Claire, where is my passport?" I was frantic now as I pleaded with my wife. She must know I thought. Claire, my wife of twelve years, suffers my trips away to support Celtic without a single moan. Not this time though as Claire would not give me her blessing to go on this trip telling me that our bakery was now at critical point, busy and with too many European away days this year they had taken their toll.

"She was adamant she was not helping. I was panicking. Then, I found it. In the very first place I looked an hour ago. Now back to work on Claire, surely she would give me permission to go. Not that a man needs permission but in the home, every man knows it's best to let your wife be boss sometimes. "Claire, c'mon honey." She replied, "No Tony you have been to every game home and away".

It's 8am. I am booked on the official flight to leave at 10:30am. Decisions, decisions. I ask so many times I am beginning to annoy her. I need to change tactics.

"Claire, we will go away somewhere nice when I get back". Claire replies firmly "no Tony." I call Therese Cassidy, through whom just four weeks previously I had booked 16 seats on the one day trip and one on the official trip to Porto. Celtic were playing their biggest game in my lifetime. The Semi Final of the UEFA Cup!

"My bakery in Rutherglen was like a supporters club. Every day visitors talk all things Celtic. We had all our staff going to game, even the engineers who fixed fridges. The day before Jamie Kerr had picked up tickets for travelling. Nicky Fisher our fridge engineer was excited, Brian Hay brother of Celtic great Davie Hay was waiting patiently for his travel details. My brother Paul and nephews and nieces, all soaring in anticipation for their travel details. In comes Jamie, passes out all the tickets and comes to Nicky the fridge engineer.

"Now Nicky Fischer has no sense of humour and when Jamie tells him his ticket is wrong and that he needs to go quickly to amend details we all stop laughing, more tension. Then Jamie tells Nicky his name is wrong on the ticket. We ask what's wrong Jamie? Jamie says that his name has been printed on ticket as "Fishy Nicker" – the place erupts!

"Today, all jokes were on me. I wasn't going. Claire was adamant. She said you can go on one of the places for one day and back that night. It was her only compromise. I called Therese, told her I would not be on official flight. She called me a name told me I was a pest and said she would see me at Boavista. I put down phone, seated in my living room watching TV. The build up was amazing. Lead story on Sky Sports News. Headlines in every newspaper. I was thinking I need to go, TODAY. I go back to Claire ask again, still no. Then I put foot down. She is livid. I tell her we will deal with it when I get home!

"In the car I call Therese who is at the airport; she tells me if I am not at the plane door before Martin O'Neill, I will not be going. She also has someone to meet me at airport. I am racing along the M8 towards Glasgow Airport. I call Claire; she is still angry and puts phone down. I call again this time, no answer. I get to airport and rush to the plane. I am there just as Martin and John Robertson come behind me. Therese gives me a scud across the head as I get on. The guys I have told I am not going tell me they knew I would be there. How could they? We take off. I have left match tickets in car. Aaaaaaggggghhhhhhh.

"Jamie was the first person I called from Portugal. 'Can you go to my house and get my spare keys straight away. I have left our tickets in car'. He replies, 'I am not going near your house. Your Claire is raging'. Claire had been on phone ranting and raving to Jamie's wife Dawn. When I informed him his ticket was in the car he duly obliged and got a soar ear into the bargain from Claire!

"The game was brilliant; the best sight ever was when the official Celtic party arrived at the airport in Portugal at same time as the one day flight to return home. The sight of Bobo Balde running into fans and jumping on Jamie's dad whom he knew from his time at the park every day getting strips signed for charity events etc, will live with me forever.

"Coming home on the flight we didn't need a pilot because we were so high from the victory. I arrived home the day after the game to find my wife standing at the door with the biggest cuddle and the million dollar question. Have we got tickets for the final because we are not missing it for the world? I replied, "Of course darling!""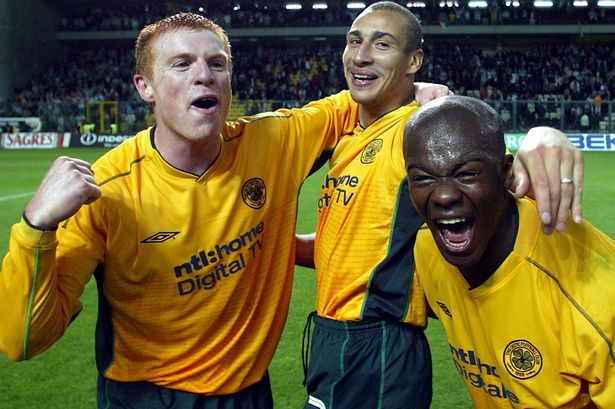 Talk about nerves. This was painful to watch. Boavista getting the away goal just like Liverpool did, and when Henrik Larsson missed the penalty, would we live to regret it? The game was getting closer and closer to 90 minutes at Boavista's small stadium and they were in the driving seat, as Celtic needed to score. Into the last 10 minutes and Celtic fans go ballistic; Henrik Larsson had just scored the most crucial goal of his Celtic career. We had done it; Celtic had reached the UEFA Cup Final. I never thought I'd see this day.
UEFA Cup Final – Celtic v Porto (2-3 A.E.T.)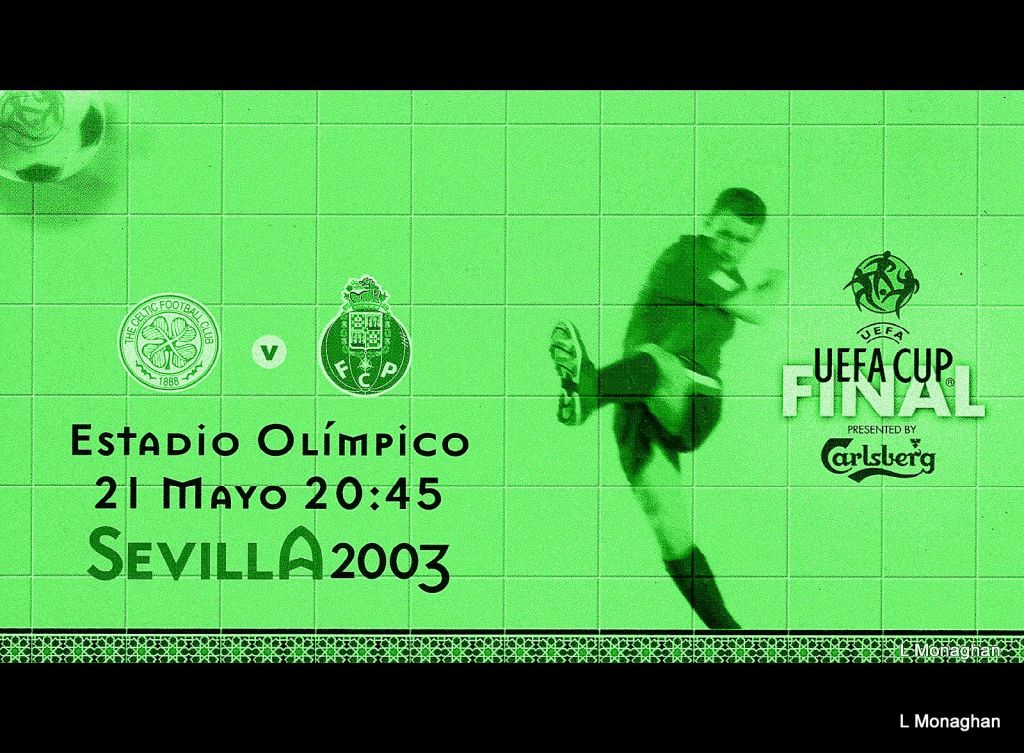 Porto. It was one of the teams that the fans wanted to avoid coming up against in any round. They were playing extremely good football throughout the tournament, and they had a fantastic team of players.
Going into the game, the bookies had Porto as favourites. Celtic fans travelled in numbers to Seville, estimates of 80,000 to over 100,000 making the trip.
The game kicked off and it was pretty much end to end, but neither side making the breakthrough. It was Porto who did so, the goal coming through Derlei. The second half got underway and Henrik Larsson immediately scored to make it 1-1 with an absolutely wonderful header. Just 7 minutes later though Porto again went ahead, this time through Dmitri Alenitchev. Only two minutes later and Larsson equalises again for Celtic! Another headed goal puts the fans into delirium.
The full time whistle went and the Final was going into extra time. Celtic went down to 10 men after Bobo Balde was sent off, and 10 minutes later Porto had scored again, going 3-2 up with another goal from Derlei. Porto then went down to 10 men in the dying seconds when Nuno Valente was sent off.
Celtic were doing everything they could to get the equaliser, but it was too little too late. Porto had shattered Celtic's dream at the last. Attendance: 52,972.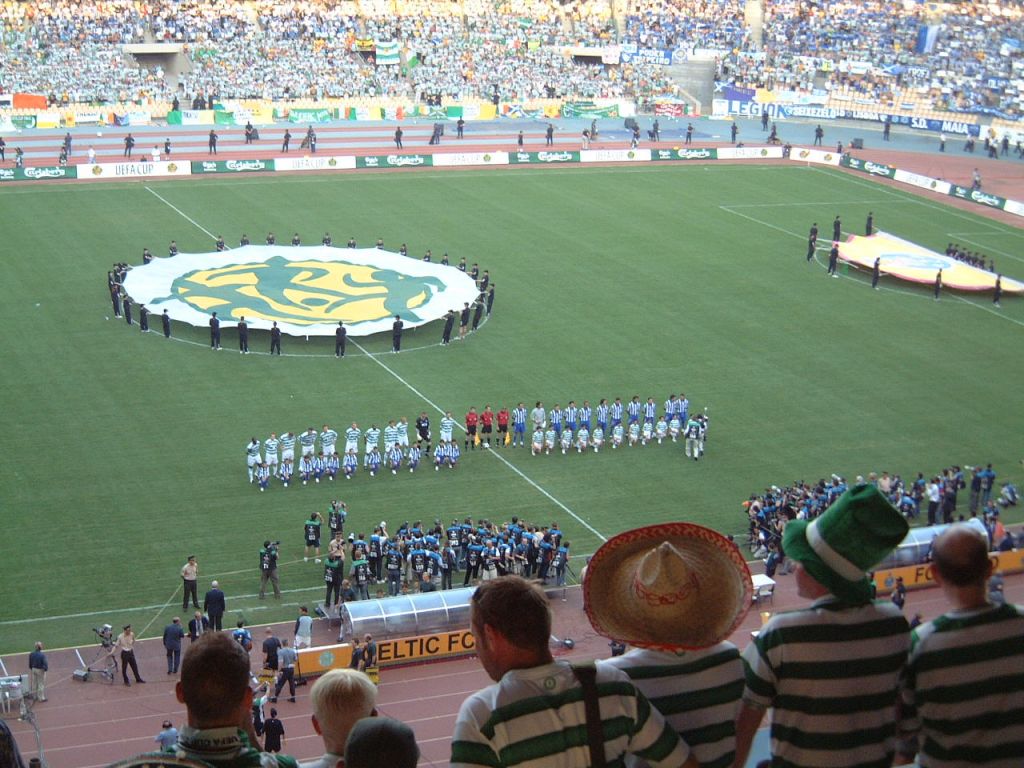 The last thing to mention about the journey to Seville is that Henrik Larsson scored 11 goals in 887 minutes, while Derlei scored 12 goals in 1,159 minutes.
Here are the thoughts of the one and only Paul Larkin, who managed to make the trip to Seville.
"When I think of Seville, three things come to mind. Heat, cheats and defeat. I don't think I have ever experienced heat like I did that day and was me sitting in the shade and only moving my hand up to my mouth a lot. God knows what it must have been like for the players to play in. Especially for the peely wally ones like Neil Lennon.

"Then there was the cheating. Porto were a fantastic side who had a great manager and they were on the up. So, you have to ask, why resort to the diving, the rolling about and the general bitching towards the referee every five seconds. Some of their players were world class and would go on to prove this for many years to come but in my mind they will always conjure up that nasty side of the game that no one wants to see. Most of the Celtic players played like gentleman that night. Until some woke up…

"Ultimately though, in Seville, there was defeat. The fans provided a spectacle that will be remembered by those there just like Sermon on the Mount was by those in attendance. The colour, the excitement, the passion, I can still feel it when I close my eyes but not for too long because I will always remember the fact that we got beat and at Celtic, we don't celebrate defeats."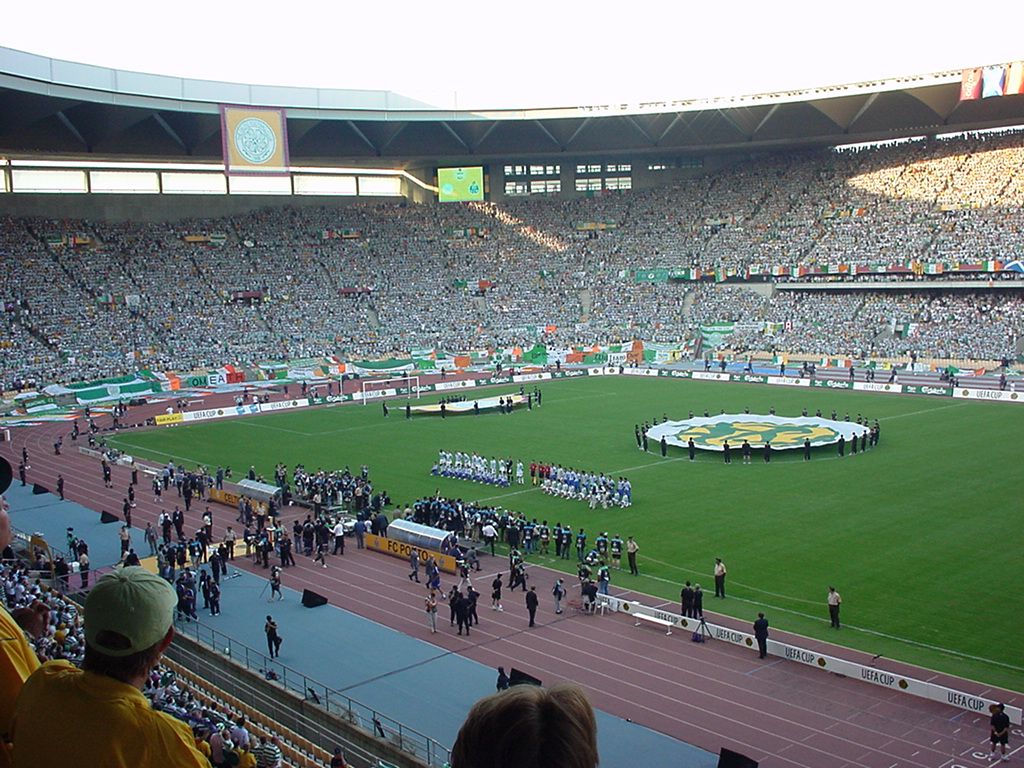 WHAT THE TWO MANAGERS SAID…
Martin O'Neill said after the game: "I will probably get into trouble for this, but it was poor sportsmanship. The rolling over, the time wasting. But they have beaten us, well done to them and it's up to us to learn from this. It is a steep learning curve, but this was a wonderful, wonderful experience.
"The players put everything into it and the fans have been fantastic. We came roaring back every time they scored a goal and, when we had 11 against 11 in extra time, I think we were the more mentally strong. But it was not to be with Bobo getting sent off. It was a massive blow."
Jose Mourinho had this to say: "I'd prefer to ask whether the behaviour of the Celtic players was normal in your country. What Balde did to Deco in front of me could have ended his career. The referee didn't affect the result, in that there were no doubtful decisions, but I think Balde could have had a direct red for his foul and Thompson could also have seen a second yellow card on two occasions. The referee wanted to end the game with 11 against 11 and I think maybe he was a bit afraid to send anyone off.
"There was a lot of commitment in Celtic's game, commitment, toughness and aggression. I'm tempted to use another word – but I won't. We have given a great example to the world and those who love football and we have also made history by taking the UEFA Cup to Portugal for the first time ever."
Later Mourinho could reflect on Celtic in Seville and had this to say in June 2003:
"I fell a bit in love with Celtic, because the atmosphere was amazing and the crowd was magnificent, the way they behaved with the Porto fans."
Then in May 2008 he once again talked about Celtic in Seville: "When I was at Porto my team also played in the UEFA Cup final against a Scottish side – but it was Celtic. I've never seen such emotional people. It was unbelievable!"
That it was Jose.
Joe Ruddy, from Seville – The Celtic Movement