On this day in 1998 Celtic signed a Gift from God, Lubo Moravcik. Was it Hugh Keevins who wrote about it being embarrassing that we didn't sign the former Motherwell and Rangers striker but instead opted for signing a Dud Czech. Lubo quickly proved Keevins completely wrong as usual but even for him this was one almighty gaff.
"I don't know what I find more laughable; the fact that Celtic cannot find £500,000 from their biscuit tin to sign a proven talent like John Spencer, or the fact that they then spent £300,000 on one of Dr. Jo's old pals, the unknown Lubomir Moravcik!" Hugh Keevins wrote in Sunday Mail in November 1998.
Quickly Moravcik was thrown into his first Old Firm encounter against league leaders and strong favourites to win the game, Rangers. That was the day Lubo really arrived in Glasgow but it was the former Rangers striker Derek Johnstone who warned the then Celtic manager Josef Venglos about throwing this unknown (to Johnstone) player into this game.
🗓️ ✨ #OnThisDay in 1998, we signed Lubomir Moravcik! 🙌#CelticFC 🟢⚪️ pic.twitter.com/78uwL3dqs3

— Celtic Football Club (@CelticFC) October 27, 2020
Jim Traynor (remember him!) was at the time heading up the sports output at Daily Record and also had a prime time football phone-in on the ever impartial BBC Scotland. He had his say on the player Celtic signed on this day in 1998.
"If anything the signing of Lubomir Moravcik at a cut price has merely caused them further embarrassment." Traynor said, again quoting from Celtic Wiki.
"Josef Venglos will live to regret his decision to play this unknown Slovakian ahead of Mark Burchill in such a vital Old Firm Game." Derek Johnstone said, as reported on Celtic Wiki. Lubomir Moravcik scored twice that day as Rangers were destroyed 5-1. The club played U2's The Sweetest Thing as the happy fans exited the stadium.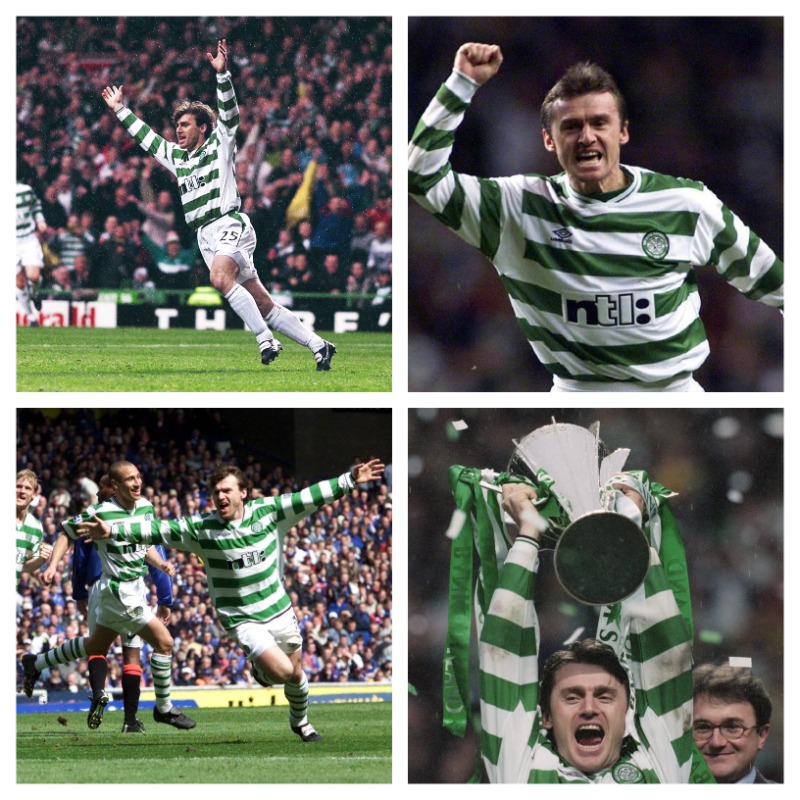 "My favourite time, my most special time, was at Celtic….They said I was a 'gift from God' but it was the opposite – Celtic was a gift from God to me…Celtic is unique."
Lubo Moravcik recalled back in 2015, as reported on Celtic Wiki
"I left the club in 2002 but I haven't been forgotten. When I am on holiday in Spain, playing golf, the Celtic supporters approach me and ask for a photo or to talk about Celtic. It still amazes me.
"As a kid growing up I wanted to play in the World Cup for my country. I was then lucky to play in an Old Firm game. We beat Rangers 5-1 at Parkhead in 1998 under Dr Venglos. When the Champions League started in 1992 I wanted to play in it for a club. Celtic gave me that opportunity.
"The most memorable occasion was when I played against Juventus in the Champions League. We won 4-3. Martin O'Neill gave me my first start in that tournament. I made the most of the moment. I was subbed near the end and I will never forget the standing ovation I received from the Celtic supporters. I am very lucky.
"I was never a big goalscorer during my career. I scored some nice ones but there isn't really one that sticks out for me. It really is hard to choose. I enjoyed setting up my team-mates, whether it was with my right foot or my left foot. I know Henrik Larsson, Chris Sutton and John Hartson appreciated it. That made me feel happy.
"We had great success under Martin. The club had had a difficult couple of years for different reasons but we had good players and he got the best out of us. He transformed Stiliyan Petrov and Johan Mjallby."
Martin O'Neill certainly appreciated having Lubo in the squad when he arrived at Celtic.
"You wonder where he has been hiding all these years. Lubo is the most-two footed player in Europe, his talent is amazing. His contribution to the Treble-winning team was absolutely immense and I was delighted that he signed for one more season to play in the Champions League.
"He remains one of the most gifted footballers I have ever seen or worked with and considering I played with many excellent players at club and international level, I cannot pay him any greater compliment than that.
"In only a short period of time at Celtic Park he has become as big a hero as any of the Lisbon Lions of 1967. He must have done something special to have warranted such acclaim."
Martin O'Neill said in 2015, again from Celtic Wiki.
27th October 1998, Lubo Moravcik signs for Celtic.🙌 pic.twitter.com/EK5pzahAse

— Li'l Ze (@LilZe_7) October 27, 2020
🗓 ON THIS DAY: In 1998, Celtic sign Lubo Moravcik from MSV Duisburg for a fee of £300,000. pic.twitter.com/nGV9izCoFi

— celticbible (@celticbible) October 27, 2020
When Celtic signed Lubo 22yrs ago like everyone else had never heard of him….. What a sining what a player one that could change a game with a moment of his magic 🍀🍀 pic.twitter.com/BdM4QnLqO5

— Steviebhoy (@stevie75bhoy) October 27, 2020
On this day in 1998, Lubomir Moravcik signs for Celtic. "My favourite time, my most special time, was at Celtic….They said I was a 'gift from God' but it was the opposite – Celtic was a gift from God to me…Celtic is unique." pic.twitter.com/USsCYTOxIm

— CelticLisboa (@CelticLisboaa) October 27, 2020
"My favourite time, my most special time, was at Celtic…They said I was a 'gift from God' but it was the opposite, Celtic was a gift from God to me…Celtic is unique."

Lubo, Lubo, Lubo 🙌 #OTD in 1998: We signed the Magician ✍🍀

— 🍀 Celtic1967.com 🍀 (@Celtic1967_com) October 27, 2020