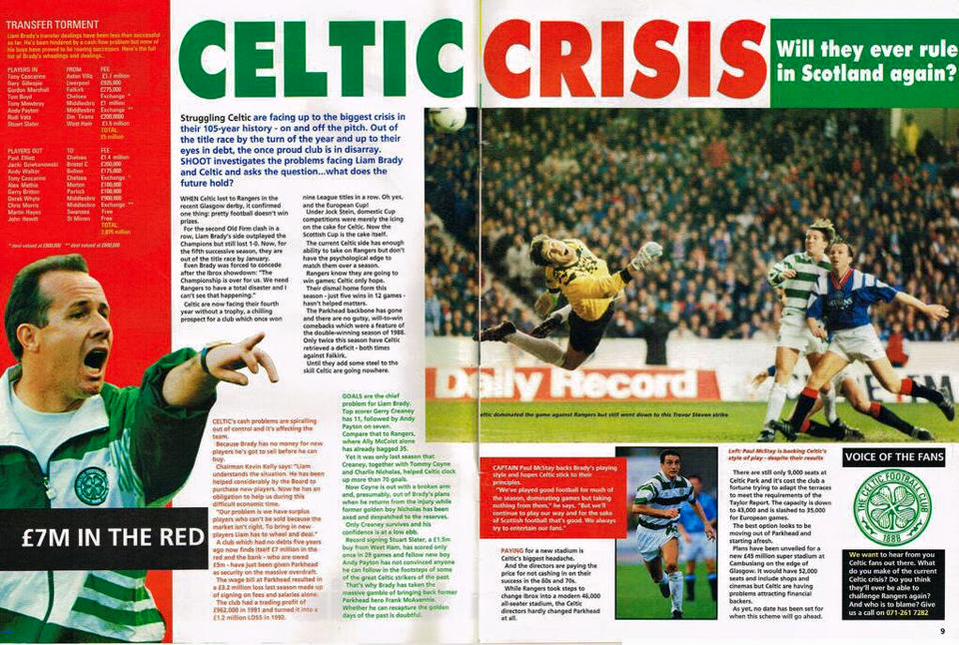 SHOOT Magazine laid the situation bare. Celtic were a club in crisis, heavily on debt and with no real leadership in the boardroom. An inexperienced manager was faltering, his big money signing like Cascarino and Slater had flopped spectacularly and it seemed that nothing could be done to stop the Ibrox juggernaut that was being driven by David Murray.
Earlier in the week we reported on Liam Brady's thoughts as he looked back on his time managing Celtic – it is well worth a read, and you can see it HERE.
Meanwhile over in Govan things were looking much better as David Murray's seemingly endless wedge of money brought in one prestigious signing after another and at that stage no one could see how Celtic could keep up.
Murray of course had his eyes on two prizes – winning the European Cup / Champions League and breaking Celtic's record of winning nine league titles in a row. He would throw huge amounts of other people's money at both objectives over the next decade or so.
Today we all know the answer to the question that Shoot posed in 1993 – Will Celtic ever rule in Scotland again?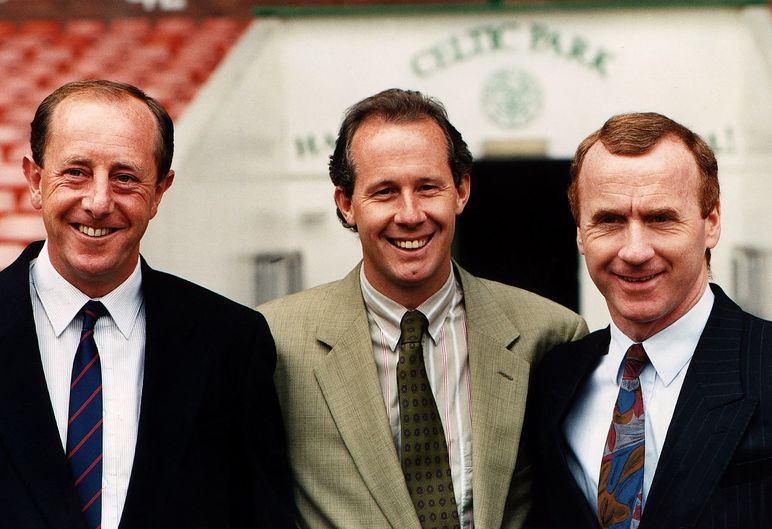 Thanks to Fergus McCann, the rebels and The Celts for Change, the answer is YES.
Celtic are now the top dogs in Scottish football and David Murray's Rangers have been liquidated, with multi-millions of debt left in its wake. The stench from Murray's cheating refuses to subside and even today Scottish football awaits news from the current Ibrox club concerning their audited accounts which are necessary before they will be allowed to participate in European football next season.
The cheating from the past has returned to haunt the new club as the SFA simply will not be allowed to wave them through to play in European football without being able to meet the criteria which is set out for ALL clubs.
Like David Murray's Rangers, Shoot Magazine isn't around these days. If it was it would have been a perfect time for them to return to Glasgow, and write a follow-up crisis story about the the latest Rangers being £??Million in the red, and ask "will they ever rule in Scotland?"
Or maybe they could ask, Where is their Fergus McCann?
Or maybe they could with the benefit of hindsight look at at what was happening at Ibrox and conclude that no wonder Celtic was in crisis with all this going on…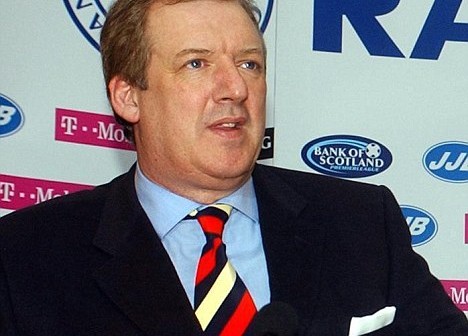 FIVE DAMNING FACTS ON DAVID MURRAY'S TIME AT RANGERS
1. Between 1989 and 2011 Rangers Football Club (Rangers PLC) amassed losses which in real terms came to over £180 Million.
2. During that period, the club were directly or indirectly (via MIH) funded by the absolutely disgraced management of the Bank of Scotland.
3. During the same period, the same bank financed the majority of the other senior football clubs in Scotland, and during that time they reigned in the available finance to those clubs whilst continually extending further credit lines to Rangers until such times as it became plain that the club was operating at an unsustainable level of debt. Eventually they sought to reduce their "book" damage by funneling money through MIH which allowed Sir David Murray to shore up a totally failed share issue in 2005.
4. Throughout this period, the governing body of Scottish Football and the body which regulated premier league football failed to take any steps which would safeguard the interests of small individual investors in Rangers Football Club. There was little, if any, attempt at real club financial regulation by the Scottish Authorities nor any detailed, or even cursory, examination of the strange and unsettling financial model and practice which was enveloping Scottish Football as a whole where the contrast between the one bank's attitude towards Murray and Rangers was in stark contrast to their practice everywhere else.
5. Despite having a written mandate from all clubs which allowed them to make independent enquiries, The SFA failed to make any enquiries whatsoever as to the status of paid or unpaid taxes by the football club concerned at any juncture even when it became plain that there was a major and life threatening dispute between HMRC and RFC. There was no clarification sought about the nature and the practices behind EBT schemes employed by Rangers PLC nor was it ever questioned as to why one club would employ such a scheme while all others did not.
*Murray failed to achieve any European success and he failed to win Ten in a Row.
Wonderful camera work from Celtic TV but an even better finish from Odds-On Edouard….. pic.twitter.com/0ibCEsKm8z
— Lisbon Lion (@tirnaog09) March 29, 2018