WITH Celtic winning 9IAR during the week, it allowed for supporters to take stock of the last nine years from a personal point of view as well as from a footballing perspective. Celtic became Champions of Scotland after a blistering win at Rugby Park back in 2012 and since then, no team has been near the Premiership trophy that has been kept safe in the Celtic trophy room.
This series will look at a few forgotten names in the 9IAR winning teams and how their career transpired following their time with Celtic.
The first from our first win in the run back in season 2011/2012 is Mo Bangura.
In August 2011, Celtic paid £2.2m for the Sierra Leonean striker from Swedish side AIK amidst rumours that Henrik Larsson had tipped the club to sign him.
Bangura arrived saying he wanted to 'follow in Larsson's footsteps' and see where the move would take him, mentioning moves to England and Italy before he'd kicked a ball for Celtic.
Neil Lennon looked to the young striker to break into the team and compete with the formidable trio of Stokes, Hooper and Samaras. However, Bangura never got near them.
In his handful of appearances, Bangura appeared to struggle with 16 appearances and just one assist to show for it. Not the efforts of a star striker destined for the top.
Bangura's season was ended abruptly by a knee injury but he was part of the squad that won the first title of Celtic's 9IAR.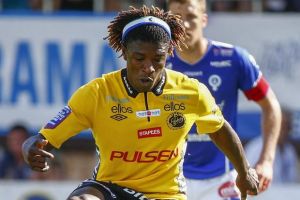 Despite having his contract terminated in 2014, Bangura was at the centre of a public defiance against Celtic when he decided to play against Celtic for loan club Elfsborg in the Champions League qualifiers. Bangura was booed by the support as he actively tried to knock the club out of the Champions League.
The 30-year-old is now plying his trade for Akropolis IF in the Swedish third tier. Following his departure from Celtic, a move to Turkey and China, with a return to Sweden sandwiched in between have Bangura three clubs in three seasons.
Since returning from Dalian Yifang in 2017. Bangura has slipped down the Swedish leagues where he now plays with Akropolis.