A 12th League title win for the incredible Alec McNair, 99 years ago today…
David Potter will next month publish his latest book Alec McNair – Celtic's Icicle via Celtic Star Books and you will be able to order directly from next week.  This brilliant new Celtic book on one of the most significant players in our club's long and unbroken history, will also be available from all the Celtic Stores.
The Celtic stores incidentally re-opened this week after the lockdown and as the photograph below – taken today –  illustrates, the shelves are well stocked with both of the earlier books published by The Celtic Star, Matt Corr's Invincible and also Walfrid & The Bould Bhoys which has three authors, Liam Kelly, Matt Corr and of course David Potter. Liam's Take Me to Your Paradise is also well stocked on the shelves.  Great to see…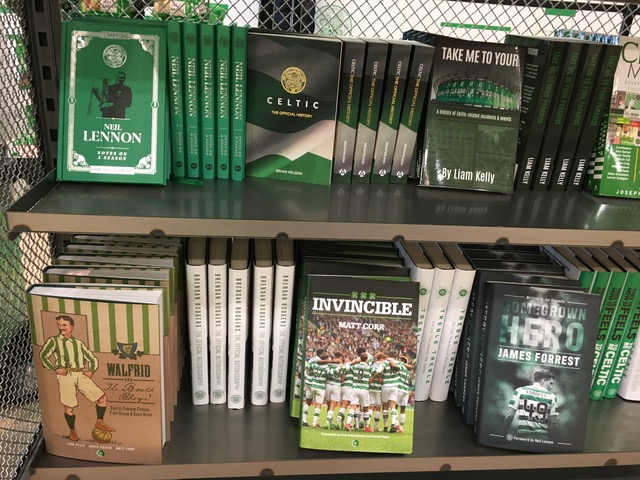 ALEC McNAIR – CELTIC'S ICICLE…AN EXCLUSIVE EXTRACT FROM DAVID POTTER'S NEW BOOK PUBLISHED NEXT MONTH ON CELTIC STAR BOOKS….
No Celtic player in history has won more League titles than the incredible Alec McNair, Celtic's Icicle.
Having appeared as a youngster in the 'winner takes all' play-off victory over Rangers in 1905, Eck would go on to become a key part of Willie Maley's first truly great sides, winning six-in-a-row by 1910 then adding another sequence of four successive Scottish League championships by the spring of 1917. Number 11 would duly follow for the Bould Bhoys two years later.
On this day in 1922, an incredible 17 years after winning his first medal as a Celt, Alec and his team were locked in a titanic struggle for the Scottish title with arch-rivals Rangers.
No-one describes these events from Celtic's long unbroken history quite like David Potter, and the following is an extract from his latest book, which covers the fabulous career of Alec McNair….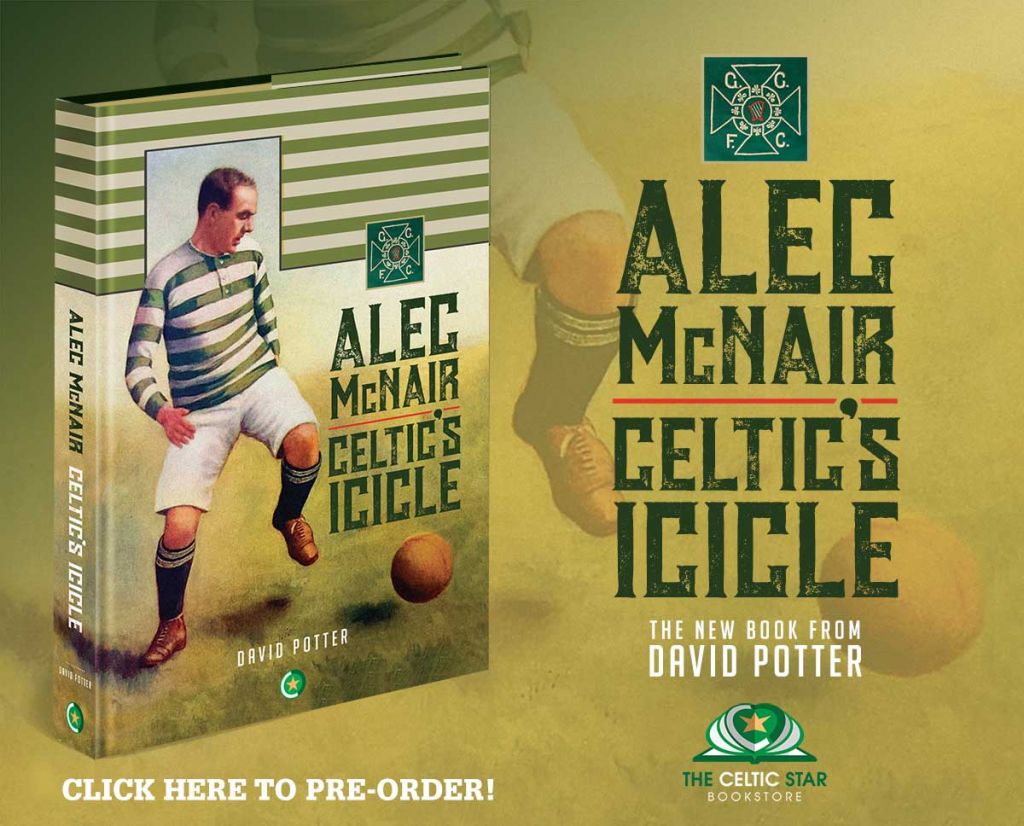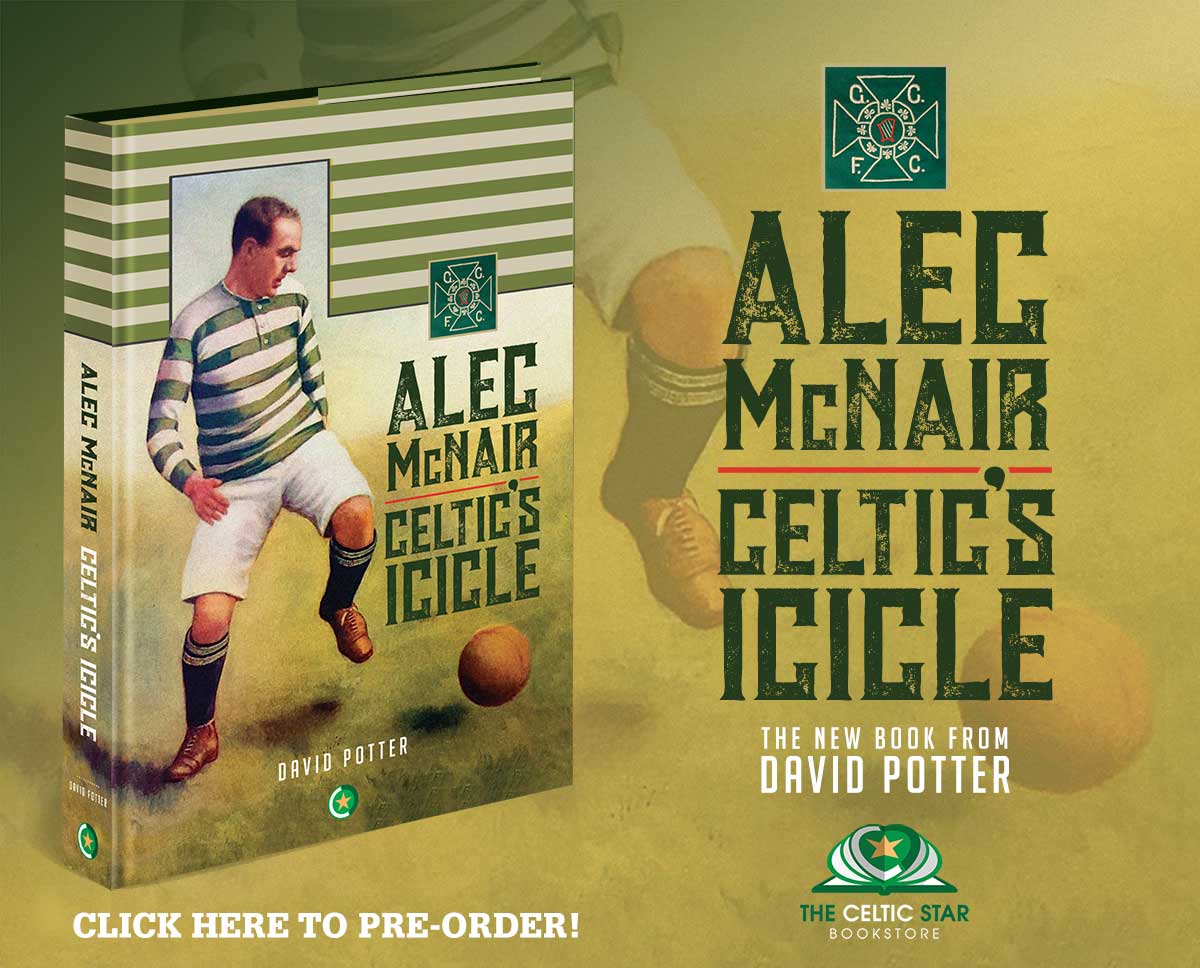 AN EXTRACT FROM ALEC McNAIR – CELTIC'S ICICLE by David Potter…
McNair was in fine fettle the next Saturday, when Celtic took the short trip to Coatbridge to beat Albion Rovers 2-0, the day made even better by the news that Morton had won the Scottish Cup for the first time ever by beating Rangers 1-0 in what The Dundee Courier describes candidly as the "roughest Cup final on record."
Celtic now had 64 points and two games to play, Rangers having 59 with four to play. Willie Maley's Bhoys simply had to win both those games, against Partick Thistle at home 48 hours later and Morton away on the last Saturday of the month. Thistle, even with Jimmy McColl now playing for them, could make little impression on Shaw, McNair & Dodds, as Celtic won 3-0, however, Rangers also won their game that day and their two matches in hand. Thus, we approached the last day of the season with Celtic, one point ahead, going to Morton and Rangers playing at Clyde. Saturday, 29 April 1922 would turn out to be one of the most dramatic days of Alec McNair's lengthy career, but once again it brought out the best in him.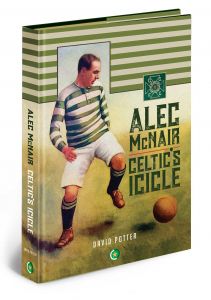 Eck needed to be at his calmest and coolest that afternoon for several reasons. One was the sheer size of the crowd – 23,500 packed inside Cappielow, a record which stands to this day. Cappielow is a ground where the crowd is almost on top of the players.
Another factor was the sheer passion of Morton and their fans, now on a high after their Scottish Cup victory two weeks previously, and yet another was the fanaticism of the Celtic crowd desperate to win the Scottish League flag. There were several disruptions to the play, some caused by overcrowding but others caused by missiles – including rivets stolen from the shipyard – being thrown from one section of the crowd to the other.
The situation was not helped by what was going on in Ireland at this time, nor by the ongoing Labour unrest in shipyards, mines and railways.
If ever there was a time for Rudyard Kipling's quotation "If you can keep your head when all about you are losing theirs and blaming it on you…" this was it for Alec McNair. With several of the players clearly overawed by all this, and showing every sign of 'losing it,' Eck had to remain calm. He had to be The Icicle today, and he was. Morton, for long spells in the game, were on top, with their midfield predominant. The Greenock side scored through Alf Brown before half-time, and things looked grim for Celtic, for it was still 0-0 at Shawfield, and that combination of results would have given Rangers the title on goal average.
Celtic had to score, but it was difficult to concentrate on the job in hand with the constant babble of noise and the very real fear that at any point the crowd might erupt into serious violence. Nor was there any real way of knowing what was happening at Shawfield. People shouted "1-0 for Rangers," or "1-0 for Clyde," however, Alec McNair would know that was rubbish.
In 1922, the only people who had any chance of knowing the score would be the men from the Press, who had a telephone link to their newspaper offices, but they were at the moment far too intent on watching this game, in which Morton were pressing for a second goal.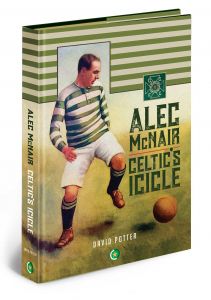 "McNair was the epitome of coolness, allowing nothing to disturb him. The uproar of the crowd on the terracing or their proximity on the track, the speed of his opponents the realisation that a Championship was at stake…he continued to play his normal game, totally alert, utterly competent." Rhapsody in Green, (Tom Campbell and Pat Woods, 1990).
More than once, Eck saved Celtic from going further behind, however, the need was now for a goal, as time was slipping away. Celtic did not really look like scoring, but eventually with six minutes to go, a high aimless cross was sent into the penalty box by Johnny Gilchrist and goalkeeper Edwards rose to collect it. Unaccountably, when under no pressure, Edwards dropped it and Andy McAtee, lurking more in hope than expectation, managed to get an undignified head on the ball (it was more like his face!) and Celtic equalised to the accompaniment of mayhem on the terracing.
Now, as often happens, Celtic took command and for the last few minutes came close to getting the goal which would have definitely given them the League title. But full-time came, and as Eck McNair shook hands with his opponents (the game itself had been a good clean one in spite of all that was going on in the surrounds), he would not have been human if he had not looked up into the Press Box to see if there were any indication of what had happened between Clyde and Rangers at Shawfield.
The absence of any animation led Alec to believe that that game had indeed finished 0-0 and that, therefore, Celtic had won their 16th League flag and he personally had now won 12 League-winner's medals. A smiling Willie Maley duly confirmed that as being the full-time result at Shawfield.
The day did not, however, end there. Outside the ground were scenes of reckless disorder, with windows smashed, ongoing fights, broken windows and many injuries, proving perhaps that so many young men had, sadly, learned only too well how to be violent from their years in khaki, or worse still, were seeking a return to it.
McNair was sad at all that, of course, although by the time that the Celtic charabanc departed, the crowd had begun to disperse. It was, in spite of all that had happened, a proud moment for the club and for her seemingly immortal Alec McNair, who had played such a large part in the triumph.
David Potter
* An extract from Alec McNair – Celtic's Icicle by David Potter, with a foreword from Lisbon Lion John Fallon, published by Celtic Star Books next month.