Celtic Football Club and its supporters have always been progressive and outward looking. The club has been open to all since a very early stage and the fans have stood up against major civil rights issues throughout the test of time.
The great Willie Maley explained the club's inclusivity in his Story of The Celtic book: "We have always been a cosmopolitan club since our second year, and we have included in our list of players a Swede, a Jew and a Mohammedan. Much has been made in certain quarters about our religion, but for forty-eight years we have played a mixed team, and some of the greatest Celts we have had did not agree with us in our religious beliefs, although we have never at any time hidden what these are. Men of the type of McNair, Hay, Lyon, Buchan, Cringan, the Thomsons, or Paterson soon found out that broadmindedness which is the real stamp of the good Christian existed to its fullest at Celtic Park, where a man was judged by his football alone."
A mark of the club's forward thinking was that, in WWI, Celtic Park held an unusual social role as the stadium played host to an England versus Scotland football match on 2 March 1918. The match was unusual at the time as it was played between women. Players were drawn from local munition factories, which were dominated by women, as many male workers had been conscripted to fight in the War.
The Scottish women were all selected from William Beardmore's iron and steel works in Glasgow (Cardonald, Mosspark and Parkhead). Within Beardmore's factories there was a strong welfare focus, which sought to make the most of many newfound opportunities for women. One aspect of his welfare scheme led to the formation of ladies' football teams in 1917. Celtic were very supportive of the revolutionary concept of women's football, largely helped by the fact that Beardmore's Parkhead factory was based next to the stadium, at the Forge. In lending their support, Celtic made a huge contribution to the rise of the female game. There was little respect or public interest in allowing women to play football back then, but by permitting the local ladies' team to use the changing rooms, communal baths and pitch for training, the club did much to change that attitude.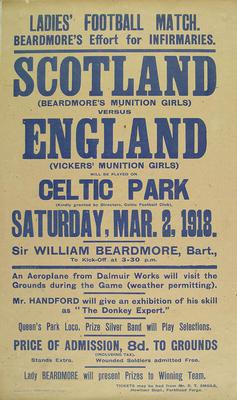 The English team came solely from the Vickers-Maxim factory in Barrow-in-Furness, which operated a similar project when it came to providing sporting opportunities for women.
The match was played in order to raise funds for the war effort, which was essential because resources were depleting by this late stage of the conflict. Fans were enticed to Celtic Park by being offered additional entertainment in the form of artillery displays, donkeys and an aerial fly-past. Over 15,000 people turned up, a quite remarkable feat, especially when one considers that Celtic travelled to Clydebank and Rangers hosted Kilmarnock at Ibrox that same day. The bulk of the supporters appear to have enjoyed themselves as local reports talked of 'an explosive atmosphere' throughout the game. That said, England took the lead through an own goal, before compounding their advantage as they thrashed Scotland 4-0. The sides met a further two times in England that month, drawing the second game 2-2 before England won 3-2 in the final contest.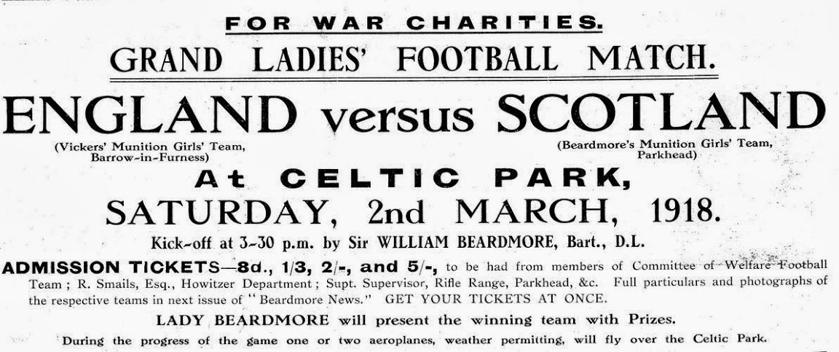 Despite the above, for the first 120 years of Celtic's existence, the club only fielded male football teams. The sad story of women being denied opportunities in football, is exemplified by a tale from the early 1960s. Legend has it that Rose Reilly was noticed by a Celtic scout who wanted to sign her, but the scout found out she was female and thus had to withdraw the offer. Given that women's football wasn't available, Reilly cried, asking: "Why can a girl not play for Celtic?"
A women's section was established in June 2007 when Celtic took over Arsenal North L.F.C. founding a Girls and Women's Football Academy at the same time. The Hoops reached the Scottish Women's Cup final in their inaugural year, losing 3-1 to Hibernian after extra time in May 2008. The team's first silverware arrived two years later, when Celtic won the 2010 Scottish Women's Premier League Cup.
A turbulent period followed, until Celtic reached their second SWPL Cup final in May 2018. However, that was something of a disaster as they were beaten 9-0 by Hibernian.
Happy #IWD2021 to our followers and all the dedicated women and girls at our club who face every challenge head on and continue to push for a better future in the women's game 💚

We will continue supporting women in sport and beyond ✋#ChooseToChallenge pic.twitter.com/TVeQIi9V15

— Celtic FC Women (@CelticFCWomen) March 8, 2021
Disappointing as that loss was, a revolutionary decision was about to be made, when Celtic announced in December 2018 that their women's team players would be employed as full-time professionals, with the transition beginning in the 2019 season. In doing so, they became the first ever professional women's football team in Scotland.
Erik Sviatchenko's wife, Anne Rudmose, has played for Celtic women. Meanwhile, Ronny Deila took a great interest in the women's team when he was at the club. The team itself is managed by Fran Alonso these days, who currently has the ladies sitting in third position in the league. His appointment made a statement of intent and showed how serious the club are taking the women's game.
Celtic Women have used East Kilbride's K-Park Training Academy as their home ground since 2015. The team also enjoys top class training facilities, having trained at Lennoxtown since inception. When the club announced plans to redevelop Barrowfield training ground, it was noted that facilities would be used by the youth academy and the women's team. The centre is not yet complete but will be state of the art in all aspects.
The rise of women's football has not only taken hold within the confines of the club. Indeed, the Green Brigade Ultras attended a Celtic Women v Rangers Women match in August 2019. It was a wonderful step from the supporters, who offered great support to the girls.
Football has come a long way for women at Celtic Park. As we reach International Women's Day in 2021, we have lots to be pleased about. Let's hope it's upward trajectory continues and girls/women continue to have opportunities to become involved in the game for many years to come.