Celtic's Invincibles in Perth. Part 2 – A JFK moment for The Invincibles…
With my own memories of McDiarmid Park mostly negative and painful, I admit to feeling a certain trepidation as we headed back up to Perth nine months later, Sunday, 5 February 2017, to take our seats. It was time to change all that, Brendan.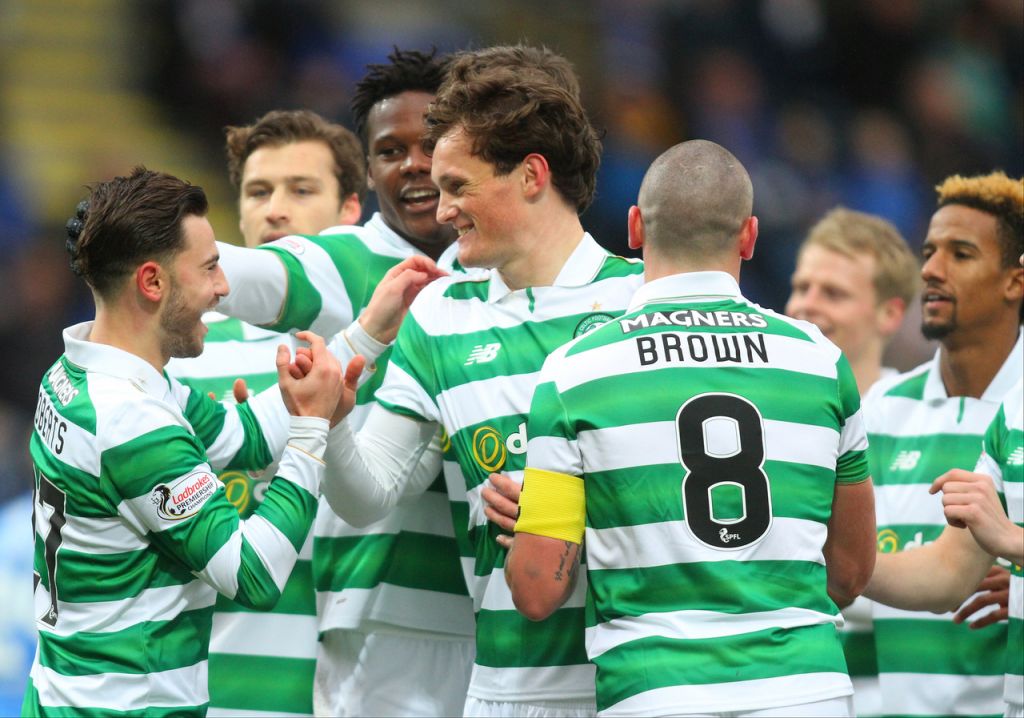 Speaking of changes, there were three to the starting line-up from the midweek victory over Aberdeen. In came Erik Sviatchenko, Gary Mackay-Steven and Liam Henderson, with Jozo Simunovic, James Forrest and Callum McGregor dropping to the bench, where they were joined by the returning Moussa Dembele, a sight for sore eyes, and Nadir Ciftci, a rare sight, his first appearance since the Lincoln Red Imps fiasco in July. The Frenchman's normal striking slot was occupied by another former Fulham star, Patrick Roberts, the popular English loanee celebrating his 20th birthday in a windy Perth.
On arrival at the ground, we were treated to the all-too-familiar, crazy and frustrating sight of two half-empty stands along each touchline, whilst Celtic fans scrambled for the available tickets behind each goal plus a small section at one end of the main stand. Perhaps someday, common and economic sense will prevail, and stadia across the country can be properly filled, thus enhancing the product for those in attendance or watching on TV.
Rodgers' side started, as usual, on the front foot and they were ahead within six minutes, Roberts' low shot parried by Zander Clark but returned with interest by Henderson for a fine opening goal. Celts then went all-out for the killer second, Mackay-Steven passing up the best opportunity, shooting straight at Clark when sent clean through by Scott Sinclair, before Saints turned the game on its head.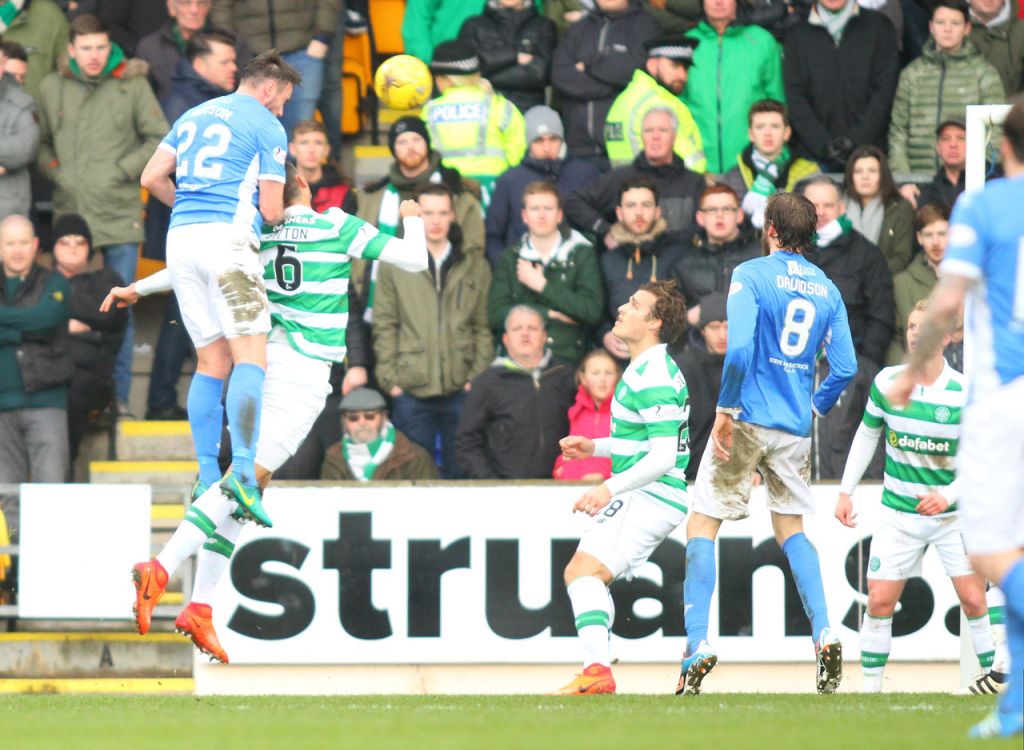 On the half-hour, Saints defender Keith Watson towered over everyone to meet a Danny Swanson corner from the right, powering his header into the net, despite the best efforts of Craig Gordon and Scott Brown on the line. Then, just before the break, another Swanson cross is launched in from the opposite flank, Dedryk Boyata's perfectly-headed finish adding to his recent tally, only this time he has beaten his own keeper to give the hosts the lead. The Invincibles are behind. Here we go. Looks like Celtic are cursed never to win here when I'm in the stadium.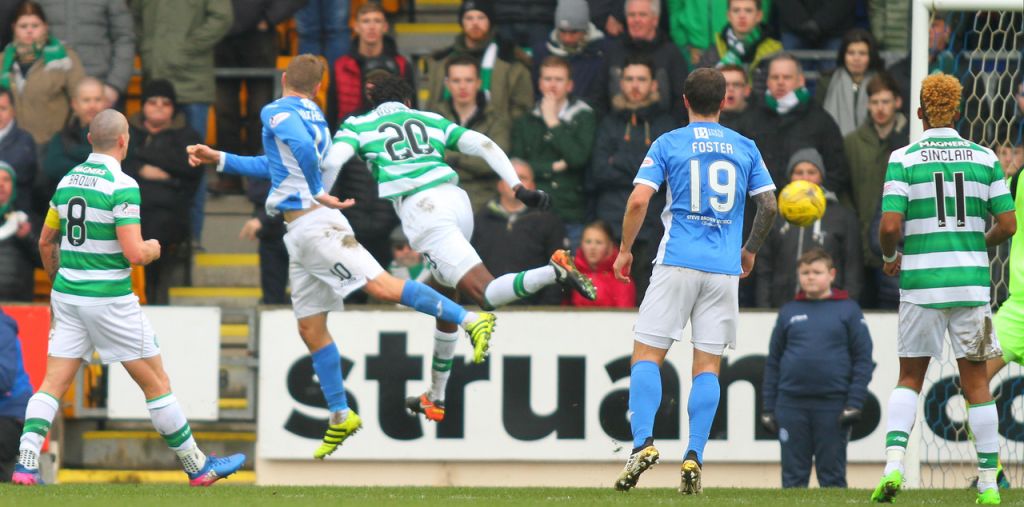 Thankfully, those negative thoughts are dispelled in the second half, triggered by that rarest of events, a soft penalty awarded to Celtic when we are struggling. Brown has survived a loud claim in the Celtic penalty area and Moussa Dembele has replaced Mackay-Steven on the hour before Kieran Tierney makes ground down the left. The Hoops youngster cuts inside Richard Foster before driving his cross into the box, where it strikes Perth goalscorer Watson, first on the hip then his arm, catching the unfortunate defender on the half-turn.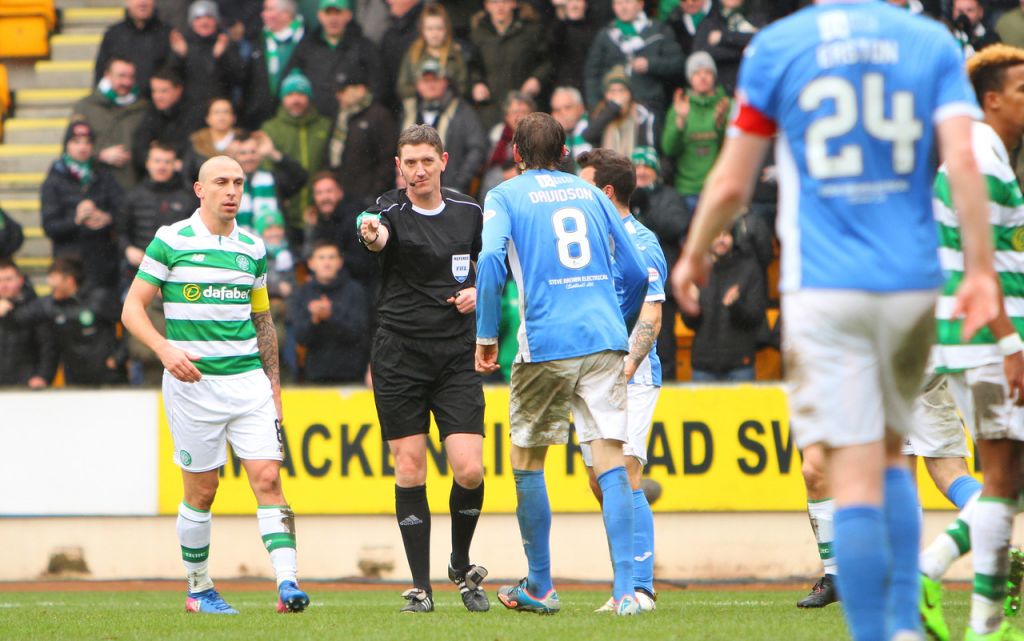 Referee Craig Thomson immediately points to the spot and is surrounded by irate St Johnstone players. It is undoubtedly a harsh and major call in the context of this game. Dembele's first involvement on the pitch is to place the ball on the spot and his second is to blast it high past Clark for 2-2. His 21st Celtic goal of the season. Game on.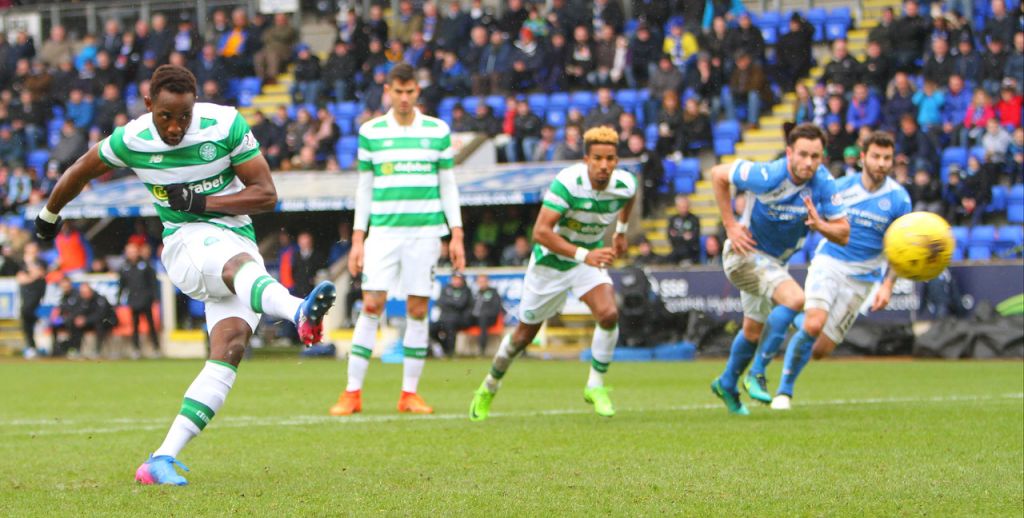 With 15 minutes remaining, the Frenchman notched number 22, this time meeting a Mikael Lustig cutback from the right with an expert, drilled finish into the bottom corner to give the Hoops the lead.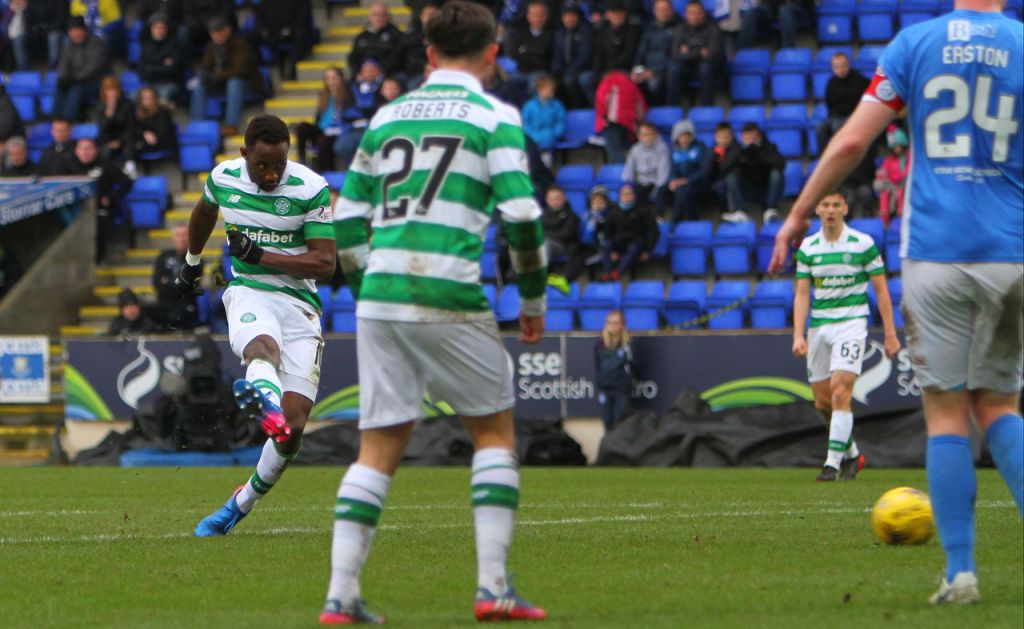 Five minutes later, it is game over, as Celts grab a fourth goal. Saints are actually on the attack before Brown plays the ball to Roberts, wide on the halfway line. His control takes him clear of a defender, to pick out Sinclair, lurking on the left-corner of the box. The Englishman is in the form of his life. His confidence is sky-high. There is only one outcome. He takes one touch before giving the Saints keeper the eyes, switching it low into the near post as Clark anticipates a strike across him. 4-2. What curse?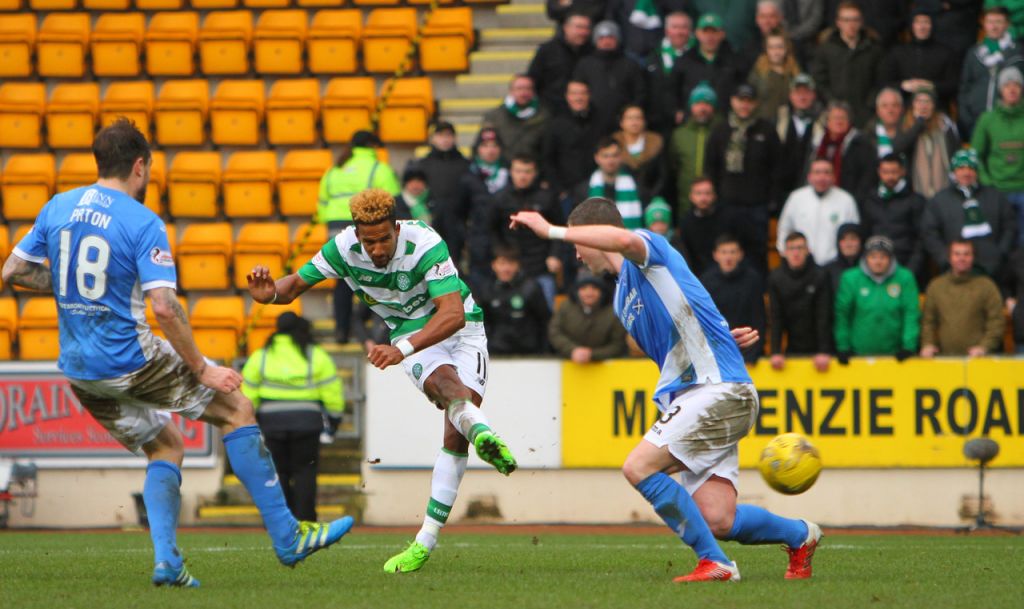 But there is a finale to die for. A masterpiece in the Perth countryside. The stuff of football dreams.
There are five minutes remaining when Celts start passing the ball around for fun. Twenty-plus touches later, Lustig kicks into overdrive, playing "one-two's" across the St Johnstone penalty area, then creating uproar with an outrageous "Rabona" into the box, where he picks out Callum McGregor. The midfielder adjusts his feet to flick the ball behind him and into the path of Dembele, who completes a 25-minute hat-trick from the bench by calmly placing it across Clark and into the corner. It is one of the greatest team goals I have ever seen and it is scored by my team, just yards away. A real JFK moment.
Full buildup for Dembele goal.

24 passes, Every Celtic player involved.

Lustig rabona and McGregor backheel before Moussa finishes it. @MDembele_10 pic.twitter.com/DGh0jO8FDT

— Li'l Ze (@LilZe_7) February 5, 2023
There is still time for a cameo appearance by Celtic's forgotten number seven, Ciftci, replacing Birthday Bhoy Roberts, then a "handbags" incident involving Swanson and Lustig, the Swedish Messi, before Thomson calls a halt to proceedings. It is 19 successive wins and an unbeaten run extended to 29 for Rodgers' Celts, now a massive 27 points clear of Aberdeen and Rangers, in the race for six-in-a-row.
As expected, the managers had differing perspectives on what they had just witnessed. Saints' boss, Tommy Wright, not the cheeriest-looking bloke at the best of times, was definitely not a happy bunny.
"My players have done their job, Celtic have done their job but unfortunately the officials haven't. We actually should've had two penalties, if we're going to be honest. Danny's [Swanson] is a penalty. I've seen it back, thought it was at the time. It was a penalty. When a player contacts a player, makes no contact on the ball in the box, it's a penalty. You can quite clearly see his left knee gets pushed in, so there was contact [from Scott Brown] and that should've been a penalty. Joe Shaughnessy's dragged to the ground when the ball's in flight. The referee blows his whistle, warns the Celtic player. That should've been a penalty.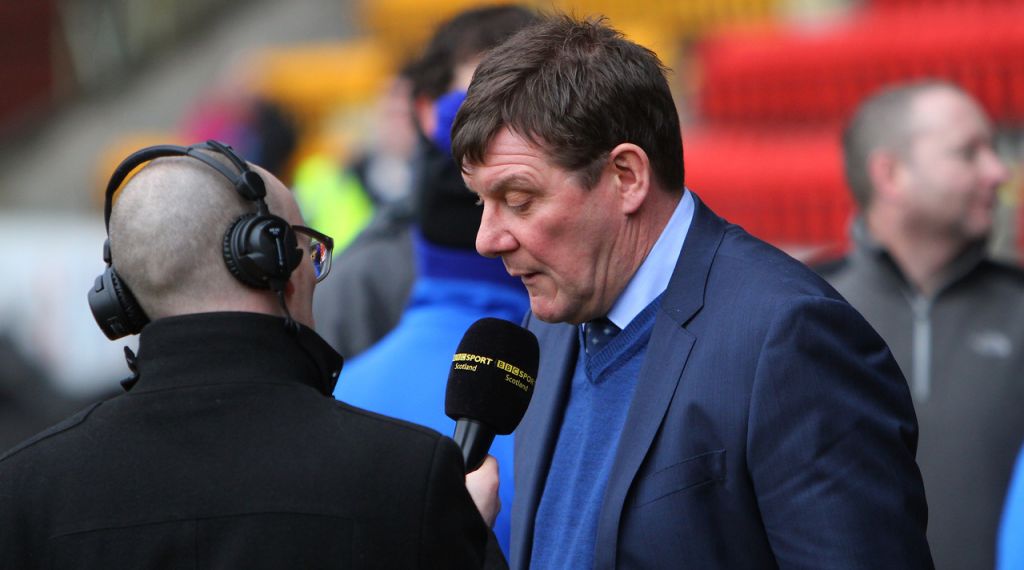 "And their penalty, if I live to be 100, should never be a penalty. Absolutely, it should never be a penalty. I don't know how he can give it. I genuinely don't know how he can give it. I don't. I've been able to shout on to him [referee Craig Thomson] on the pitch and he puts his hands up to me as if he's caught the ball and it hasn't. It's hit his hip and probably touched his elbow. You can see that on the replay. You couldn't be sure. To give a penalty, you've got to be 100% and that'll be his answer with Danny's one but certainly not with that [penalty awarded against Watson]. That cannot, should not happen at this level of football.
"Granted, Celtic could go on and win the game 3-2, 4-2 without that decision because they've got so much talent. And they bring on a striker [Dembele] reputedly valued at £40m, a quality player. And what they've got on their bench, and what they had on the pitch. They had started the second half well. We had weathered that storm and the game was quietening down again, which was suiting us. The decision ultimately changes the whole dynamics of the game, gives Celtic a lift. It shouldn't deflate us a little bit, but it probably does. The players are angry and, ultimately, that is a game changer.We did look a real threat. With the ball, we were slightly better than what we had been against them."
Brendan Rodgers did have some sympathy for his fellow Irishman.
"If I'm Tommy, then you're obviously bitterly disappointed. You're 2-1 up. If they can keep hanging in there and hanging in, then you never know what can happen. We get that wee rub of the green. We've had other moments when we haven't had it but if I'm Tommy, I'm disappointed. For us, I'm happy to take it. Great penalty by Moussa and he's only on the field but then after that we're really fast and clinical in our game. The last goal was sensational. Mika from right-back has had about six or seven one-twos and great bit of skill, so that shows you the confidence, where the players are at."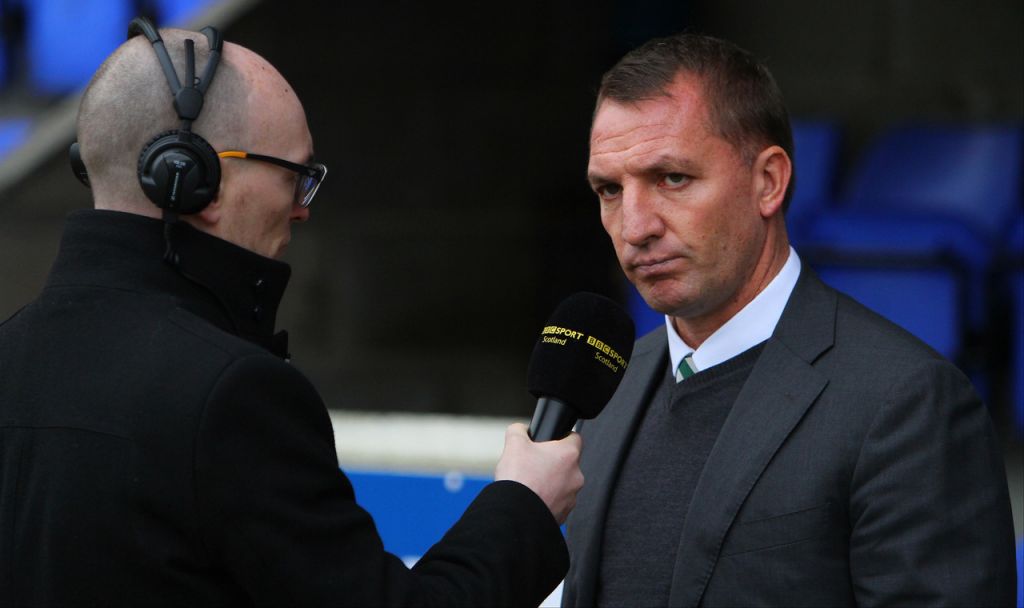 His hat-trick hero, Moussa Dembele, was at pains to dismiss speculation linking him with a move to Chelsea, after being spotted in West London, where he had been undergoing a scan on his injury.
"I am learning at one of the biggest clubs and I'm enjoying it. I don't really listen to the media. I'm a Celtic player and I'm happy to be here. I try to improve here and show people the player I am and that I'm happy to be here, and I showed that today on the pitch. I can't tell you that I will be here for 10 years or 20 years. I don't know. I know the quality of the team, so I know that if we keep playing the way we have all season, we will beat St Johnstone. So, even when we were behind, I was confident. We showed good imagination, we played well and scored five goals, so it is good for us."
Heading to McDiarmid Park 😉👍🏽 pic.twitter.com/mN3xA0G2bg

— Celtic Curio (@Celticcurio) February 5, 2023
Hail, Hail!
Matt Corr
Both extracts from Invincible by Matt Corr, the story of that wonderful, magical 2016/17 season, available in hardback via Celtic Star Books. Invincible is now also available on Amazon kindle, link below. Follow Matt on Twitter @Boola_vogue
On route to Perth to see the hoops these early kick offs are catching up. Let's hope the Bhoys do the business again. 3-0 🍀🍀🍀 pic.twitter.com/BUoWv6W6qJ

— Jim Forrest (@jims_a_tim) February 5, 2023