The name of James McGrory sent shivers down the spine of defenders all over Britain. The greatest goal scorer these islands have ever seen racked up 550 goals in 547 first class games. Even the great Pele once remarked that if he could do half as well as Jimmy McGrory then he would have had a magnificent career.
Of the 550 goals scored in his illustrious career, McGrory netted 468 in a Celtic shirt, in just 445 competitive appearances for the club. This remarkable feat comes as no surprise when you consider that Jimmy had the ability to net eight goals in a single match, as he did for Celtic against Dunfermline Athletic in 1928. Britain's greatest striker also won no fewer than 12 major honours in as many years as a player for the club, before becoming Celtic Manager in mid-1945.
🗓 #CelticFC's greatest ever goalscorer, Jimmy McGrory was born #OTD in 1904.

Legend 🍀 pic.twitter.com/9gXbRK9Ctz

— Celtic Football Club (@CelticFC) April 26, 2021
During his managerial post, the Garngad man guided the Hoops to six honours, including the Coronation Cup, throughout a 20 year stay in the position. It was under McGrory's stewardship that Celtic also defeated Rangers 7-1 in the 1957 League Cup Final.
Officially ranked as the 8th highest goal scorer in the history of world football, McGrory provoked the first ever 'Hampden roar', when he scored a late winner against England in 1933. The goal was one of six netted in international matches by McGrory, from just seven caps. Clearly, his religion and ethnic background played a far greater role in the decision-making process of Scotland's selectors than his world class ability.
Sadly, it was not only the SFA, who underappreciated McGrory. After his role as Manager came to an end at Celtic and he was replaced by Jock Stein, Jimmy found himself taking a seat in the boardroom as PR officer. He held this post for 14 years, until retirement in 1979. Throughout such incredibly loyal service to Celtic, McGrory was only publicly appreciated on one occasion. That recognition came on 1 September 1971, when the Hoops legend was invited to officially open the reconstructed Grand Stand, ahead of Celtic's clash with FC Nacional. 60,000 people applauded him that day and a plaque was nailed to the stand, bearing the words:
This reconstructed grandstand was opened by Jimmy McGrory on 1st September 1971 and on this date Celtic played Nacional of Uruguay, the Champions of South America.
McGrory could have been forgiven for viewing the moment as bittersweet, considering that the club had wanted to sell him to Arsenal in order to fund the construction of the original (then 5,000 seater) Grand Stand in 1929, which was built to replace the similarly named Grant Stand. In the summer of 1928, Celtic accepted an offer of £10,000 from Arsenal to boost the bank account and finance said plans. McGrory turned down the move and the chance to become the highest paid footballer in Britain because he could not bear to leave Parkhead. He is famously quoted as saying: "McGrory of Arsenal doesn't have quite the same ring to it as McGrory of the Celtic." Upon hearing of his rejecting the move, Celtic secretly paid him less than his team mates for the rest of his career. His pay was docked from £9 per week to £8 per week, and when McGrory later discovered this, he simply said: "Well it was worth it just to pull on those green and white hoops."
When McGrory did finally retire from his final role at Celtic in early 1979, he was invited to attend a mass in New York by Father Coleman. The invitation was said to be "In thanksgiving for being such a wonderful Celt." By contrast, Celtic could only offer the immortal man a new pipe.
One group of people connected with the club saw to it that McGrory would receive the appropriate appreciation for a service to Celtic Football Club, which few could argue ranked him as the greatest Celt of all time. The Celtic Supporter's Association dedicated their 34th annual Rally to his honour, inviting him to be special guest for the evening on Sunday 4 March 1979 at Kelvin Hall.
It comes as no surprise that the event was an immediate sell-out. Perhaps a mark of the underappreciation he experienced, or his genuine modesty, Jimmy McGrory was reportedly moved to tears, exclaiming "Goodness," as he walked in to see the huge number of guests that had turned up to pay tribute to him. The official programme for the evening waxed lyrical about 'a giant of the game'. Whilst, Desmond White sought to make amends on the board's behalf, when he opened the evening by presenting a silver salver to the Celtic legend. The salver bore the inscription: 'To the one and only Jimmy McGrory'. It was also fitting that Billy McNeill, then Manager of the club, led the entire Celtic backroom staff, along with players from the past and present squads, up to join McGrory on stage.
When the meal had been devoured and the formalities concluded, there was an interval, which afforded President of the Association, Peter Murray, an opportunity to address the audience with some words of his own.
Peter called Jimmy McGrory to the stage again. This time the great Celt was to be awarded with a commemorative clock and a much-needed cheque. It had saddened the Celtic support that a factor in McGrory's decision to step down after 50 years of service to the club was partly financial. His wages of £70 per month did not bequeath the McGrory family with tremendous riches, considering the service that he had dedicated, on and off the field, to making Celtic a worldwide institution. His wife, Barbara, had continued to work as a private nurse and the family had to maintain their hard work. This was never something that Jimmy complained about, for as far as he was concerned, his life had been enriched by things more important than money.
The Rally concluded with some music and the sincerest thanks was directed towards Jimmy McGrory for the joy he brought to many Celtic fans, his incredible loyalty to the club and his remarkable character as a man. Finally, he had been given a fitting show of appreciation. Although, there is no doubting that he understood how loved he was by the supporters as opposed to the old boardrooms of Celtic Park and Hampden.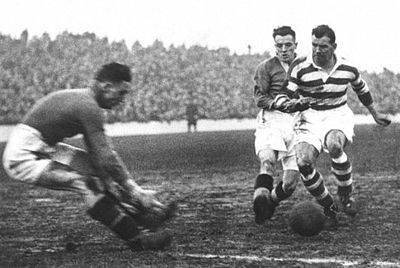 It is fantastic that Celtic fans remember him beyond this event, with a weekly chorus: And they gave us James McGrory and Paul McStay. They gave us Johnstone, Tully, Murdoch, Auld and Hay. Most of the football greats, have passed through Parkhead's gates for to play football the Glasgow Celtic way.