There were certainly a great deal of positives to take from last night's Scottish Cup Fourth round win against Alloa, not least the fact Celtic eventually emerged victorious from as aggressive a football match as you'll see this side of the 1990's, and now have a home tie fifth round game with Raith Rovers as a reward for coming through the game successfully but certainly not unscathed.
Giorgos Giakoumakis, a player Celtic will be required to rely on in the next few weeks instilled some confidence in his abilities with a fine striker's finish from a wonderful Liam Scales delivery and had a solid game throughout, and Liel Abada's goal was worthy of a Premier Sports subscription all by itself.
Indeed, Abada deserves far more praise than he gets, as having now only left his teenage years behind recently, and having moved to a new country and culture, never mind style of football, is showing enough to suggest as he progresses through the rest of the season Celtic have a contributor and, dare I say, match winner in our ranks. He is a much-maligned player in some quarters but a return of eleven goals and eight assists this season shows, even if there are elements of his game to improve on, he's a highly impactful performer while he learns the ropes, someone perhaps Gordon Strachan would have described as a good teammate.
Joe Hart is also worthy of great praise for an important save at a crucial time and for the way he assumed the leadership duties as Callum McGregor left the field in pain, and ensured Celtic saw out the game despite the concession of that Connor Sammon goal that left Celtic nervous but certainly not 'under the cosh' as a certain Barry Ferguson described the end to the match, while overplaying his team's performance.
The negatives from this encounter are clear – more injuries and dreadful officiating. This time injury befell Callum McGregor, who seemed to take a horrible blow to the cheekbone, and a fracture could mean the captain is out for weeks. Liel Abada seemed to take a sore one but at least appeared able to hobble back on at the end of the game, and then there was that horrendous challenge on Yosuke Ideguchi, and with it the highlighting, once again, of refereeing ineptitude.
Last night's referee Don Robertson seemed undertrained in, or wilfully ignorant to, the rules of engagement in this Century, and let's be clear the man has previous in this regard when it comes to ensuring the safety of Celtic players.
Callum Butcher eventually received a retrospective three match ban for a tackle on David Turnbull Roberston deemed worthy only of a card yellow during Celtic's visit to Tannadice, and prior to this a visit to Easter Road, where Tom Rogic was the victim of a certain red card foul from Hibs hardman Alex Gogic, and Robertson decided Gogic could remain on the pitch, meanwhile Tom Rogic picked up an injury and Celtic were minus our playmaker for several weeks.
Lat night Robertson flashed a yellow again for a red card tackle by Alloa's M'Baye Niang, who was not only aggressive in his approach to tackling Yosuke Ideguchi, he was entirely out of control and without doubt endangered his opponent.
In this Century, in any competition, that's a straight red card offence. Yet Don Robertson had made a rod for his own back by applying the little-known interpretation of the laws of the game whereby wee teams can play a leveller card in games, by resorting to physical violence to gain parity when playing against Celtic.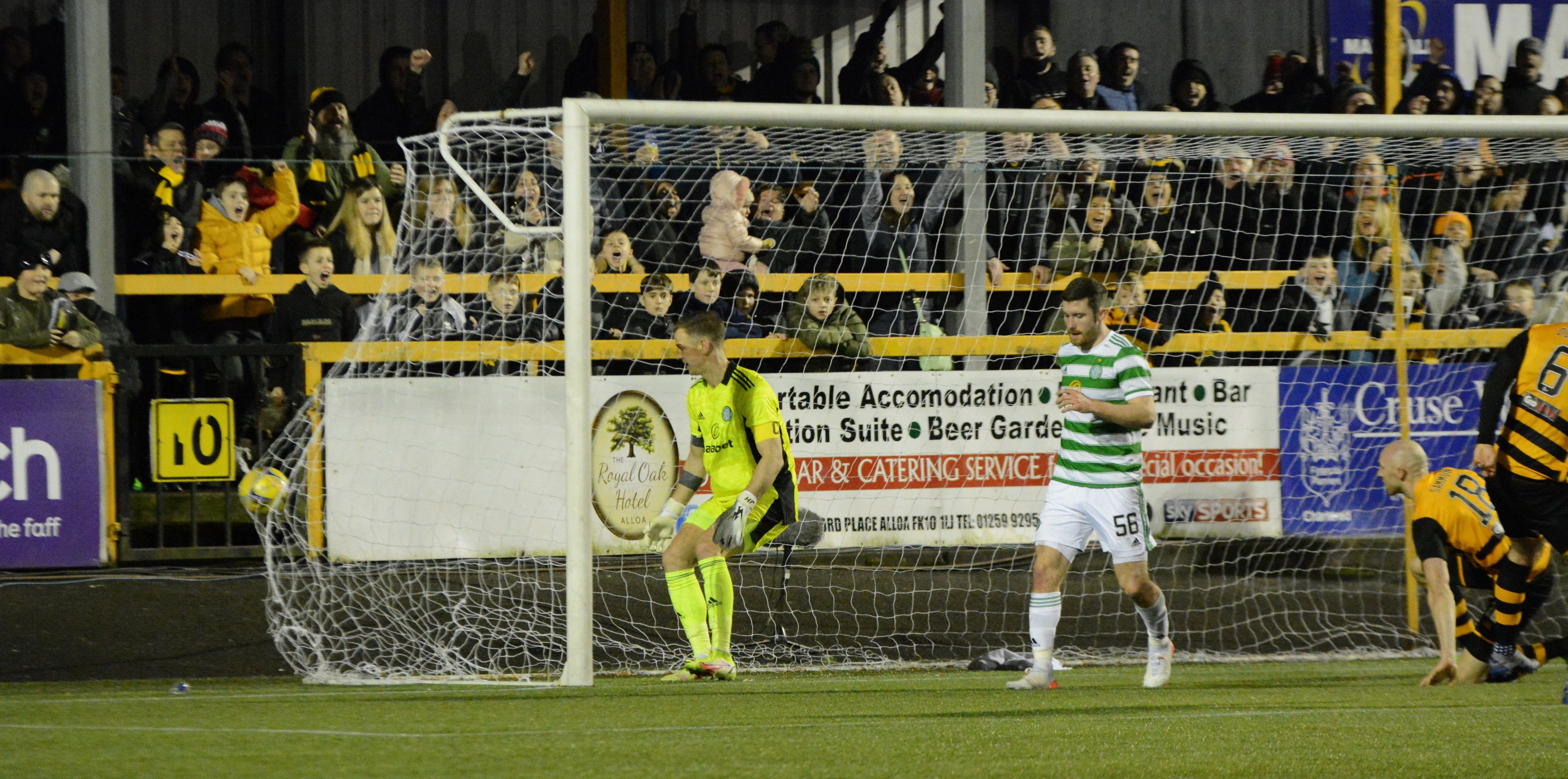 WATCH THIS…LIAM KELLY PRESENTS THE CELTIC STAR'S SUNDAY ROUND-UP…
I've been banging this drum for weeks. For dodgy offsides, questionable penalties and all the rest Celtic, unlike some other clubs, are likely to drive up a dead-end street when it comes to listening ears. However, catalogue the incidents, and there are plenty this season, https://thecelticstar.com/butcher-scotlands-disgraceful-referees-celtics-silence/ where our players safety has been endangered and present that to the SFA then they can be forced to act. Refuse to do so and Celtic can escalate beyond the SFA. Up to now however our own custodians have remained, publicly at least, silent on the matter. Sadly, turning the other cheek is no defence of your employees and Celtic simply have to act on this matter.
There is of course an argument to say Callum McGregor need not have played at all last night, yet the counter argument to that was the loss of tempo and control we suffered in midfield when the captain left the field. As such Ange Postecoglou probably made the correct decision to include his skipper from the start.
In the end Celtic prevailed from a poorly refereed and unduly aggressive cup tie and now face Raith Rovers and a good chance to progress further in the competition. However, the walking wounded is once again adding up, and it's hard not to see those injuries impacting on important games in the weeks ahead, nor, on the evidence mounting up this season, do I have much faith in referees offering much protection to those we have left.
Niall J