"If that was a team playing for places in the Cup Final then none of them will be playing in it. I saw a Celtic team full of quitters, they were pitiful to say the least, the only good thing to come out the game is that they (the Rangers) think they are a good team and won't have to strengthen for next season. One thing is for sure Peter Lawwell and Dermot Desmont had better invest the cash, get a decent manager and stop f***ing about with our club. It is not a play thing for a rich man, if you can't see this Dermot sell up and p**s off into the sunset, we thank you for your service to date but if you won't invest in 10 in a row you will never be forgiven. Surely you can see the club needs investment now? Please for the next two seasons invest heavily. The time for penny pinching is over. if you want to save a couple of million over the next couple of seasons stop Peter Lawwell's bonuses." Jinky58 on Celtic Noise.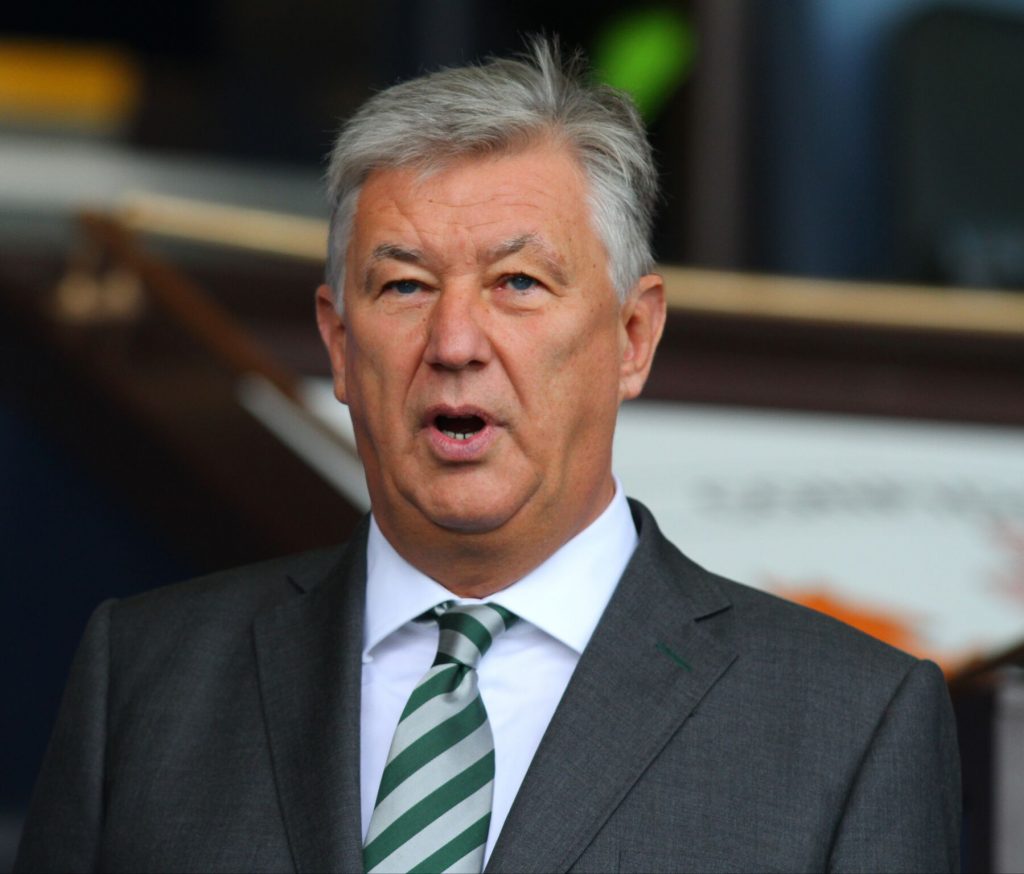 "You're right about the quitters Jinky. If I see big Rogic sh*t oot of one more tackle I'll go boot him in the bollocks myself. Putting Johnston back in against that mob after his last display is baffling, his touch is nearly as bad as Burke and French Eddie isn't much better. Don't professional footballers have to be able to control a ball thede days? We're in dire need of a centre forward who'll rough defences up and can actually win a ball in the air and control it on the ground, a couple of full backs are essential also." Tenerife Tim on Celtic Noise.
"That was Sevco's cup final, ours is in two weeks and there is something at stake. Sevco were up for it and in our face from the kick-off, we never arrived. French Eddie getting some stick, give the guy some space, he's only 20 and needs someone beside him. Need a clear out for next season but we still have a nucleus of a decent team. Ntcham has been disappointing this season and not sure if he wants to be here, so could be away in the summer. Need a replacement for Lustig but would keep him for his experience. Don't care who the manager is so long as he gets backing from the board." Indocelt on Celtic Noise.
"Second game at Ibrox this season that our midfield has been over-run. First time it, was Brown, Christie and Ntcham, today it was Brown, McGregor and Rogic. Spot the common denominator? We are a better team without Brown, can't fault his contribution as an individual but the collective is better with MCGregor sitting deepest and dictating play. Rogic was like playing with a man down and the manager's selections in the wide areas was baffliñg. Burke and Johnston haven't featured for weeks and are then thrown in. The fact that Hayes is left back and a half fit Lustig at right back is an indictment on our recruitment over the last year or two. Simunovic was the only starter who got pass marks, Ntcham did more in the short time he was on than the starting 3 in midfield combined. Callum McGregor's 65th game of the season, and it showed. Another damning indictment on our recruitment, or lack of." Gary67 on Celtic Noise.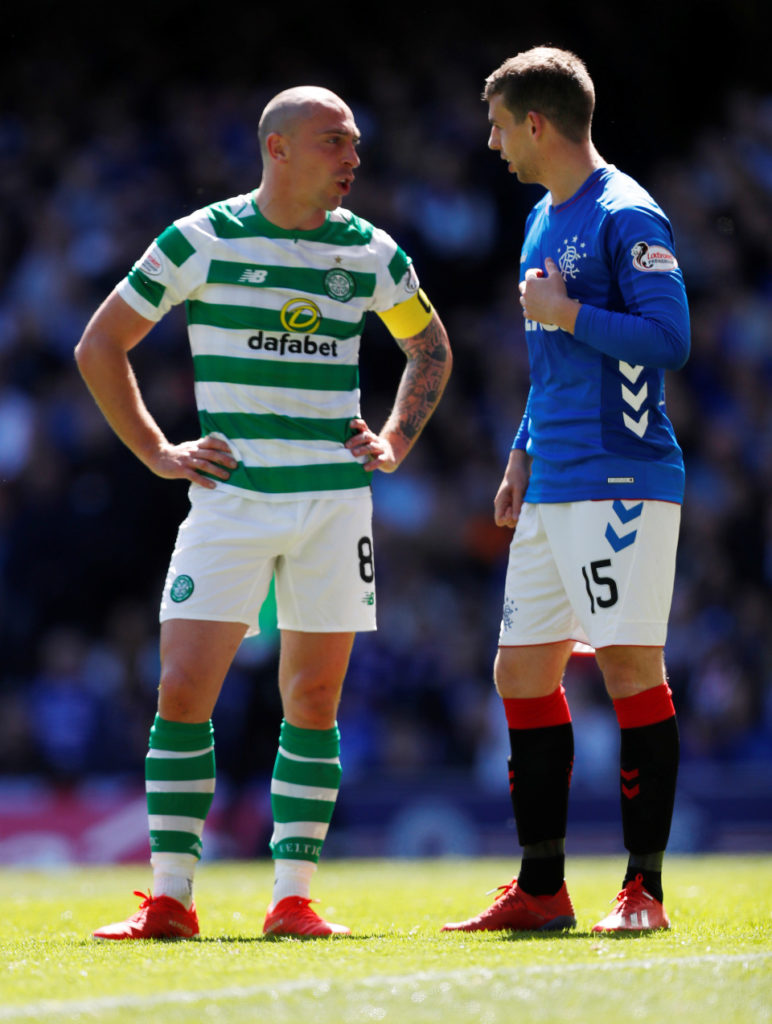 "I can agree with most of what you have said but I would say you are well of the mark regarding Scott Brown. He is a fantastic player and Captain for our Club. You can build the team around Scotty. Which other player can you say that about who is at Parkhead? They hate him because we have him. Other club players have stated that Celtic are a weaker team when he has to come off or is not playing. Lets enjoy Broony while we can." According to Saul on Celtic Noise.
"Is Season 2018/19 a failure? I'm not sure that this view will go down well back home (I now live in Melbourne) but I personally think this season has been a failure! I'm not overally bothered by the Scottish Cup and the League Cup it's the League and the Champions League that matters most to me. And missing out on the Champions League means that this season goes down as a failure.
"My view is that games in Europe are the most important, they bring the most enjoyment (full houses) and the most money. However we constantly treat it with disrespect. I can understand why the board doesn't spend our war-chest of cash (nothing borrowed I might add)…..because the vast majority of fans just care about beating Sevco.
"Sevco are improving, they were a fairly decent Europa league team this season taking it to the last game before bowing out…we are currently a Europa league team too! If we don't get to the Champions League then we will have a huge fight on our hands next season just to win the league. Make no mistake Sevco are hungry we need to get that hunger too, as everyone has seen us regress over the last year. We need a Champions League standard team to finish above them.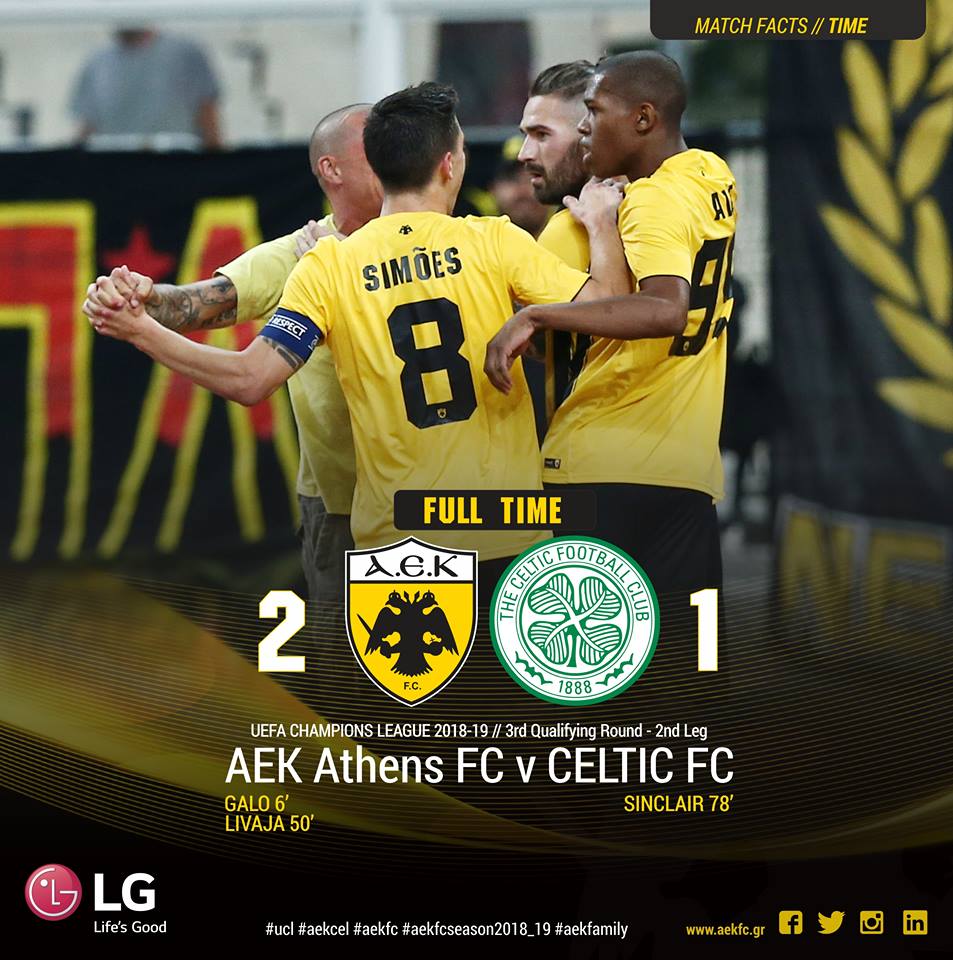 "Missing out on Champions league I blame the board and Rodgers…The board for not backing Rodgers and Rodgers for not beating a woeful AEK with the squad we had. The next managers prerequisite has to be 1: Qualification for the Champions League (Every Season) if not you get the sack. Champions league football means we must win the league too (Win – Win). I don't care if he plays under 21's in the Scottish Cup and League cup (even against Sevco) it's a total of 9 games if you get to the final of both) that really just clogs up the season.
"We have 8 games a year to get into the Champions League….our biggest games, and we don't prepare for them adequately. Yes, we have to take some pain (not actively going for the cups), but I would rather be playing Barca, Man Utd, Benfica, Dortmund, Inter at a packed Parkhead then playing Alloa with a full team with 20,000 fans at the ground. Hopefully the Treble Treble changes the way we think as a club, a Champions League priorities games and beds in youngsters in less important games." CarlisleReiver on Celtic Noise.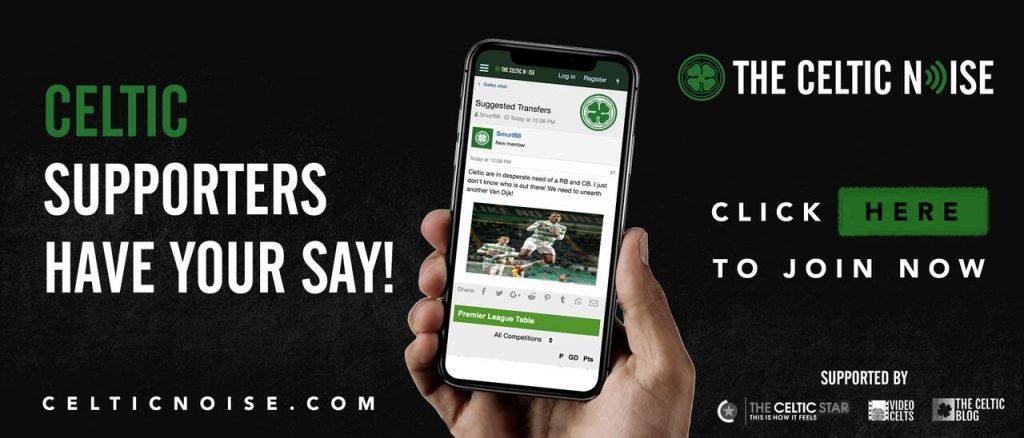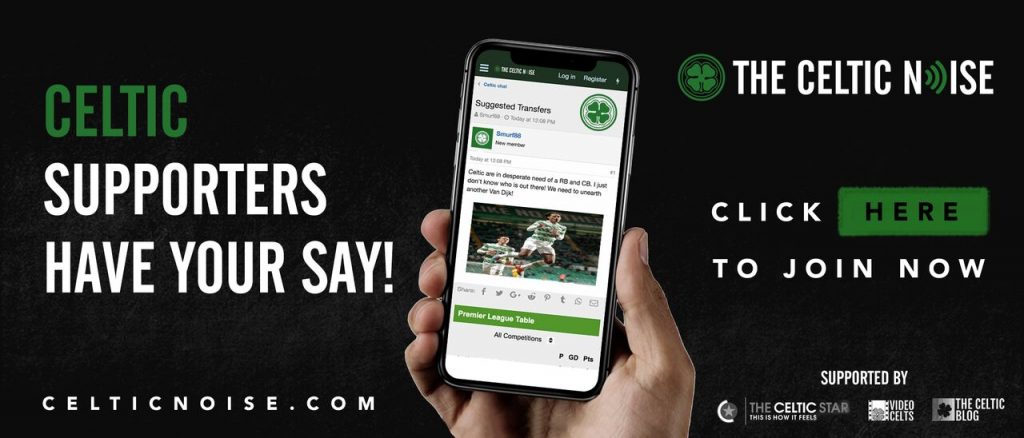 Above are a sample of the post-match chat on Celtic Noise, the new forum which is open to all Celtic supporters to read and participate in. Signing up is very simple – it takes 30 seconds – and then tell us what you are thinking about all things Celtic…