A senior debut for Harry…at Ibrox!
November 1962 then opened with an excellent 4-1 win over Kilmarnock at Rugby Park, which saw Harry Hood and the Shawfield Colts rise to second position in the Reserve League, ahead of Rangers and just one point behind Celtic's Kelly Kids at the summit. Harry's initial spell in the Clyde reserve team would then end with a 4-2 defeat by Hearts at Shawfield on Saturday, 10 November 1962. Celtic would eventually claim the Reserve League title for the fourth time in five seasons, continuing the great work started by coach Jock Stein before he had left in 1960 to take up the managerial reins at Dunfermline Athletic.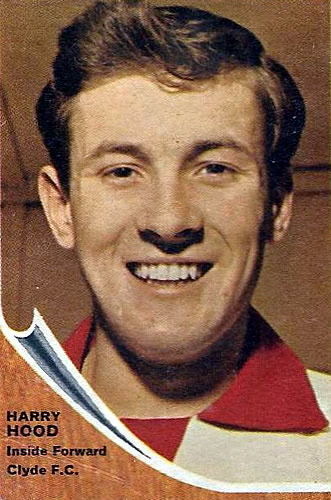 Whilst the second string were excelling against the big boys, the same could not be said for the first team. Clyde could certainly consider themselves unfortunate to exit the League Cup at the section stage, losing out to St Johnstone by a whisker under the old 'goal average' system, despite a 5-1 victory over the Perth men at Shawfield. However, a dreadful run of just one win in 12 League games, which included five-goal defeats at the hands of both Partick Thistle and Kilmarnock, saw manager Johnny Haddow under pressure as he took his side to face Rangers at Ibrox on Saturday, 24 November 1962.
Haddow would go for bust, dropping both Harry Haddock, his veteran defender and former captain – who would not feature in the first team again after 13 years of wonderful service – and wing-half Alex Blain, allowing the Clyde boss to introduce two debutants. Making first senior appearances for a baptism of fire against Scot Symon's men were Donald McDonald – plucked from Anniesland Waverley by Renfrew Juniors in December 1961 whilst under scrutiny by Rangers – in place of Haddock at right-back, and Harry Hood at inside-right.
The Clyde forward line that afternoon in Govan included future Dundee United manager Jim McLean and former Celt John Colrain, whilst Harry's old friend and Brunswick colleague John McHugh dropped back to left-half to partner a man who would feature prominently for both Clyde and Rangers over the next few seasons – Davie White.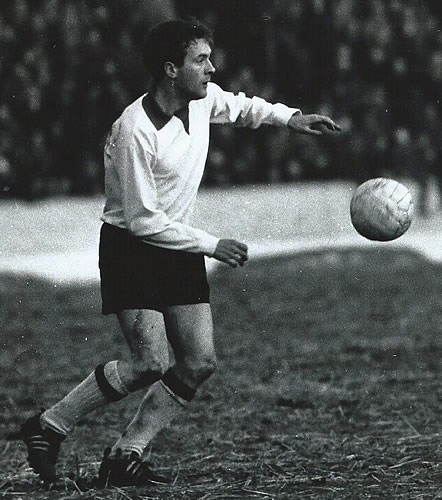 White had been captaining the side prior to the match at Ibrox, before giving it up, presumably in light of his expressed desire to leave Shawfield, following his recent transfer request. Danny Malloy, a close-season signing from Doncaster Rovers, where he had been player/manager, would assume the skipper's role for the visitors in the interim.
The full line-ups for Harry's senior debut were as follows.
Rangers: Billy Ritchie; Bobby Shearer & Eric Caldow; Harold Davis, Doug Baillie & Jim Baxter; Willie Henderson, Ian McMillan, Jimmy Millar, Ralph Brand & Davie Wilson.

Clyde: Tommy McCulloch; Donald McDonald & John Finnigan; Davie White, Danny Malloy & John McHugh; Jim McLean, Harry Hood, Dick Grant, John Colrain & Billy Muir.
Harry's appearance in the Clyde first team at Ibrox would appear to have caught the sports reporters of the day unawares, the teenager described in The Evening Times as a "St Aloysius College schoolboy," despite the fact that he had moved from Garnethill to Holyrood Secondary some two years earlier. In the hosts line-up, Ronnie McKinnon and John Greig paid the price for the 3-2 midweek defeat at Celtic Park in the semi-final of the Glasgow Cup, the duo making way for Harold Davis and Ian McMillan.
Harry would immediately be involved in the action, taking a long through ball from Davie White in his stride to test Ibrox keeper Billy Ritchie with a shot from outside the box. Within 15 minutes Ritchie was beaten, as Billy Muir took advantage of an error from Doug Baillie to give Clyde the lead. Rangers drew level through a Ralph Brand header just before half-time, with the final action of the half seeing Jim Baxter volley a ball into the enclosure beneath the main stand, the hosts leaving the field to howls of derision from the 26,000 spectators.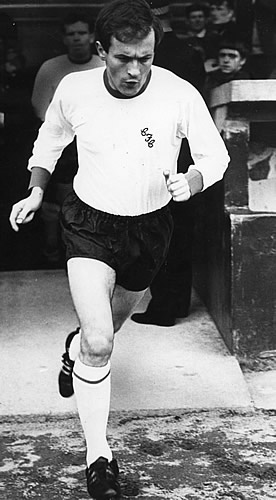 They would be forgiven as Rangers improved after the break, an early Brand shot followed by a late strike from Jimmy Millar producing a 3-1 home win, although a late Tommy McCulloch save from Willie Henderson's penalty prevented him from notching a fourth. Despite the defeat, Peter Hendry's review for Monday's Evening Times believed Clyde's performance to have been their best of the season, with both debutants described as having "first-rate displays."
Bizarrely, Harry's senior debut would turn out to be Johnny Haddow's last match in charge of Clyde. Despite having managed them to a Scottish Cup victory over Hibernian in 1958, two Second Division titles in 1957 and 1962, the Glasgow Cup in 1959 and the Glasgow Charity Cup in both 1958 and 1961, a quite unprecedented run of success at Shawfield, Haddow resigned, with some suggestion that the pressure he was under had forced a choice between his job or his health.
Also leaving the club was long-serving trainer Dawson Walker, a man often involved in quiz questions due to his spell as Scotland manager in 1958 whilst Matt Busby was recovering from the serious injuries sustained at Munich Airport in February of that year. In our chats about Harry's time at Shawfield, John McHugh mentioned that at a time when most clubs had former players carrying out the role of trainer, in Dawson Walker, Clyde could boast the only full-time qualified physiotherapist in the League.
He would carry out the same role for Scotland, hence his inadvertent interim role during Matt's convalescence. With both men gone by the Monday, Clyde chairman Willie Dunn would take charge of first team matters whilst a replacement for Haddow was sought, his first task being to grant a new transfer request from Davie White, whilst goalkeeper Tommy McCulloch had also announced his intention to leave Shawfield.
What is that infamous saying about "it never rains but it pours?"
Matt Corr
*An extract from the official Harry Hood biography by Matt Corr. Harry Hood -Twice as Good is now available from all official Celtic FC stores and the club's online store and you can click on the image below to order direct from Celtic FC. £1 from every book sold will be donated to Marie Curie in memory of Harry.