Sad news yesterday with the passing of another great Celt from the wonderful Jock Stein era, Pat McCluskey.
Pat was born in Kilsyth on Sunday, 13 April 1952. The day before his introduction to the world, Jimmy McGrory's Celtic had completed their League programme with a battling 3-3 draw at Cathkin, thanks to late goals from Bobby Collins – a penalty to complete his double – and captain John McPhail. Earlier, Sligo Bhoy Sean Fallon's unfortunate own goal had given a struggling Third Lanark side, including future Scotland manager Ally MacLeod, a 3-1 lead.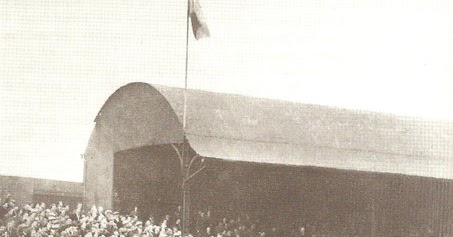 The reigning Scottish Cup-holders would finish a hugely disappointing campaign in the bottom half of the table, 9th out of 16, a distant 17 points behind that tremendous Famous Five-led Hibernian side, who defended their title. Indeed, Celts earned only four more points than relegated Morton. It would be another two years before Jock Stein captained Celtic to a first Championship in 16 seasons and a first Double since the time of Maley, back in 1914, albeit the Hoops would have a Coronation party to enjoy in May 1953. Off the field, Bob Kelly was maintaining his stance against the SFA's instruction to remove the Tricolour from the Jungle.
The first Celtic games of Pat's lifetime would see the Hoops visit the country at the heart of that dispute and which had triggered the formation of the club, with opening opponents Bohemians and Sligo Rovers later to feature in his own story. And the close-season of 1952 would see another event at Parkhead which would have major implications for the young McCluskey, as Croy full-back Frank Meehan joined the Hoops from Petershill, perhaps passing Gil Heron at the front door as the Jamaican left for Third Lanark after five games and two goals for Celtic. More on some of those connections to follow.
Pat McCluskey would learn the game at his local secondary school, St Patrick's in Kilsyth, then Glasgow Amateurs, before turning junior at Maryhill. Having spent time on trial at Arsenal, Chelsea and Manchester City, it was that same Frank Meehan, now a Parkhead scout, who invited the youngster to Glasgow's east end, where Pat duly signed for Jock Stein's recently-crowned Treble winners on 20 May 1969.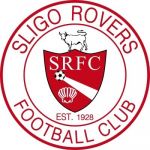 Pat would then follow in the footsteps of his father, John, by turning out for Sligo Rovers, the 17-year-old heading to the west coast of Ireland on a season-long loan, no doubt with input from a certain Sean Fallon.
It would prove to be a memorable experience, as Rovers marched all the way to the FAI Cup final in Dublin on Sunday, 19 April 1970, just days after his parent club's famous victory over Leeds United at Hampden which saw Stein's men reach a second European Cup final.
Having disposed of highly-fancied Cork Hibernians in the last four, Sligo were seeking a first victory in their third final appearance, whilst opponents Bohemians were looking to end the domination of bitter Dublin rivals Shamrock Rovers in the nation's premier knockout competition – the Southside Hoops having won seven of the previous eight, including the last six-in-a-row – by winning the trophy on their own Dalymount Park pitch.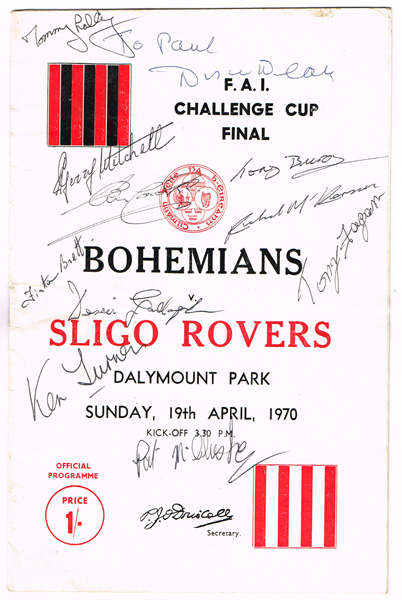 McCluskey would go closest of all to taking the trophy to Sligo, his powerful drive producing a wonderful save from Bohemian's keeper Dinny Lowry, as the match ended goalless. The reply would also fail to provide a goal for the 11,000 crowd, nevertheless, twice that number would pack into the stadium for a third game, which Rovers lost by the odd goal in three, despite taking the lead through Johnny Cooke.
Pat and his Sligo Rovers teammates would quickly return to Dalymount Park for the All-Ireland Blaxnit Cup final, this time the opponents being Coleraine. Sadly, victory and silverware would again evade 'The Bit o' Red', the Derry club retaining their trophy with a 4-2 win.
Nevertheless, Pat's performances would have encouraged good reviews from another former Celt, St Patrick's Athletic manager John Colrain, who was also scouting for the Parkhead club. Pat would head back to Glasgow for the 1970/71 season, where he would be joined by the Sligo Rovers goalkeeper with whom he shared digs, Tom Lally. The Galway stopper would fill the gap left by Ronnie Simpson, who had retired on the day of the European Cup final defeat by Feyenoord, to complement Jock Stein's first-team keepers Evan Williams and John Fallon.
Remarkably, Pat and Tom would make their senior Celtic debuts together, at the end of that first season. Having clinched the club's second batch of six-in-a-row League Championships by beating Ayr United 2-0 at Hampden on Thursday, 29 April 1971, Jock fielded the Lisbon Lions for a final hurrah against Clyde at Celtic Park two days later, the IMMORTALS rolling back the years with an emphatic 6-1 victory on the most emotional of afternoons.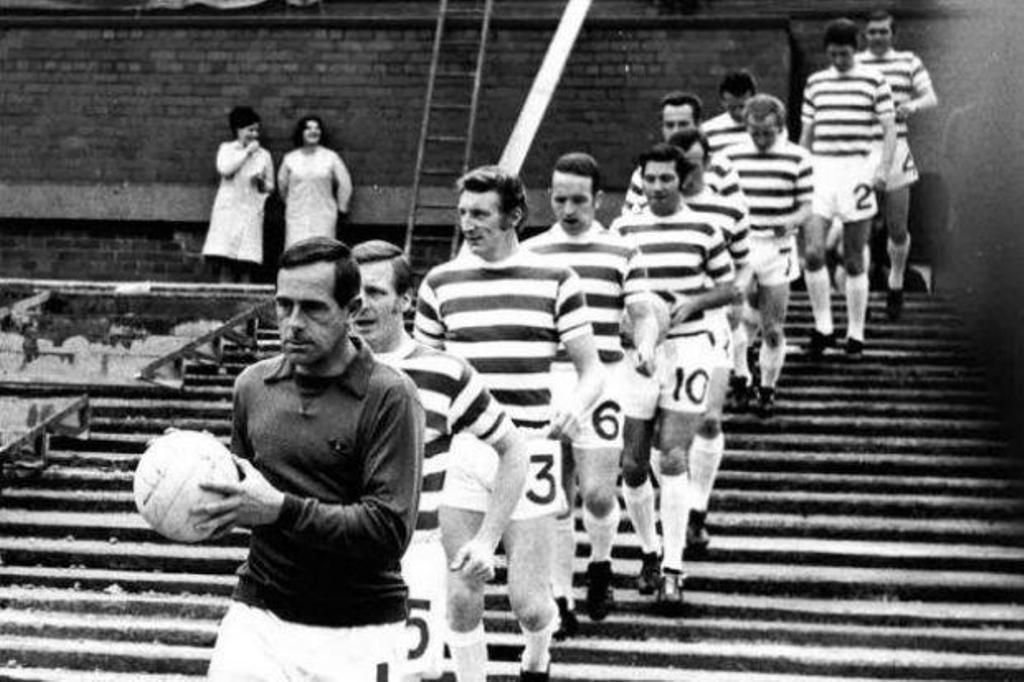 The two clubs were then scheduled to meet in the semi-final of the Glasgow Cup at Shawfield on the following Thursday, two days before the Scottish Cup final clash with Rangers. Stein listed the following team for the latest meeting of the old east end rivals, on the day Bertie Auld signed for Hibernian on a free transfer:
Tom Lally; Pat McCluskey & Jimmy Quinn; Bobby Murdoch, Tommy Gemmell & John Clark;
Danny McGrain, Davie Cattenach (captain), Kenny Dalglish, Stevie Chalmers & Vic Davidson.
This would prove to be an historic night in many ways. None of the four Lions would feature in that weekend's Scottish Cup final, and indeed neither John Clark, who limped off at half-time, nor Stevie Chalmers would feature again for the club, both moving to Morton that summer.
Ward White replaced Clark at half-time for what would turn out to be his only senior appearance for Celtic, a fate which also befell goalkeeper Tom Lally. And the award of the captaincy to Davie Cattenach in the presence of so many Celtic greats suggests that he already suspected this may be the last of his 17 games for the club, despite remaining at Parkhead until joining his hometown club Falkirk the following January.
The chant "There's only one Danny McGrain" would have been wholly inappropriate for the 3,500 fans who rolled up to Rutherglen. Celtic's soon-to-be legendary full-back was wearing unfamiliar number seven shorts, whilst his namesake cousin was making his debut in the Clyde midfield. He would become the Shawfield club's youngest-ever captain whilst still a teenager, a record he holds to this day.
Tragically, he suffered brain injuries following a goal-line clearance against Dundee United in February 1974 and was forced to retire the following May. Danny passed away in August 2004 just into his 51st year.
Little-known striker Kenny Dalglish, barely out of his teens, would fail to get on the scoresheet at Shawfield, however, he would net six in his next match for the club 10 days later, against Kilmarnock at Rugby Park in a testimonial for Frank Beattie. Kenny would take that incredible scoring form into the new season and would be a Scotland internationalist before Christmas

.

As a footnote to the career of Tom Lally, I have to mention his feat of becoming the top goalscorer at his club whilst playing between the sticks. Having returned to Ireland in October 1971 to join St Patrick's Athletic, then spending the 1976/77 season at Athlone Town, Tom joined hometown club Galway Rovers as they joined the Irish top-flight in the summer of 1977. The big goalkeeper netted from four penalty kicks in that inaugural season, a scoring record which, incredibly, none of his outfield colleagues could match! Lally would remain at the club through the name change to Galway United before returning to Sligo Rovers for a final playing stint in the 1987/88 campaign, which sadly ended in relegation for his team.

Whilst Tom Lally's Celtic first-team career had started and ended at Shawfield, Pat McCluskey would gradually play his way into Jock Stein's plans. He would have to wait until February 1972 before tasting competitive action again, replacing Dixie Deans on the hour-mark with the Hoops 3-0 ahead against Stein's old club Albion Rovers at Celtic Park in the Scottish Cup.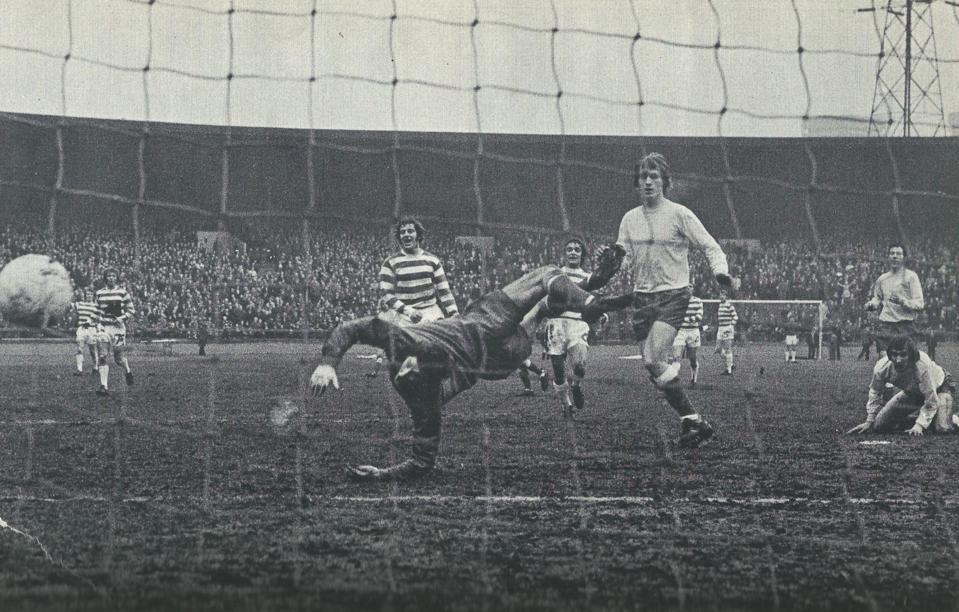 Pat slotted in beside Billy McNeill to allow George Connelly to display his wonderful talents in midfield, as Celts cruised to a 5-0 win despite a late penalty miss from Kenny Dalglish. Pat would then replace Dalglish for the final half hour in his next appearance, the following month against Ayr United in a 2-0 home win, four days before the European Cup quarter-final tie against Ujpest Dozsa in Budapest.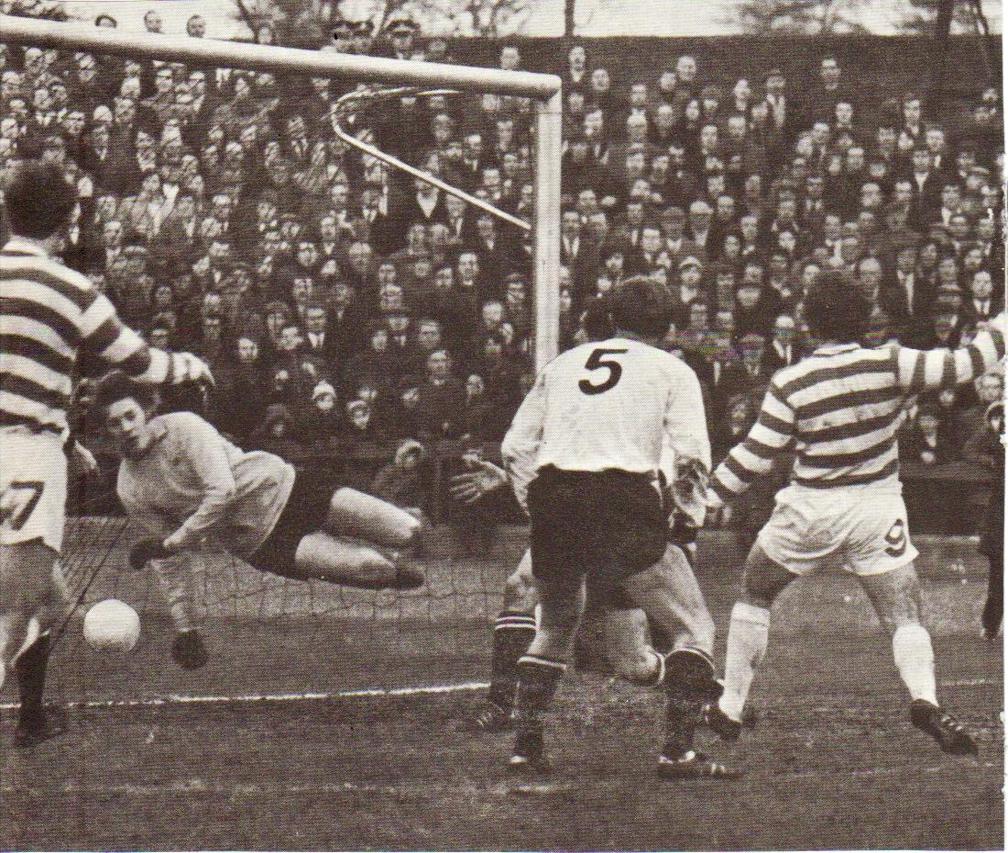 The youngster's next opportunity would come four weeks later in the semi-final of Europe's major competition. Jock Stein had seen his full-backs dropping like flies in the run-up to the rematch with Inter Milan, Danny McGrain suffering a fractured skull at Brockville, and David Hay, Jim Brogan and Jimmy Quinn all nursing injuries. Brogan would last an hour in the San Siro before giving way to Pat McCluskey, who slotted into the back four to secure the 0-0 draw which Celts hoped would be enough to set things up for a third European Cup Final. Pat would get his first competitive starting slot in the Hoops at Rugby Park on the Saturday, as Celts won 3-1, the team lining up as follows;
Evan Williams; Jim Craig & Pat McCluskey; Bobby Murdoch, Billy McNeill & George Connelly;

 Jimmy Johnstone, Vic Davidson, Dixie Deans, Tommy Callaghan & Bobby Lennox.
McCluskey would retain his place as Celts repeated that scoreline against the same opponents in the Scottish Cup semi-final at Hampden the following Wednesday, with Killie goalkeeper Ally Hunter giving a performance which probably sealed his transfer to Celtic in the January.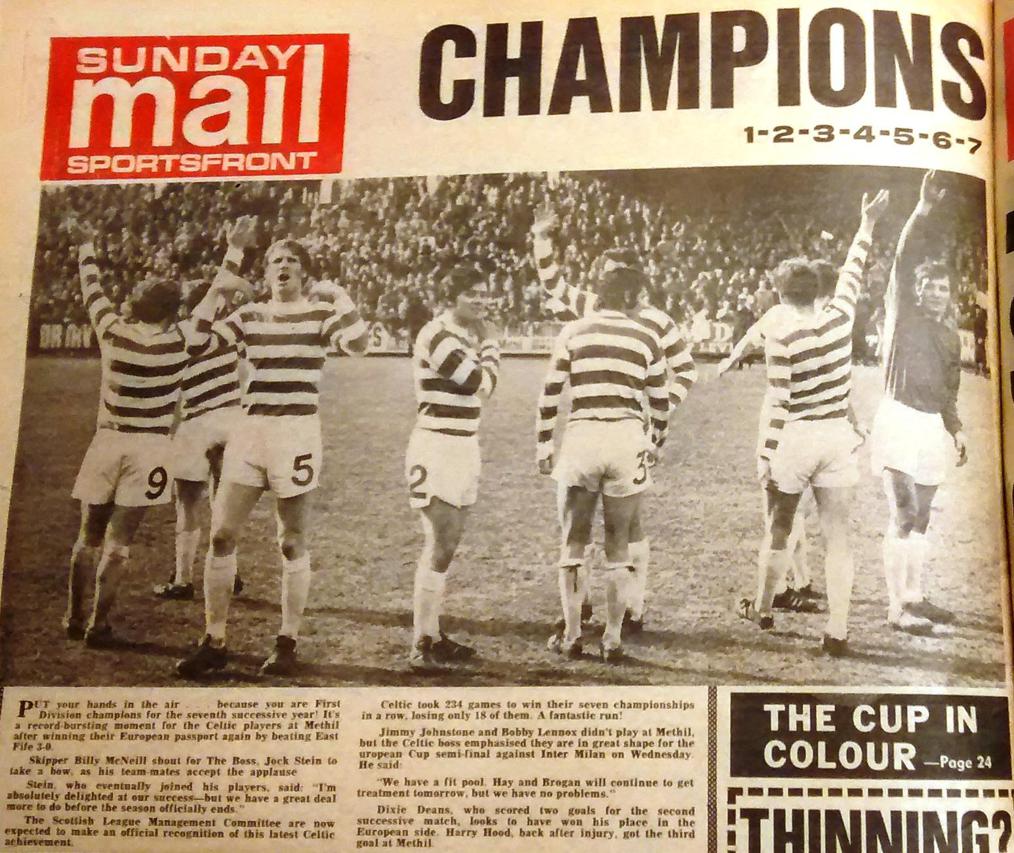 Pat would come off the bench at Methil three days later to replace Lou Macari, as Celtic set a new Scottish landmark by clinching a seventh successive League flag with a 3-0 win over East Fife, however, he would play the full 120 minutes as the Hoops agonisingly lost the return leg with Inter Milan on penalty kicks, the youngster coolly converting his effort in front of 75,000.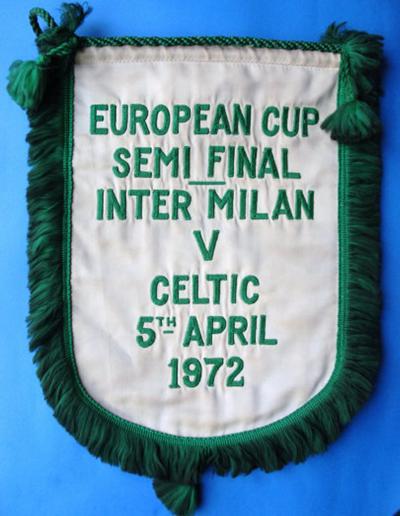 The return from injury of Jim Brogan would see the Kilsyth Bhoy miss out on a Scottish Cup-winners' medal as Celtic inflicted a record-equalling 6-1 defeat on Hibernian with Dixie Deans atoning for that penalty miss with the first of his three hat-tricks against the Edinburgh side.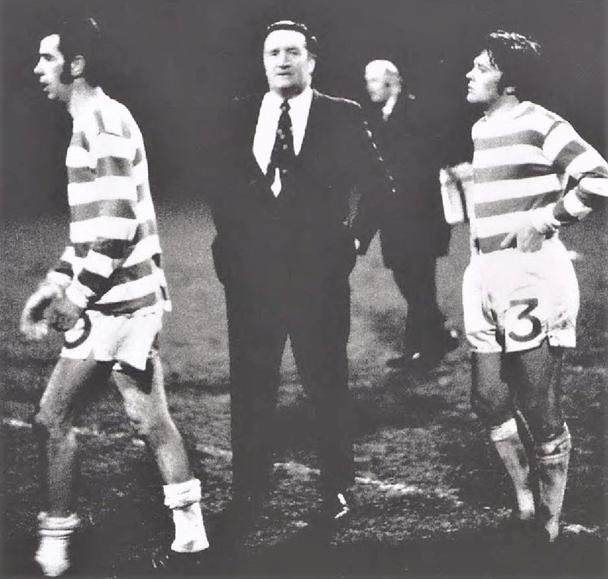 Season 1972/73 would be a breakthrough one for Pat, as he made 26 appearances in the side which extended the League-winning sequence to eight at Easter Road in the April. He scored three goals in the campaign, and they all occurred in the same match!
On Saturday, 2 December 1972, McCluskey hit a hat-trick from his midfield role at Boghead, as Dumbarton were hammered 6-1. Ex-Celt Willie Wallace grabbed the late consolation for the Sons, whilst another former Parkhead man, John Cushley also netted, albeit at the wrong end. The home side also featured the young McAdam brothers, Tom and Colin, in their line-up.
Seven days later, Pat would feature in his first cup final as a Celt. Sadly, it would not be a winning one, as Turnbull's Hibernian took a measure of revenge and the League Cup, following a 2-1 victory.
Pat would endure defeat again in the following season's League Cup final, this time at the hands of Dundee in that miserable lunchtime 'showpiece' of December 1973. The second of his two goals that campaign had decided the quarter-final tie with Aberdeen at Celtic Park, a tremendous shot from outside the box beating Bobby Clark after Kenny Dalglish and Drew Jarvie had exchanged doubles.
A goalless second leg at Pittodrie set up a semi-final against Rangers at Hampden, Harry Hood scoring the final Celtic hat-trick against the original club. Pat's other strike had also come in October, McCluskey coming on as a second half substitute for the injured Billy McNeill to equalise against Hibernian at Celtic Park.
He would appear in both legs of his second European Cup semi-final, against Atletico Madrid in April, before playing at Brockville as nine-in-a-row was clinched then at Hampden as the Scottish Cup and Double were secured against Dundee United the following month. In total, Pat turned out 45 times in the Hoops, the Kilsyth Bhoy now very much an established first-team regular.
There would be a second Scottish Cup-winners medal the following May, Pat slotting home his penalty kick to secure a 3-1 victory over Airdrieonians in Billy McNeill's last game. He had also scored from the spot in the shootout win against Rangers in August which saw Celtic win their only Drybrough Cup and he would complete a silver Treble by finally winning that elusive League Cup medal also, following the 6-3 win over Hibernian in October 1974.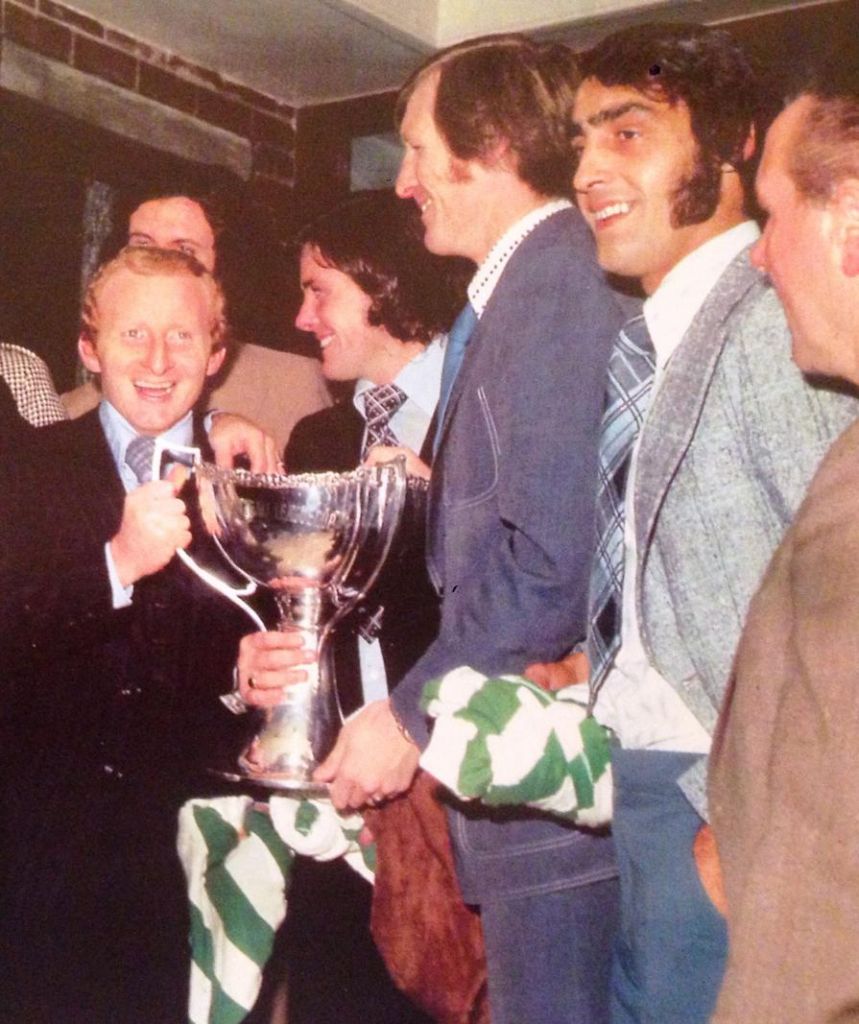 Sadly, there would not be a tenth consecutive League title to celebrate, following a dramatic collapse by the Hoops after New Year 1975, and Olympiakos ended European hopes at the first hurdle, however his return of three goals from 48 appearances made this a successful season for Pat from a personal perspective.
There was a difficult start to the new Premier League era for Pat when he was one of five Scotland players banned for life after an incident in a Copenhagen nightclub. That Under-23 appearance would prove to be Pat's ninth and last at international level

.

On the domestic front, Celts would struggle in the absence of Jock Stein following his horrific car crash in July, as Jock Wallace's Rangers secured a first Treble in 12 years. Despite the lack of team success, Pat would break the 50-game barrier for the first time, whilst adding four goals.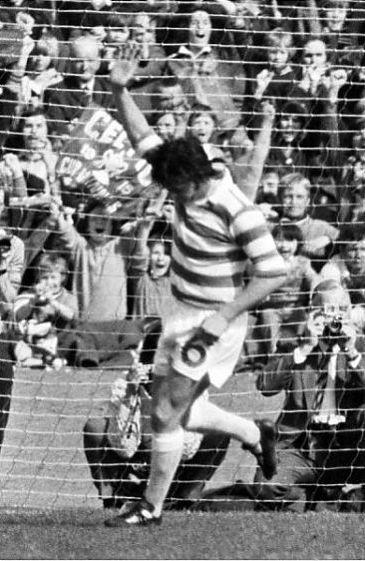 Two of those came at Muirton Park just after the Scotland problem in September 1975, McCluskey claiming an unique hat-trick by adding St Johnstone's goal in a 2-1 win for Celtic just one minute after scoring at the right end, whilst his penalty conversion in the 7-0 win over Icelandic outfit Valur Reykjavik 10 days later would see him score in European competition for the first and only time, on the night his near namesake George made his Hoops debut.
Pat also captained Celtic for the only time, in the absence of Kenny Dalglish, for the final League game at Tynecastle, on Monday, 3 May 1976. Two days earlier, he had scored his 12th and final Celtic goal as the hoops fought back from 3-1 down to win 5-3 against Ayr United at Somerset Park.
The return of Jock Stein to the hotseat in the summer of 1976 would coincide with the demise of Pat's Parkhead career. That Double-winning season would see McCluskey make just 16 appearances for Celtic, seven of those in the League Cup. He would drop out of the side after the 2-0 defeat by Wisla Krakow in Poland at the end of September, making only three starts after the turn of the year.
Pat would run out in his beloved Hoops for the final time at Easter Road on Wednesday, 30 March 1977, for a rescheduled League match with Hibernian, which ended 1-1. Roddy MacDonald would then return from injury to take his place as the title was secured at the same venue with a Joe Craig goal three weeks later, and as the Double was clinched following the 1-0 'Andy Lynch' Scottish Cup final victory over Rangers in May.
On 12 August 1977, just three days after King Kenny left for Liverpool, 25-year-old Pat joined Dumbarton, having made 195 appearances for his boyhood club and scoring 12 goals. He would spend three seasons at Boghead, playing over 100 League matches for The Sons, before moving to Airdrieonians in 1980. A half-century of games at Broomfield was followed by a spell in the indoor leagues of the USA with Pittsburgh Spirit, before Pat returned to complete his senior career with another 50 games for Queen of the South, between 1983 and 1985.
Beyond his playing days, he was still a popular figure around Parkhead, part of the matchday hospitality team and turning out for Celtic Graves Society events, always finding time for his fellow supporters, in my opinion often the sign of a true Celt.
I had the pleasure of meeting Pat just once…but what an occasion it was, in the immediate aftermath of that fabulous 4-2 victory on the night that 10 men won the League, in May 1979.
This is an extract from a piece I wrote for The Celtic Star about that evening.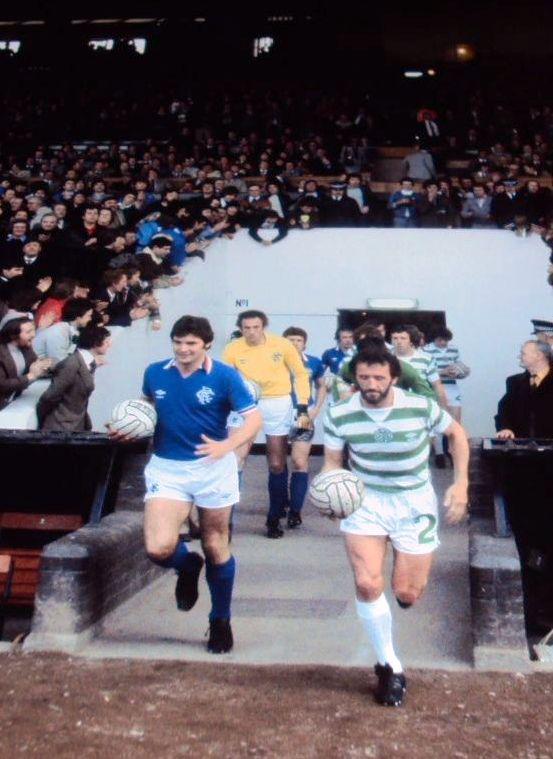 This bizarre season continued for me in the unlikely setting of the main stand at Ibrox on the Friday night, as St Mirren chose to play their home game in Glasgow, whilst work on their new terracing commenced.
I would stand on that Paisley terrace twelve months hence, to watch another dramatic title climax play out, with a very different and unwelcome outcome. In the meantime, however, the fans who said goodbye to the old Broomloan Road End, scene of so many Celtic parties and not a few heartbreaks over the years, witnessed two late headers from George McCluskey and Bobby Lennox, to win a tense match and move the Hoops to the summit for the first time, on goal difference from Dundee United who had now completed their programme, as Rangers prepared for a Scottish Cup Final meeting with Hibernian the following day. Two wins now required for the most unlikely title success for Celtic.
For those of us at Celtic Park for the penultimate game of the season, against Hearts on the night of Monday, 14 May 1979, it was another nervous 90 minutes. A Mike Conroy header, Celtic's 100th goal in all competitions that season, eventually proved decisive and sent the Hoops three points clear of our Glasgow rivals. Thoughts now turned to our final match of the 1978/79 campaign, defending champions Rangers at home on the following Monday.
Two Hampden stalemates with Hibernian meant that their final two League matches, against Partick Thistle and cup final opponents Hibs, would now take place after the Parkhead clash. A win or draw would leave the title in their hands. Only a Celtic win would be enough for us.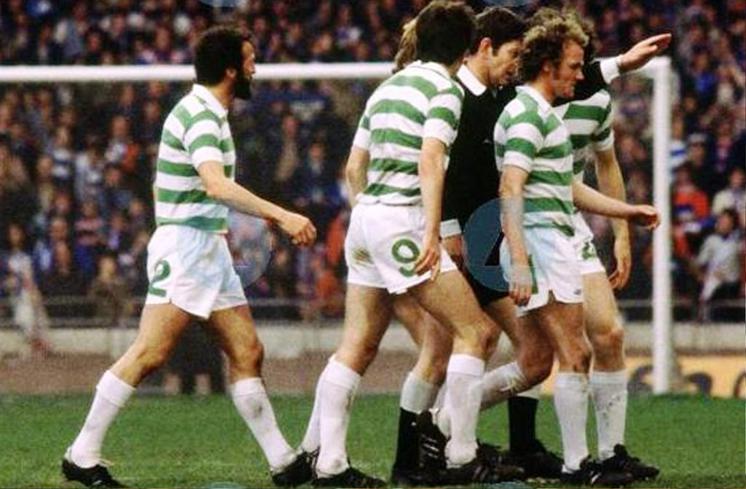 The tension was crackling in the old ground, as the week's talking stopped, and play began. On a bright May night, old foe Alex MacDonald came back to haunt Celtic again with an early strike and we still trailed 1-0 at the interval. Things then went from bad to worse early in the second half, as a grounded MacDonald felt the wrath of Johnny Doyle and, suddenly, we were reduced to 10. But not just any 10, as led by Roy Aitken, in his finest of many fine hours in his beloved Hoops, Celtic attacked the Ibrox side at will, overturning that deficit to take a 2-1 lead, following goals from Feed the Bear himself and George McCluskey.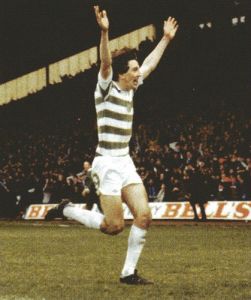 There was a final act of defiance from John Greig's Rangers, just two minutes later, as they rallied to protect their dream of back-to-back domestic trebles. My heart sank into the seat below, as Bobby Russell's shot following a corner, arrowed through our defence to crash against the Janefield post and bounce over the line for 2-2. However, there is often a magic about Celtic and this particular night was not to end in tears for those of a Hoops persuasion.
Inspired by a blood-curdling Jungle roar, the sheer willpower of Aitken and McCluskey drove them down the Celtic right, forcing a fatal mistake from Colin Jackson and providing a precious lead with just five minutes remaining. With those five minutes feeling like 50, Big Roy again brought the ball out of defence and found Murdo MacLeod on the left side of the box. As 30,000 Celtic fans screamed in unison for him to hit it anywhere, he came up with a better option, as his shot flew past Peter McCloy into the top corner and the title was ours, amidst incredible scenes of joy.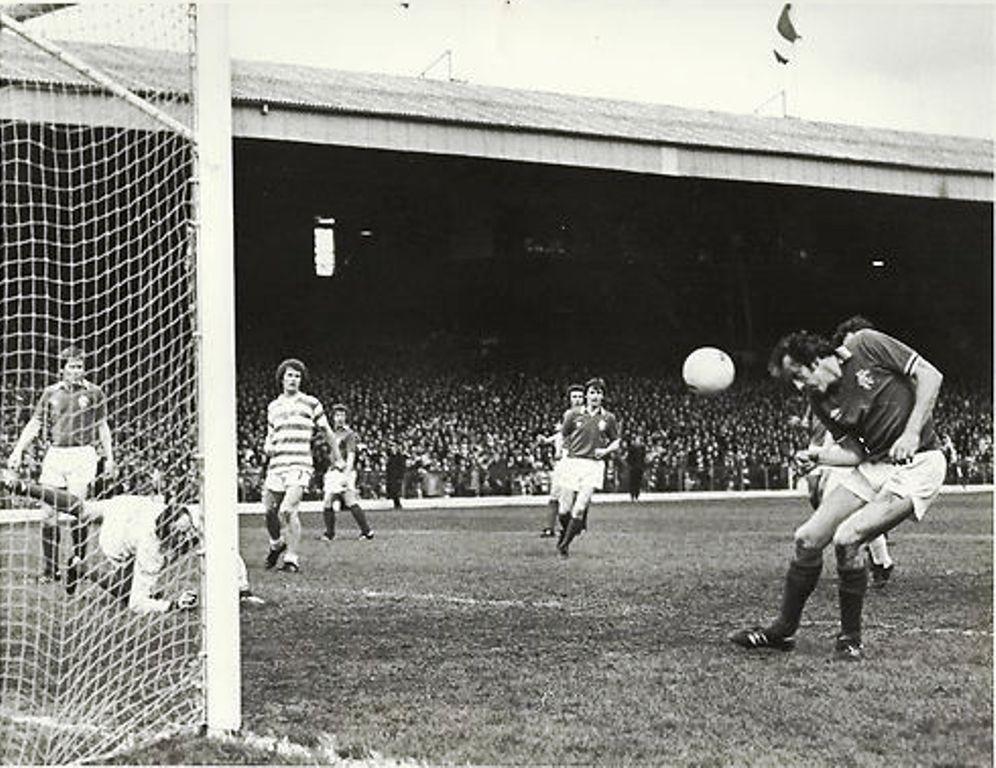 A short time later, thanks to the fact that Dad worked in the stand on matchdays, providing hospital broadcast and Golden Goal services with his colleague Jim Divers, I had the privilege of standing in the Director's Box, as the stocking-soled Celts did their lap of honour in front of a delirious support.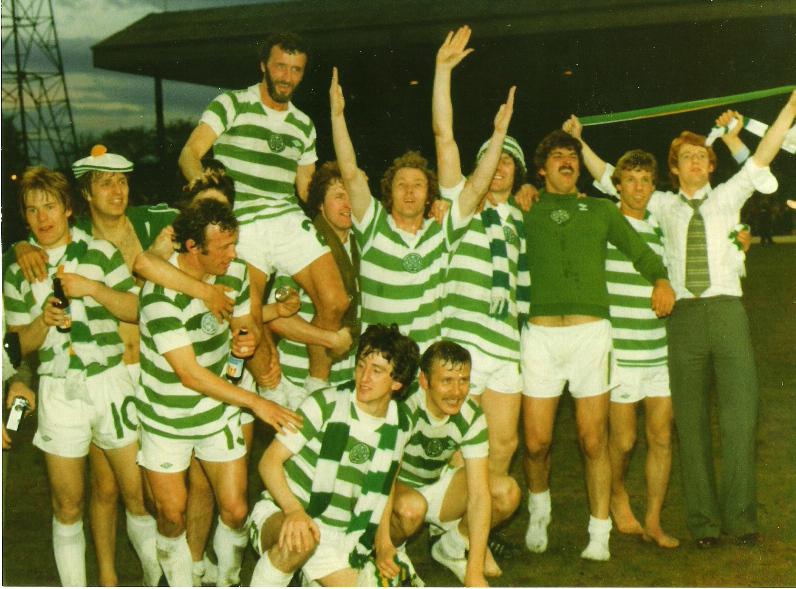 I recall ex-Celt, Pat McCluskey, standing next to me and simply repeating the word "Wonderful", then shaking his head. A veteran of Hampden triumphs and European Cup semi-finals, Pat may have thought that he had seen it all, however this incredible May night was something else.
In the foyer downstairs, sat an expressionless Alex Ferguson, the manager of Aberdeen. He would not know, at this point, that his team would be the successors to Celtic, as champions of Scotland, within 12 months. But that would be another day. For now, the night belonged to Billy McNeill and his team of young Lions, who had persevered through this strangest and tightest of seasons to reclaim the title in the most dramatic of circumstances.
The legend of '10 men won the League' had been born.
Sleep in peace, Pat McCluskey of the Celtic. A supporter who lived his dream.
Hail Hail!
Matt Corr