Uddingston born Michael Dolan was signed by Celtic from Drumpellier in May 1888. Reported in the press as "Lanarkshire's best goalkeeper," Dolan played in Celtic's first ever match. He was never a regular, making just four appearances for the first team at Parkhead. However, he was a solid reserve team keeper and has the distinction of featuring in the club's first ever XI.
I recently took a trip to Old Monkland Cemetery in Coatbridge to pay my respects to the man, who has an iconic place in Celtic's history.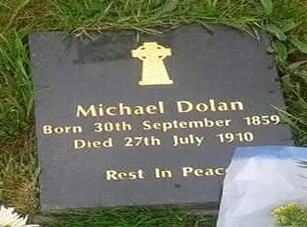 Michael Dolan's brother, Francis, also played for Celtic from 1890 until 1894. Together, the brothers won the Reserve Cup in 1891 as part of the team who beat St Mirren Strollers 13-1 in the Final.
Upon Michael's passing, on 27 July 1910, Tom Maley wrote: "He was a goalkeeper of considerable ability, and though he never quite filled the official eye, he was always considered a very good man, and held in high esteem and much respected by all with whom he came in contact at the old enclosure. He was in those faraway days an enthusiastic Celt, and though the years come between, I am pretty certain that enthusiasm never waned."