The good thing about making a costly error is the chances are someone, somewhere and – most likely not an on loan half-fit Welshman – has made a bigger mistake than you. As such, let's at least try and make Aaron Ramsey, and those inhabiting the Ibrox blue room, feel a bit better about timid attempts to score from 12 yards and the catastrophic financial consequences of errors in recruitment.
Here it is again! Thank you again to Aaron Ramsay. His high mark in Scottish football was a consolation goal v Celtic! 😂 pic.twitter.com/7CsaBCygdC

— JoeBloggsCity (@joebloggscity) May 19, 2022
Let's start with the sinking of the Titanic. In 1912 the monetary loss of the ship, which was on its maiden voyage when it sank, was $7.5 million. According to Business Insider, that would be the equivalent of $168 million today – roughly the equivalent of Ramsey's loan fee, plus wages and medical insurance – which unfortunately did not cover pre-existing conditions, or indeed transfer lunacy on the part of any Head of Recruitment.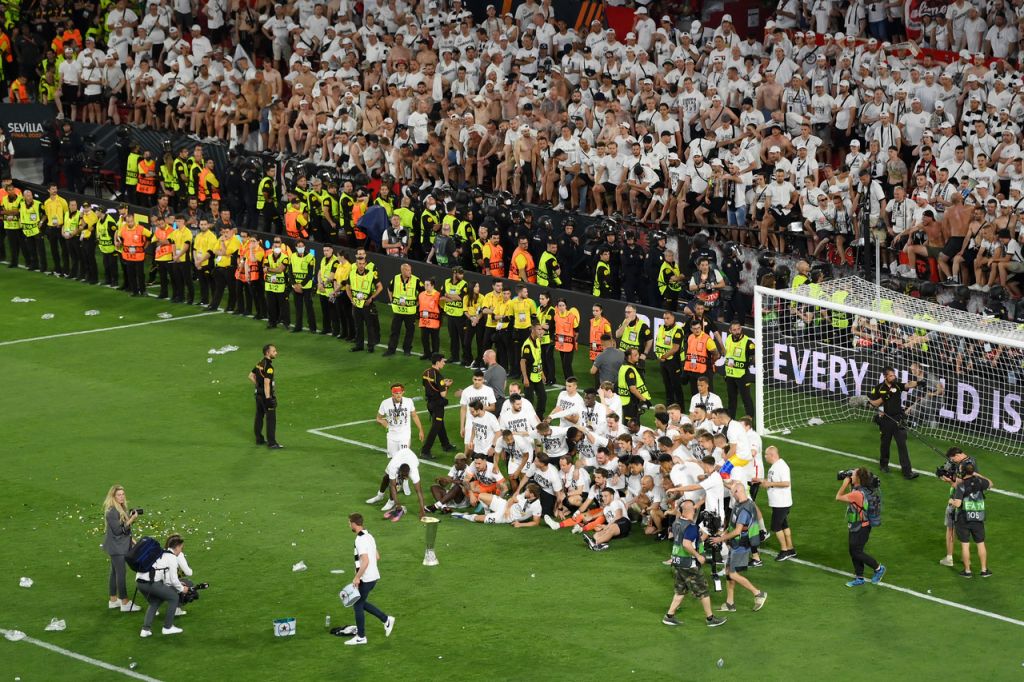 Feeling better now Aaron? Thought not.
How about this one. In 2000 Netflix came to Blockbuster with a proposal to take care of the digital aspect of their company, the idea being Blockbuster would then operate the bricks-and-mortar side of things. Sound good? Not to Blockbuster. Instead, they responded with a rather costly no…and is now left with just one store in the entire world.
Now that's got to be more expensive than a one-good-legged Welsh international's wage bill on top of the cost of a bottled penalty is it not? Well, the same ballpark at least!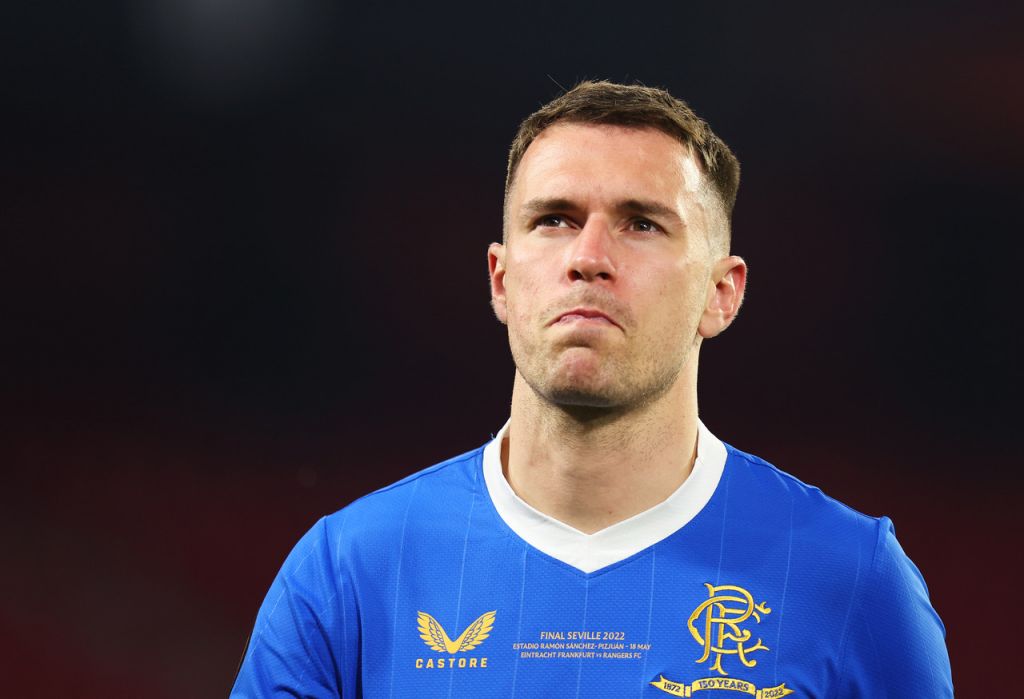 If that's not enough to soften your fall Aaron, there is always this one.
In 1999 NASA lost a $125M Mars orbiter – yes lost it! What happened? Well apparently, engineers used English measurements (inches and feet) in their calculations, in contrast to NASA's metric calculations (centimetres and metres). Because of this navigation information couldn't properly transfer and the orbiter was genuinely lost.
A painful night for Aaron Ramsey 😫#UELfinal pic.twitter.com/skKI5WfIPD

— Football on BT Sport (@btsportfootball) May 18, 2022
Now Aaron, is still possible for you to use that one as an excuse. Did anyone on the coaching staff give you the exact measurements of the goal you were facing, and the distance between you and Kevin Trapp? Did anyone mention removing your slippers, as well as your surgical gown, before you entered the field of play might improve the distance and power you could gain when connecting with the ball? If not, now is perhaps the time to shout up!
Okay Aaron, when it comes to comparable expensive mistakes what about this guy?
Ronald Wayne was an Apple founder, well he was for just 12 days, before deciding to sell his share to Steve Jobs and Steve Wozniak for a mere $800. A bit unfortunate that one considering the company is worth somewhere in the region of $1 trillion. One's called Ronald one's called Frank, one missed a penalty the other one's a …..and we're back to Aaron Ramsey!
See Aaron there is always someone worse off than yourself, and you can always take comfort that other than a case of letting down thousands of fans who travelled in expectation rather than hope – and I really must thank you for that one – the financial cost hasn't hurt you directly.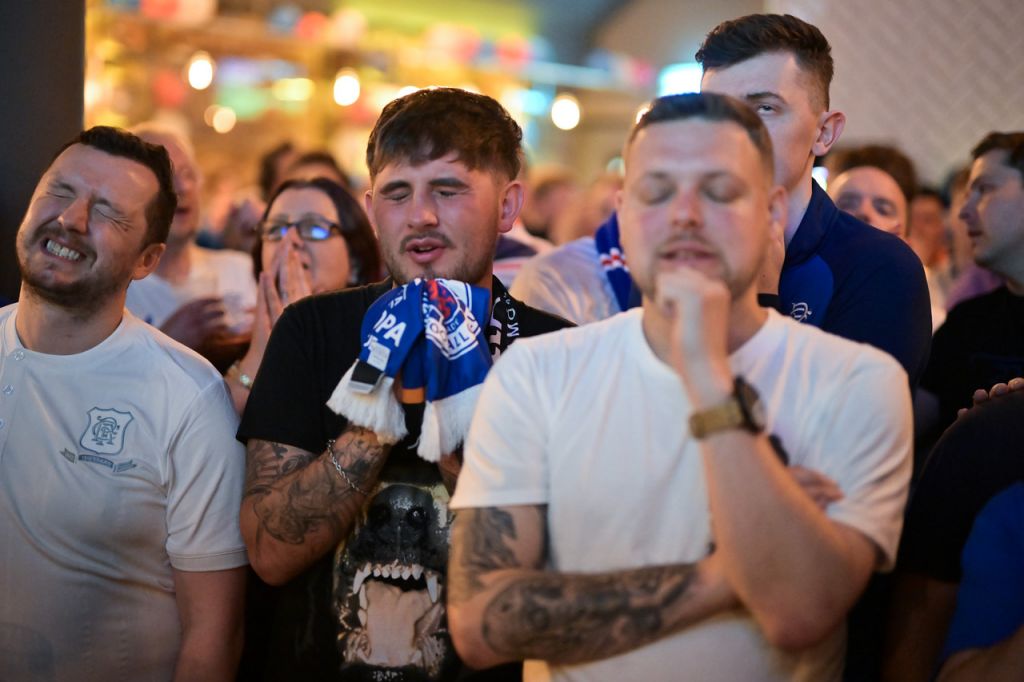 Instead that cost alongside your wages, will land in the lap of a group of theRangers accountants who are already close to a workplace breakdown after settling out of court with Mike Ashley.
Indeed, If I was you, and was making any sort of defence for myself, I'd drop Dodgy Dave's name into the conversation. After all, not all expensive mistakes come from the penalty spot of a Europa League final.
Although few are quite as amusing!
Tell us how you're feeling, Rangers fans…#UELfinal pic.twitter.com/9LdeEXaB98

— Football on BT Sport (@btsportfootball) May 18, 2022
Shaun Riley
"Every one of them can be extremely proud of what they achieved."

Spot on Ally McCoist 💙#UELfinal pic.twitter.com/Q92oG1i5Oy

— Football on BT Sport (@btsportfootball) May 19, 2022
The celebrations spilled into the Frankfurt press conference! 😆

Champagne showers for Kevin Trapp and Oliver Glasner 🥂#UELfinal | #UEL pic.twitter.com/Gc7iBZIJF4

— Football on BT Sport (@btsportfootball) May 19, 2022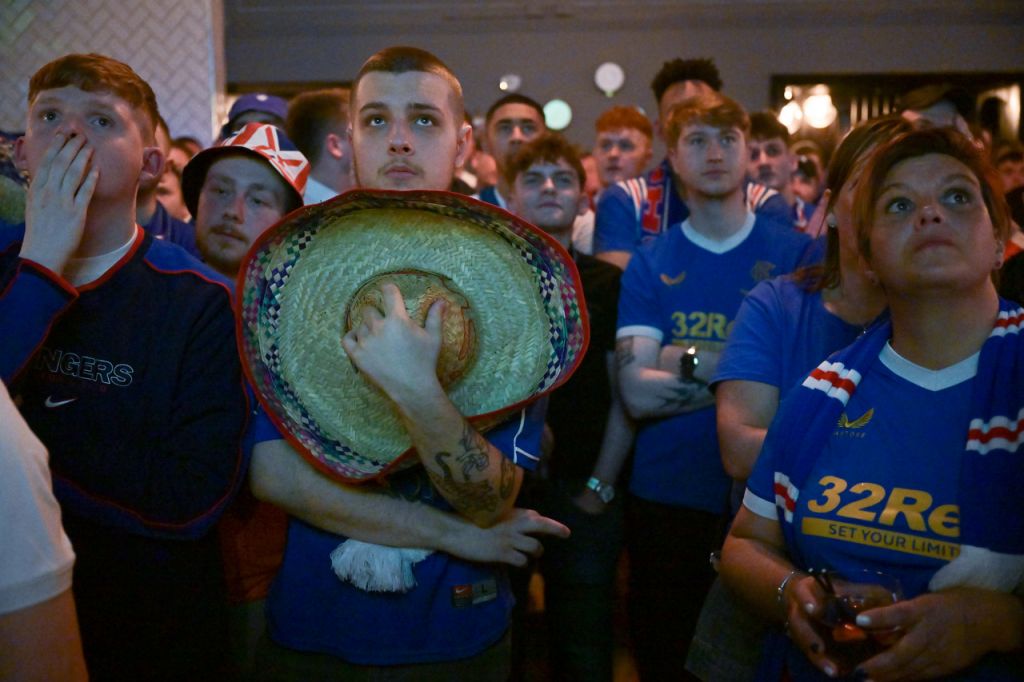 GET YOUR INVINCIBLE T-SHIRT NOW FREE WITH MATT CORR'S BRILLIANT BOOK
You want one of these? It's completely FREE when you purchase INVINCIBLE from Celtic Star Books website, just click on the t-shirt below to order your copy and when you do select the size you want from small, medium, large, XL or XXL and add that after your name so we'll know which size to send you…