ABERDEEN lacked class before the Scottish Cup semi-final, they lacked class in the game itself and they have at least been consistent in lacking class in the aftermath to a game in which they received FOUR red cards and all they could do was blame an unacceptable chant from a section of the Celtic support and a challenge from Dedryck Boyata with Gary Mackay Steven in the Betfred Cup Final as proof that they are being unfairly treated.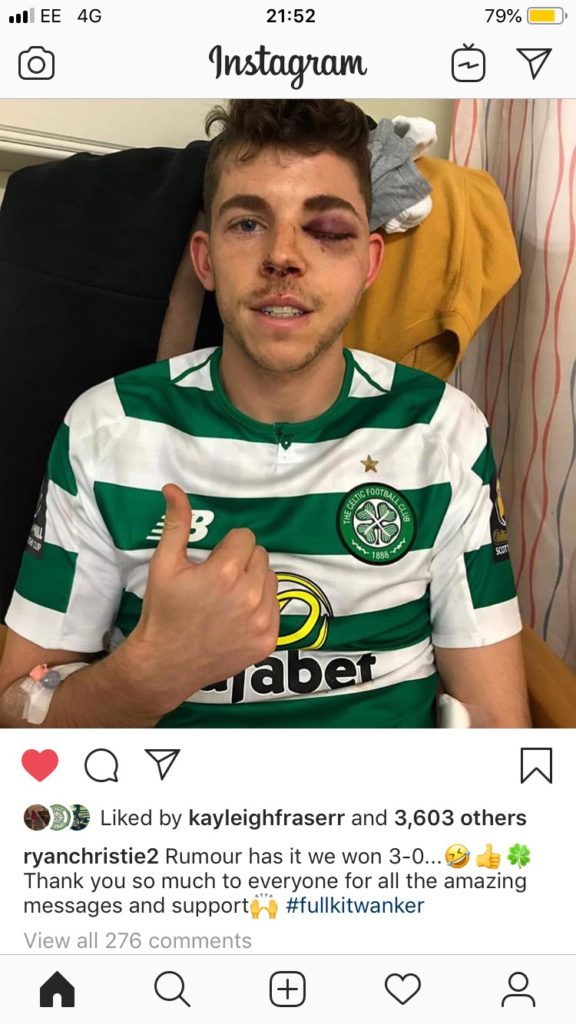 The week before the Scottish FA charged Scott Brown with not acting in the best interests of Scottish football, a charge that is infinitely more appropriate to Aberdeen FC for their behaviour at the weekend.
Before the game they were still going on about Mikael Lustig celebrating after the final whistle in the Betfred Cup Final apparently noising up the young Rangers minded Ferguson in the process. He's only a teenager and got a wee bit upset at seeing winners celebrate a cup final win.
Lustig actually cleared this all up in December, saying that it was a misunderstanding or something – it was so petty an incident that everyone else forgot all about it.
Then in the game the ex-Rangers player Ball was sent off for a second yellow for his head-butt on Ryan Christie. He had been booked for his fourth foul, they said it was his first. His attack on Christie was as worthy of red card as just about any challenge any of us has witnessed on a football match.
Yet they moaned. They were being unfairly treated and pointed out that Dedryck Boyata's similar challenge on GMS in that same match in December was proof. Except that it wasn't. The thug Ball jumped into Christie who was heading the ball. GMS actually headed Boyata who got the ball. That was a case of two players going for the ball and one coming off worse. It happens.
Shows the total lack of class Mcinnes has in trying desperately to compare these two. pic.twitter.com/00CDpTNLDI

— Ronnie O'Connor (@_lippylipez) April 15, 2019
The Aberdeen memories are good though to recall that one but did they forget the Invincible Cup Final in May 2017 when Kieran Tierney was on the receiving end of an Aberdeen elbow and ended up in hospital with a broken jaw? And Bobby Madden didn't even award a free kick!
https://www.balls.ie/football/kieran-tierney-jaw-cup-final-365888
Docherty – their assistant manager was sent off for unacceptable behaviour – and Ferguson's two footed lunge at Tom Rogic, with Craig Thomson standing a few yards away, was as clear a red as Ball's. How are they going to blame Celtic for these two? Ferguson still made about Lustig celebrating?
Looking forward to McInnes favourite tactics against Celtic at Hampden being scrutinised as much as songs. pic.twitter.com/cbT36qD1Sr

— Celtic Wiki (@TheCelticWiki) April 15, 2019
Then McInnes' pathetic gesture to a song he lied about – he said he'd heard it a hundred times, really? No he hasn't but he has heard it and as a support we have a duty to our club and ourselves to make sure it is never sung again. We were getting there. Had McInnes pointed out that while it was sung, it was noticeably fewer fans singing it and more needs to be done to wipe it out completely, then he'd have been acting in the best interests of Association football in Scotland.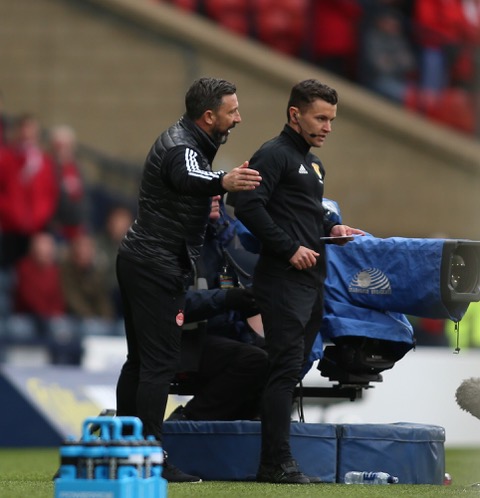 His 'get it up ye sign' was a desperate act from a man who has tried and failed yet again to beat Celtic at Hampden. His team were hammered on Sunday and his footballing 'style' was exposed for what it is, thuggish.
Celtic showed their teeth last night by issuing a statement and now the Aberdeen board are under pressure to respond to their own fans bad behaviour at the game on Sunday.
McInnes heard some Celtic fans singing that Cheer Up song but was silent on the 'paedos' chant or the Jimmy Saville one which just about all of his own fans chanted. Did he hear those offensive chants?
What have you to say, Aberdeen FC?
Now we wait to hear from the Scottish FA. Will they charge Aberdeen FC with not acting in the best interests of Scottish football?
It seems that John Hartson agrees…
John Hartson: If Celtic had behaved the way Aberdeen did, all hell would be breaking out https://t.co/E1TTYQnBvg

— John Hartson (@JohnHartson10) April 16, 2019