FORMER CELTIC manager Gordon Strachan, appearing on The Debate show on Sky Sports last night, reckoned that his old club are on course for an 8th successive title win. With Aberdeen and Kilmarnock dropping out of the race to catch the Champions and league leaders it's a case of four title contenders becoming two, with Steven Gerrard's Referee assisted side still just about hanging on to Celtic's coat-tails six points adrift of the leaders.
The Rangers win 4-2 at Pittodrie, aided by yet another controversial penalty decision and the failure of a (Rangers supporting) referee to send off Allan McGregor for his latest disgraceful assault on a fellow professional, means that Aberdeen are now out of the picture as title contenders and are 5 points adrift of second placed Rangers.
The result of games officiated by some refs is wildly out of sync with the average

Since 2016 Rangers have an average of 2.56 points per game in matches officiated by Madden and 2.45 when officiated by Dallas

The average for all other refs is 1.78

That's significant pic.twitter.com/oRNGGXlp1Y

— X-Anon (@XAnon47899610) February 7, 2019
But if the gap between second and third is significant at five points it is still smaller than the margin that separates top from second. The six point advantage, coupled with a much better goal difference means that there is little or no room for error before Gerrard's side needs snookers.
"Do I think Rangers can win it? Probably not," Strachan said.
"I just think that at this moment in time, Celtic have enough in their locker to get through," the ex-Scotland boss stated.
How do you expect bobby to see it? He was obviously unsighted!!???????????????? pic.twitter.com/pIRa4nDYBN

— Francis Brennan (@FRANNYBRENNAN1) February 6, 2019
That win over Celtic on 29 December, their first in 13 attempts since Brendan Rodgers took charge, was a high water mark for Gerhard's side but the advantage they gained was quickly lost down at Rugby Park a few weeks ago. Celtic winning their game in hand and having a 100% record in 2019 without ever conceding a goal has turned what the BBC liked to call 'joint top' into six points adrift.
"I think the win for Rangers over Celtic was very useful, though, because it made the backers realise that they were not that far away from them.
"But I think they will push Celtic and this could go down to the last couple of games of the season. Success would be to take them to the last two or three games.
"The Aberdeen result is huge for Rangers, it will give them a spring in their step. If you're Celtic, you're thinking: 'If we beat Hibs tonight that's good'.
"But for Rangers to win, that sets the alarm bells ringing."
Not only is he a thug he's a complete and utter weirdo.

Another disgusting challenge before pretending to be the victim.

Incidentally the linesman ignored a blatant offside McKenna flagged for before his hand was struck by the ball.

Dubious players, dubious penalties. pic.twitter.com/6Twa6F7RpE

— Celtic Nation (@CelticNation67) February 6, 2019
Does it really Gordon? Celtic have strengthened the squad and players like Weah, Burke and now Toljan are all contributing. Bayo was ready to come on last night before having to sit back down due to the injury to Emilio.
Boyata is back, Edouard and Ntcham are now available for selection. Izaguirre's injury isn't serious. James Forrest's scan was clear so he will be available for the Valencia game. Kieran Tierney isn't far away…so Celtic are going to get stronger with 13 league games to go – and we're not back in league action until a week on Sunday. By that time the squad will be nearly at full strength.
Hibs had three efforts at the Celtic goal last night and not one on target.
So there are no alarm bells ringing at Celtic, just the disco lights flashing! Some heavy stuff last night with old AC/DC for the Celtic Das…
AC/DC blaring at Paradise ????
Needless to say I was loving it! pic.twitter.com/OfuExFwWWU

— ★ KENNY ★ (@TheKennyScott) February 7, 2019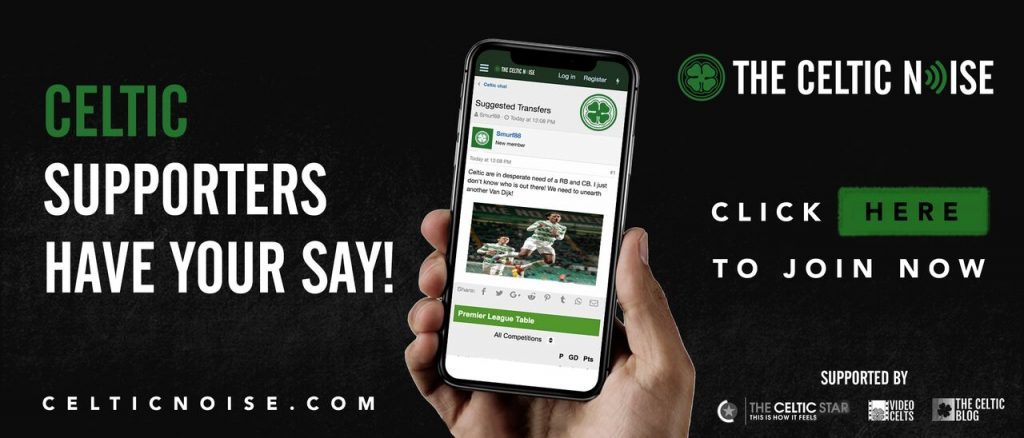 Also on The Celtic Star…
Watch the Post Match Interviews with Scott Brown and Jerry Toljan
'And so 6 points ahead and 13 games left, but let's not get complacent,' David Potter
Toljan shines as Brendan issues Good News on Injured Celtic Stars