Adam McLean, not to be confused with Davie who was slightly older, was one of the most unsung Celtic heroes of all time, yet he had a remarkable career with Celtic, playing 408 times and scoring 138 goals.
Born in 1899, Adam joined the club in the dark days of 1917 as a teenager and soon found himself in the first team, playing his part in the winning of the Scottish League of 1917, eventually replacing on the left wing the talented but not always reliable Johnny Browning.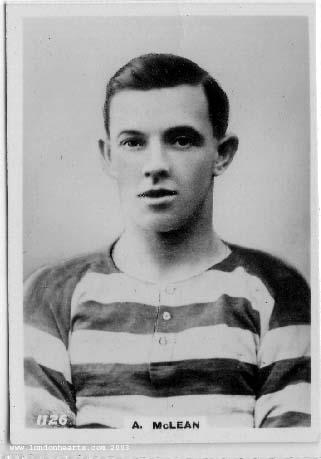 Adam was thus able to learn from Patsy Gallacher and in particular from Jimmy McMenemy, a man who combined tremendous talent with an ability to impart his knowledge and experience to others, and although Celtic failed to win the League in 1918, this was only a temporary blip in the fast developing career of Adam McLean. Adam was by nature a quiet, hard-working player, never showing off but always able to play his part in the successes that came Celtic's way in the 1920s, winning the Scottish League in 1919, 1922 and 1926 and the Scottish Cup in 1923, 1925 and 1927. It was significant that in 1926 when Celtic lost the Scottish Cup final to St Mirren, McLean was out injured. The supporters "questioned" this Cup final, feeling that dirty deals had been done with bookmakers, but the real reason was a lot more simple – Adam was injured.
A left winger was often a pariah position in the 1920s. When a player was injured in the course of a game (no substitutes of course until the 1960s) he would often be sent to hobble about on the left wing. This meant that Adam had to learn to play in other positions, something that he did with great success, not least in the centre forward position where his ability to take a goal was frequently noticed and appreciated by the crowd.
He was also a figure of stability and reliability in the Parkhead dressing room. Celtic were bedevilled in the 1920s by men who found the strict discipline of Willie Maley difficult – Willie Cringan, Johnny Gilchrist, Tommy McInally – but Adam never gave any problem. If he was unhappy about anything, he never allowed it to affect his performances on the field, and there were quite a few people who thought that he was at least as good a player as the man who won all the caps for Scotland – Alan Morton. Adam won only four Scotland caps, and had he not been around at the same time as Alan Morton of Rangers and Alec Troup of Everton (two outstanding players) he would have won a great deal more.
His left wing partner Tommy McInally was, of course, a byword for trouble, yet he was superbly talented. Tommy needed someone to keep him straight, and Adam was always a great help to Maley in this respect, although there were times when the respectable and reliable McLean lost patience with the wayward Tommy, who has a great deal to answer for in the awful season of 1928 when the Scottish League and the Scottish Cup were thrown away in one horrible week in early April.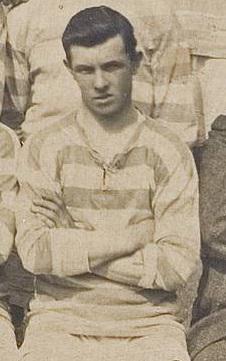 Yet when McInally was transferred to Sunderland soon afterwards, Adam found himself there was well. Legend has it that McInally had said to the Sunderland board that he could not play without Adam. Adam, for his part, felt cheated by a reduced financial offer from the Celtic Board (obsessed with the need to pay for the new Stand), and when Sunderland offered him better terms, Celtic were only too keen to take the money and to allow him to go.
It was a bad decision by Celtic, for although Adam was now nearly 30, he had loads of football in him. He played a couple of years for the underperforming Mackems (lasting a lot longer than the still wayward McInally) before returning to Scotland to play for Aberdeen. It was there that Adam showed another side of his character when he "blew the whistle"on the Aberdeen match fixing scandal of the time. The idea was that Aberdeen would lose games at half time but rally to win in the second half. The decent and honest Adam McLean would have no part in this, and reported the matter to the manager, Paddy Travis.
He then joined Partick Thistle until he gave up playing in 1938 when he became their trainer and was their assistant manager as late as 1962. He died in 1973, and was a man who deserved more credit and acclaim than he actually got.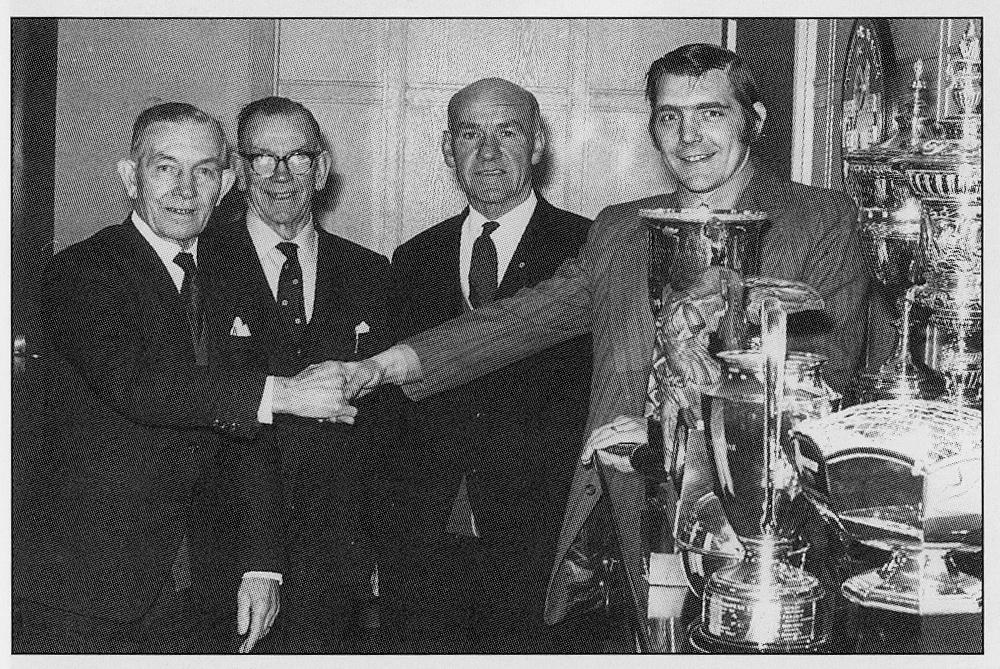 Adam is on the extreme left of this picture taken a few months before he died in 1973. He is alongside Jimmy McGrory, Jimmy Delaney and Bobby Murdoch, and he is well worth his place in such illustrious company, arguably four of the best Celts of all time. It was taken immediately after Murdoch had scored the club's 6,000th goal. Adam had scored the 2,000th, McGrory the 3,000th and Delaney the 4,000. The scorer of the 5,000th Frank Brogan could not be there that day.