WELL I've never seen a Cup Final like that! Plenty we've won and deservedly so, too many when we have been the better team and lost, more than enough when the referee or linesman played a part in the outcome to take it away from us with one or more dodgy decisions or 'Honest Mistakes' as they call them in the trade. But never like that yesterday.
Celtic were strong in defence, brilliant in goal but the rest of the team were poor and the tactics were out-thought by the rookie boss from across the city. Read Sandman's Player Ratings and check out the marks for the forwards.
David Potter, as you'd probably expect was a little more unrepentant in his assessment of the game. He seen many more cup finals than me and couldn't think of a comparison to yesterday – it was a one off, but for the cup win we have to thank Fraser Forster and the man who brought him back to Celtic, Neil Lennon.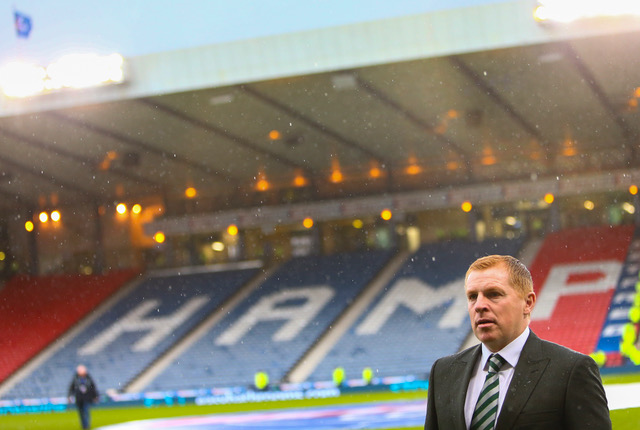 Afterwards the Celtic manager outlined his thoughts on a remarkable afternoon at the National Stadium that left Ryan Jack in tears and the record books showing that we have won Ten Domestic Honours in a Row – a remarkable achievement.
"I'm thrilled," Lenny told the Media at Hampden as reported by Daily Record. "I was disappointed with the way we played at times because that isn't the standards we set ourselves but there's a resilience about the team and I told you before the game there's a relentlessness about them.
"We had to rely on Fraser to make some unbelievable saves but I thought Odsonne definitely sparked us. I thought we were missing him. It was that physical presence and quality and then when he comes on we get the goal and Mikey (Johnston) gets the chance for 2-0 and it could have been over.
"We had to ride our luck, there's no question of that and they should be shaking the hands of the Rangers lads because they have made the cup final a brilliant spectacle.
"But we have come through it again and we are an amazing team. To have won 10 trophies in a row that's a hell of an effort when you think of all the pitfalls that are put in front of you.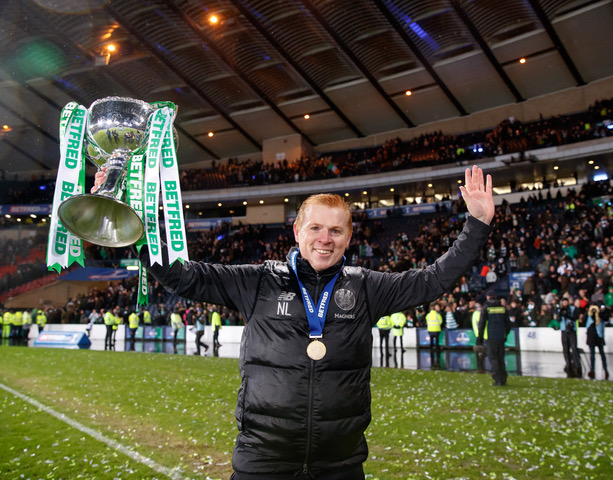 "It's a brilliant day and to go down to 10 men and show the resilience that we showed…we defended so well and I thought we were better with 10 men at times than we were with 11."
On the big Englishman in the sticks, who deservedly got the loudest cheer of the afternoon when he went up to collect his Winners Medal and hold the trophy high in the Hampden air towards the Celtic end and away from the empty side of the National Stadium, Lenny had this to say:
"He's world class, I have so much faith in him and he just keeps getting better and better.
"In his first spell here he recorded some unbelievable performances and he's done it again. He done it in Lazio, he's done it along the way. We are so thankful to have him here and he is delighted to be here and you can see how much he wants to be here. He was awsome today and he had to be because first half we were so flat."
"We just looked really off it first half. Rangers seemed to be on their game to start with and you have to give them credit for that but we galvanised ourselves and shows a lot of mental strength and got a great foal.
"Mikey had the chance to make it two and that would have been game over but we had to dig in a bit and before the end there were a lot of tired bodies out there.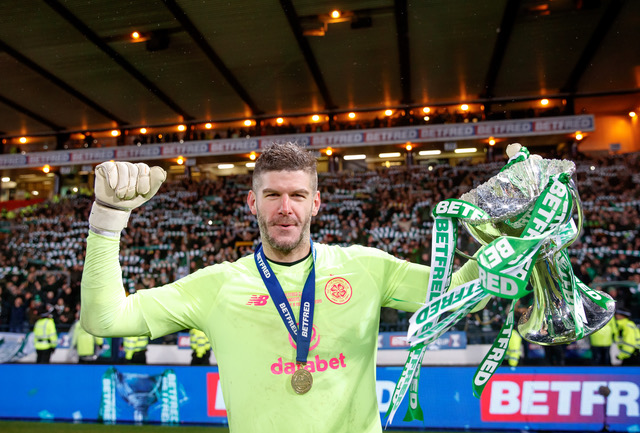 "We will get players back from injury as we go along. This isn't the end of the season. It doesn't stop here and we have a lot of game between now and the end of the month to forge ahead in the league but that's the first trophy of the season in the cabinet – it's brilliant."
So after yet another Beautiful Sunday it is time to enjoy Blue Monday!