CELTIC's impressive French midfielder Olivier Ntcham will be a crucial to the side's chances of progressing beyond Zenith and into the last 16 of this season's Europa League.
Last Thursday Brendan Rodgers out-foxed Roberto Mancini by playing a three – diamond – three formation this giving the Scottish Champions an extra man in the midfield area and allowed the team to dominate possession all night.
Ntcham is unsure whether Rodgers will stick to the plan in St Petersburg or try to pull another rabbit from his hat, and the French under 21 star is perfectly happy to leave that to his manager to contemplate ahead of the second leg that will be played in sub zero temperatures in St Petersburg.
Ntcham, who along with skipper Scott Brown and winger James Forrest, has been in impressive form since the turn of the year. He was a snd-out in the game last week which Celtic won 1-0 thanks to a wonderful goal form Callum McGregor, who reveled in the space that the extra man in the middle give Celtic.
The Celtic players clearly enjoyed the occasion and the match last Thursday," Ntcham said.
"All the team enjoyed the first leg because we played good football. Defensively, the team was good and we managed to get the goal which was needed and now we take that to Russia.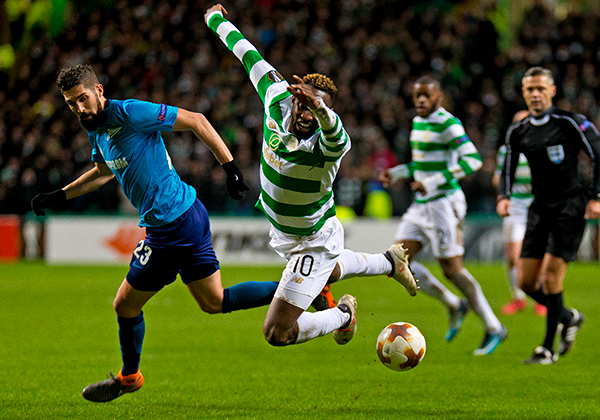 "I think the coach set us up well and it stopped Zenit from making many chances. It was enjoyable to play in the system. It is up to the manager how we play in the second leg, that's always the way. But if I was the coach, I'd say we should play the way we always play.
"We always try to score goals and that is our way," he stated.
"We don't just have to try and stay in behind and defend for the whole second leg waiting until the game is finished. My thinking is that it is best to play our own way, like we are used to doing.
"I don't know how Zenit will be different or if they will be different in the second leg, if they will be stronger than the first leg. Maybe they will change some things, but I don't know that.
"Of course, they have now played a competitive game after their winter break and, when you play more games, you become stronger and more confident."
Ntcham also revealed he has a little experience himself of playing football in Russia.
"Four years ago when I was playing for Manchester City, I went to Russia to play a game," he revealed.
"It was with the young team against CSKA and it was a good game that I enjoyed. Of course, it was a little bit cold, but I liked it."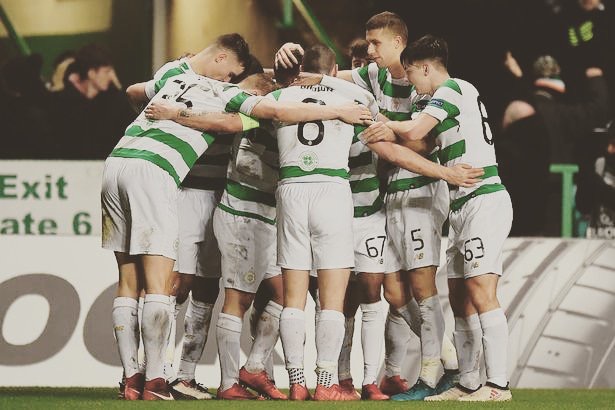 Ntcham is confident that this young Celtic side can cope with the conditions and with the Zenit team.
"Although we have many young players, I feel there is maturity when we are on the pitch. The manager has said that there is growth in the team and I think that is true."
Ntcham and Scott Brown should line-up beside Eboue Kouassi and Callum McGregor in the diamond formation and Kouassi has plenty of Russian experience to call upon while his friend Moussa Dembele is the man that Ntcham sees as the probable match-winner for Celtic.
"Game after game, Kouassi is getting better and we are seeing what he is able to do. I also hope for him and I hope for the team that Moussa can score a goal over in Russia. He was holding the ball up for us a lot in the first leg.
"When you are a defender, it must be difficult to play against a big and strong striker like Moussa. It must always be hard to come up against that and he is a great player. But it is not just down to one player. We all must try to do things, but Moussa can always score and play well.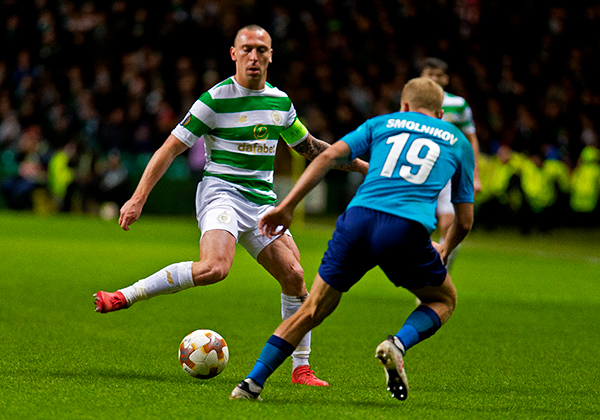 "If we managed to get through, it would be a really big achievement for all of us. For the manager, for the club and all the players, it would be fantastic.
"When you achieve your targets, you are always happy and that is what we want to do. The second leg is going to be tough, but to get through is our aim and that is what we will fight for."
The Celtic Star Podcast Extra: A.C.S.O.M At The Clover With Megan Fallan From Celtic Fc Foundation & Zenit Review & Preview
Our guest at The Clover is Megan Fallan who works for the Celtic Fc Foundation. Megan talks about the 67 Kitchens Project, her love for Celtic and wishes – ok, the Foundation Office , actually Michael who works in the office – that the 80's classic "Never Gonna Give You Up" by Rick Astley  can be reworked for Paddy Roberts. He even provided lyrics which adds an extra twist this feature:
You're no stranger to us,
You love Tierney and so do we,
Oh Paddy Roberts now you're one of us,
You wouldn't get this at any other Club.
I just wanna tell you how I'm feeling, gotta make you understand…..
Never gonna give you up,
Never gonna let you go,
Never gonna give you back to Man City
Can we see this catching on?
Anyway, this forced us to come up with lyrics for last week's song which was Twisted Sister's: "We Anit Gonna Take It" as adopted by the Vegalta Sendai Ultras. The You Tube video is here and the lyrics for Charly Musounda are:
We've got Charly Musonda
We love Charly Musonda
When he gets the ball
Watch him go.
Hey hey hey……..
We also have a post game discussion after Zenit with Lewis Faulds and a second leg preview with Bryan Haggerty. We don't mention the St Johnstone game much, which is a listening bonus!
To contact Megan email mfallan@celticfc.co.uk or via twitter
here