Where do you start on a day like today? Maybe with the Green Brigade's Banner on Thursday which was referring Celtic's other defeat this season – the 4-3 loss to Cluj in the Champions League Qualifiers and is actually as relevant today after the 2-0 defeat at Livingston.
When the Brexit vote got passed I was working in London. I struggled to hide my disdain for my fellow man. When I came back to my office after lunch I'd been left a card.
It read. "I'm not in a bad mood I'm in a 'hey, if I get the opportunity to punch someone in the face I'm taking it' kinda mood."
Inside it read "It's not over yet". It wasn't signed and to this day I'm not sure who left it but it's something I've clung to in the years since. It's not over yet, in fact the fight is very much on.
And you know what, today was a bad day. It won't be anything we can't recover and learn from. For whatever reason it just didn't happen today.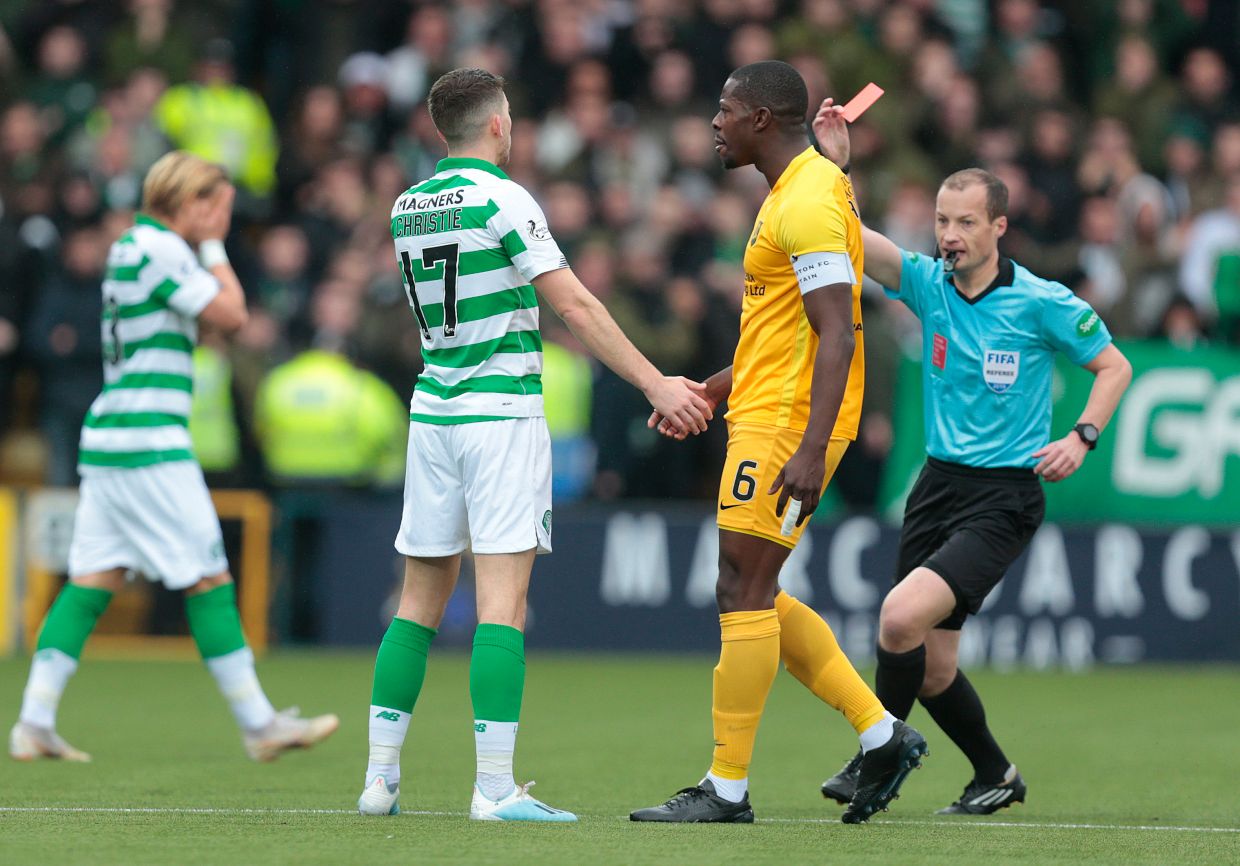 Ryan Christie has been Celtic's best performer all year, he has added a bit of devilment to his game, somewhat akin to what we've often faced on the continent. He has added a little guile to his armoury that I like. He's often left a trailing leg, a bit left on an opponent and I appreciated the addition to his game. Today I think that was what he intended to do, just leave a bit on his opponent. Christie misjudged that and paid the price. Misjudgement in fact was the story of today.
Let's get the excuses out the way. Early kick off, Plastic pitch, direct and physical opponents and a referee who was blind to one side but not the other. None of that is an excuse.
Leagues aren't won in October 👍

— Paul the tim (@paulthetim) October 6, 2019
We misjudged our opponent. In yellow and sky blue. If I had one criticism it was an assumption we were going to win. Like nothing our opponent would throw at us was likely to upset the undefeated Celtic.
It was a little like we'd started to believe our own press. When you've lost once all season and even that defeat you've avenged, you can understand the confidence and self-belief. When it starts to border on arrogance you are there for the taking.
This is what its all about, its one game and we move on 👊🏼 pic.twitter.com/chSsqNT5Ip

— Gerry (@Gerrykeogh2002) October 6, 2019
I watched a Dundee United side play Alloa on Friday night. They had the same thing about them. They had started to believe they were good and forgotten what it had taken to get there. Result? Defeat.
No-one however would assume the Championship would be won by any other side than Dundee United, nor should anyone assume this league won't be won by Celtic. That's not arrogance it's borne of cold hard realism.
There were many reasons for today's defeat that I'll visit later on, once I've had time to let the disappointment and frustration subside. But for now it comes down to a realisation that no-one in this league or officiating on it's behalf will give us anything, especially when we're going for a rather significant title.
9 in a row means a hell of a lot to Celtic. Stopping that happening means an awful lot to our opponents.
So many replies on this saying no penalty because he got the shot away… don't even know where to begin with that one 🤦‍♂️ https://t.co/Qd7vjDxb0t

— David Currie 🍀 (@thedavidcurrie) October 6, 2019
When the Arctic Monkeys first appeared on Top of the Pops it was on the back of a great deal of media hysteria. There had been a time where Bands simply mimed to their songs on stage.
A fresh faced lead singer, young in appearance but experienced in mind uttered some famous words down his microphone before breaking into song. He wasn't just sending a message to the assembled crowd or the TV audience, he was warning his band and entourage.
Alex Turner rather tellingly muttered from behind an Indie haircut 'We're the Arctic Monkeys, don't believe the hype'. An old head on shoulders. A man with a vision. Now they headline stages where and when they choose to.
Today was a warning that should be heeded. Don't believe your hype Celtic.
Niall J
A tame surrender from #Celtic that doesn't surprise me. The defence is rank rotten. We haven't strengthened adequately at CB & whatever Boli is he's not a defender.
Lennon tactically out-thought by Holt. We ended up playing hoofball to Bayo & deserved nothing.Too many not at it.

— Brian McNally (@McNallyMirror) October 6, 2019
suspect i'll get some stick for this but SKY & BT's insistence on showing either Celtic or Rangers every wk when they're away from home does the image of or game no favours when its at places like Livi or Accies.. they are ALWAYS terrible games on terrible surfaces

— SPFL Banter *** (@splbanter) October 6, 2019
On the bright side… if you'd given me a choice of games to lose 2-0?

Cluj
Ibrox
Livi away.

I'd have chosen the latter in a heartbeat.

I know that really is making the glass insanely half full, but you know what I mean.

It's a blip. We'll get over it. #9inarow

— Dominik Diamond (@DominikDiamond) October 6, 2019