HAVING now watched the highlights on Sportscene last night yesterday's referee Greg Aitken was correct to award Kilmarnock a penalty. It was some spot by the official to catch the both the contact happening and being just inside the box by millimetres so congratulations to him for that.
You wonder however given that excellent level of refereeing in the second half came after he missed the blatant use of the arm by Kilmarnock's midfielder Power to block a goanward Celtic effort in the first period. It was very similar to the stonewaller Celtic were denied against Dunfermline in the League Cup last month.
Neil Lennon wasn't happy at the award and was yellow carded for his protestations to Bobby Madden, yesterday's fourth official, who presumably had stopped listening to the live commentary of his own team who were playing at McDiarmid Park in the even earlier kick-off. With his mic switched back to the action at Celtic Park his day was made even better – his heroes had won 4-0 – by being able to report Lennon to the man with the Whistle for his assessment of the decision to award the spot kick to the visitors.
Fraser Forster was always going to save it anyway so don't know what that all bothered with this wee drama.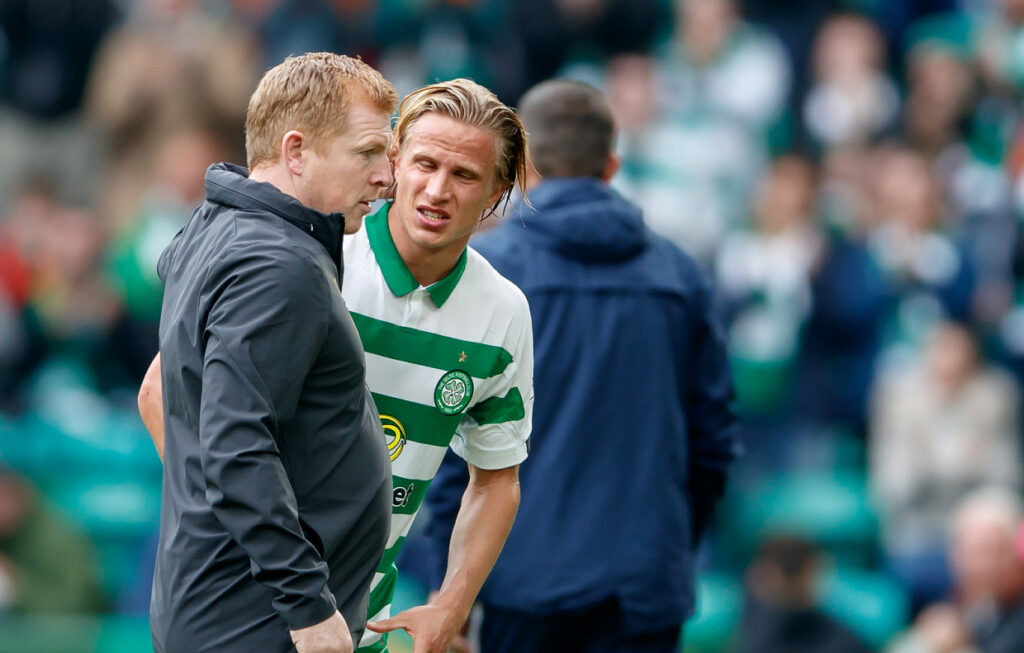 "I was a bit disappointed but I'm not going to criticise the referee for that," the Celtic manager said afterwards to the media as reported by Evening Times. "I was not happy with the yellow card because I just reacted the same way any other manager would have. But overall, I thought the referee was fine.
On the new rule that allows manager's to be able to receive yellow cards rather than the only other alternative of being sent to the stand, Lennon, a man with plenty of experience of the old rules, was perversely rather pleased at this outcome. "It is great," he joked. "It's like a warning to calm down. It's fine – I've no issue with that at all.
"Bobby is a great official. I was talking recently about not losing my temper. I didn't lose it that badly but you get a warning and that's it. I was voicing my opinion to the fourth official, maybe a bit demonstrably and you're not allowed to do that anymore, but there's no real issue there at all."
After the tough game in Brittany on Thursday, Lennon was delighted with his team – "an absolutely superb performance" was how he described it. Rennes were at home to Lille yesterday in another early kick-off and a win would have put them on top of Ligue 1 as PSG were not due to play until later in the day. The visitors opened the scoring but although Rennes equalised they could not find a winner and just like on Thursday night the match finished 1-1.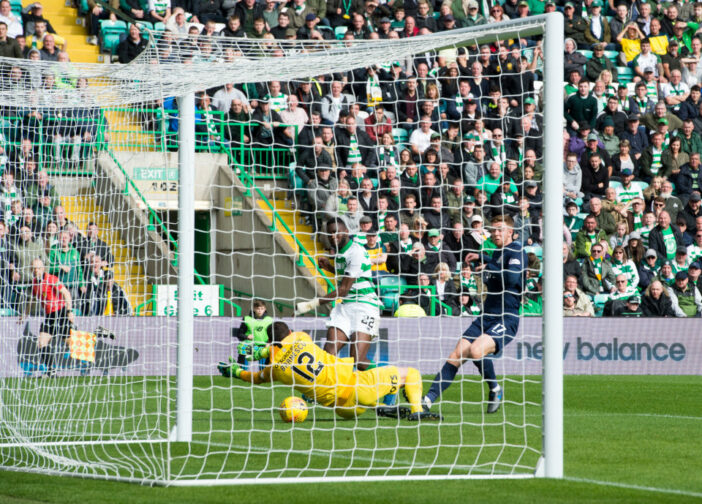 It was a tough old contest yesterday for Celtic and the manager had two new injury concerns to report on with both Bauer and Jullien going off with injuries in the second half.
"Bauer is a trauma. He got a bang and twisted his ankle and Hatem coming on was fine. Christopher was feeling his hamstring. We don't know yet, it's too early to say but we think it will be fine.
"But it's a great performance against a very good team who don't concede much," said Lennon.
"I thought their goalkeeper made some world class saves. The one for Ntcham just after half-time, I thought it was in, it was just a brilliant save.
"I'm getting everything I want from this team at the minute. Off the back of a really good performance in Rennes on Thursday night, they have cemented to league form with a brilliant display today."
Here are the highlights from Celtic's 3-1 win over Kilmarnock which made it 6 from 6 as we take a step closer to 9.
ALSO ON THE CELTIC STAR…
Sandman's Definitive Ratings – The Bunnet appeared, dispelled the evil spirits, as he did 25 years ago…see HERE.
Delighted Lenny's getting everything he's asked for from Hoops stars…see HERE.
Fergus back for Paradise Windfall as Celtic make it six wins from six…see HERE.