THE two stand-out Celtic stars yesterday were skipper Scott Brown, Who brilliantly got under their skins, and a Norwegian superstar in the making Kris Ajer.
The boy is the greatest possible tribute to his fellow countryman Ronny Deila, and is the former manager's wonderful gift to the club he fell in love with.
When Ten in a Row is secured he will be a former manager who will be there and will be given the warmest of welcomes.
Kris Ajer, like everyone else in Scottish football, wanted to talk about Broony after the game.
"I think it is important to stick up for your team-mates when you are out there," he said.
Kris Ajer appreciation x ???????? pic.twitter.com/2fOElPAutk

— Adam Lynch (@AdamLynch27) March 31, 2019
"There was a lot going on so I think you have to be there and standing side by side with your team. That's important to me. There was a lot of things happening all over the pitch so you have to stick up for your team.
"It was a clear sending off for the first one, I think everyone can see that. I didn't have as good a view for the second incident but the first one with Morelos was very clear.
"People can criticise Scott but for me he is the definition of how a captain should be. He is a top class captain when he is on the pitch but also in the dressing room too.
"He is always doing what he can to help the team every day and I think he is the perfect captain. I admire him a lot because he is there to get the best out of the team and he does that. He works his socks off."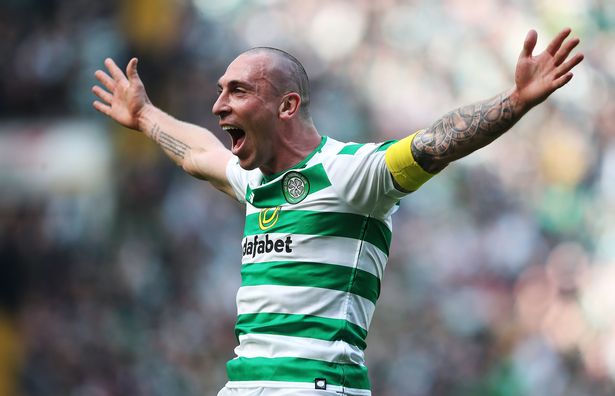 Ajer also doesn't see what the fuss was all about because Celtic players – led by their captain – celebrated with the home support who occupied 95% of the ground. That incidentally was 100% caused by the easily offended Rangers supporters.
"I think when you play such a big game and you know how much it means then there is a lot of excitement there.
"It is natural to celebrate and how it should be. You are happy and you celebrate and it was the same when we were at Ibrox. I think Rangers enjoyed the result back in December."
— Focus on Celtic (@FocusOnCeltic) April 1, 2019
"When I can't score goals you have to celebrate your own small details that you get in a game so it was a nice block and an important one and I was really delighted. It is difficult not to show it sometimes," Ajer stayed.
Ajer's celebrations when he blocked a late Rangers chance to grab a point was an iconic moment from yesterday's Beautiful Sunday.
"That is what you dream of by playing football so that was fantastic.
It was such a big win for us and it was great to be a part of it. I loved it and I feel as though I am learning and developing in the way that I want to here.
"But although there was a lot of excitement we have to remember that this is just another three points. It was important because it lets us go 13 points clear at the top of the table and we wanted to win after losing at Ibrox back in December.
"It is good and it is a great lead for us to have but we have to keep it going now and try to make sure that we come of Wednesday night's game against St Mirren with the same result."