"I would like to have kicked his head in," this remark was broadcast on BBC Scotland at the weekend. The same BBC that on Monday led all their sports bulletins with the sectarian abuse directed at Derek McInnes by the Celtic support at Hampden on Sunday.
Nothing about the four red cards Aberdeen received – the two on the park were shocking to say the least – but not worthy of comment.
"I would like to have kicked his head in," is okay provided it's directed at Celtic or a guy who having done his own job professionally, later admitted that Celtic are his team.
"I would like to have kicked his head in," – you'd have heard it on BBC Scotland.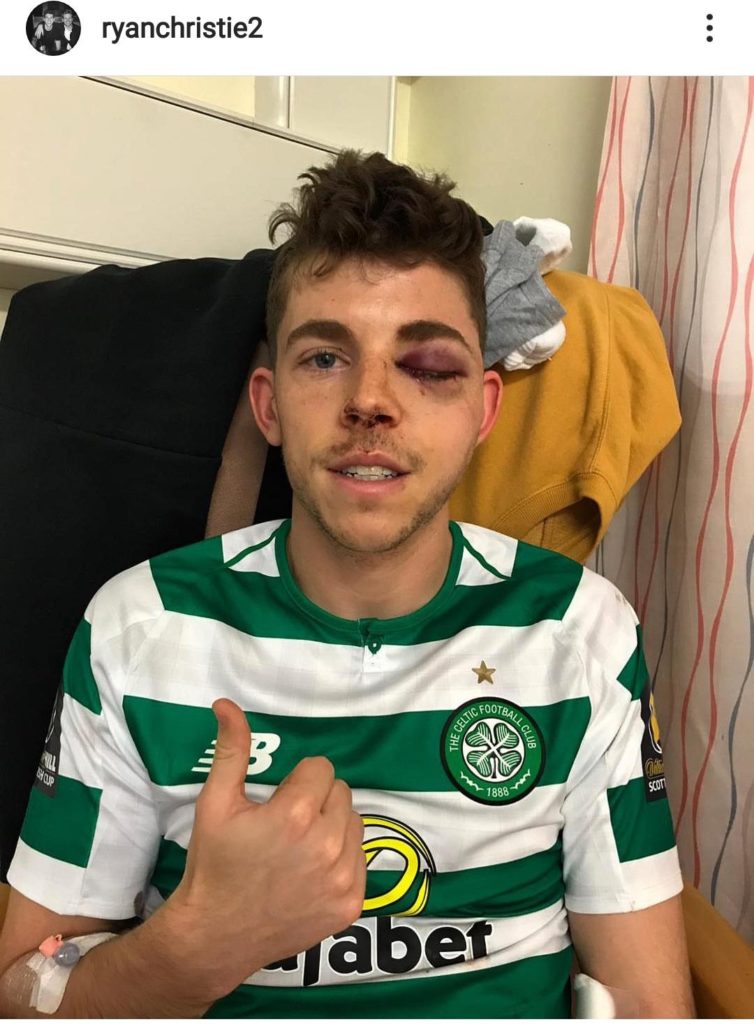 Ryan Christie didn't get his head kicked in but the facial fractures are so severe that you'd be forgiven for thinking that he had, if you didn't see the game on Sunday.
It is rather delicious in a way, the hurt, the rage, the tears, the anger that a successful Celtic seems to bring out in these people.
Speaking on BBC Scotland's Off the Ball show at the weekend, a show well past it's sell-by date, Hearts and Rangers veteran Sandy Clark made that awful remark (as reported today in the Daily Record).
Clark was talking about Dens Park on 3 May 1986 and he remains a bitter man to this day. Hearts just needed a point to win the title and Celtic needed to win by 4 clear goals at Love Street and hope that Hearts lost.
Albert Kidd, who had had a disappointing season for Dundee came off the bench with the game goalless and in this wonderful last seven minutes scored twice to give Dundee the win. Celtic had done their job in Paisley and the transistor radios alerted our support of the dramatic developments at Dens Park.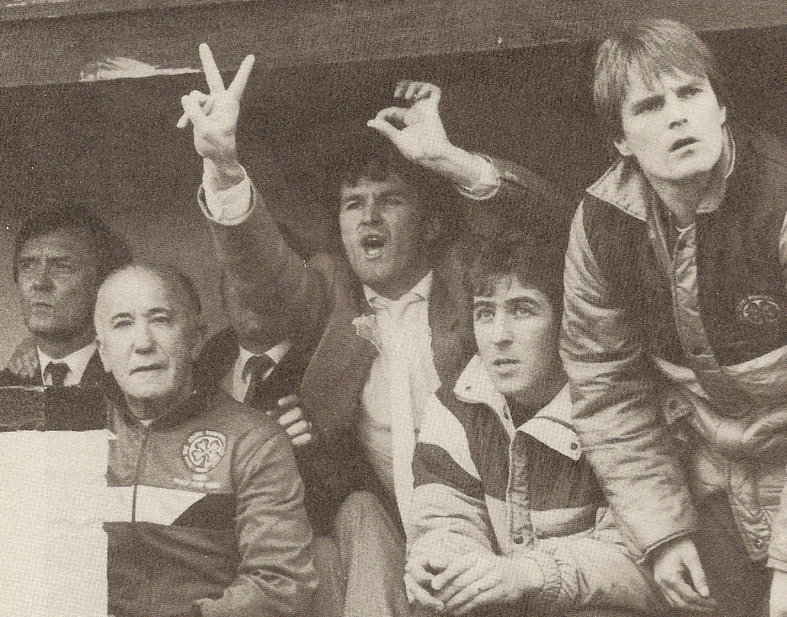 Davie Provan, sitting in the Celtic bench, indicated to the players on the park that the score had increased to 2-0 and that was captured by a photographer. Up in Dundee a professional football, 33 years ago, was just doing his job. That it happened to help Celtic wasn't his primary concern – he wanted to help Dundee, his own career, be successful, pay his mortgage and so on. But in doing so, 33 years later the bitterness this has caused still seeps out of them, and the BBC don't seem to find it offensive.
"Albert Kidd, who is somebody I don't know that well, I would like to have kicked his head in.
"Not then, his comments (since) and his bit about teams he supported," Clark said.
And Clark believes that Kidd "rubbed salt in the wounds" with his comments about being a Celtic supporter.
The Scotsman have spoke to Albert Kidd about Clark's controversial comments at the weekend and the legend had this to say in reply:
"Had he said this right after the game and continued to say this for a couple of years, so be it and I wouldn't have been surprised, but 33 years on, is a long time between drinks," Albert Kidd said.
Kidd also revealed that he meet Clark at the Scottish Football Writers' Association Dinner in Glasgow in 2016.
"Thirty minutes into the function, I noticed Sandy Clark at a table nearby. I approached him and greeted him saying: 'Sandy Clark, it has been a while sir, how are you?'
"His response was delayed and my first thought was: 'jeez he doesn't know me'.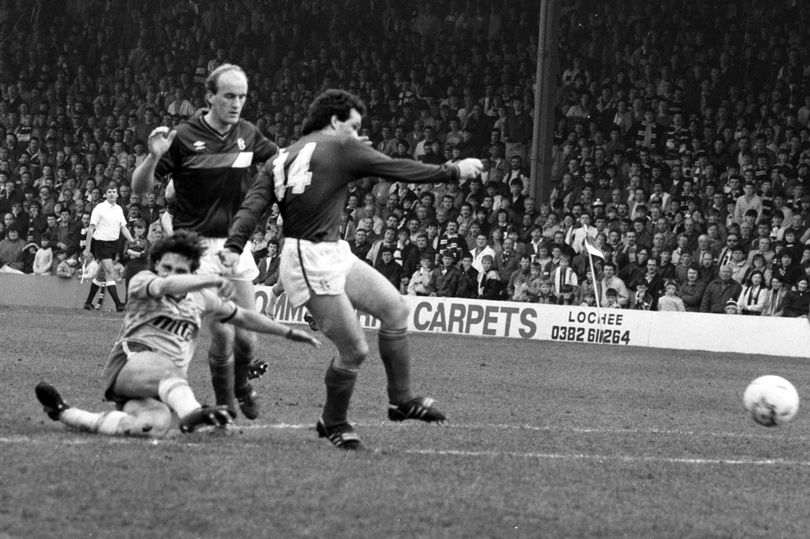 "I proceeded to tell him who I was and he answered by saying: 'I know who you are'. So the conversation was fabulous and lasted eight to ten seconds.
"I knew from that moment that he was still hurting and if I continued speaking, he may well have got a bit out of sorts.
"I would like it to be put on record by saying that I am truly sorry that Hearts never won the championship in 1986," Kidd stated.
"Yes, I had a hand in the end result and Celtic, who I follow and support, benefited greatly.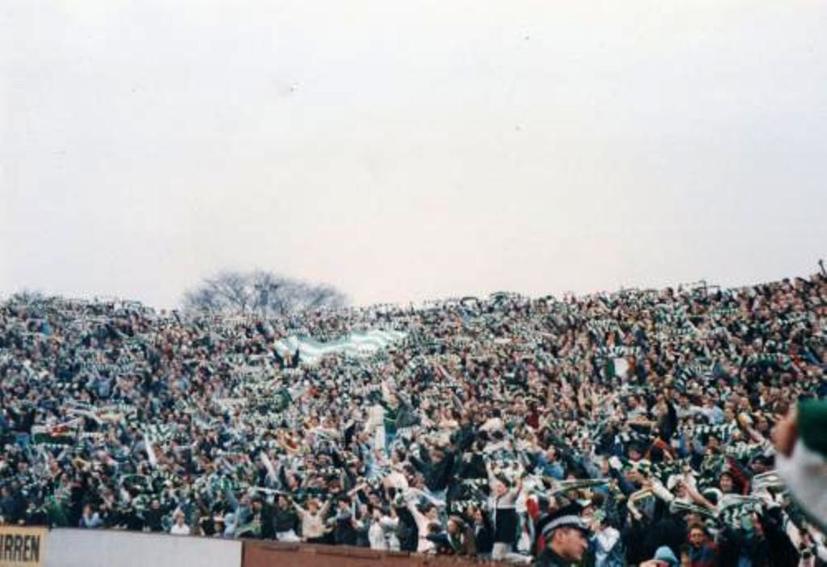 "However, I must say that I was sincerely and absolutely gutted for all of the lads at Hearts on that day in May 1986 at Dundee – and this includes Sandy Clark, who I respected as a very good professional football player and who I first met and played against way back in 1979/80 when he was the captain at Airdrie and I was captain at Motherwell."
Yes, their hurt is delicious. We had some great pieces on The Celtic Star about the events at Love Street and Dens Park in May 1986 last year during an international break. We'll re-post some of them today in tribute to Albert Kidd and to get it right up the hurting Sandy 'I would like to have kicked his head in' Clark.