Joseph Michael Nelis is not a name that is very familiar with many Celtic supporters. Hopefully, this article rectifies matters, for he was a highly influential figure in terms of the club's founding and it's core value of charity.
Born in Bridgeton in 1853, Joseph Nelis was the son of an Irishman, John Nelis, who was an egg and butter merchant, and had a business which had been well established in the Bridegate area since the 1830s. Joseph's education took place locally at St Mungo's and then St Aloysius College. Upon leaving school, he followed his father into the provisions industry, within which the pair began to sell Irish eggs and butter on the advice of Joseph's Irish born mother, who knew that this variety of the product was very popular in the city at that time.
Joseph's career took a different path when he found love. Indeed, he married a local woman named Sidney Collins in 1874. Sidney's father, Patrick, was an Irish immigrant who owned a pawnshop in Rutherglen. That same year, Joseph Nelis left the world of egg and butter trading to become a pawnbroker himself. As with all the Celtic founding father's, Nelis was ambitious and unsurprisingly opened his own pawnbroker's shop on Nuneaton Street, near the current Celtic Park, in 1877.
As a local Catholic businessman with great social conscience, Nelis was a member of the Parochial Board for Bridgeton in 1884 and was elected as a Manager of the poor by the Barony Parish a year later. From these positions, Nelis became one of the earliest members to join the Catholic Union of Glasgow. His enlistment with the Union combined religion with politics and put him in touch with a few like minded professional Catholics operating in the city – not least Dr John Conway and Joseph Shaughnessy. The trio formed a good relationship and duly founded the St Aloysius Association together. The Association was designed to give the minuscule Catholic professional class in Glasgow some representation.
Nelis had some involvement with Celtic from the beginning. Knowing that he was close to Celtic figures such as Conway and Shaughnessy, along with his charitable proclivity as Manager of the poor, it comes as no surprise that the launch of a local Irish football club with aims of supporting various missions located in the East End was attractive to him. The entire Nelis family lived together at Newhall Terrace (now Greenhead Street), overlooking Glasgow Green, at the time of Celtic's founding. Thus, despite his business prowess, he was still very much locally based and would have been acutely aware of the poverty that the Irish diaspora faced within his immediate surroundings.
The qualities Nelis could bring to a group of men seeking to establish a successful charitable football club are there for all to see and are similar to the other founding fathers in many aspects. The key thing that made him stand out was his membership of the Parochial Board though, as these men controlled everything in terms of building, or what we now call planning permission, in their region. The boards were distant predecessors to modern local councils and were replaced with elected parish councils in 1894. Consequentially, it is safe to say that Nelis was an important figure in 1887, supporting the Celtic project enthusiastically, just a step back from the absolute forerunners of the club such as Brother Walfrid and John Glass et al.
Nelis appears as a member of the first Celtic committee in 1890, yet not in one of the seven key positions. However, he would replace Dr John Conway as Honorary Club President a year later. It should be noted that many clubs with an Irish identity existed in Scotland at this time, up to 40 in fact. Most failed, all faced discrimination and each aside of Hibernian struggled to win outright support ahead of their competitors. One area where Celtic differentiated themselves was in terms of sourcing external funding, whilst concurrently securing community support. The club did this by organising sporting events such as pedestrianism, track cycling races and an annual sports day. Joseph Nelis served as a steward at all of these events and indeed at functions put on by the Celts, where other founding fathers such as Joseph Shaughnessy and John H McLaughlin would perform Irish music and sing rebel songs of the era to a Church hall full of local supporters and footballers, who were provided with soup and sandwiches!
Testament to the regard in which Joseph Nelis was held at the club, he was the Celtic representative nominated to collect the Glasgow Charity Cup trophy upon the Hoops' triumph in the competition in 1892. The trophy was formally presented in an afternoon ceremony at the Council chambers in George Square. Ordinarily, the Lord Provost would make the presentation, yet for whatever reason he was absent and Bailie Paton presided on his behalf, whilst a number of other councilors were present. Paton's speech produced a great smile on Nelis' face as he began by announcing that the cup had raised £12,000 for local charities since its inception and had raised £1,000 in that year alone. The presentation report published in the local press shows a list of all the donations. It reveals that 58 charities were the beneficiaries of the money, including a £15 donation made to the Poor Children's Dinner and Breakfast Tables, to which Celtic Football Club had been instituted. Nelis collected the trophy, the club's third piece of silverware that season. He addressed those present by expressing his pride at the success before remarking that it was ironic and appropriate that the Charity Cup should be won by his Celtic, a club whose very reason for existence was charity.
As Celtic grew, Nelis' involvement grew with it. He was named as one of the leaseholders of the new Celtic Park when the club first secured a ten year rent of the disused brickyard, adjacent to Janefield Street, from James Hozier or the Lord Newlands as he later became titled. Once the construction was complete, the club opened the new stadium on Saturday 13 August 1892, with Celtic's third of what would prove to be annual sports days. Joseph Nelis was present for the laying of the first sod of turf by Michael Davitt that afternoon. A quote from the 1932/33 Celtic handbook reflected on the day: The old trouble landlord brought about a change of field, and it was in keeping with it, too, that a seeming impossible site was converted into a splendid enclosure. A case of leaving the graveyard to enter the paradise. A happy title did that pressman strike. The lessons learnt and the experience gained on the old monument to the loyalty and fidelity of the pioneers of the club – did they not give their labour to construct it- were not lost. The splendid pedestrian and cycling tracks, which surround the playing area on which champions the world over showed their paces, added another title: 'The home of sport.' It was an auspicious occasion and great day when the late Irish Republican, Michael Davitt, laid a fresh centre sod of turf from Donegal with a handsome silver spade presented to him by the club.
It wasn't all joyful for Nelis at Celtic during this time though. Indeed, the AGM of 1892 had already brought about whispers of limited liability. The debate hadn't really turned bitter by this point, but it was cause for some discontent and friction among the committee. Joseph Shaughnessy was the man who put the forward the notion on that occasion. Joseph Nelis strongly disagreed, for he was a man incredibly committed to charity work. The minutes of the meeting suggest that Nelis felt the club had progressed every year and thus, in his eyes, this was sufficient to demonstrate that the club could still be a success in its amateur format. He was concerned that limited liability could lead to profit for the businessmen behind the scenes, despite the fact he was one of those himself, and that it would destroy the identity of the club because it was established primarily for charitable purposes. Such a principled man was Nelis, that he offered to donate £500 (the equivalent of £63,946 today) of his own money to secure the club and maintain its charitable outlook.
The tide was turning against those in favour of preserving the original ideals of Celtic. Brother Walfrid had been transferred to London and the major players such as John Glass were strongly in favour of Celtic going Ltd. Once on a secure footing, Glass said that the club would only be too willing to donate to charity again, yet despite this claim Nelis departed the club when it became apparent that limited liability was inevitable.
Outside of Celtic, Joseph Nelis was still very much business orientated. He retired from pawnbroking in May 1897, going under the radar somewhat. It is possible that he spent time caring for his wife in this period as she died in Helensburgh in 1900. Meanwhile, there were unconfirmed rumours that he had dabbled in the liquor trade.
In the census of 1901, Nelis is listed as a publican. Celtic's founding fathers, early star players and committee members boasted a huge number of successful publicans, leading to that famous quote 'six publicans only one Glass'. Perhaps this was an inspiriting factor behind the decision. By this point he had moved out to Partick, living on Minard Road. It is unclear as to how long he worked in the industry as reports on his death in 1943 suggest that he was a retired education authority clerk.
Having lived to the age of 90 and only succumbing to death during the middle of WW2, Nelis had the distinction of being the oldest survivor of Celtic's founding fathers. Aside of Willie Maley, Nelis was also the longest serving member of the first committeemen. Fitting it was then, when Maley gave mention to him in his book, The Story Of The Celtic, which was published in 1938. Maley was writing about Celtic's Jubilee dinner in Glasgow on 16 June 1938, when he outlined his own words, written in the third person:
Mr Maley expressed regret at the absence through illness of the last surviving member of the first Committee, Mr. Joe Nelis. They had with them, however, two of their oldest enthusiasts, Dr. Scanlan and Mrs. Arthur Murphy, who had been with them from the very beginning.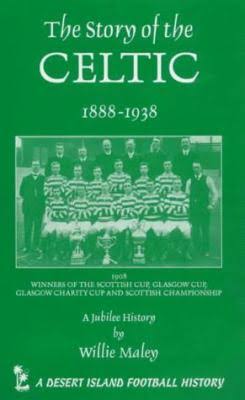 Click on the links below for articles on other Celtic Founding Fathers:
Patrick Welsh – William McKillop MP – John Glass – Hugh Darroch – Dr John Conway – Michael Cairns – John O'Hara – Daniel Molloy – Joseph Shaughnessy – James Curtis
Support Celtic Youth Development
Help raise money for Celtic Youth Development by joining the £1 weekly lottery and you could win up to £25,000 – just click on any one of the photographs below to join. Lots of our readers have already done so and they're now doing their bit to help fund Celtic Youth Development that can deliver the stars of tomorrow and beyond. And you might even win a few bob too! And a special thank you to all The Celtic Star readers who have already signed up and are now supporting youth development to give us the Celtic Stars of the future…