THIS is an article from November 2013 just days after the Celtic support was attacked by the Amsterdam police. The press in Scotland went to town on the Celtic support in the days that followed the trouble but the truth – which was today proven in court – was very different.
Celtic supporters have won a major victory today and the truth is the winner. Where now for the Scottish press? How will they cover the news from Amsterdam? Will they print their apologies tomorrow (fat chance) or will they instead ignore the story?
And what will Celtic do?
Here is what actually happened in Amsterdam. This was written by BRTH a few days after the trouble…
Late on Wednesday evening, before a single headline was written about Celtic's defeat in the Amsterdam ArenA I received a message from someone well connected in Scottish media circles.
The message informed me that there were plenty of happy hacks on the way home on the plane!
Happy Hacks? Why? I asked. Because Celtic had lost?
No- I was told- It was because they had a "story"—and such a "story" was good for newspaper sales.
Any subsequent reading of the Scottish press coverage of the events of Wednesday afternoon and evening can be summed up as follows:
Battle for Amsterdam: 48 fans were arrested, mostly Celtic fans, after unsavoury incidents in the centre of Amsterdam. The Celtic fans were charged after battling with Dutch Police. Eight officers were injured and one officer was knocked unconscious.
"At the end of the afternoon a large group of Celtic supporters attacked police officers in plain clothes," a police spokesman said.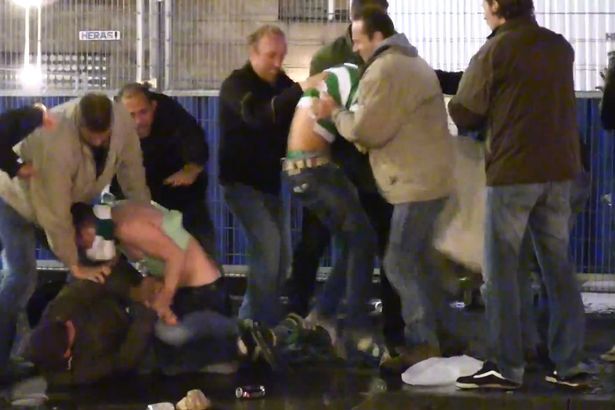 "Eight were injured and one was knocked unconscious. A few of them had broken noses and needed stitches above their eyebrows and on their lips.
"Bottles and sticks were used in the attack which came out of nowhere."
That was the story for Thursday morning, and from all the copy available the message was quite clear: Celtic fans had gone on the rampage!
Immediately the social media went into meltdown with eye witness after eye witness saying that the reporting was neither accurate nor fair.
24 hours on and some reports began to suggest that there may have been heavy-handed policing and that some fans may have acted in self defence—but with the emphasis still on the notion that the Celtic fans had just lost it.
Despite a previously accepted fantastic reputation in Europe, it was suggested that Celtic fans had become the worse for drink in the centre of Amsterdam with the inevitable result—TROUBLE!
It took some considerable time for it to become clear that some of the fans arrested had been released from Police custody without being charged with any crime whatsoever, and that others had in fact been released on payment of fines of "up to 500 Euros" while 6 remained in custody charged with violent order offences.
Even later it was revealed that 4 of these had been released on bail and that 2 were in custody.
Those two are called Padraig Mullan and Andy Vance.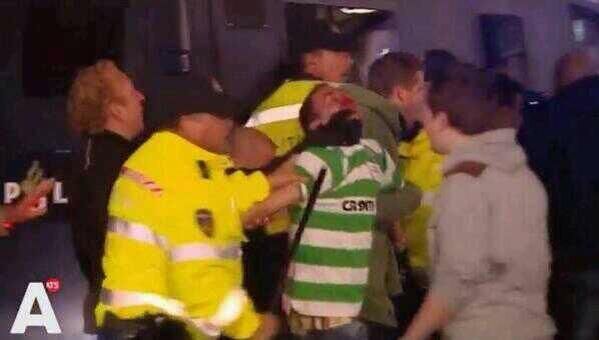 The newspapers were able to reveal that if convicted of such offences the accused could face several years' imprisonment – thus showing that there is a keen interest in Dutch law amongst the Scottish footballing scribes.
However as of Friday night certain salient facts were still conspicuously absent from reports, and over the course of the weekend nothing has been done to in any way fill out the actual facts in our newspapers.
For example the press had been informed that one police officer involved in the incidents had been knocked unconscious during the fighting leaving everyone under the impression he had been knocked out by violent fans.
This message came directly from a police press release.
However, available video footage clearly showed that the police officer concerned actually knocked himself out by running into a pole in a Benny Hill type moment thus proving that his temporary state of unconsciousness could not be attributed to the acts of any Celtic fan!
Admittedly, he was running away from angry Celtic fans that were pursuing him for reasons which are now clear.
The fact is that the same officer is a member of the special AE plain clothed force snatch squad which is deployed by the Amsterdam authorities on certain occasions.
The officer concerned was clearly caught on camera using totally excessive force and violence by punching, kneeing and striking Padraig Mullan who was being held by a number of his colleagues and who appeared to be defenceless against such a beating.
None of the video footage available shows Mullan striking any Policemen or conducting himself in any way that would warrant arrest.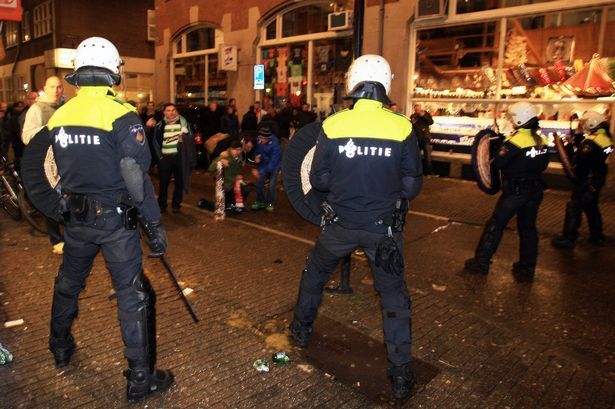 An apparently badly beaten Mullan is one of those who remained in custody for reasons that are best known to the Dutch authorities.
There are photos of Padraig Mullan — there are photos of the beating he took at the hands of the police officers — and there are photos of the policeman running into the pole—but none of these matters have been reported by OUR press!
However, beyond that there are other issues and items of omission from the press reports.
For example, where is the analysis of recent events in Amsterdam? The city has seen consistent football fan trouble in recent years. Whether the fans are from Manchester United, Manchester City, Chelsea, England, Anderlecht, Feyenoord, Dinamo Zagreb, Steau Bucharest or many others…there always seem to be some sort of trouble in Amsterdam.
Why was this not mentioned? Why was it not examined?
Further, it would appear that there have been several incidents where visiting football fans have been attacked by Ajax fans at the Old Sailor pub – where strangely enough Celtic fans were attacked by a massed hooded mob on Tuesday night!
You would think that the Scottish press' interest in such regular attacks at this pub might be piqued? Why were the Police not looking out for such trouble? Why could they not prevent it?
Alas the press does not appear to be that curious.
So, let's move on then to another very strange omission.
Let me introduce you to the word NOODBEVEL.
A Noodbevel is an emergency curfew order which can be made by a municipal mayor or other suitable official in terms of article 175 of the Municipal law and article 178 of Public law bodies Bonaire, Sint Eustatius and Saba.
Basically when the order is given under Dutch law, the police are allowed to use extraordinary powers to quell riots, seditious movement of people, or public disorder. Not only that the order can be given to prevent a situation when the authorities just THINK there is going to be any of the types of disturbance above.
When the order is given, the police, assisted by the special AE Plain clothed snatch squads (including the man who beat up Padraig Mullan) are entitled to simply clear the streets by more or less any means necessary—including force.
Or to quote a senior Dutch Policeman who was asked to comment on such tactics under the Noodbevel provisions:
"They don't ask questions!"
Further, the law also states that in the event of any person refusing to move along or follow an officer's command once a Noodbevel has been granted, then that person shall be guilty of an offence.
But of course, you will not have read any of that in the Scottish press.
Not only that, you will also not have read that the Amsterdam authorities regularly issue Noodbevel's when visiting football fans come to their city. In fact, they have issued Noodbevel's on virtually every occasion when there have been reports of mass arrests and civic violence on the day of a big match.
It is a practice that has been criticised in Holland by various people including visiting football fans. As a result of the incidents of last Wednesday night, one leading Dutch MP Robert Flos leader VVD party has started to ask serious questions of the Mayor and why the order was given so late in the day when Celtic fans had so obviously spent the entire day in the city without causing any incident?
Now, the omission of any mention of the Noodbevel law in the Scottish Press is very odd indeed – you will recall they were pretty quick to establish the maximum sentence that could be handed down to the Celtic fans in the event of their being convicted.
However, that omission is extremely strange when you consider that the Mayor of Amsterdam Eberhard Van Der Laan issued a Noodbevel order late on Wednesday afternoon when the visiting Celtic fans were already massed in Dam Square!
You would think that this would be something that the Scottish press would want to highlight?
Alas no.
You see the Noodbevel order was nothing whatsoever to do with Celtic fans. Instead it was ordered because the mayor feared trouble from fans of Anderlecht, St Pauli, and in particular the fans of Dinamo Zagreb who were all in Holland and feared to be in Amsterdam.
There had been trouble with Anderlecht fans before and Dinamo Zagreb have a group of ultra fans called the "Bad Blue boys" who had also previously been the cause of disturbances.
Accordingly, as the Celtic fans partied in Dam Square, where they had been told to go as a fan area, in what was described in Holland as a party atmosphere, they had no idea whatsoever that the Mayor of Amsterdam had issued the Noodbevel and had effectively called out the riot squad.
All of this was widely reported across the Dutch media – but not a word in Scotland!
It is undoubtedly the case that at precisely 17:54PM when the Police in riot gear, or on horseback, or in plain clothes marched into Dam Square and the surrounding area in numbers the mood changed.
Completely changed.
The Celtic fans had no idea what was happening and according to reports the mood turned ugly. One Irish Celtic fan is heard on camera saying that he had never seen anything like it despite following Celtic all over the world.
Let's pause there.
The Dutch press says that the Noodbevel, which was ordered had nothing to do with Celtic and that until late in the afternoon the Celtic fans were in party mood with no trouble until the arrival of the police.
This despite the fact that there had been gangs of Ajax fans who had set about attacking Celtic fans in the Molly Malone and Old Sailor Pubs. Despite well documented attacks by hooded thugs there had been no retaliation from Celtic fans.
Now, the fans were faced with a massed and aggressive police force who used their Noodbevel powers to summarily clear the streets without any warning and without the massed Celtic fans having any idea what was going on or why.
At this juncture there are various reports of the Police being heavy-handed and excessive in their approach.
Here are two eye witness reports of what happened next:
Barry Currier:
"I Arrived in Dam Square on the night of the game at about 5.40 pm. I was watching the commotion as it unfolded and I got split up from my brother and cousin as the riot cops came charging at the fans. My brother and cousin were then in the square and I was outside standing at one of the cafes.
"There was a police van (blue) coming down the road were the riot cops had made a unified line. The van was not going fast but it wasn't going to stop either, and I saw umpteen people getting bounced off it as it came through. At this point it was approaching where I was located and again it seemed to steamroll through the Celtic fans without care, and at that time I stepped in front because there was a danger to the public, I shouted .."whoa!! watch what your doing" as I shepparded a guy back onto the footway.
"Out of nowhere I got punched. I didn't fall, but looked up and saw 3-4 guys (sort of in a pack swarming me. I did my best to protect myself and ended up in a scrap so to to speak as I felt the blows raining down on me. Then I heard someone say (we are the police) and at this time I felt relieved as I thought I was going to get an almighty kicking … low and behold it was the police that were assaulting me..
"I was then put in the van and taken to prison along with fellow Celtic supporters."
Another Celtic fan, Jason Higgins, reports as follows:
"We set off on Wednesday morning from Glasgow via Gatwick arriving in Amsterdam Central about 3pm after getting the train over from Schipol Airport. As usual, a good few beers had been consumed and when heading down Damrak to meet the rest of the lads; spirits were high.
"The news had came through that a good few of my friends were in the pub the previous night when a firm of Ajax loons had attacked it with hammers and sticks then bolted quicker than the Jamaican fella of the same name. I was also in town a fortnight earlier prior to heading up to Celtic Park hence we were under no illusions what we could be facing in Amsterdam.
"That aside the mood was good as usual. I met my mates at Dam Square which was already a sea of green and white and we headed to our hotel to drop the bags off and get into the spirit of the day.
"We headed back to Dam Square for about 4:30pm and met up with a load of other Bhoys and Ghirls and the party was getting into full swing and just like any other European trip the beer and songs were flowing and the smiles were wide.
"A Dutch friend of mine who travelled up to see Celtic pointed out a load of casually dressed Dutch guys who he said were Dutch police but as I was just enjoying the beer I took no notice.
"Thirty minutes later it happened. No idea what sparked the madness but it was here and I immediately thought the Ajax firm were here for blood. Over to my left there was a few guys in hoops getting set about with casually dressed Dutchmen and lets just say they were soon helped by various Celtic fans from nearby bars etc.
"It was now pandemonium with running battles between gangs of Dutch, Celtic fans and uniformed police. There were no Celtic fans to my knowledge fighting the police as these policemen were just wielding batons into the Celtic fans and not the Dutch casuals. It was now insane and totally out of control and I had no idea what was going on.
"I'd be lying if I said how long this went on for but it seemed an age. Loads of Celtic fans stuck together which was required to survive this onslaught.
"We were here to watch a game of football and this madness had just took over out of nothing.
"Eventually it calmed down and walking up Damrak towards the Metro and the game there was various battle casualties and bewilderment as to what had happened. There was anger, rage, confusion and a fair bit of relief that the Batons didn't find my head and the handcuffs didn't find my wrists.
"If you were randomly selected by the snatch squads (I've learned this phrase in the last few days) then your time as a free man was limited."
What is clear and certain is that the Celtic fans were completely oblivious to why the mood on the streets had changed and why there was a sudden and unexplained change in the approach of the law enforcement officers – many of whom were in plain clothes and could not be identified as policemen and so were thought of as Dutch casuals.
Well known Glasgow publican Dave Ross was in a restaurant as part of a hospitality group just 30 seconds from Dam Square when the trouble started. Suddenly the party atmosphere outside had changed and instead mounted Police were going up and down the street.
When he and his party went to leave he was told to remain inside the restaurant but at that time all he saw in the street was a running battle between Dutch Police and a group of hooded Dutch supporters.
There seemed to be no Celtic fans in sight on that street at all – but clearly something else was going on which seems to have been omitted from Scottish Press reports – possibly because NONE of the Scottish press reporters were in fact there!
Those who were there have brought reports of mounted police battening innocent bystanders in an attempt to enforce the Noodbevel.
Worryingly, similar allegations have been made by other visiting fans in the past when a Noodbevel has been enforced.
There are internet pictures showing seated fans at a roadside bar cowering under the batons of mounted policemen.
NONE appeared in the Scottish press.
Further, the plain-clothes guys waded into the crowd and started to enforce the Mayors orders without too much of a by your leave. As can be seen from the Padraig Mullan footage he was badly beaten whilst being taken into custody—for reasons that are not yet clear to anyone.
Not surprisingly, some of the Celtic fans took umbrage at what was happening while others simply ran or cowered under police aggression. Some fans dashed into pubs, others describe not being able to get into the pubs and were consequently beaten in the street.
However, let's not dwell on tales or tittle tattle let's examine facts:
The number of Celtic fans arrested was EIGHTEEN actually arrested.
Of those EIGHTEEN—TWELVE were presented with the equivalent of what we would call a fiscal fine of up to 500 Euros.
Now you will remember that anyone who does not obey an officer who issues an instruction under the Noodbevel is deemed to be guilty of an offence. The TWELVE who were issued with these fines will have been deemed guilty of breaching the Noodbevel by disobeying a policeman's order.
They were never brought before a court, never had any evidence presented against them, nor had the opportunity of challenging the reasons for their arrest in the first place.
In fact some speak to the fact that they were never told why they were arrested at all.
Barry Currier again:
"I was interviewed by cops and gave a statement saying I had done nothing wrong but was kept in jail. At no time did they read a charge out to me, at no time did they ask if I wanted a lawyer. I was put in cell 506. The next day we were allowed to have a shower and some fresh air, and this is where I met Padraig (Mullan) whose face was in a mess.
"Later I spoke to a lawyer who gave us some bad news ,stating we could be in till Friday,or at the worst next Wednesday(13.11.13). Then the Police came up to my cell and said .. "Barry pay 350 euros and your free to go!"
|I had 353 euros in my possession and they stressed it had to be cash—no credit or debit cards—so I paid. I was just glad to be out of there. I had done nothing wrong, missed my transport back home and had to borrow money from others once I was out!"
Like Barry others were given the rather plain choice of paying a few hundred pounds to secure their release from a foreign jail and to make their way back home to the safety of their homes and families.
If your teenage son or whoever was offered that opportunity under those circumstances what would you advise?
That leaves SIX fans accused of something out of a visiting party of 12,000 and of these SIX only TWO remain in custody and FOUR have been bailed.
Of course of the TWO that are in custody, one is Padraig Mullan who we have seen being violently beaten by the policeman who was supposedly knocked unconscious in the fighting – whereas the truth is that he ran into a lamp post!
The other is Andy Vance and photos of his arrest can be seen here!
Neither Andy nor Padraig have ever been in any kind of bother with the Police before and both have been badly beaten. Padraig was been charged with assaulting a Policeman and that his position is that the Policeman was involved in an altercation with his group and the policeman hit his girlfriend and he was simply defending her.
Yes a Policeman hitting a girl.
However, the story does not end there:
One of the photographs released on the internet shows a Celtic fan being restrained by way of a policeman and his police dog which is apparently setting about the Celtic fan.
This fan was apparently near the Square when the Police charged. Other fans ran into a pub but he and others were stranded outside when he was attacked by the Police and their Police dog. He was then taken into custody in the back of a police van and was ultimately asked to accept his guilt (in which case he would presumably have been offered the 500 Euro fine) but refused.
When he complained about his leg and where the dog had bitten him, he was taken to the hospital where he received stitches and presumably a tetanus injection.
He returned to Police custody, whereupon examination of CCTV footage showed he was a completely innocent bystander. He was then released, received a police apology AND was given the appropriate form to claim compensation!
The fan concerned had a ticket for the game but obviously missed it. He was in Amsterdam with 4 girls and getting involved in any kind of trouble was the last thing on his mind!
However, I suspect you did not read that in the press!
He was among the figure of TWENTY EIGHT arrested and blazed across the Scottish newspapers and also it should be noted, Sky Sports News.
There was a further Police assault on a Celtic fan by the name of Rory Dunbar where he was beaten by a number of plain-clothes policemen.
This is clearly caught on camera and was initially shown on Dutch TV before being censored—but the original footage does exist and there are pressmen who know it.
Rory Dunbar was badly beaten but agreed to pay the Euros fine just to get away from the Police officers who inflicted the beating.
There are other accounts from bystanders describing how those arrested were taken into custody – which accounts state that the bystanders have no idea why the individuals concerned were arrested at all!
All of this information is readily available to the authorities and the press in Scotland and Holland.
The initial statements issued by the Dutch Police are extremely misleading and inaccurate in their version of events and that can clearly be shown.
So why is no one interested in getting at the truth, the whole truth and nothing but the truth, and why are there no MPs or MSPs calling for an enquiry into the conduct of the Dutch Police which was caught on camera?
We have no idea how to answer the question posed above, but then again we have no idea why none of what has been printed above has appeared in our mainstream media or why they have persisted with stories, which can now clearly be seen to be incorrect.
Some newspapers have suggested that Celtic fans behaved poorly and have been caught on camera throwing bottles and the likes, with the paper going on to say that unless this is accepted then little credibility can be given to the Celtic supporters claims of innocence.
But what the journalist does not ask is why a peaceful party, which had gone on all day suddenly turned into a running battle?
Further if Celtic fans are to be tarnished because of video evidence of disorder, what does that say about Amsterdam where there is incident after incident after incident no matter who the visiting team are?
If there had been Celtic aggression where is the video evidence, or the CCTV footage, particularly against those Celtic fans that were arrested for nothing more than being in the wrong place at the wrong time?
The press reporting here suggests a riot in Dam square involving Celtic fans.
Yet according to our information, those walking about the square at 8:00 am the following morning could find not a solitary broken window, no evidence of property damage nor any suggestion of the kind of carnage that has been suggested by some commentators.
The facts are plain—Amsterdam is not a city in which it is safe to hold a major sporting event—partly because of the attitude of some of the residents, partly because the authorities appear to have a habit of imposing a curfew with no warnings to visitors and finally because it has a police force which has been shown time and time again to conduct itself in a manner which would not be tolerated in any other major city.
How many teams must go to Amsterdam and find that their fans are caught up in Noodbevel policing before UEFA decide that they must act?
Why is none of this mentioned or investigated in our press?
Amsterdam, a city once policed by the Gestapo, should hang their heads in shame for using the same police tactics employed during occupation.
And why is the Scottish press not all over the widely known fact that there are two badly beaten Celtic fans sitting in a foreign prison cell while countless friends, relatives and witnesses have all lodged complaints with the Dutch authorities?
Further, I have no doubt that there will be video footage used in defence of the Celtic fans when they next appear in court. Some of that video footage was originally shown on Dutch TV but was then apparently censored?
If there is video footage in existence which can show the truth of what happened in Dam square then why would the Dutch authorities not act in that by themselves?
The late Alastair Cook was once apparently given an order by his editor when he was a very young journalist. The order was "Go and get me the News! I don't care if it is late – just make sure that it is right!"
It would appear that old fashioned editors with that attitude are out of fashion in Scotland. At least where Celtic fans are concerned.
Perhaps they are extinct?
PS – You did not read about the Celtic fan who was knocked down by the speeding Police van and had his leg broken in three places either. Seemingly the Scottish press don't do accidents in Holland!
PPS The Celtic Trust and FAC are holding an open door event on Saturday where they will collect statements from witnesses who were in Dam square and who witnessed the events of Wednesday. They will be there between 11:00 am and 1PM
PPPS The Celtic Trust has are also seeking donations for a defence fund and the details can be found here:
https://www.celtictrust.net/index.php?func=d_home_article&id=449
PPPPS – Following complaints received by UEFA, the UEFA Control and Disciplinary Body have confirmed that they have issued a fine of €25,000 against Ajax relating to the offensive banner displayed behind the goal by Ajax supporters.
BRTH
And back to 25 January 2019 and here is how it all ended…..
Amsterdam Vindication – Celtic Supporters in the clear after 5 year struggle