I think that Andy Walker put it rather well when he said that this game passed too many Celtic players by. That was when the score was still 1-0. He then went on later in the game to mention some of them by name. I couldn't disagree.
This game was a shocker, and there was something seriously wrong with Celtic's attitude. Lack of energy and lack of hunger are simply inexcusable in this game. Yes, I know it was virtually a friendly and last week was a lot more important, but Celtic supporters find it difficult to accept such a lacklustre performance in which men like Oliver Burke, Mikey Johnston and Jeremy Toljan did themselves no favours at all. And where does it leave Neil Lennon?
The first goal was a shocker. Scott Bain was not blameless, but he was not the main villain, for somebody should surely have got a head on that ball! Kristoffer Ajer chose a bad day to be off form, and he did not cover himself with glory at the second goal, but the whole team must take a share of the blame for both goals.
The main difference between the two teams was that, from the outset, Rangers wanted to win a great deal more than Celtic did. They were first to the ball, and they passed the ball to each other far better in the whole 90 minutes than we did.There was one moment near the end, a flash from Odsonne Edouard that was vaguely like Celtic class, but sadly Oliver Burke, whose heart never seemed in the game at all, fluffed his lines big time and we missed even the chance of making a good finish out of the game.
Pass marks to Scott Bain, Scott Brown, Johnny Hayes and Jozo Simunovic. Callum McGregor has had many better games than this, and Tom Rogic, as I seem to have said so often, is simply not a 90 minute player. James Forrest, Kieran Tierney and Ryan Christie all did well to miss this one.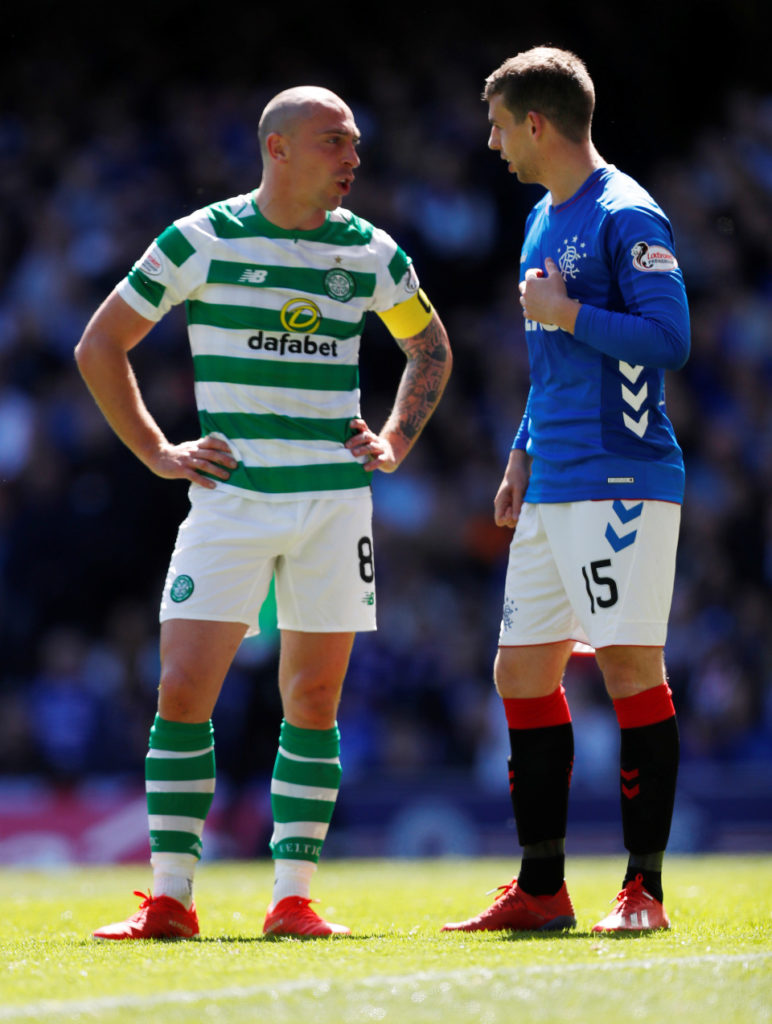 We have two causes for complaint. One was Jermaine Defoe's brilliant dive, and the other was the elbow from Mr Flanagan which definitely deserved the long walk. Would it have made any difference? Probably not, but you never know. Other than that, if we are looking for someone to blame, we really must point the finger at several of our players.
It is a terrible criticism that "Rangers wanted the ball more than we did". If Celtic players do not want the ball more than Rangers do, then they are a disgrace to the green and white jersey. We must in future come out from the start, determined to win ever ball. The game simply must not be allowed to pass us by.
So where do we go from here? Next Sunday will be a carnival in the sun but we really must win it and win it well to pick everyone up after today. Then of course comes the Scottish Cup Final. It is a historic occasion. There must be no "they wanted it more than us" sort of nonsense! Let us drive out the "serpent of complacency"!
After that, we can perhaps discuss who the new Manager is going to be. I would have made a decision long ago to settle everyone down, but now is certainly not the time to do it in the changed circumstances after today's shocker. Let us wrap up the 39th Scottish Cup, 3 in a row and the treble treble first. today. Let it be a one-off!
David Potter