FORMER CELTIC striker Andy Payton has shared some of his Celtic memories on social media this morning.
Celtic memories ⚽ pic.twitter.com/DljL5Ohe1D

— Andy Payton (@AndyPayton10) May 29, 2018
The Celtic Star interviewed Andy recently and his love for the club and his boyish enthusiasm for having played for Celtic came shining through. Here's what he had to say to The Celtic Star incase you missed it first time around…
Andy arrived to Celtic in what was a turbulent time but still managed to score goals and give his all for the sacred jersey. Andy Payton netted a more than respectable 20 goals in 46 appearances for what was, frankly, a not very good Celtic side.
How did you first hear about Celtic's interest in you?
Well, back in those days, you always got told what teams were at the games to watch you. There'd been a bit of interest as I was scoring a lot of goals for Hull City. Before one particular game I got told Liam Brady from Celtic was coming to watch me. I think I scored two in that game and Celtic lodged a £500k bid straight after the game but it was rejected. Hull wanted more money for me and Middleboro came in with a bid of more money for the club so I ended up going there.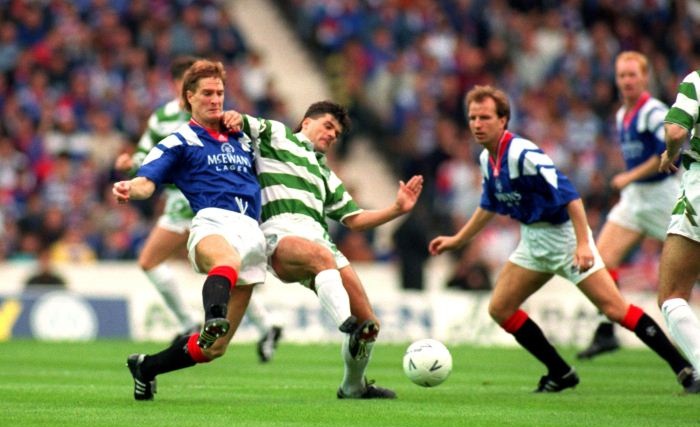 What can you remember about the day you signed?
Well to be honest I was very over-awed by the whole thing. People down South don't realise how big Celtic are and to be honest I probably didn't either until I came up. The size of the stadium took me back, the size of the club and the great history.
Tell us about your welcome to Celtic involving the fastest man at the club Mike Galloway haha?
Hahahaha, well. Players would wind you up all the time. I got done like an absolute kipper I tell ye. I think it was Paul McStay that started it all off. Now bearing in mind I was only 24 at the time. I always wanted to come first in the sprints, in all the runs. I wanted to stand out and do my best.
Paul says to me one day, " How are you at the 400m?"
I was like, "yeah I'm pretty good Paul why?"
"Well me and the lads have been talking and do you know that Mike Galloway has never been beaten at 400m by anybody at the club?"
I'm looking at Mike Galloway and thinking, "yeah right". I knew I could take him at 400m no problem.
So this started growing legs. John Collins would say to me, "I think Mike would take you too". So I'm getting more and more up for this, I thought, there's no way Mike Galloway is beating me over 400m, no way!! Then Neilly Mochan gets involved, "we've got a book out with the lads here Andy,  Mike to win".
I'm thinking right, let's get this on!!
So if you remember back then there was a track round the pitch at Celtic Park? Everybody and I mean everybody came out to see this. The office staff, backroom team, everybody!! The rules were, Mike was to go left and I was to go right and first across the line won. "3,2,1 go"!!
So, I'm not kidding you, my head was down and I go belting round the first corner flag, round the second and start going by the Jungle, I'm thinking, there's no way he's beating me here. I goes flying past the Jungle and looked left to see how Mike is getting on. He hadn't moved, he just stepped over the line and had won. Everybody was in stitches and laughing at me haha.
It was a great way to break the ice, all the lads were great.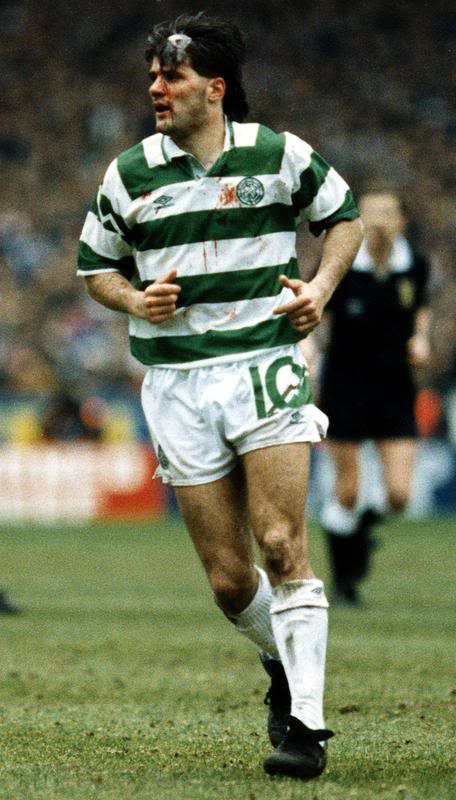 What was your most memorable game in the Hoops and why?
Definitely the Rangers game at Celtic Park. The 2-1 game where I got the winner. I remember when I was 15 or something, Trevor Steven was at Burnley and I remember queuing up for his autograph one day. I loved him, what a player!! Then to be lining up against him in the tunnel for an Old Firm game was surreal. He probably didn't have a clue who I was. I remember getting smashed deliberately by an elbow during the game and getting five stitches but to get the winner was incredible. You know what it means to the fans.
Who were the characters in the dressing room?
Do you know what? It was an excellent dressing room. When I arrived, Paul McStay took me round every one of the lads and introduced me. They were all great with me. We had Nicholas and McAvennie who were funny but Mike Galloway was definitely the character haha.
You were the top Goalscorer in your first season at Celtic, what happened when Lou Macari came in?
We lost in the semi-final to Aberdeen and shouldn't have lost that game for Liam and Rangers were flying. It was a shame that Liam had to go. Lou then came in and just didn't fancy me. Like you said, I was scoring goals but I just wasn't for him. I went down to the reserves and continued to score goals but again it wasn't to be.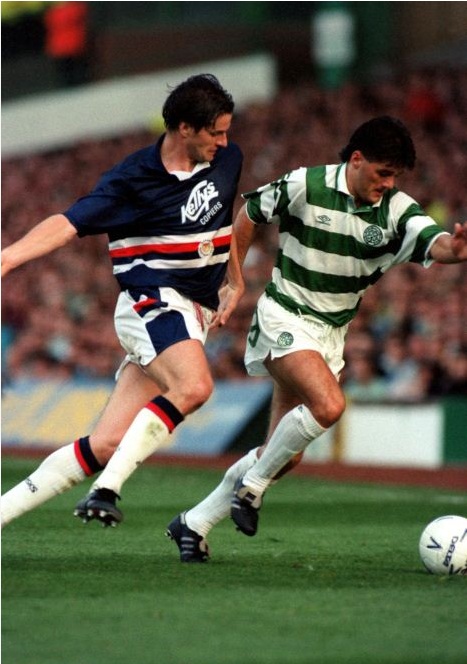 How did the move away from Celtic happen and were you gutted to leave?
After a few months I'd heard about interest from Barnsley. The Manager wanted Wayne Biggins in place of me and the deal was done. I didn't want to leave but I wasn't playing. The Manager wanted Wayne and not me so the deal was done. Going from Celtic to Barnsley playing in front of 5000 people, I was like, "what have I done"? I was gutted to leave yes. I didn't want to go and still to this day wished I'd stayed around.
Who was the best player you played alongside at Celtic and why?
Paul McStay!! Charlie Nicholas was unbelievable. I haven't seen a better player with his back to goal. John Collins as well, unbelievable. He'd come in at 9am and do 500 dips on the parallel bars, 500 press ups and 500 sit ups. He didn't have a 6 pack, he had an 18 pack. That was the standards at Celtic but Paul McStay. What a player, he could have played in any era, any league. A fantastic player and a cracking guy.
If you could change one thing about your time at Celtic, what would it be and why?
It would be leaving for sure but the decision was made for me. Lou orchestrated it all, I wouldn't have left. I think about what more I could have learned if I stayed with all those top Internationals there. I just wish I had stayed longer.
What a club and what a fantastic support. I haven't been back since I left but would love to go one day for a game.
What do you think of the current Celtic side and the job Brendan Rodgers is doing?
Well, they're certainly top dogs again. A fantastic job really. It's been difficult in the Champions League obviously with the draw they have had the past two seasons but he's certainly put Celtic back on the map again.
Interview for The Celtic Star by Scotty Alcroft
Have you got your Beautiful Sunday t-shirt for your summer holidays yet? They are selling very fast…