ANDY ROBERTSON is touching distance from winning Liverpool's first Premiership title in 30 years but that isn't stopping him from considering next season and seasons after that. The 26-year-old is still harbouring a dream of playing for Celtic, even if he hopes to retire at Liverpool.
Speaking to BT Sport, as reported by Liverpool Echo, the left-back has revealed he wants to follow
"My ideal situation is to retire at Liverpool. It's going to be quite hard but I'd love to be able to finish my career here. If I can keep my standards high, up to a James-Milner-kind of age, then I would be quite happy with that and call it a day then.
"But I've always said I would love to pull on the Celtic top and play. I played for Dundee United, which I loved.
"Never say never: I want to play as long as I can, so if that means finishing in Scotland or at one point going up to Scotland the I'd be open to it. But my ideal is finishing with a couple more trophies at Liverpool."
Whilst he states that he wants to finish his career with Liverpool, he would also love to play at Celtic to fulfil his ambition – even if it is in the twilight of his career.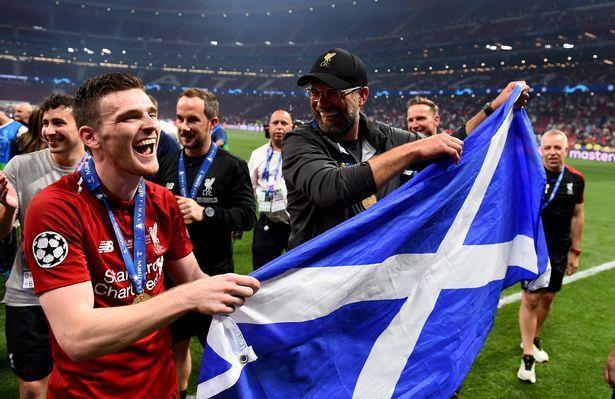 Robertson's boyhood club (Celtic), his former club (Dundee United) and his current club (Liverpool) are on track for a clean sweep of league titles this year.
"There's no hiding that I'm a Celtic fan, and of course I want them to win the league and make it nine in a row. I'm sure they'll want to complete it."
Robertson was released by Celtic but made his breakthrough at Queens Park before a move to Dundee United propelled him to stardom. The left back has played in two Champions League finals since joining Jurgen Klopp's Liverpool and has been one of the standouts as they have dominated English football this season.