Ange Postecoglou was on good form at his Media Conference yesterday afternoon, which was attended by a few Celtic fan media sites and the broadcast media.
His response to the question about theRangers was one of the best of the the season but it was rather surprising that no-one asked about the Celtic manager's meeting with Dermot Desmond at the and of last week, which was photographed by someone standing outside of Celtic Park as the biggest Celtic shareholder and his son were met at the doors of Celtic Park by the manager.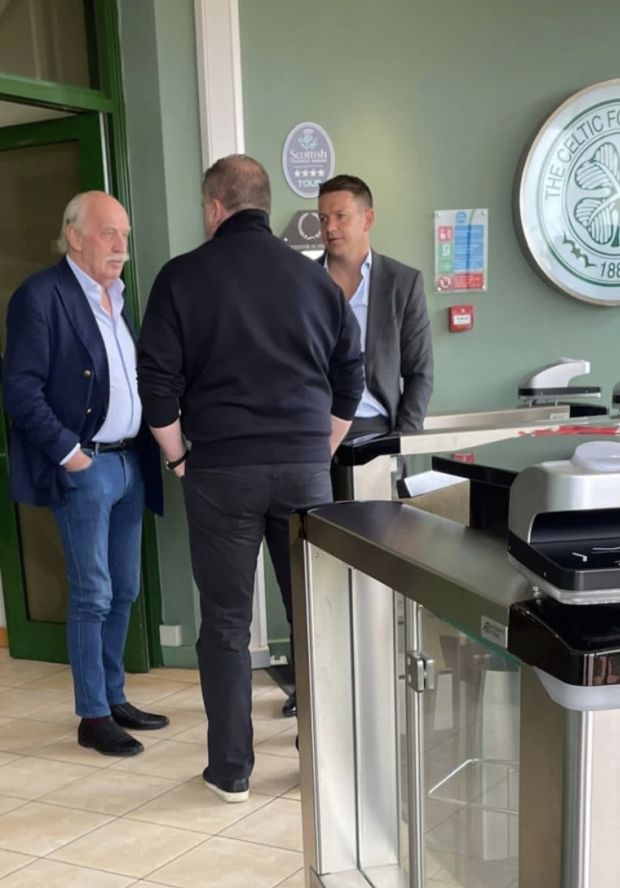 The written press have a separate sit-down with the Celtic manager but there is no video to share with the support of what is discussed. Fair play to them for asking Ange about the meeting up with the Irish Billionaire last week and at least getting some insight on that relationship between Ange and essentially his boss.
Ange wasn't prepared to go into any detail on what was discussed but he did elaborate on his experience of working with Dermot Desmond over the last two years and also talked about the job that Eddie Howe has done at Newcastle United, which is where he ended up after eventually knocking back the Celtic job leaving the door open for Ange Postecoglou to fulfil a lifetime ambition by managing one of the top clubs in European football.
"It's been quite a two years since that first talk with Dermot. We have just accomplished so much in that space of time," Ange told the written press as reported by The Herald. "It was a lot different when I walked in but we have done a lot, from the success we have had on the field to the players we have brought in. The way we play our football and the general feeling around the club, with the connection with the supporters, has been a credit to everyone," Ange Postecoglou said.
"From my perspective I couldn't be happier with the support I have received to try to get this club back to where it has been before, and was for a long time. The fact we could do it really quickly is a credit to everyone.
"Dermot was the first person I spoke to with regards to the club. He's very influential and has been very supportive of me, personally and within the club. Particularly when we didn't have the smoothest of starts. It didn't last very long but it was still a difficult beginning. During that time, he was immensely supportive of me.
"I knew that he and the club would have my back and support me until I got the club to where we needed to be. I enjoy a great relationship with Dermot and his family. He's a very important part of Celtic and has been for a long time. It's been great that I have been able to repay that faith he showed me right from the start," the Celtic manager said.
Ange went on to reveal that he enjoys a close relationship with Dermot Desmond and the two are in constant contact to talk about all things Celtic.
"We are in regular contact with each other and that's because Dermot loves Celtic, he loves talking about the games and how the club is going in general. It's not like I have to update him with everything, that's what I do with Michael Nicholson (the Celtic CEO)," Ange said.
"He lets us get on with our roles of running the club but Dermot is really passionate about Celtic and about football. I don't know if he's in contact with me more or less than previous managers. I don't know if I'm a favourite or not! But he has treated me very well."
It could have worked out very differently for Ange Postecoglou had Eddie Howe managed to convince his backroom staff to join him in Glasgow. There's the contrast of course with Postecoglou arriving on his own, and being perfectly happy to work with the staff already at Celtic. That in retrospect seems like being an inspired decision and one that makes the Australian manager's achievements at Celtic even more impressive.
Yet while Ange Postecoglou could have plenty to thank Eddie Howe for he is also a big fan of the job that he's gone on to do at Newcastle United, taking them into the Champions League in his first season and the way these things often work out in football, there the possibility of a Postecoglou v Howe Champions League showdown next season in the group stages of European football's premier club competition.
"I absolutely admire the job Eddie has done at Newcastle. You can see why this football club wanted him to take charge here. He's a very impressive person, as well as a manager. He has done an unbelievable job and I also felt he did a great job at Bournemouth," Ange noted.
"Eddie has worked his way up, he has done all the hard bits you need to do as a manager. He has had to earn everything along the way. It's great for Eddie and for Newcastle that they are back in the Champions League. It's a big club that hasn't enjoyed a lot of success recently, so it's great to see them back in there.
On the possible Champions League pairing Ange is enthusiastic about the prospect of Celtic playing Newcastle United next season.
"Yeah, that would be nice. Knowing the passions of both sets of supporters, those would be two games nobody would want to miss out on – home and away. There would be an unbelievable atmosphere at both.
"The Champions League is where you want to be involved. It's going to be exciting again and right now, you are ticking off the champions in each league and seeing who else is getting the spots. Once the season is over, we will start looking at potential draws. No matter who we get, you can guarantee it will be another exciting draw for us."