This was another game that left Celtic supporters angry, unhappy and frustrated, and once again we have the sinking feeling that, unless things change rapidly and radically, we all know who is going to win the League Championship. We are now two games behind, and with a seeming inability to solve the major problem of scoring goals.
To an extent we can blame bad luck – but only to an extent. Yesterday we hit the bar three times – and that is bad luck. We were on the wrong side of a few refereeing decisions – also bad luck, (although some good luck as well when Dundee United were denied a fairly obvious penalty) and we do seem to have a squad of players who get injured more than most other players do, and that is bad luck as well. We have had at least one who got injured on International duty, and another who managed to get himself injured in a warm-up! Yes, a lot of bad luck, but that must not blind ourselves to the major deficiencies in our play.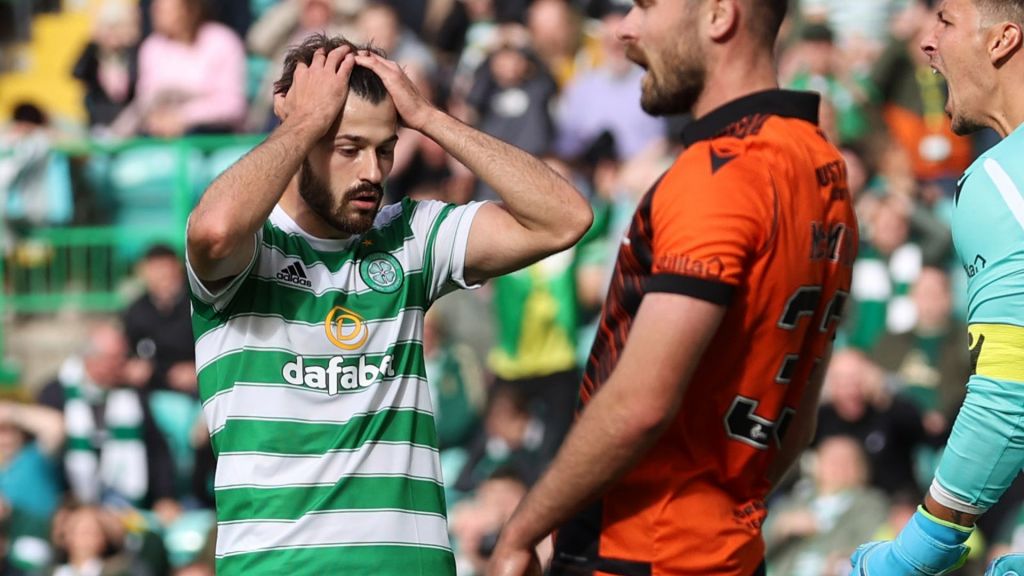 And let us talk about goal scoring, and let us point the finger at Albian Ajeti. Someone really has to tell him that it is simply not good enough to wait for the ball to some to him. There are times when he simply must go and look for it by going out to either wing, for example, and taking a defender with him thus leaving an opportunity for someone else.
Those who remember Henrik Larsson will all say that this was one of his strengths, namely that he was seen all over the field. He did not stand and wait for the ball to come to him. He went and looked for it sometime. One can forgive Albian a few misses, even that awful one in the first half that he put over the bar, but we cannot forgive a fault that is either sheer laziness or an inability to understand the required tactics of the game. One fears that, if he does not buck up his ideas soon, he may well become this year's Odsonne Edouard – clearly unhappy and wanting to play his football somewhere else. I fear that if we are not already at the point of no return with Albian, we soon will be.
Other areas of the team have shown a certain improvement. The central defence is certainly looking a little better, and I see very little wrong with Jota and Abada, while Tom Rogic certainly keeps working, although he doesn't always know when to shoot. We can work on that, however. But there are some areas that are less successful. Anthony Ralston is a wholehearted 100% player, but the Dundee United goal came from his area of the pitch. David Turnbull again worked well, but we needed him to give us a goal. And Soro, when he came on, did indeed give us a great deal of sorrow with some appalling passes.
But then we come back to the problem of unfit players. I would love to see 90 minutes from James McCarthy, and we keep hearing rumours that Callum McGregor is not far away from fitness. And surely Kyogu would have made a huge difference yesterday, but players are of little use to the club and the fans if they are injured, and we have an astonishingly long injury list.
The outlook is far from bright. On Saturday I found myself listening to pundits on the BBC Radio Scotland boasting about the Scottish Premier League and telling everyone how "good" and "competitive" it is, with Hearts going well and Hibs also, with Motherwell off to a great start too. What self-deluding nonsense! We all know, do we not, if Celtic do not get it together soon, what exactly is going to happen? Basically, if Celtic do not put up any resistance, no-one else will either and that the engraver can start practising his melancholy task for the trophy. It is up to Ange and his men, but it really has to happen soon.
Next week sees us at Pittodrie to face an Aberdeen team who are in even worse straits that we are. Their Manager may not last the week out, but whether he does or not, we will have a determined and indeed desperate Dons side on Sunday. They have to win a game some time, you would think, and if we are the victims, then I fear we can more or less write off the Scottish League – in what will be the first week in October!
David Potter