Dublin in 1908 was in the middle of an uneasy calm. The violence of last century had abated (not that there had been a great deal of trouble in proeperous, anglified Dublin in any case) and now that the Liberals were in power, there was some hope that a peaceful solution could be found, and of course that meant Home Rule.
But there was still a military presence in Dublin – mainly Scottish regiments who drank loads of beer and "befriended" the local Dublin ladies – and there was still a sort of resentment at them being here.
But on 14 March 1908 the Scottish soldiers would be at the football. Their own team would be there at Dalymount Park, and those who weren't required for their low key presence in the centre of town, could go to the game.
Football was not strong in Ireland in 1908 – possibly a little stronger in the north than the south – but today 10,000 appeared at Dalymount Park to see the famous Scotland team, all of whom were Home Scots (ie they all played in the Scottish League) and in particular this shy man who was the talk of these islands for his goalscoring exploits – Jimmy Quinn of Celtic, that club formed by Irishmen 20 years ago and which had now revolutionised Scottish football.
The Scottish team was Rennie (Hibs), Mitchell and Agnew (both Kilmarnock); May (Rangers), Thomson (Hearts) and Galt (Rangers); Templeton (Kilmarnock), Walker (Hearts), Quinn (Celtic), McColl (Queen's Park) and Lennie (Aberdeen).
It was a matter of some amazement that the all-conquering Celtic team of that year supplied only one player, but it would have to be said that the replacements were, at least, adequate, as the game would prove. Scotland won 5-0 over an amateur and part-time Irish side who fought well but were clealry out played.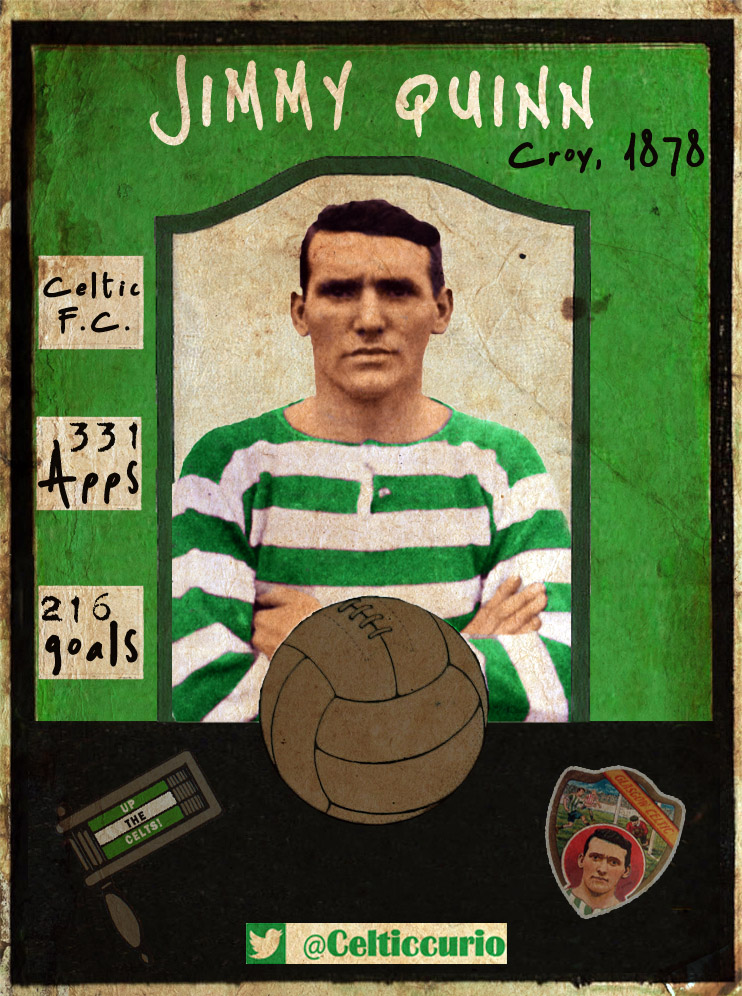 But the Irish supporters had one hero, and that was the man who scored four of the five goals that day, Jimmy Quinn.
News of his exploits had of course crossed the Irish Sea, and even in England, the name "Quinn" inspired some awe. And yet he was a painfully shy, almost insignificant man. The crowds did not immediately recognise him as he got out of the carriage at the ground.
He looked ordinary, not particularly tall, and you really had to look hard at him to see the mighty shoulders that made him so famous. But when he appeared on the field in his Scotland shirt, it was as if he had an "aura" about him.
This was the famous, mighty Jimmy Quinn.
The goals were all crisply taken and cheered to the echo by the Irish crowd and the Scottish soldiers. Apparently he was not feeling well at half time, but turned out for the second half and scored a hat trick! What could he have done if he was healthy? Ireland now had a new hero. It was a pity he was not playing for them, but he was one of them, for his family was Irish, and he lived in the village of Croy, an Irish mining enclave in Dunbartonshire.
He was the man of the moment and one of the Irish papers even speculated whether he should replace the late Charles Stewart Parnell as "the uncrowned King of Ireland".
But oh what a shy man he was. When the ship docked at the Broomielaw the following day, Jimmy tried to dodge the crowds and slip away to find a taxi – but some hope! He was engulfed in a tide of admirers. He was the man who was now the hero of two nations.
Some people argued that he was just an ordinary man. No, he wasn't! He was Jimmy Quinn!
David Potter
David Potter's new book, Willie Fernie – Putting on the Style is out now, and you can order from Celtic Star Books – link below – or pick up a copy from the official Celtic Stores…