ANOTHER YEAR, ANOTHER LEAGUE CUP QUARTER FINAL – WEDNESDAY 15 SEPTEMBER 1965…
This marvellous display of attacking football is still talked about yet in Kirkcaldy… and not only by Celtic supporters. Many Raith Rovers supporters agree that football of this kind should be preserved as an example of how the game should be played. Sadly there does not seem any celluloid material of this occasion. It was a Wednesday night, and only the first leg of a quarter final played at a ground some distance from Glasgow, so TV coverage did not happen.
Raith Rovers, managed by George Farm, were the only undefeated team in Scotland. They had been in the Second Division since 1963, but were clearly aiming to bounce back. Their centre half was no less a person than Bobby Evans, who had played for Celtic between 1944 and 1960. He was now in the twilight of his career but still with a great deal of football left in him. It was largely due to him that Rovers had qualified for the quarter final of the Scottish League Cup. And they had several other talented players in, for example, Pat Gardner who would go on and star for Dunfermline and Ian Porterfield who would become a legend for Sunderland, scoring their goal in that epic English Cup final of 1973.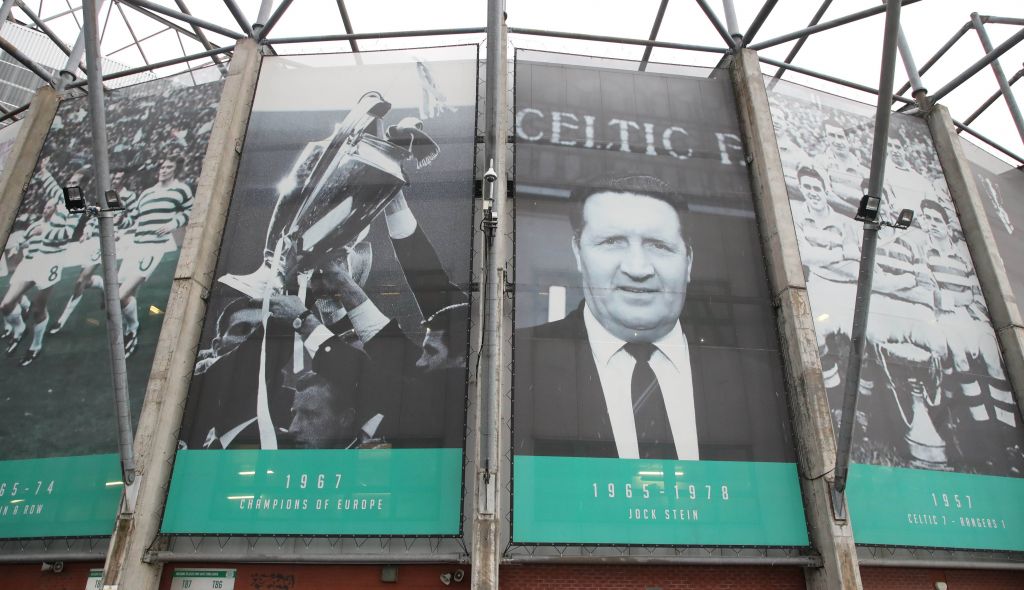 But things had happened in Glasgow's East End in 1965. Jock Stein had taken over as Manager in March and almost immediately, a trophy was captured in the shape of the Scottish Cup. There had been a struggle in the League Cup qualifying section after defeats from Dundee United and Dundee, but they had pulled through after a desperate rally, and there was a hunger about the team, and an energy in the sport that had not been seen for a long time.
About 18,000 packed into Stark's Park that night with shoals of buses arriving from Glasgow and elsewhere and taking up their places on the Kirkcaldy Prom before disgorging their happy and enthused green and white clad supporters singing their songs about what a grand old team they had, and about the lorry load of volunteers who approached a border town, punctuated with the awe-inspiring chant of "Cel-Tic" followed by three hand claps, with the occasional friendly argument with the locals about what Joe McBride or John Hughes were going to do to the Raith Rovers side.
The famous old, compact, ground with its odd shaped grandstand which went round a corner into an L shape (opened by Celtic in December 1922) and on the other side the old wooden coal shed of an enclosure which shook alarmingly when a train passed behind it, had in recent years been supplemented by two more modern shelters behind each goal. The ground was a strange one, but bristled with Scottish football history and had provided entertainment now for many years for the hewers of coal and the crafters of linoleum. And tonight "the queer like smell" of linoleum hit the nostrils immediately on disembarcation from the bus.
The teams were:

Raith Rovers; Reid, McKeown and Gray: Stein, Evans and Porterfield: Hutchison, Gardner, Richardson, Lyall and McLean.

Celtic: Fallon, Young and Gemmell; Murdoch, McNeill and Clark; Johnstone, Gallagher, McBride, Lennox and Hughes

Referee Mr Elliott, Barrhead
Much interest was displayed among the Celtic fans about how Jimmy Johnstone would play. He had missed a few games of late, and there was great speculation that this superbly talented redhead did not always get on well with Manager Jock Stein. Tottenham Hotspur were represented in the crowd that night by their Assistant Manager Eddie Bailey, and a bid for Johnstone was expected, although how the neurotic Uddingston man would have coped with the bright lights of swinging sixties London was a matter of some doubt.
Following a short delay to allow more of the crowd in through the turnstiles which were, frankly, inadequate for the occasion, Celtic started off playing towards the Beveridge Park or the town end of the ground, and as early as the first minute Tommy Gemmell had hit the bar. It was Joe McBride, who had joined Celtic from Motherwell in the summer, who opened the scoring after some fine build-up play, and before Raith had a chance to come to terms with that one, Bobby Lennox scored another.
Soon after that came Raith's one moment of glory when Jockie Richardson pulled one back, but Celtic had made it 3-1 before half time through Jimmy Johnstone and the wonder was that there had not been more as Celtic put on a devastating display of football.
The second half saw another five goals, a hat-trick from John Hughes who looked unstoppable as he rampaged down the left wing and another two from McBride to give him a hat-trick as well. It was pure football at its best, and to their credit, Raith Rovers never descended to dirty tactics and their supporters stayed and clapped the fine play of Celtic and the occasional good move from Raith Rovers.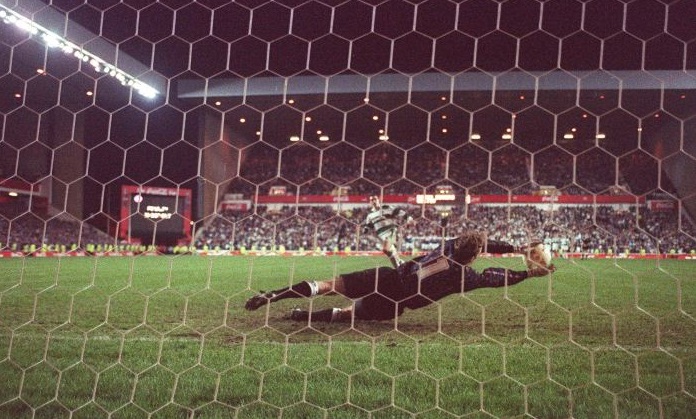 One had to feel a little sorry for Bobby Evans. Now ageing, and with his bright red hair now greyer than Celtic fans had remembered when he last played for them five years ago, he had now answer to McBride and Lennox. He was still remembered with a certain amount of affection by the Celtic fans, even though it was no secret that the relationship between Evans and Jock Stein was nowadays a polite, formal one rather than a warm one.
Some fans thought that Evans might have been a great asset as a back room man for Stein, but no such invitation was ever issued. Still, the occasional good pass by Evans, now 38, was greeted with a ripple of applause from the green and white bedecked.
It was only, of course, the end of the first leg with the return to be played at Celtic Park next year, but this result rendered it a formality. It would be 4-0 at Parkhead, making the aggregate 12-1. Those who saw that game at Stark's Park that autumn night, however, remain convinced that that was the way that football should be played, with the play of Bobby Murdoch especially recalled as he sent inch perfect passes to Johnstone, Lennox, McBride and Hughes almost at will, while Charlie Gallagher showed tremendous trickery and skill. It was Celtic football at its best.
History does not recall what Eddie Bailey of Tottenham Hotspur made of it all. No bid was made for any player, but he must have been mightily impressed.
David Potter