The Holy Goalie. Honestly, whoever came up with that nickname – so simple, yet so hilarious – deserves a medal.
The nickname, of course, belongs to Artur Boruc; the former Celtic goalkeeper who made 221 appearances in the famous goalkeeping jersey across Scotland, Europe and beyond in one of the most successful eras in the club's history.
He made his final appearance, funnily enough, against the Hoops in his testimonial on Wednesday evening, playing the first half in a 2-2 draw for Legia Warsaw against his former side.
But it was his playing career over 12 years ago at Parkhead that really remind Celtic fans about how much of a true legend he was – at least amongst the fanbase.
His blessing at Ibrox drew police action, and he was lucky (for some!) not to be reprimanded for running across their turf with a 'Champions' banner that celebrated yet another title win in that decade.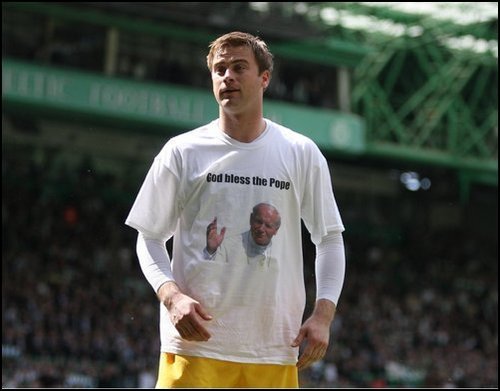 And, speaking to Football Scotland, the star told of how big his beliefs meant to him and why it made him the character he was – stating that he was pleased he could share his off-field personality by bringing it onto the pitch as well.
"The emotions was always a big part of my life and that was probably the reason why I would get involved so much in the rivalry," Boruc said.

"I was pleased I could enjoy it with the Celtic fans. When (I blessed myself) that was the time where I probably realised how big (the rivalry) is with the religion and that kind of thing.

"And it was a big thing for me as well because I knew what to do exactly.

"It was a little bit problematic as it's like race and people talking about that all the time. For me religion was too heavy a matter and that showed me what situation I might be in with the things I was doing.

"It didn't really stop me too much at the time because I wanted to enjoy my life and that's what I was doing at Celtic. It might be a little bit too crazy and silly from my side but I still remember having great memories of a great time."
His actions earned him the nickname of the Holy Goalie; an ingenious nickname derived from one of the many moments of adoration he plucked up from the depths of Celtic history.
But it was only recently that Boruc coined that the nickname came from his antics against theRangers – not only due to his religious beliefs.
"I always wondered where that (nickname) came from! Who came up with it and what was behind it. I never knew and I actually still don't know what was behind it!

"One of my friends showed me the T-shirt and came up with the idea. It's why I wore it, that was another thing which I enjoyed.

"It's a good memory for me, nothing too bad happened with it so I will always remember it."
One thing is for certain – Boruc will always be welcome with open arms at Celtic Park. Until next time, Artur…