TODAY was a day where statistics have no bearing. This afternoon was all about winning battles, trudging through the wind, rain and bog of a pitch and ensuring Celtic were in the draw for the Scottish Cup semi-finals.
To that end it was job done. 1-0 against St Johnstone in Perth. A goal from Ryan Christie or Christopher Jullien. Who got it, when it happened and whether it was the Celtic way or not didn't matter today.
This afternoon the Celtic way was just about winning and finding a way to progress. Just ask your mate at work tomorrow who had an interest at Tynecastle last night. Or indeed a manager from the Southside who appears to be questioning his future. Upon such margins reputations are forged. Especially so in Scotland.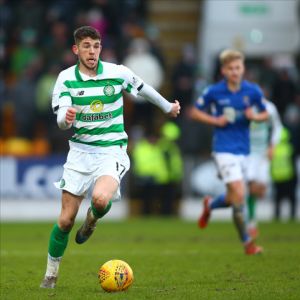 On the back of a Copenhagen whirlwind that more than likely knocked a few egos and dented the confidence, today was all about just getting back on track.
40 mile hour winds. Celtic up against Jorge, Ciara and Denis in the last few weeks. To the rest of us that just sounds like the arrival of exchange trip teenagers from your twinned town in some village in Northern France. To these Celtic players it's been a battle through varied opposition, questionable refereeing and the elements. Yet again Celtic met that challenge. As did the supporters who have walked with them on every step.
The first half amounted to Callum McGregor side footing a shot that begged for the laces being driven through it, straight at Saints keeper Clark.
Defensively Fraser Forster, had to pull off a brilliant save from a Drey Wright effort that saw Jamie McCart head over the bar. It was poor, but underfoot and overhead the conditions were atrocious, anyone judging a footballers technical skills on a day like today needs their head read.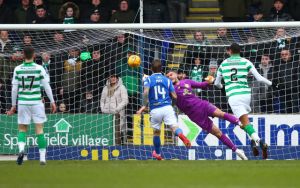 In the second half though somehow, miraculously Celtic began to play a bit, there was some real joined up thinking and even some intricate play, well almost.
Forrest who had been almost lost in the first half found his mojo in the second and put the ball just wide. Edouard who did seem to find the conditions more trying than some headed for goal but skied an effort over Clark and into the crowd.
Christie and Griffiths both followed suit before the former found Clark equal to a brilliant effort that looked a certain opener, after good work involving Rogic and Edouard. I'm not sure how and credit to them, but Celtic were finding a way to actually play through the glue of a McDiarmid Park pitch.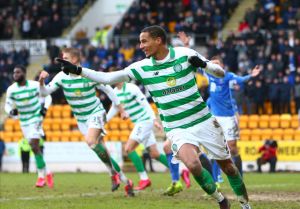 Eddy tried a back-heel that struck the near post and the Jullien could not quite manoeuvre the rebound into the unguarded goal. At this point I can't have been the only one thinking 'clean sheet and back to Parkhead please'. Especially so when St Johnstone got their own act together and realised a replay was no good to their chances.
This was a team that had only lost twice in fifteen games and a far more confident and balanced side than we'd faced last time out. First Stevie May thankfully pulled out slightly when faced by the presence of Forster when through on goal and then there was even a hopeful shout for a penalty when Scott Tanser tumbled with Bitton but there was nothing to see, not really.
There was no debating the foul that led to Christie's 81st minute winner, the only debate was around the final touch that saw it hit the net.
Forrest flew up the right flank on the break and was cynically hauled down by McCart, it was a hefty tackle, not malicious as such but dreadfully mistimed and he was rightly booked. The conditions probably saved him from a dismissal if the truth be told.
From the resultant free kick Christie delivered the ball at pace into no man's land between keeper and onrushing attackers, it found the net from what looked like a Jullien touch but the celebrations and post-match interview ensured the goal was given to Christie. He seemed to know that anyway.
It was enough to win the tie and the resultant draw sees Celtic return to Hampden to face Aberdeen. Yes really, them again.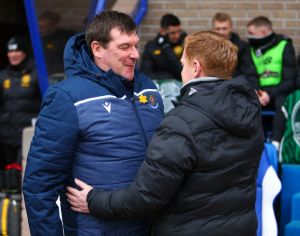 Neil Lennon praised the team and they fully deserved it.
"I thought we thoroughly deserved the win. Off the back of their efforts on Thursday night it's a really important win.
"We've got a lot to play for still, and the players showed good resilience out there, and good mental strength to get through and win the tie."
I'm sure the purists would have dismissed this game. The statistical geniuses will be let down by the XG's and percentage of ball carries in the opposition third.
But in the real world of Scottish football you sometimes just have to find a way to win and forsake the pretty stuff. This was such a day.
Celtic again proved they have the fight to match the fancy. A semi-final was a just reward for simply grinding it out.
MOTM- Kris Ajer. Solid in defence and always striving forward when he could. It was however a battling team performance and a victory well earned.
Niall J
Sandman's Definitive Ratings – Celtic at Posh Swamp | The Celtic Star https://t.co/8uPpCBGxxy

— The Celtic Star Editor (@CelticStarMag) March 1, 2020
Exclusive – Tom Grant's Celtic Park Photographs, New Dawn in Paradise | The Celtic Star – Part 4 https://t.co/iZaXrOTsyq

— The Celtic Star Editor (@CelticStarMag) March 1, 2020
— The Celtic Star Editor (@CelticStarMag) February 29, 2020
'Total Nonsense' – New Witness comes forward to Rubbish Alex Thomson's Story @CelticStarMag https://t.co/pV5VKTwpUx #Celtic via @Celticnewsnow

— Notorious-celt (@CelticNotorious) February 29, 2020