Timeline 25 May 2017….Fifty years ago, our Uncle Joseph Stirling, eldest of a family of eight, from Tollcross, East End of Glasgow, set off with his 3 school buddies at the age of 30 on the greatest journey of his life. One that still resounds in our family folklore, and ensuing generations, as the most memorable day trip any of us have ever had.
At a spritely 80 years old, looking forward to watching another Celtic cup final on TV this Saturday, never mind attending his first game – in person – at Celtic Park for decades the day after, when he watches the charity match "Henrik v Lubo", our uncle still regales our family with endless stories and sub plots of that very famous day in 1967 . . .
The then manager of the Kimberley pub on Tollcross Road, just up from his old primary school, the eponymous St Joseph's, Uncle Joe was in a terrible quandary before that famous day of Thursday 25 May 1967. Who on earth would look after the pub whilst he spent £22 of his well-earned cash to fly to Lisbon and back to watch his heroes lift the greatest prize in world club football?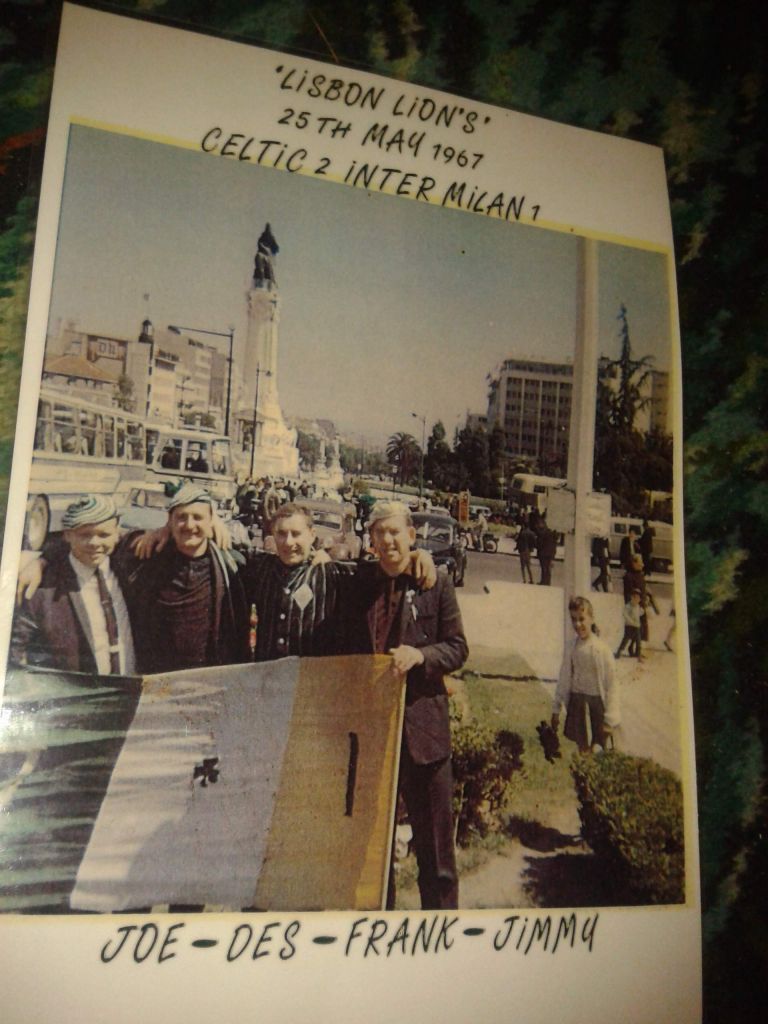 Enter the old manager, Charlie Boyle. Joe's brainwave had come off! That meant his assistant manager Gerry Doyle could go too. But then came another dilemma . . . How on earth would he and his three pals get out of 8 o'clock mass on Ascension Thursday when the flight was at the very same time?
Step in Father Kelly. Divine intervention chapter 2. Mass was dispatched forthwith at 5.30am and Joe, his mates Des Virgo, Frank MacFarlane and Jimmy Quinn, all pictured here, were given their own immaculate conception descending on a sultry square in Lisbon after a flight from the old airport at Abbotsinch.
The flight there and back was another colourful chapter. From the old fella in the seat behind came a new lyrical twist to an old classic tune: "It's a long way to pip Herrera . . . It's a long way to go . . ." (Reference to the manager of Celtic's 1967 European rivals Inter Milan.) It's the sort of thing you can well imagine coming from the colourful 10,000-strong armada of Celtic fans – hitch-hikers, priests, absent bar managers, indebted 'Provy-chequers' and  non-returns to name but a few.
And now to the game itself. Divine intervention chapter 3. Well, religious or not, our family are all so glad Uncle Joe said his prayers early that morning. With Bobby Murdoch – Joe's favourite player – playing with an ankle swollen to twice its size, it was the best spiritual insurance policy ever created.
Maybe the Italian didn't deliberately step on that hallowed right foot in an un-Christian like fashion, but as Uncle Joe says: "He WAS Celtic. If he was playing – Celtic played. Berty Auld would practice cutting back the ball for Murdoch to swipe with that strong right leg, but on the day in question could only manage with his left, and yet somehow managed the whole 90 minutes. He was like Franz Bekenbauer – a great passer and powerful shooter," recalls our uncle in fine detail.
However, it was John Clark who stole our Uncle Joe's attention on the field that day. "The 'unsung hero'. He was my man-of-the-match. Done all the hard work. Swept up everything," says uncle Joe. That determination was infused throughout the team. Joe was amazed at the Lisbon Lions' fitness that day. How they ran and ran in that scorching heat. And of course the training the night before when Stein – master of psychology – tricked the observing Italians masterfully with mixed-up positions for his players instructed to understate themselves with ordinary-looking ball skills.
And as the final whistle blew, Uncle Joe remembers so vividly the streams of fans running onto the pitch. Joe thought better of it and jumped down onto the surrounding moat to enjoy a cigarette in relative safety. Then, emanating from the hordes on the terraces came a cry 'Joe-Joe' from the recognisable voice of old Father Holloran, and they danced and sang like the fans of the first ever British Team to win the European Cup with players originating within a radius of 30 miles.
This most glorious event and post-match celebrations were enriched even more by the local Portuguese folks, who, like Seville some 36 years later took the Celtic fans to their hearts. From the terraces came shouts of encouragement to keep singing after that stinger of an Inter penalty. Lining the streets on the way back to the airport for the midnight flight, Joe 'felt like royalty'. Not to mention the clamour for the club's memorabilia, and hence the Celtic pen our uncle kindly gave to a local boy who literally danced and chanted 'Celtic-Celtic' in celebration of his gift.
"Once in that final and as time went on and on, we just knew Celtic had a chance".
So returning to his home community in Tollcross would be something special – and oh Bhoy it was.
From the Gallowgate along London Road the masses came. And now divine intervention chapter 4 . . .
To Uncle Joe's amazement, right there on the telly, in the Coatbridge Accordian Band, at the front of the Celtic team lorry parade was none other than John McMahon, an old friend. Not known for his musical talents, and probably never having pressed a button or squeezed the aforementioned box in his life, this likely lad had somehow managed to blag his way into the band and the parade. Well the stories just keep coming. And we'll long for and be tickled green and white with many, many more.
And what does our uncle Joe have to say to us to add that final sparkle to probably the most glittering piece of history that he or anyone else in our family has or will every see in our humble lifetimes?
"Celtic is a way of life – not just a fitba team. Go and enjoy it while you are young."
God bless this man. Long live our Celtic, the Lisbon Lions, for all of us.
Neil Barnes