ONE of the few St Johnstone supporters who would travel to Celtic Park to support the Perth side has complained that the price for the away end has increased to £30 this season. He also makes the very valid point that there has to be a ceiling on this at some point.
Celtic Park up to £30 for unrestricted view away end tickets this season. At some point there has to be a ceiling here.

— St Johnstone 1884 (@stjohnstone1884) July 19, 2019
You may remember toward the end of last season that we pointed out that both Celtic and Motherwell were due to play at Rugby Park within a few days of each other but that they price charged for away tickets was considerably higher for the Celtic fans that those following Motherwell.
The St Johnstone supporter complaining about his £30 is right and we should have sympathy for his point of view particularly as it signals that this will be the price that Saints will charge the travelling Celtic support this season when we visit McDiarmid Park.
Talking of Kilmarnock, they would traditionally give Celtic and indeed the Rangers both stands behind the goals but decided at the end of last season to restrict the away stands to one rather than two. This was to encourage more Kilmarnock supporters to attend the games with the club on a high after Steve Clarke's fine work as their manager. They won that game against the Rangers to qualify for Europe.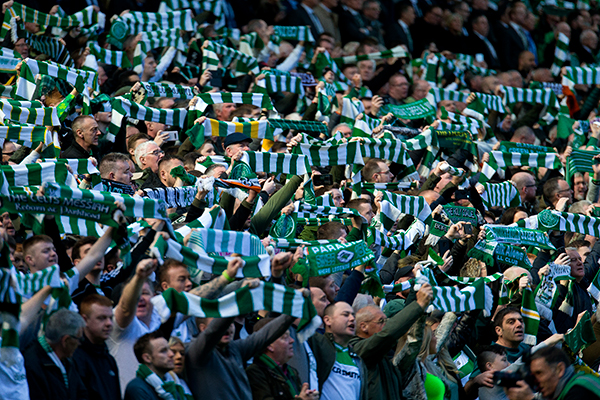 Maybe after their exit from Europe against the Welsh minnow, the Kilmarnock board will have to review this decision to reduce the tickets for the travelling Celtic and the Rangers supporters?
This policy of reducing away support last season worked for the Rangers who instead of having 7000 Celtic Supporters in the Free Broomloan restricted this to 800 in the corner and turned their two defeats from the previous season when Celtic visited into two wins.
Celtic cut their numbers too and won both their games against the Rangers last season – again showing an improvement on the previous season as the new Ibrox club got themselves a goalless draw the previous season when the away support was larger.
The ticket price for away supporters at Celtic Park or Ibrox for Glasgow Derbies has been £49 for a considerable time. Is this the season when the £50 ailing will be broken through? Certainly by cutting supply drastically the demand increases from this looking for tickets.
A few years ago the Affiliation were part of a campaign on away ticket prices under the heading Twenty's Plenty. Celtic buses are currently taking names for the trip to Motherwell but will the ticket price reach £30 at Fir Park?
Going back to the St Johnstone supporter who complained about the £30 he's being charged to visit Celtic Park to support his team. Some of the comments to his post on social media are worth noting.
30 quid seems to be the standard for away tickets this season. Getting out of hand.

— Kieran (@Kieran_Celtic) July 19, 2019
We're paying similar for @MotherwellFC and we can't see most of 1 half , I've yet to see all of a game at @AberdeenFC … something has to be done!

— carol o'connor ???????????????????????????????? (@carolk23) July 19, 2019
That's pretty much what we get charged at every away game and have done for years. Scandalous that clubs charge so much.

— Scottsman78 ???? (@Scottsman1978) July 19, 2019
well maybe if small clubs hadn't ripped off travelling celtic fans for years I would have a bit of sympathy

— CBW (@cbtjobwallis) July 19, 2019
Should be £20 per away ticket for every ground regardless who is playing.

— Wolfe Of Parkhead ???????????????????????????????? (@ParkheadWolfe) July 19, 2019
When you consider travel expenses etc. £20 is more than enough. I cant see how cheaper away tickets will stop people buying season tickets at their own club tbh. The only reason I dont think it will happen is that every other club uses Celtic and Rangers fans as cash cows.

— Wolfe Of Parkhead ???????????????????????????????? (@ParkheadWolfe) July 19, 2019