BRENDAN RODGERS may have to send out an SOS message to Dedryck Boyata to get off the beach and back to Parkhead for the visit of Rosenborg next week.
The Norwegian Champions had a lucky escape last night as they were only seconds from being eliminated from the Champions League by the party-timers from Iceland. Valur pulled a goal back on the night to make the score 2-1 and would have progressed on the away goals rule but they conceded a last gasp penalty which was netted to send Rosenborg through.
Brendan Rodgers will be well aware of the standard shown by the Norwegians and may feel that he has enough – just about – to cope defensively after last night's sending off.
Essentially we could go into this game with a back four of Forrest, Ajer, Hendry and Tierney.
Brendan though has been talking through the options and reflecting on that red card.
BOYATA: "With Boyata, I don't know – I'll need to assess that over the next few days," said Rodgers. "It gives us a problem but that's all it's been for us. Every pre-season there is always an issue with centre-halves."
COMPPER: "Marvin has a problem with his abductor, so we'll see how that is, but it's highly unlikely he'll be available."
LUSTIG: "With Mika it's a possibility but we have to respect he's been at the World Cup and played a long season, when he comes back he won't be fit and it'll take a couple of weeks to get up to speed."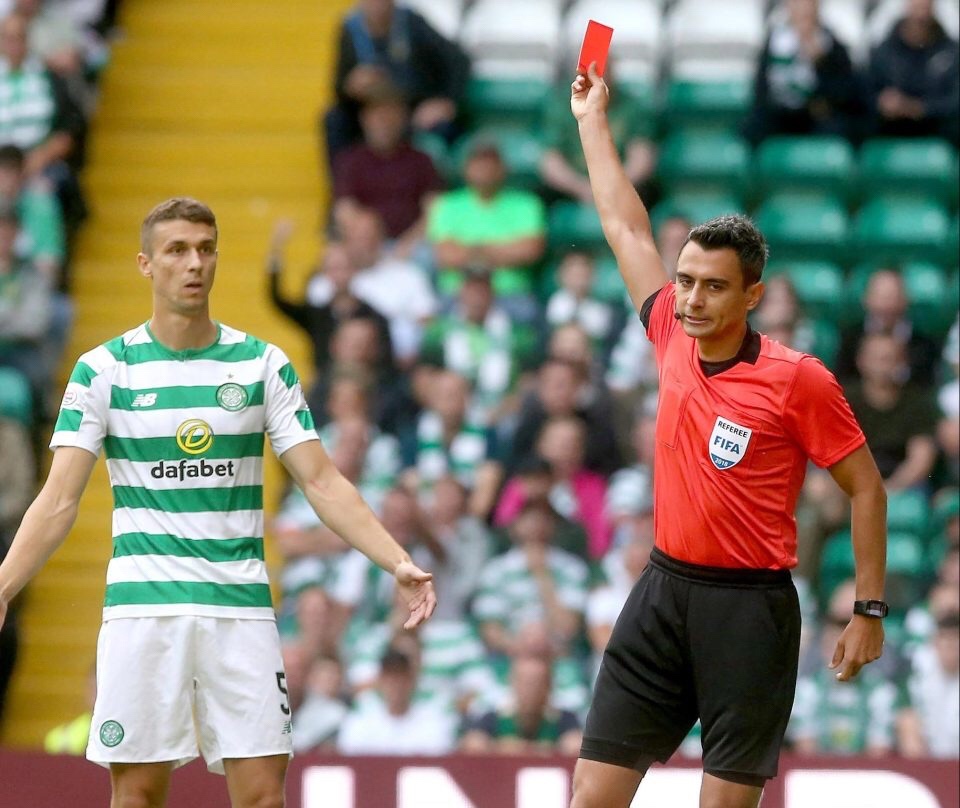 SIMONOVIC:"In European football it's always difficult when your foot is that high," he said. "I thought the referee could have kept him on the pitch and given him a warning. Because I don't think it was intentional.
"The ball was popped back at him quickly and he's raised his boot which has caught their player. It was the same player who elbowed Kieran Tierney in the face.
"He tried to cushion the header back to his team-mate and it's come back to him quickly. It was just an impulsive thing really, he was going for the ball.
"In European football, you normally get punished for that."
FORREST: "The important thing was how we dealt with it. We weren't flustered. We still tried to attack the game. We put James Forrest at right back and he was brilliant, getting forward, We had good balance when down to 10 men.
"It was a shame because we looked good with 11 men but we still got the job done over two legs. I was pleased with both sides of our game.
"It was one of those things the players had to deal with and they know how to cope with those situations. They coped very well."