First day of training for new Celtic signing Vasilis Barkas…
🇬🇷🍀 Our new goalkeeper, Vasilis Barkas training at Lennoxtown today! 🧤 pic.twitter.com/qHvMBZA1pt

— Celtic Football Club (@CelticFC) July 31, 2020
And his new teammates were all hard at it too as they prepare for Sunday's Premiership Opener against Hamilton at Celtic Park…
📍 Lennoxtown

A lovely day for training as the Bhoys get set for Sunday's Scottish Premiership season opener! 👌#CELHAM #SPFL pic.twitter.com/sDzeBiSWIy

— Celtic Football Club (@CelticFC) July 31, 2020
Vasilis Barkas and the Welcome to Celtic interview…
Neil Lennon took questions from the media ahead of Sunday's game…
🎙️Neil Lennon took questions from the media this afternoon ahead of Sunday's League opener against @acciesfc #CELHAM pic.twitter.com/Ueo8JK8j1A

— Celtic Football Club (@CelticFC) July 31, 2020
Here are some of the Celtic manager's responses…
"It's exciting the anticipation is building now. It's a long time since we've had competitive football but we've done a lot of work since the middle of June and it's been a good week so far – all the lads are fit apart from Mikey Johnston."
💬 NL: "It's exciting the anticipation is building now. It's a long time since we've had competitive football but we've done a lot of work since the middle of June and it's been a good week so far – all the lads are fit apart from Mikey Johnston." #CALHAM

— Celtic Football Club (@CelticFC) July 31, 2020
"We're going into an historic season, but we can't let that get away from the day-to-day work and the standards and values the club has set over the last few years."
💬 NL: "We're going into an historic season, but we can't let that get away from the day-to-day work and the standards and values the club has set over the last few years." #CELHAM

— Celtic Football Club (@CelticFC) July 31, 2020
"We've not really touched on the magnitude of the season yet, we'll probably do that over the next 24 hours. We have to get to work on what's expected of us, in order to accomplish what we want."
💬 NL: "We've not really touched on the magnitude of the season yet, we'll probably do that over the next 24hrs. We have to get to work on what's expected of us, in order to accomplish what we want." #CELHAM

— Celtic Football Club (@CelticFC) July 31, 2020
"We're very pleased (with Vasilis Barkas). I think he'll be a very good addition to the squad. He's got a good presence, good size and he's very composed. He's got good reflexes and he's comfortable coming for crosses which is what you want in the Scottish game."
💬 NL: "We're very pleased (with Vasilis Barkas). I think he'll be a very good addition to the squad. He's got a good presence, good size and he's very composed. He's got good reflexes and he's comfortable coming for crosses which is what you want in the Scottish game." #CELHAM

— Celtic Football Club (@CelticFC) July 31, 2020
"The hype  is something we can't control. I dont think the pressure is as intense as it was winning seven, eight and nine really. It's up to the rest to stop us, rather than us putting ourselves under massive pressure."
💬 NL: "The hype (of the season) is something we can't control. I dont think the pressure is as intense as it was winning seven, eight and nine really. It's up to the rest to stop us, rather than us putting ourselves under massive pressure." #CELHAM

— Celtic Football Club (@CelticFC) July 31, 2020
"We're going to have to adapt quickly to no crowds and get used to the lack of atmosphere but we have to approach every game as we have done in the past."
💬 NL: "We're going to have to adapt quickly to no crowds and get used to the lack of atmosphere but we have to approach every game as we have done in the past." #CELHAM

— Celtic Football Club (@CelticFC) July 31, 2020
"Hamilton might take the lack of a home crowd as an advantage but they still need to play our team. What I expect from them is good energy, well drilled, well organised and well coached. We have to be right on it."
💬 NL: "Hamilton might take the lack of a home crowd as an advantage but they still need to play our team. What I expect from them is good energy, well drilled, well organised and well coached. We have to be right on it." #CELHAM

— Celtic Football Club (@CelticFC) July 31, 2020
Meanwhile the new first pick Celtic goalkeeper admitted that he spoke to Celtic legend Georgios Samaras as he was waiting for the transfer details to be agreed between Celtic and AEK Athens.
"I spoke with Samaras before I came to Celtic. I have a very good friend who is close with Samaras and has a very good relationship with him, Vasilis Barkas reveals as reported by Scottish Sun.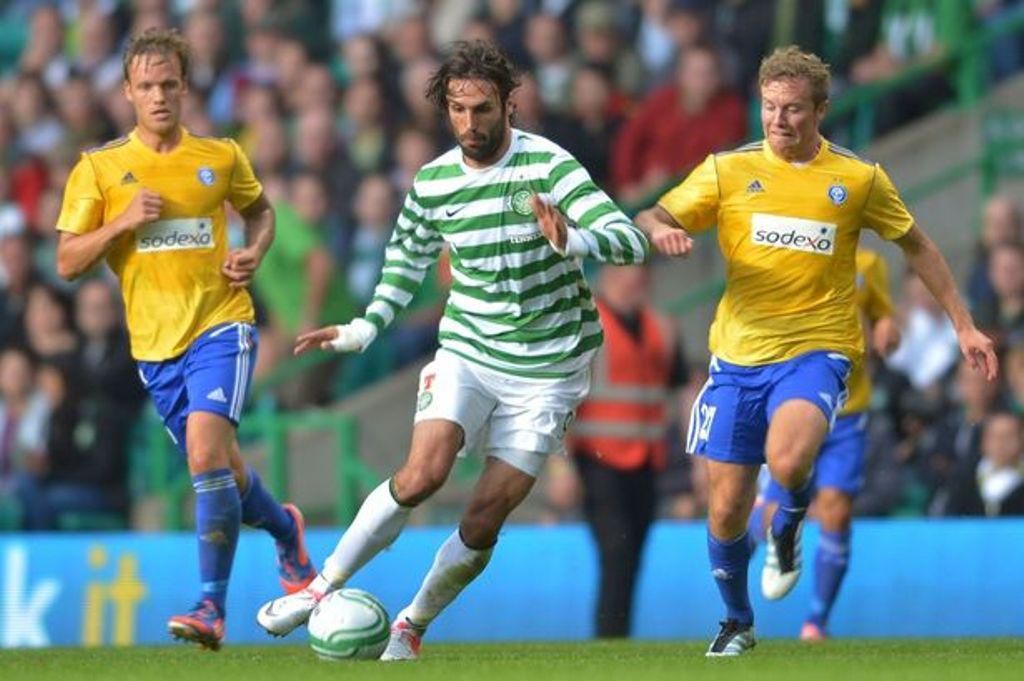 "He just said 'go, don't even think about it'. He told me how Celtic was a very big team and the fans loved the team so much and were crazy about the team. That made my decision easier.
"But I already knew Celtic were a very big club with great fans and a great stadium which has a good atmosphere. I think all the players want to play for Celtic.
"But it was good to speak to Samaras. I was able to speak to him because one of my good friends plays for OFI, where Samaras is Sporting Director.
"I know he is the only Greece player to play for Celtic so I hope to have the same career here that he did because I know he was successful. I want to become a big player here like he was.
"I remember he played in the last 16 of the Champions League with Celtic and I'm ready to do the same. I want to help take Celtic as far as possible in the Champions League."