This tragic story is about a Celtic supporter called Thomas 'Kidsco' Reilly. It was a story that was recently featured in the excellent Celtic fanzine More than 90 Minutes and was told on The Celtic Star podcast.
Here Aidan Digney with Andrew Milne tell the story of a young Celtic supporter back in the 1980s…
A number of years ago I was at a Celtic game when I saw a banner been unfurled by members of Belfast based Celtic supporters club Eire Ga Brach. The banner was to mark the 30th Anniversary the death of Celtic fan Thomas "Kidso" Reilly who was murdered, by a British soldier in 1983. I hadn't known much about Kidso until that day. After the game along with fellow Mt90M contributor Michael Pringle we were introduced to members of the Reilly family who had travelled over to see the tribute and respect getting paid to Kidso. Among the family members we met was his brother Jim who many old Punks will remember as the man behind the drum kit of SLF.
After that Kidso was mentioned again by another friend who sent me a link on YouTube for a show on BBC TV the One Show on BBC, one of the Kemp Brothers, Gary from Spandau Ballet spoke about their song "Through the Barricades" which he had written a number of years after Kidso was murdered. At the time of his murder Kidso was working as a roadie for the band and Gary was taken by Kidso's brother to visit the grave and that was the first time Gary had witnessed the barricades.
Recently after the Mt90M annual dinner in Glasgow I got a chance to hear more about Kidso from his friend Aidan Digney. I will let you read what Aidan told me in his own words.
Thomas "Kidso" Reilly was amongst the best Celtic men it has ever been my pleasure to know and have as a friend.
Long before the advent of cheap flights and high speed boats Kidso made his way from Ireland to Celtic Park numerous times throughout a season, I was fortunate enough to have gone with him on a brave few occasions. We bunked boats as we didn't have any money to pay, we hitched lifts, we bunked trains, but no matter how we got there or by what means we always got to Celtic Park. Sometimes the journey took a full day or involved sleeping rough somewhere on route before we hitched another lift from Stranraer, Cairnryan, and Ayr or wherever we ended up.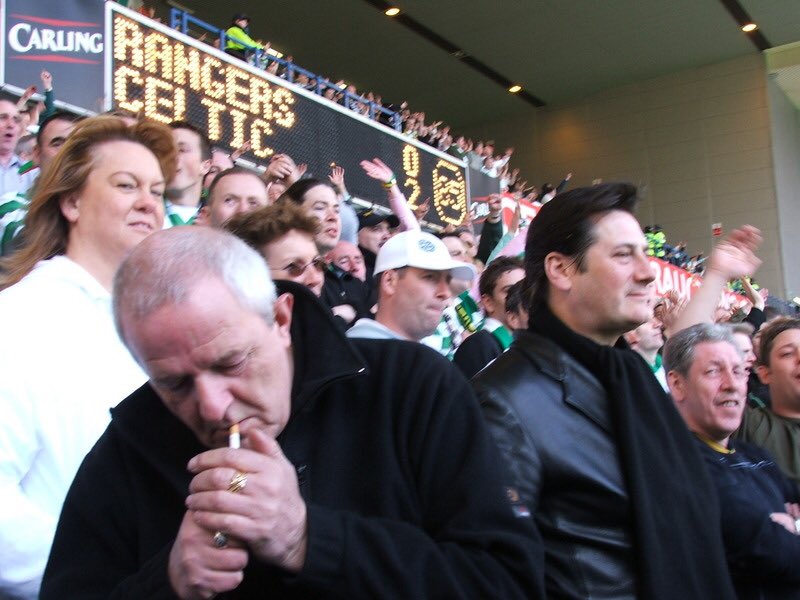 Kidso was always the life and soul of the party-he was a great craic to be with and most of the regulars in Derry Trainors became very good friends-even though he was just a young lad. He was fanatical about Celtic; he lived and breathed everything about the club.
Kidso, although he came from a nationalist/republican background was never much into politics, he was more into fashion, music and Celtic-he never bothered much with what most of us were into at the time. Through his brother Jim (drummer of Stiff Little Fingers) he got a job as a roadie for a number of high profile bands in the late seventies and early eighties. He worked with Bananarama, the Fun Boy Three, Spandau Ballet, and Paul Weller, but he still made his way up to Glasgow whenever he could to watch the 'tic.
He was home for a few weeks holiday in 1983 and out one day with a few mates and after having a carry out they decided to head back home as it was near dinner time and everyone was heading out again that night. The lads were stopped by a British army patrol at the top of the Whiterock road, they were searched and generally harassed before Kidso walked away on to the Monagh road toward his parents' house- he was wearing a pair of shorts and was carrying a flimsy t-shirt, he had been searched and given all the details that were required of him and he saw no further reason to stand and be harassed so he walked on, he got about 50 yards up the Monagh road when private Ian Thain-a British soldier knelt down on one knee, raised his rifle and shot him dead.. Kidso Reilly was murdered on the street on the 9th of August 1983.
Thain became the first British soldier to be convicted of murder whilst serving in Ireland, he claimed he thought Kidso was carrying a weapon-a claim dismissed by the judge as Thains' patrol had searched Kidso barely two minutes earlier, a claim further rubbished by the fact that Kidso wore only a pair of shorts.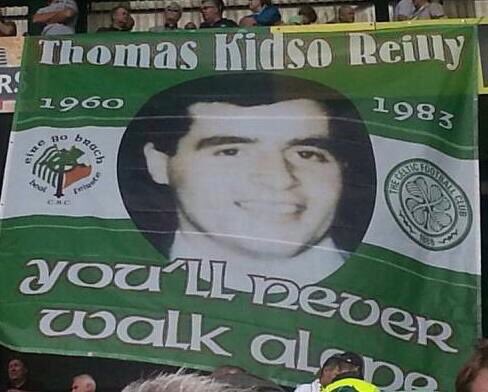 Thain was sentenced to life imprisonment-and the Reilly family seemed to have got at least some sort of justice. But nothing is quite as it seems with the Brits and Ireland. Thain was released after serving only two years in "military custody" and was sent back to his regiment to serve again, he was placed back in the army-a convicted murderer serving and in the payment of HM the Queen.
Kidso's parents both died heartbroken, they idolised their son as all parents do. Kidso worshipped his parents – he was a good and loving son. At this time Kidso's brother Michael is attempting to find out answers to a lot of questions, such as why Thain was re-admitted to the British army-a convicted murderer, what was his role in the army after his release and many other questions.
But please, if you have a God, say a little prayer for Thomas "Kidso" Reilly, a Celtic man in the truest sense of the words and say a little prayer that his family get the answers and the justice they deserve.
Kidso Reilly…1961-1983… God bless you mate. You'll never walk alone
HAIL, HAIL