An interesting insight into how Ange Postecoglou sees his role at Celtic and within that there's an ominous warning for Michael Beale and his board over at theRangers – simply surveying the landscape of the current Celtic set-up this season is not going to get you anywhere because this year and every year the Australian is at the Parkhead club he is going to ensure that he makes the team better than in the previous season.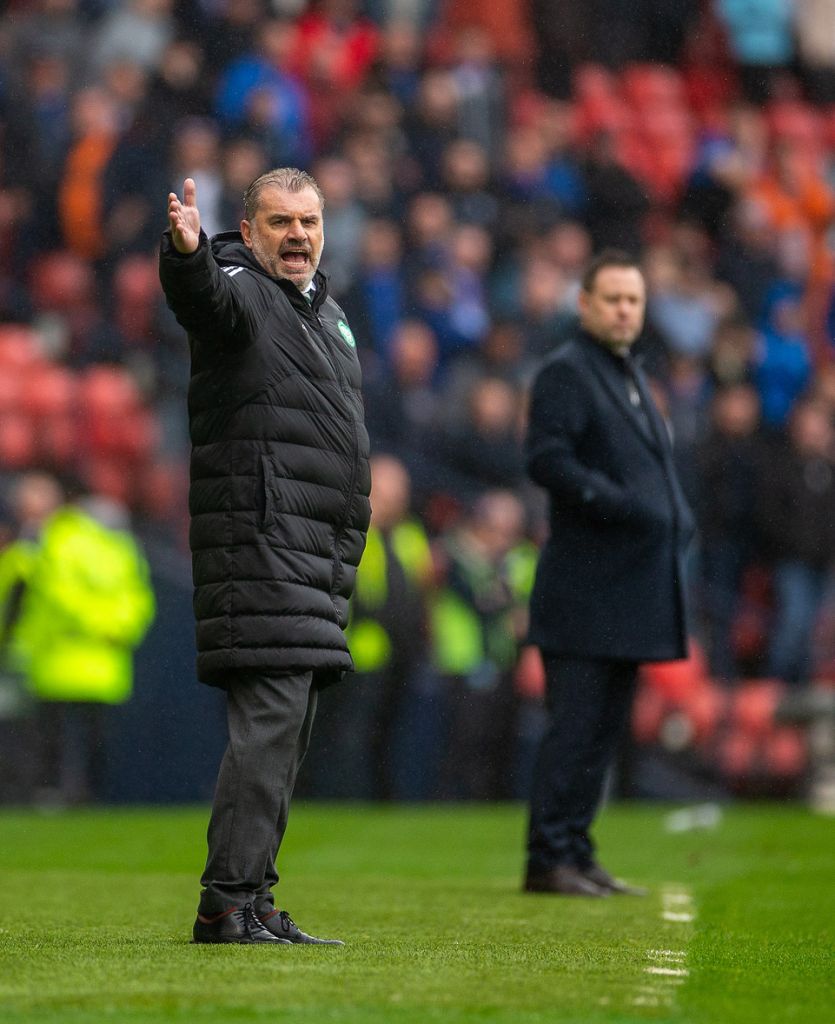 Beale came in and immediately talked about the nine points deficit he inherited not being his responsibility and attempted to sell to their support an argument that he should merely be judged against his own head-to-head record against Postecoglou in the rest of the season following his appointment during the break for the World Cup.
Had Beale got the better of that fantasy league, let's say by six points, then Celtic would still be Champions but Beale could hold his head high and point to the future with well deserved optimism. However that is not how it's panned out so far. Beale has taken theRangers to a massive 13 points behind in the real world and four adrift in his own fantasy football challenge, meaning that Celtic can wrap up an 11th title in 12 season this weekend against Hearts.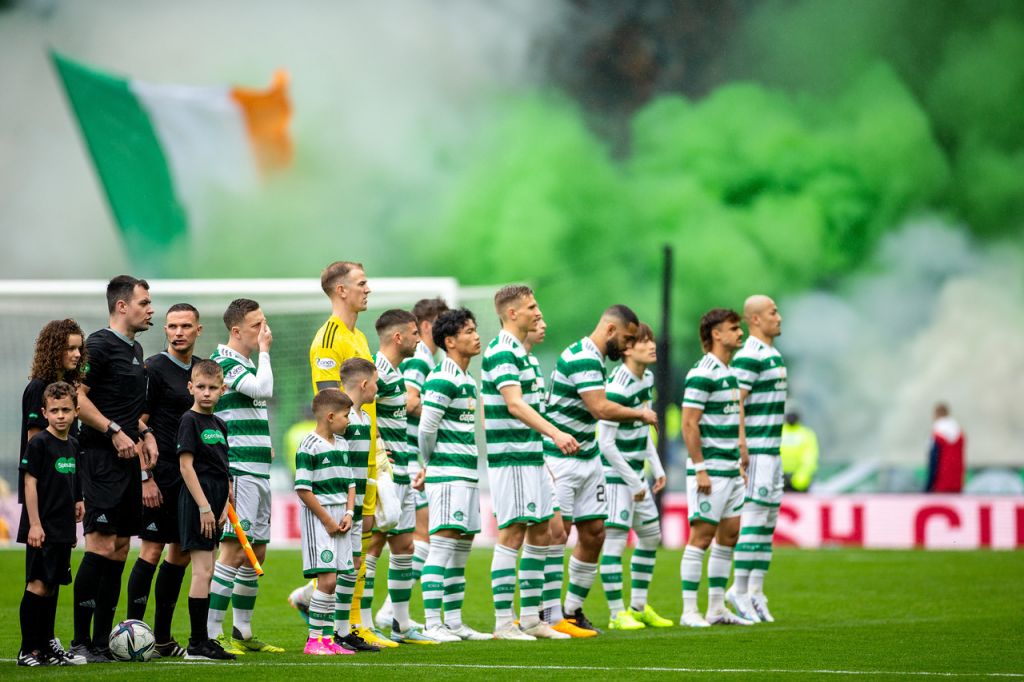 Add to the mix losing twice at Hampden to Celtic, in the final of the League Cup in February and in the semi-final of the Scottish Cup on Sunday and you can see very little positives from theRangers perspective, plus you get the feeling that the power of Postecoglou as a top class, maybe world class, football manager is now fully understood by the Ibrox fanbase but not it seems by the men making the decisions at their club, particularly Beale  who insulted Postecoglou's achievements by putting it all down to luck.
In the aftermath to Sunday's bruising defeat to Celtic, there is now talk of a major rebuild with maybe ten signings coming in to Ibrox this summer. What will the budget available to Beale be and is he the man who can spend that money wisely, particularly since he is now operating as both football manager and director of football following the departure of Ross Wilson to Nottingham Forest?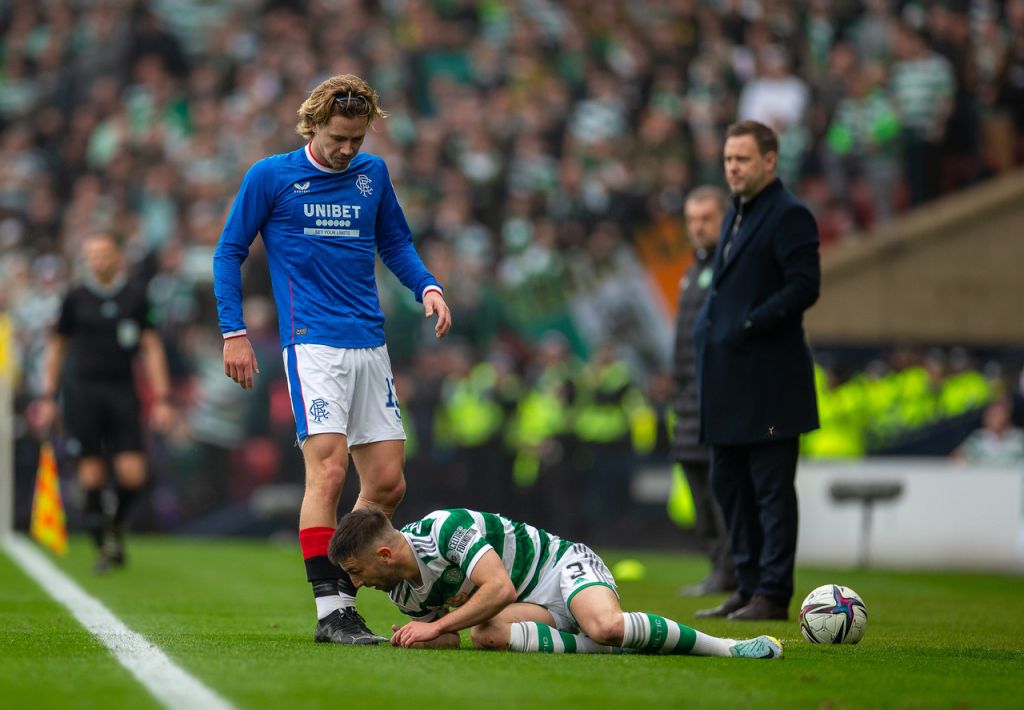 TheRangers fans need to hope and pray that Beale can not only match Postecoglou in the summer transfer market but while the Australian may be looking at two or three signings – maybe more depending on sales – Beale is going to be looking at getting it right on maybe three times the number of signings. That is a tall order to say the least.
That's why Ange Postecoglou's most recent thoughts on this subject should be studied very closely by the manager and the powers that be over at Ibrox. Martin O'Neill had the intelligence to recognise a dominant Rangers when he arrived at Celtic were the benchmark in Scottish football and he therefore needed to assemble a team good enough to overcome the top dogs.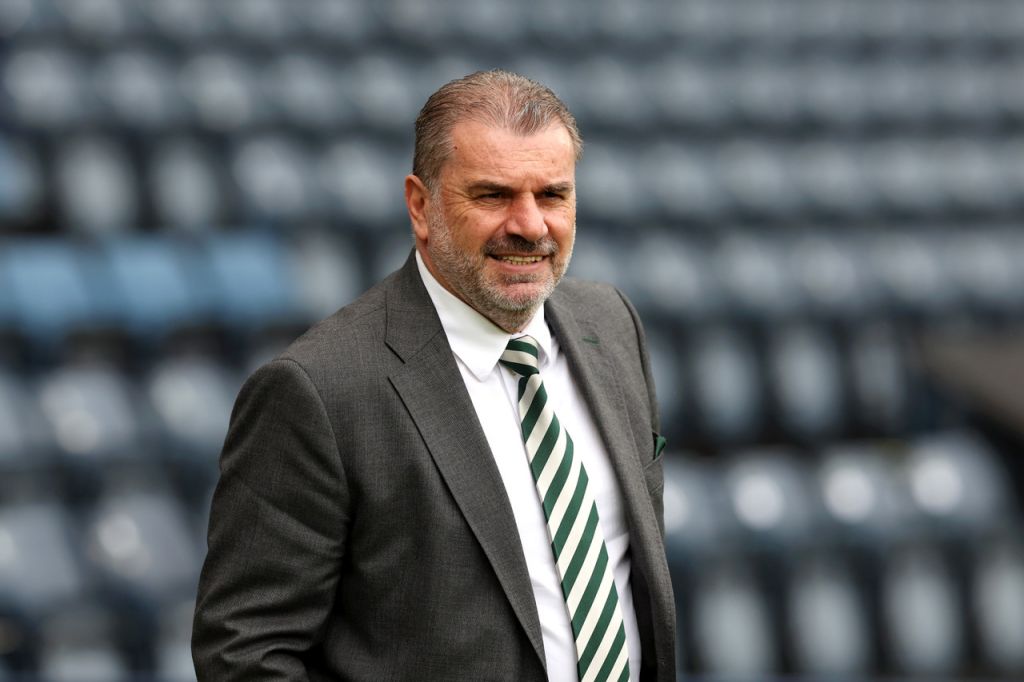 Beale's remarks about Postecoglou being a lucky manager certainly does not create the impression that he actually gets the scale of the task ahead of him and is making a fatal mistake, as far as his current employment is concerned, in under-estimating an opponent who has continually got the better of him.
The boos from theRangers fans towards their own players at the final whistle on Sunday should be wake-up call, or maybe a final warning for Beale who is already on a yellow in the eyes of theRangers support. Unless he can get the better of Postecoglou in a match he isn't going to be given a year in the hot-seat and it will be back to the drawing board for the umpteen time for the club since Charles Green started this football club in the summer of 2012.
"We try to come out of every window stronger than when we went into it. I think we have done that from the first window I had, to last January, to last summer, to this January," Postecoglou told the written media, as reported by The Herald. "Every window you can see we are making strides forward. We will do the same in the next window to make sure we come out of it stronger than we were when we went in.
"To me, that is the only way you can measure what you are doing, by progress. Are we a better side than we were last year? Absolutely. But we need to be a better side in 12 months' time if we want to be in this kind of position to challenge for honours.
"If we stay where we are right now there is every chance that someone might overtake us. We constantly have to be looking to improve. And to do that you can't settle where you are."
On spending the transfer budget he has at his disposal, the Celtic manager admits that he takes this heavy responsibility very seriously indeed and his success in his transfer dealing to date must sure give the likes of Michael Nicholson a huge amount of confidence on the decision making ability of their manager, something that was lacking for instance with Brendan Rodgers and that became a significant reason leading to the quickie divorce one dark February night back in 2019.
"It keeps me up at night! Postecoglou admitted. " I don't want to get things wrong. When you take that responsibility on to yourself, you need to make sure you are always doing the right thing by the football club. That is what I have tried to do."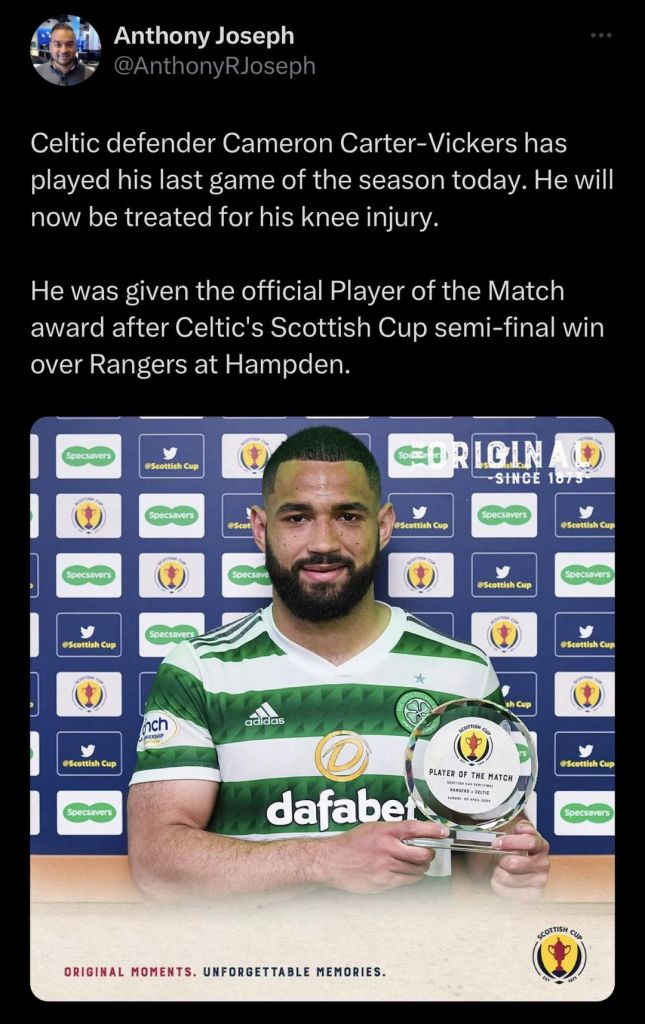 Last summer much of the available funds at his disposal were spent acquiring the services of Cameron Carter-Vickers and Jota, after both players had successful try before you buy loan spells at the club the previous season.   And even the most partisan of theRangers supporters must recognise that the Celtic manager's judgement was spot-on with both players. On Sunday Cameron Carter-Vickers played through injury to keep theRangers out and picked up a well deserved Man-of-the-Match award while Jota scored the goal that ended theRangers; season.
"When you look at that window, it may seem like we didn't do too much," Ange Postecoglou stated. "But those two signings were pretty critical. To be fair, the club backed me. They were significant outlays for a club our size. But we tried before we bought. So we knew what we were getting. And more importantly for me, I knew that they would be better. They are at that age.
"It wasn't just about spending the money to get players back who did well for us last year. I knew that they could be better this year and they have been tremendous assets for us."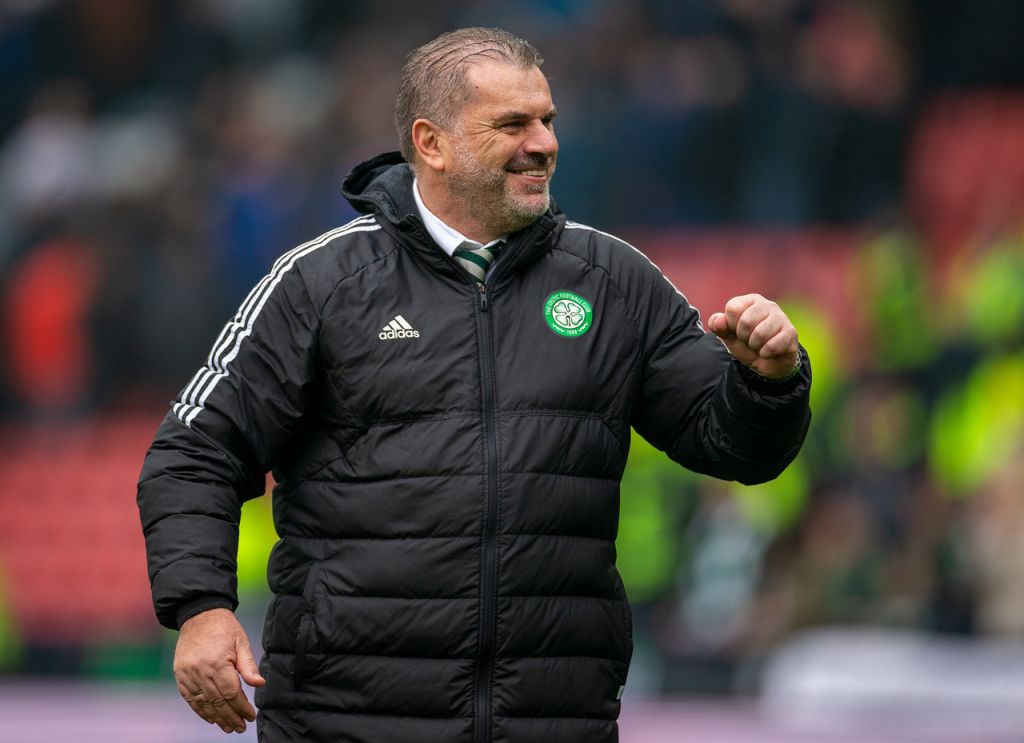 This next part of the Postecoglou insight explains perfectly the difference between him and Brendan Rodgers who the Celtic Board were never convinced was a capable decision-maker spending Celtic's money in the transfer market. Marven Compper anyone?
"It's doesn't need any arm-twisting, but it does require trust and faith on both sides. The club needs to sort of trust my judgement in that and I need to trust the club is going to make the right decision," Ange said. "It isn't limitless in what we can spend. And I knew that those were going to be our two major acquisitions and we weren't going to have a lot of money outside of that to spend. But I thought we were getting two very good footballers who would make us better than last year. Everyone was aligned with that.
"It's an important part of my role. You gain the trust of the supporters and also the people you work with and work for, that your judgement is going to be good on those areas. It's not foolproof, we all make mistakes, but for the most part we have been very successful in identifying the right kind of people to our football club. For me, that is all a manager can ask for, that support. And I've had that.
"But please don't be mistaken, I am no one-man show. I have fantastic people around me who provide the information that allows me to make the best decisions.
"That's what I do, I make decisions. But I don't do that in isolation. I have fantastic people in every department: coaching, sports science, medical, scouting, analysis, media. I will take the responsibility, but I'm not doing this on my own."
With the recent exits at Ibrox a one-man show is exactly what Michael Beale is proposing.  He better hope that he gets lucky.