The European Cup was traditionally Real Madrid's trophy when the competition began. Inter Milan had won the competition too, but Celtic toppled them to become the first team from Britain to be crowned champions of Europe in 1967.
In Madrid it was believed that they were the rightful kings of Europe. As such, with Alfredo Di Stefano retiring, a testimonial was held at the Bernabeu on 7 June 1967. Celtic were the visitors and over 100,000 people turned up hoping to see Real Madrid set the record straight with victory.
7th June 1967, Celtic beat Real Madrid 1:0 at the Bernabeu in a testimonial for Alfredo Di Stefano.

Bobby Lennox got the winner but Jinky stole the show. pic.twitter.com/Fb9DkfQNlq

— Li'l Ze (@LilZe_7) June 6, 2021
The match didn't go according to the script as Celtic utterly dominated proceedings. Jimmy Johnstone gave one of the finest footballing displays ever seen, as the entire Bernabeu stadium rose to their feet giving the winger a standing ovation. So mesmerised were the crowd by Jinky, that they chanted "OLE!" every time he touched the ball. It was remarkable that the greatest ever Celt had stole the occasion from Di Stefano, who was one of the all time greats.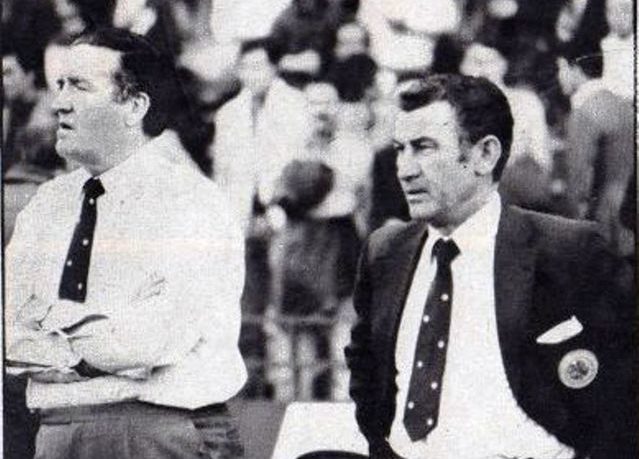 Celtic won the game 1-0, Johnstone assisting Lennox for the winner. The result confirmed Celtic as unquestionably the greatest club team in Europe and it also rounded off a campaign which had seen the Hoops defeat George Best and Bobby Charlton's Manchester United 4-1, before winning all five available trophies, conquering Europe and then toppling Real Madrid in the Bernabeu.
Liam Kelly
Real Madrid 0 Celtic 1
Celtic's season didn't end after their European Cup win over Inter Milan in Lisbon on 25 May 1967. There was one more game to play and it happened on 7 June when Jock Stein took the Champions of Europe to play Real Madrid in the Bernabeu Stadium for a testimonial match for the legendary Alfredo Di Stefano.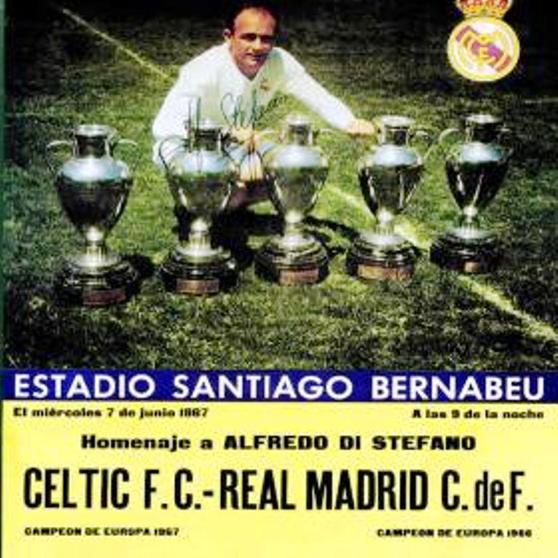 Real Madrid, the previous winners of the European Cup – they had won it so many times they got to keep the old trophy so Celtic were the first team to win the new cup – felt that they were still the best side in Europe and wanted to remind the newly crowned Champions of this, so this was a competitive match and one that Jock Stein was desperate to win.
Writing in The Celtic View in November 2005, Anna McMillan described the game which attracted a crowd of at least 120,000…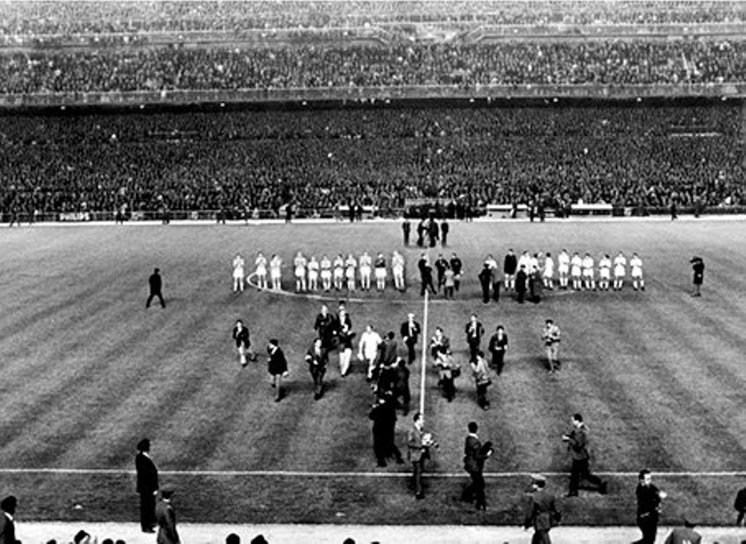 "They assumed they would also have the trophy in the Bernabeu Stadium in 1967, but Celtic had other ideas. It appears that Real were rather 'put out' by Celtic winning 'their' trophy, with the Spanish press claiming that the European Cup belonged in Madrid. So it is understandable that, when choosing an appropriate team to honour the great Di Stefano, Celtic were approached and, indeed, were thrilled to accept the challenge.

"The sides had met back in 1963, with Celtic losing 3-1 in a charity game in Glasgow. On June 7, 1967, just two weeks after they won the European Cup in Lisbon, Celtic took on Real Madrid at the Bernabeu.

"Di Stefano played for 20 minutes of the game and received a standing ovation from the 120,000 supporters inside the stadium when he left the pitch. Neither side played as one might expect in a friendly match, but instead competed fiercely to win the match. And taking centre stage on the night was Jimmy Johnstone, whose skill and artistry completely mesmerised the Madrid players.

"Indeed, such was the brilliance of Jinky that the Spanish support cheered him, shouting 'Ole!' whenever he was on the ball. Despite many discussions during my tours here at Celtic Park, when a good few men advised me that it was Jinky who scored the only goal of the game, such was the magnificence of his performance that night, it was, in fact, Bobby Lennox who netted the winner.

"It is also fitting to say that Alfredo Di Stefano had been in Lisbon for the European Cup and had apparently gone to Celtic's hotel to wish Jock Stein all the best for the game against Inter Milan. It could be that it was during this game that the great man decided the famous green and white hoops would be the perfect opponents to celebrate his own wonderful football career.

"It was a fantastic night in Madrid. Just when we thought it couldn't get any better, here was the icing on a big, fat, beautiful cake."

 
After tearing Real Madrid apart, Jinky got a taxi to Benidorm.😂 pic.twitter.com/drFOa87BnF

— Li'l Ze (@LilZe_7) June 6, 2021

TEAMS
Real Madrid: Junqera, Calgne, De Feilipe, Sanchis, Pirri, Zoco, Serena, Amancio, Di Stefano (Grosso), Velasquez and Gento.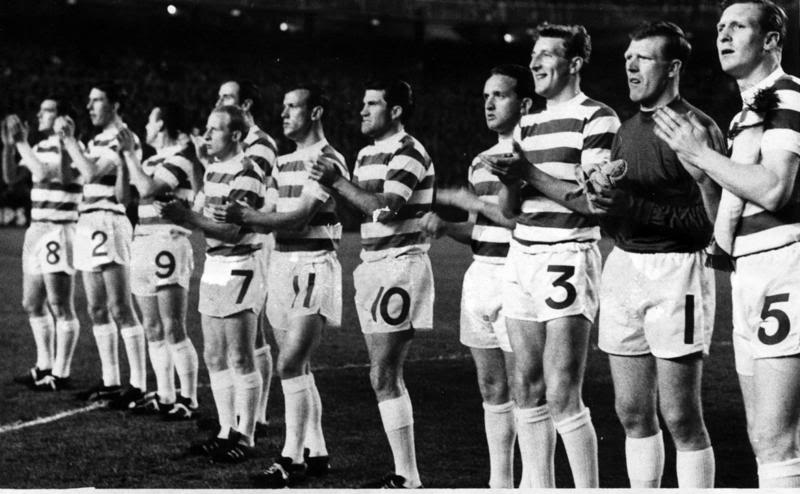 Celtic: Fallon, Craig, Gemmell, Clark, McNeill, O'Neill, Johnstone, Murdoch, Wallace, Auld and Lennox Subs: Simpson, Chalmers, Gallacher and Cattanach.
Scorer: Lennox 69 mins.
Attendance: 120- 135k
Referee: S Zariqulegui (Spain
SOME CELTIC QUOTES
"Winning the European Cup was the making of the club. After that everyone knew about Celtic. We even beat Real Madrid two week later. They'd won it the previous year and they kept saying they were the real champions, but we went a beat them 1-0 on their own patch in front of 135,000 people." Bobby Lennox
"It was Di Stefano's testimonial. It was a fantastic evening and the game was very competitive. Bobby Lennox scored the goal for us – and afterwards there could be no doubt that we could be called true European Champions." Billy McNeill
'Without a shadow of a doubt that was my best game for Celtic. With a quarter of an hour to go, none of them would come near me.' Jinky on Alferdo di Stefano's testimonial speaking in 1995.
"But the Scotsman who gave me the most trouble was Bobby Lennox of Celtic. My testimonial at the Bernabeu was against Celtic as, of course, they were the champions of Europe in 1967 and, although I remember the Bernabeu rising to Jimmy Johnstone, I admired Lennox greatly." Legendary Di Stefano on Lennox
"I had hundreds of great moments in football, including scoring Scotland's second goal in our 3-2 win over England at Wembley in 1967. It's hard to pick a defining moment, although it would need to be from the same year when Celtic won the European Cup in Lisbon. Which moment to choose, though? That's even more difficult.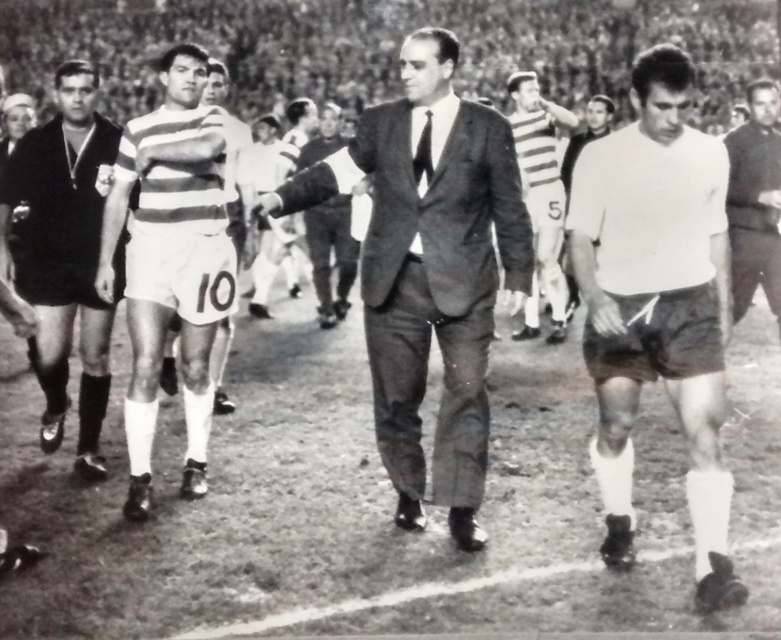 Was it when the final whistle went after we'd beaten Inter Milan 2-1? Or was it when we got back to our hotel to kick-off our celebrations? No, I think I'd have to go for our homecoming, because it wasn't until we got back to Glasgow that the worth of what we'd achieved began to sink in.
"The funny thing is, I can't even remember where we landed: Glasgow Airport or the old one at Renfrew.
"What I do remember is that hordes of folk lined the route all the way back to Celtic Park, where there must have been another 60,000 fans waiting to greet us. The atmosphere was fantastic. So many people were still outside later that we couldn't leave by the front door. I've still got a memory of me going across the pitch to escape via the Janefield Street exit.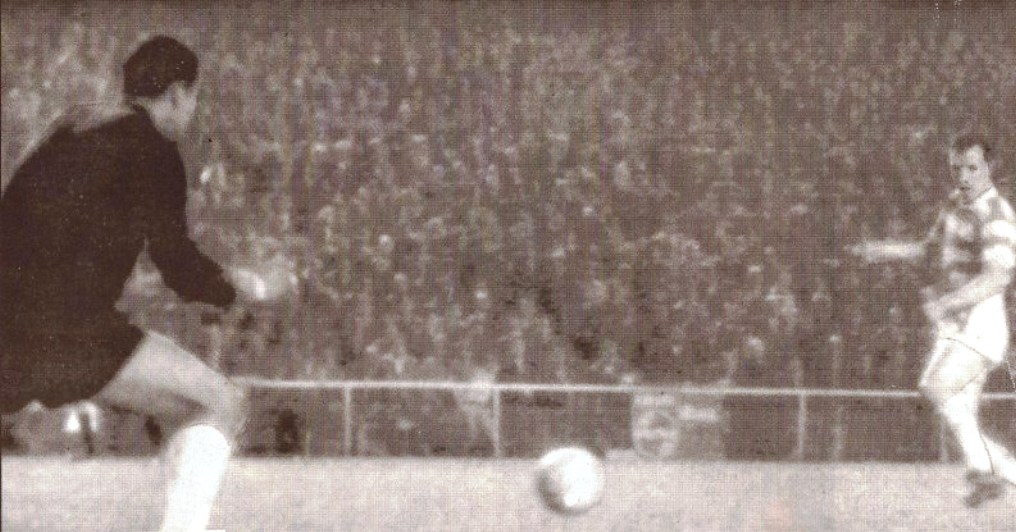 "We soon went to Madrid to play in Alfredo di Stefano's testimonial and the papers were full of how Real Madrid would show they were the best in Europe. We won 1-0. Who scored? Err, Lennox, after Wee Jimmy Johnstone had beaten about 14 opponents." Bobby Lennox on 1967, Lisbon and Di Stefano's testimonial.