Legendary Celtic star Bertie Auld's match-worn jersey from Celtic's 1967 European Cup final triumph in Lisbon is set to sell for as much as £20,000 when it goes up for auction on 25 March.
The enigmatic midfielder wore the famous green and white hoops at the Estádio Nacional in Portugal's capital city on 25 May 1967 as Celtic became the first British side to win the European Cup. After the full-time whistle Bertie was pictured swapping shirts with Inter captain Armando Picchi, pictured  below ahead of the 1964 European Cup Final between Real Madrid and Inter Milan, which Milan won 3-1. Note how the competition is described in the caption below as  the European Cup of National Champions.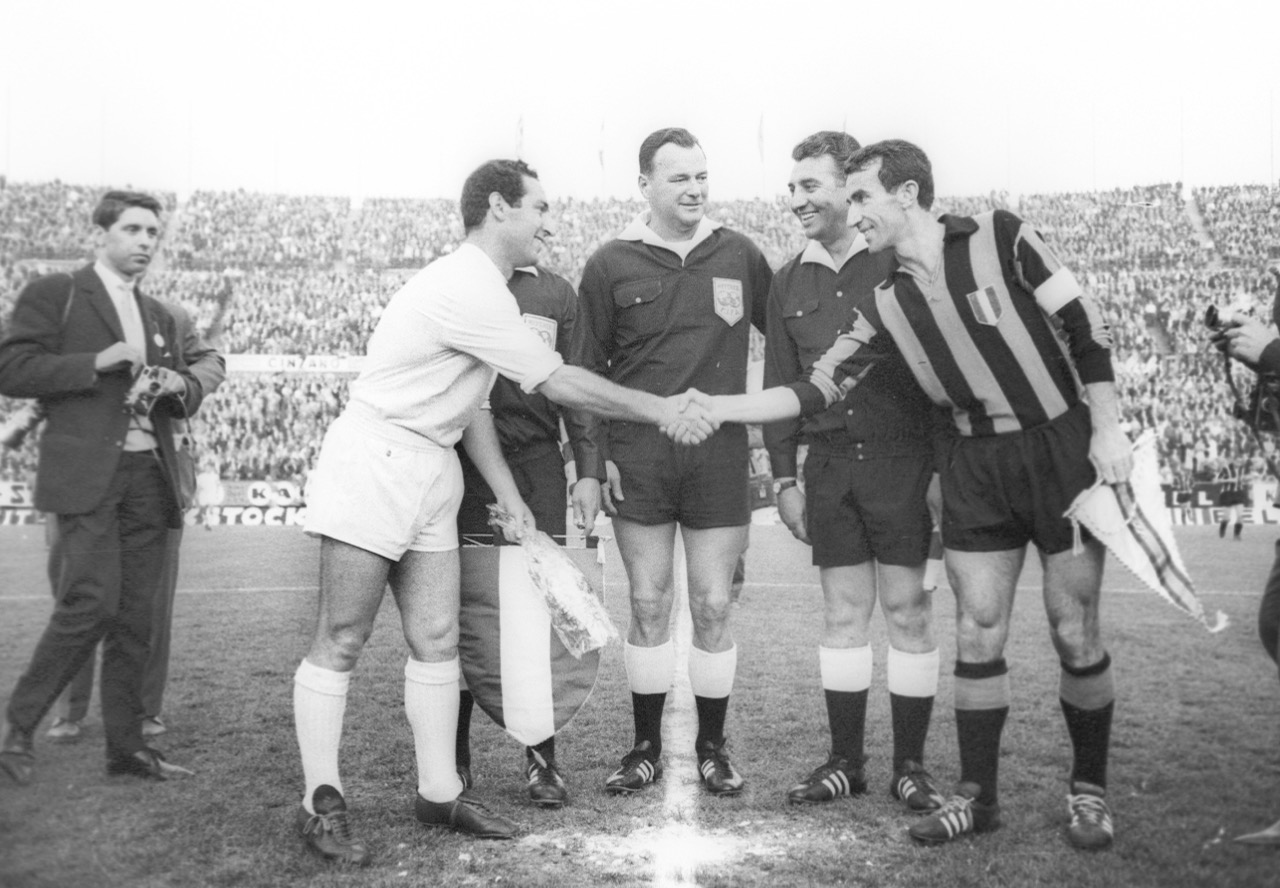 Armando Picchi was thought of as one of Italy's greatest defenders during that period, playing in an Inter team who were famous for the strength of their rearguard. Unfortunately Picchi died only a few years later in 1971 aged just 35. His family have held on to the top ever since and are now selling it in an auction in Glasgow, where it is expected to break records.
Bertie Auld played 283 times for Celtic during two spells at Parkhead scoring 85 goals in total, but he is best remembered as one of the Lisbon Lions who excelled under the guidance of Jock Stein to take Celtic to the highest heights, as Celtic dominated at home and in Europe during the late 60's and early 70's. The man who will be remembered as much for his personality and love for Celtic as he will for his genius on the football pitch, sadly passed away on 14 November 2021, aged 83.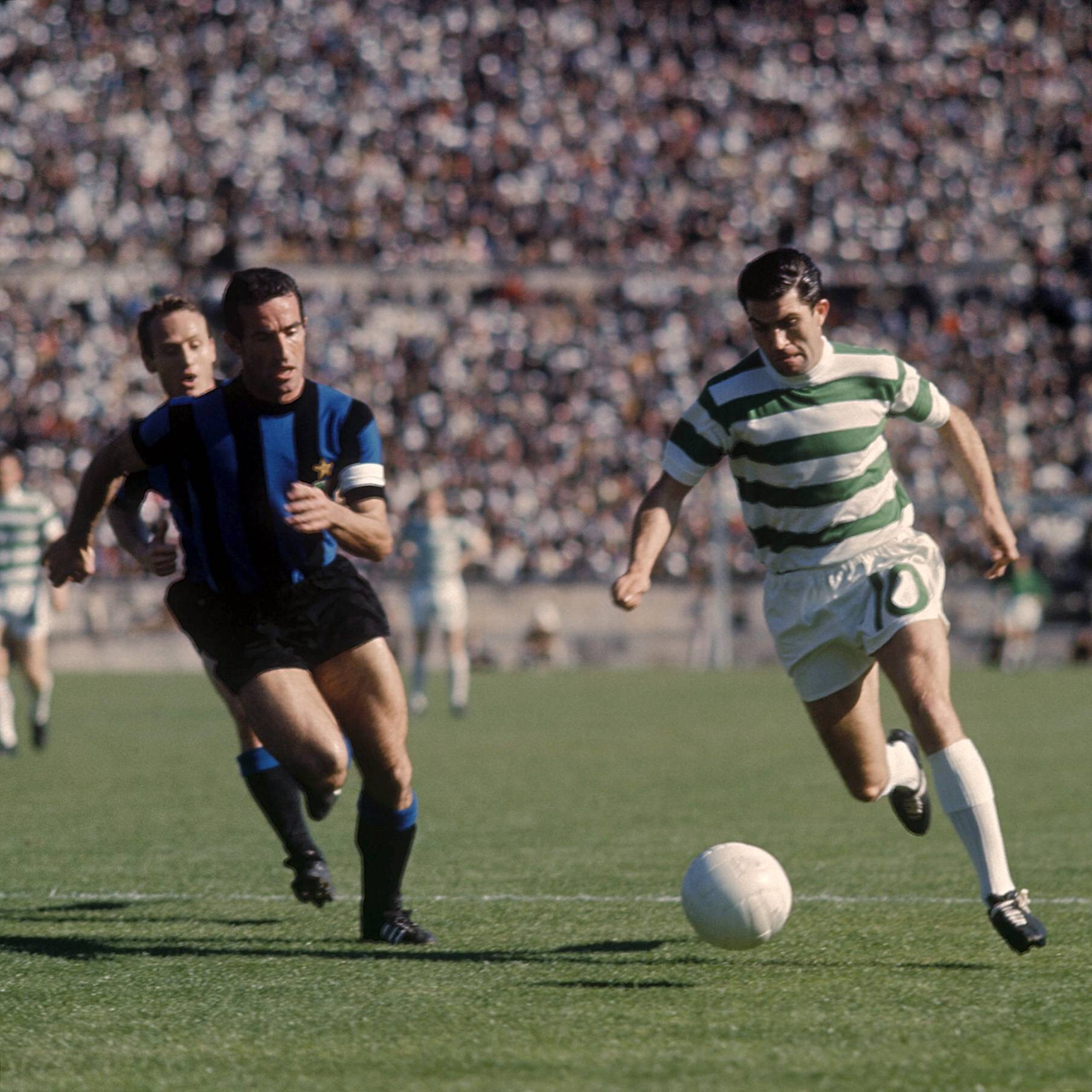 David Convery, who is a collectors specialist at the Great Western Auctions said Bertie's match-worn jersey would attract interest from the Celtic faithful and other football enthusiasts around the world. In his opinion there is a good chance the green and white hooped, short-sleeved top could break the £15,000 record for a Scottish football jersey at auction.
He said, as reported by Scottish Sun: "The famous green and white hoops are instantly recognisable the world over. However, it can be extremely difficult to authenticate players' examples due to the lack of a club badge or number, which Celtic players wore on their shorts at that time.
"This Celtic European Cup Final shirt comes with a letter of provenance from the Inter Milan captain's son, which is the icing on the cake, and we are delighted to be able to offer it in our auction.
"There is a famous image of Bertie and Armando Picchi on the pitch, side by side, which adds to the mystique of this shirt. The Lisbon Lions are an iconic team — the first British side to lift the trophy — and Bertie Auld was the charismatic player who got the players up and ready to go before every match.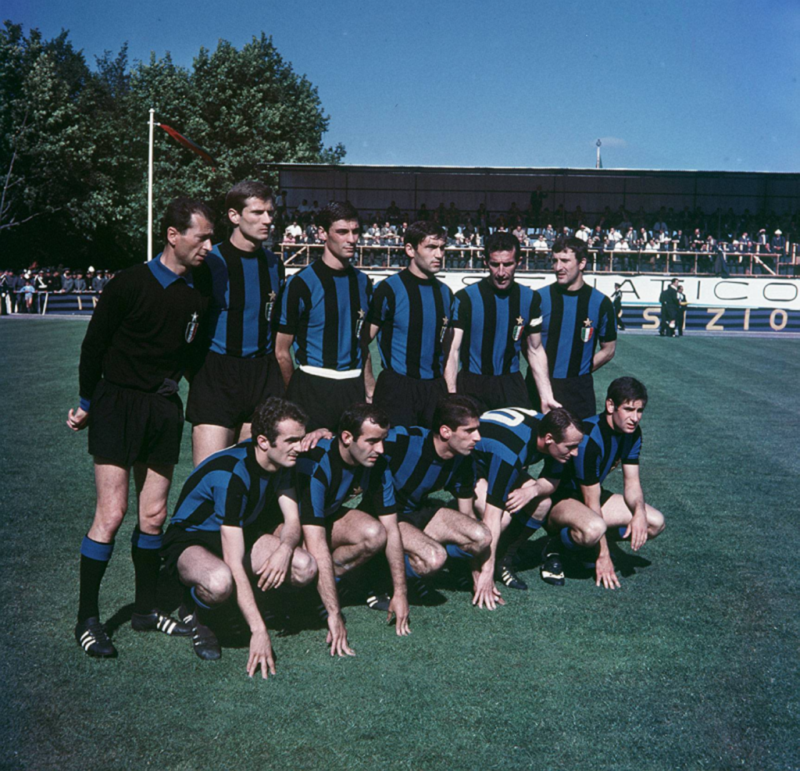 "This shirt would take pride of place in any football collection and has the potential to break the record for a Scottish football jersey at auction."
It would be fitting that even after death, Bertie could still be capable of breaking records. You just know if he was here with us today he would almost certainly have a joke lined up for the occasion. I have absolutely no doubt there will be huge interest in this item and hope that whoever purchases the jersey treasures it. Just a thought but I'm sure the fans would love to see it displayed in the museum at Celtic Park at some stage in the future if possible.
Conall McGinty