Saturday 16 January 1971 in Dundee was a fine day for the time of year. Dry and not too cold, and a 22,000 crowd there to see Celtic, now behind Aberdeen in the League race and looking vulnerable.
There was still a sombre note to proceedings, for it was only two weeks since the Ibrox disaster, and the footballing world was slow to come to terms with it. Some hadn't learned a lesson, for into Dens Park barged a crowd of mentally challenged youths calling themselves the Dundee Derry. They pushed people out of the way, shouting things about what to do with rosary beads, wishing to have sexual intercourse with various clerics, and calling a five year old boy a disgraceful sectarian slur  for wearing a Celtic tammy.

"Aye, aye, the educational system hasn't been a great success in Dundee, I fear" reflected this young trainee teacher currently doing his teacher training in – er, Dundee!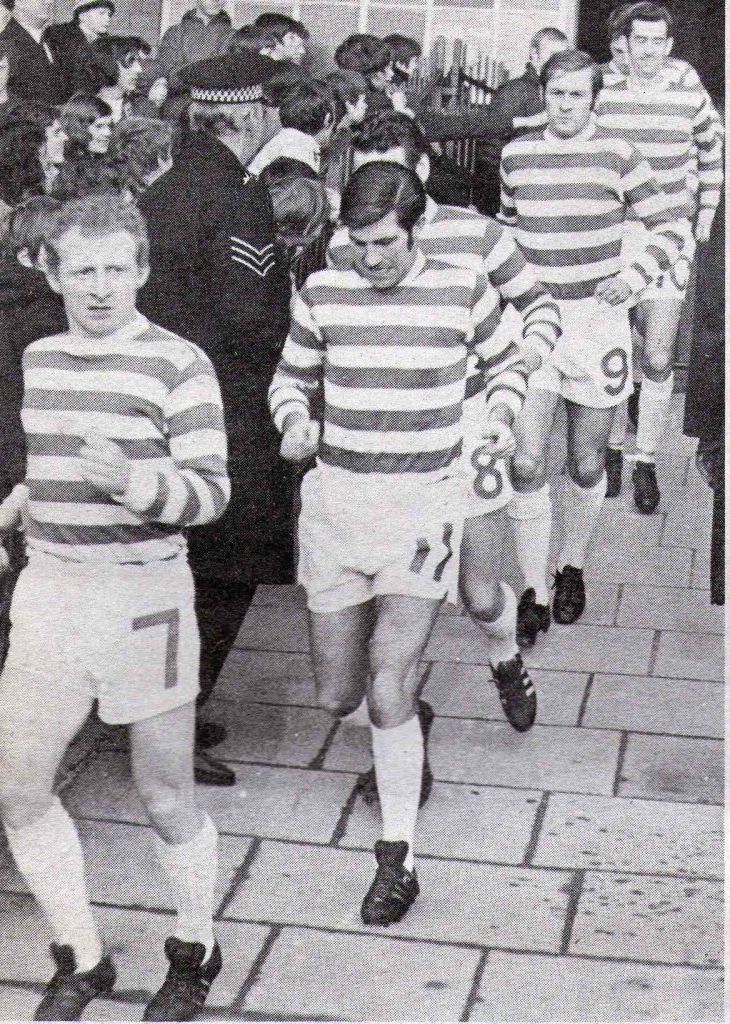 Bertie Auld was given his first start of the season. It wasn't that he was tapering off, although he was now nearly 33, simply that Jock was rebuilding the team after the Milan fiasco on the previous summer and needed to try out some youngsters. Nevertheless, Bertie felt that there was a point to be proved here, and he was given a great welcome when he ran out in a forward line of Johnstone, Wallace, Hood, Callaghan and and Auld.
It was an astonishing game. Bertie was quiet in the first half "playing the game from memory" according to one report, but then in the second half when he moved into the centre circle alongside Bobby Murdoch, he and Bobby simply took command. Celtic were 2-0 up at half time, and then added another six in the second half. Bertie was the only forward not to score, but he made at least four of the others with his spot on passing and ability to read the rest of the team.
Time and time again, the ball came to him in the centre circle, he collected the ball, swivelled past an opponent or two, and fed an inch perfect pass to Tommy Callaghan or Willie Wallace.

Celtic fans stood, chanted his name, and applauded, with one veteran supporter talking about how it reminded him all about Tommy McInally of old; sensible Dundee fans nodded sagely but sadly, while the youths who seemed to be going to carry out some sort of religious pogrom that night of those who disagreed with them, departed the scene in sullen but welcome silence. Bertie, apart from anything else, had silenced the foul utterings of the unwashed ignorant.
There was a beautiful sunset that crisp January day. The sun setting over the Law Hill and the beams mingling with the rays of the floodlights reminded the romantic among us of a John McCormack or Robbie Burns song.
Nature seemed to be echoing and paralleling the twilight of a wonderful career. Bertie Auld would play only a few more games for his beloved Celtic after that, and it was certain that we would seldom see his like again.
There was also that day on display the magnanimity of Jock Stein. Some journalists were looking for a story about the potential sacking of Dundee Manager John Prentice after this humiliation. Jock came out with Prentice and before any of the bloodhounds could embarrass the honest and contrite Dundee Manager, suddenly asked the question "How did Dunfermline do today?"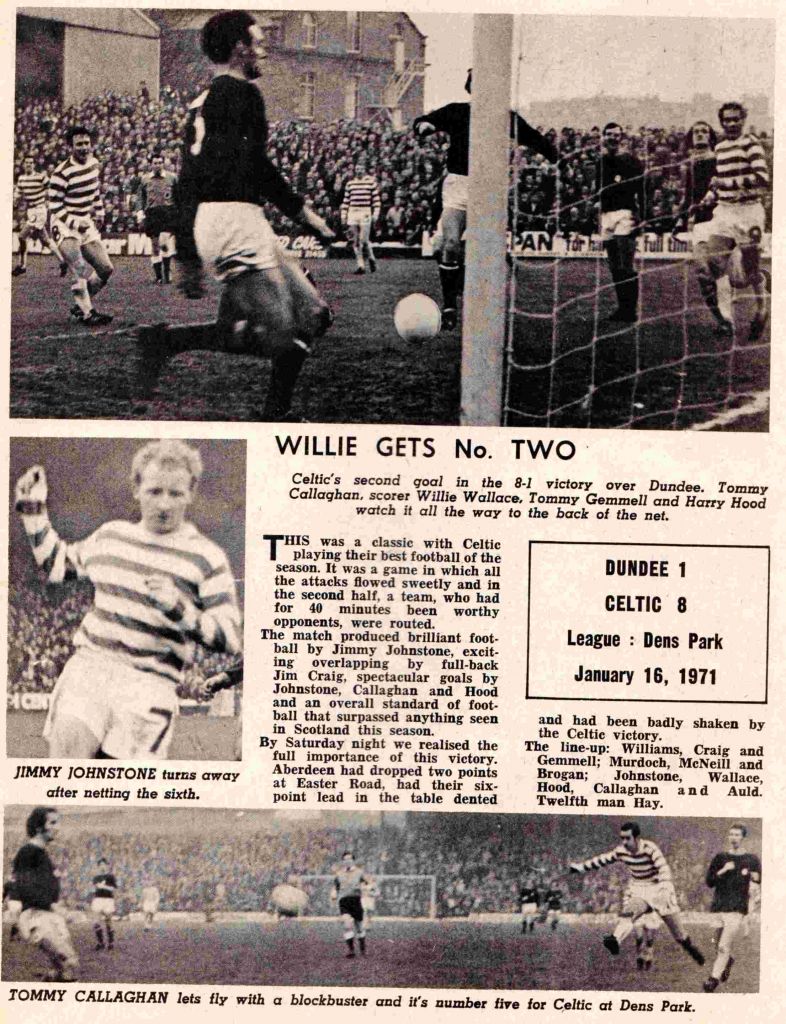 Because he was Jock Stein, no one dared to ignore him and he kept asking about all the other scores including the English ones, before he and John Prentice agreed that no-one on earth could have lived with Celtic and Bertie Auld that day. "Now as there are no further questions, John and I are off to have a cup of tea. Thank you, gentlemen".
David Potter