NEIL LENNON has insisted that Leigh Griffiths still has a lot to offer Celtic after the striker made his return to action after nearly three months on the sidelines.
Lennon hopes that Griffiths has his best years ahead of him after the 29-year-old has endured a torrid time with injuries and non-football issues but was back on the pitch on Saturday.
In an interview with Celtic TV, the manager admitted that he had spoken to the striker about keeping on top of his fitness and his belief that the striker can still perform at the highest level with the Scottish Champions.
"I have spoken to him about this. I hope so. I didn't come to Celtic until I was 29 and people thought I had been here all my life.
"If you look after yourself and keep yourself in good condition, you can play for a long time now, the way the modern game is going."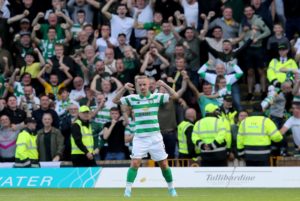 Lennon stated that Griffiths had the hunger to succeed, especially given the amount of games that he missed. The manager said that in order to get himself the games that he desires, he needs to stay fit and keep working to get fitter.
"He certainly has the appetite for it. There is a hunger there to get back in and he really missed playing.
"Hopefully he will get fitter and stronger and have a good run of games now. He needs to do extra work, he needs to stay on top of his condition.
"He is in reasonable condition now and he is working hard and to make sure he stays fit."
Griffiths' last goal for Celtic came in August in the 4-1 victory at Motherwell. He will be hoping to make an appearance in the Europa League on Thursday as an opportunity to give Odsonne Edouard a well-earned rest.
ALSO ON THE CELTIC STAR…
Smoke and Mirrors and this time the Smoke isn't from the Green Brigade – Niall J
That's No Flare – No Natural Justice as Celtic Partially close Standing Section 'following safety issues'